Wonderful Keepsake
By
Patricia S.

(Katy, TX) - November 4, 2013 (
See all reviews by this customer
)
This is the second one of these I have ordered - one was for an Anniversary and this one was part of a Wedding gift. Adorable keepsake for the kitchen. Great quality and super fast shipping. I am sure this won't be the last one I order!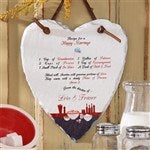 unique gift
By
Sharon W.

(Wood Dale, IL) - October 15, 2013 (
See all reviews by this customer
)
my mom actually ordered this for my sister who is getting married. she had seen what i ordered my daughter and sister and wanted to look at wedding gifts. she couldnt believe the variety of gifts. Mom thought this would look great in her kitchen - never saw anything like it, better than framec, cake cutters, the usual gifts.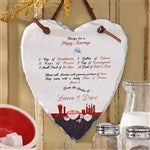 Engagement gift for niece
By
Christine S.

(Ravenna, OH) - September 30, 2013 (
See all reviews by this customer
)
This was a gift for my niece and her husband to be for her engagement party. She was absolutely thrilled with it and received a thank you note within two days after the party stating she already had it hanging in her kitchen. I was very pleased with the quality of the item. Would not hesitate to order again.

Heart Slate
By
Shopper

(West Columbia, SC) - June 4, 2013
This is a very cute item to give for a young couple. I am very please with this purchase.

Very Pleased
By
Shopper

(Little Elm, TX) - May 29, 2013
This slate was really nice, I'm sure the couple will love it.

Perfect Accompaniment
By
Michelle C.

(Harrisburg, PA) - February 22, 2013 (
See all reviews by this customer
)
I purchased this as an add on to kitchen items I bought for the shower. I liked that it was sweet but not over the top mushy...it seems to match the couple.

Beautiful decoration (but too small)
By
Shopper

(Philadelphia, PA) - July 28, 2012
I'm so happy with this piece! It's beautifully crafted, but to tell you the truth I was expecting it to be MUCH bigger. I guess I didn't pay much attention to dimensions and was judging by the provided photo only. I'm still VERY pleased with how it turned out and would DEFINITELY recommend it to friends and family, but at the same time I'm slightly disappointed (feel a little duped).. May be they should take a better picture to post on the website (put it next to other objects to show the proportions of this heart)

stone hearts
By
MaryAnn B.

(Shartlesville, PA) - March 17, 2012 (
See all reviews by this customer
)
purchased stone receipe for love and receipe for marriage. the design, quality of material, the delivery all surperb - absolutely pleased with them both - recommend to anyone to purchase a beautiful engagement and wedding gift. thank you.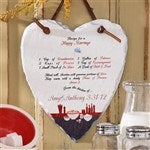 LOVE IT!!
By
Ryan L.

(Pittsfield, MA) - July 18, 2011 (
See all reviews by this customer
)
I love the way this Item came out, totally pleased! It will be given as part of a wedding gift and I happy with the purchase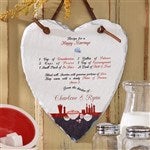 SO cute for a Kitchen!
By
Patricia H.

(Katy, TX) - July 11, 2011 (
See all reviews by this customer
)
As usual, Personalization Mall comes through with a perfect gift. I bought this for an anniversary present for my sister! And now after seeing it, I want one!! Very well made, and perfect for a kitchen. Fast shipping and great customer service. Thank you!

Heart Slate
By
Leroy M.

(Atwater, CA) - December 2, 2010 (
See all reviews by this customer
)
We are very happy with the quality and attractiveness of the
plaques as well as the sentiment. We hope the recipients will
be encouraged in their marriages along with the humor.
Great gift idea for newly marrieds.

Very cute gift!
By
Billie L.

(Tad, WV) - August 16, 2010 (
See all reviews by this customer
)
I loved this b/c it was unique. The quality is great! Very reasonably priced for a personalized gift!

Heart Slate Recipe wall hanging
By
virginia R.

(Mount Horeb, WI) - August 10, 2010 (
See all reviews by this customer
)
It really turned out nicely and was the exact gift that we wanted for our new friends.

Absolutely beautiful
By
Amber M.

(Murfreesboro, TN) - March 3, 2010 (
See all reviews by this customer
)
I am giving this as a wedding gift and the quality is wonderful. I was very pleased with it when I opened it up. It is very pretty and I think the happy couple will enjoy it.

Satisfied
By
Katherine C.

(Lake Placid, FL) - December 19, 2009 (
See all reviews by this customer
)
Very nice. The couple I bought it for is gonna love it. I have come back to order more.

Just as Id hoped...
By
Shopper

(Worcester, MA) - December 29, 2012
This was for my brother and his future wife/my future sister in law and Im so pleased with how this came out!! It was smaller than Id thought but it was perfect for a smaller kitchen! :)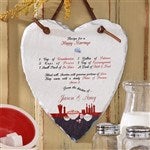 Heart Slate Review
By
Shopper

(Manhasset, NY) - August 6, 2012
I bought this to include in a wedding present, and although it is nice, I didn't realize how small it was going to be!! It is about half the size of a piece of paper, but still looks nice. Just not what I expected.