Beautiful Keepsake
By
Shopper

(Prineville, OR) - July 2, 2012
I purchased this for my Granddaughters Wedding. It is so nicly made, no staples or glue. Just perfect for her keepsakes and treasures. I am writing a "Special Letter" from Grandma and putting it in the box along with a gift card for them. I know they will love this Memories & Love Photo Box. Their names are so nicely done. It is just beautiful! I will be ordering from Personalization Mall.com again!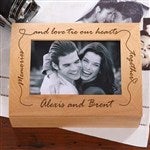 PERFECT GIFT
By
Shopper

(Allentown, PA) - March 17, 2012
This is a beautifully crafted wooden box that can be used for keepsakes, photos, trinkets, keys, etc. It was purchased to give as part of a wedding gift for my son. It's perfect yet I've given it FOUR stars rather than FIVE only because it should have a felt lining inside ... as was mentioned in previous reviews!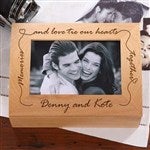 High quality must-have keepsake
By
Shopper

(Bloomington, MN) - March 4, 2012
Love it!! Received item yesterday & have to agree with the others--the workmanship is top notch! Very high quality & the size is just right. I got this for myself to hold my boyfriend & I's momentos. He doesn't think I save anything of ours but I have been & will show this to him one day when it's full:) Perfect gift for yourself or your loved one. Highly recommend.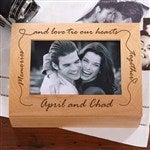 Surprised & pleased
By
Shopper

(Crystal Lake, IL) - February 24, 2012
The photo box is made out of quality materials. Workmanship is excellent & laser etching exquisite. It looks even better than the picture.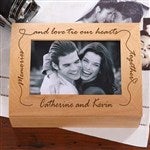 Very pleased
By
Shopper

(oshkosh, WI) - February 19, 2012
I got this for my boyfriend for valentines day, all the pictures we have that are not in frames just lay around the house in piles. It was perfect and he loved it! The engraved names add the perfect touch!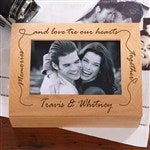 Great Valentine Gift
By
Kristen G.

(Stony Brook, NY) - February 14, 2012 (
See all reviews by this customer
)
This item looked nice on line, and was just as promised when I got it. I got if for my boyfriend to hold love notes that I leave him. He has kept them all and I find them stuffed in drawers around the house. This makes nice little place to store them. I love the fact that you can see what your engraving looks like on the box before you purchase it.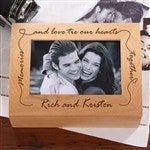 Memorable Keepsake
By
Samilla S.

(Houston, TX) - January 31, 2012 (
See all reviews by this customer
)
I purchased this box for my boyfriend to place our date night photos, movie tickets, etc in and he smiled ear to ear! The box is well put and so classic! It's made very well and we both love it!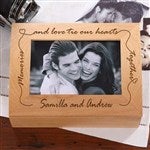 Quality Engraving
By
Donna M.

(Watertown, CT) - January 9, 2012 (
See all reviews by this customer
)
The item was on sale which was a big plus. It did not take long to arrive. The product was quality and the engraving just right.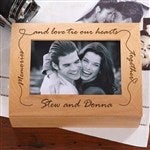 Great quality, good value.
By
Robyn A W.

(Minot, ND) - December 27, 2010 (
See all reviews by this customer
)
I have ordered from Personalization Mall several times, and I have never been disappointed.

The box is sturdy and the engraving is perfect. It looks like I paid more for it than what I did!

Better than expected!
By
Stacey G.

(Mt Pleasant, MI) - February 19, 2010 (
See all reviews by this customer
)
This box was much larger than I thought it would be, which was a welcomed surprise! The quality was also better than expected! I purchased it for my fiancé for Valentine's Day and he LOVED it! He took it to work to keep his candy in on his desk! Highly recommend!

Nicer than expected
By
Tracy T.

(Sandston, VA) - October 5, 2010 (
See all reviews by this customer
)
I was very pleased when I received this as it's part of an Anniversary gift for my girlfriend. It is of very nice quality and the lettering around the picture frame top is engraved in the wood, not printed. Shipping was very fast, overall great value.

Memory Box
By
Laura C.

(Davis, CA) - September 14, 2010 (
See all reviews by this customer
)
Not only was this box beautiful,it was shipped quickly. It was wonderful to be able to view the actual personalized product before ordering it. It came out exactly as I had hoped. Everything about this purchase was great!

Great V-Day gift
By
Robert D.

(Methuen, MA) - February 22, 2010 (
See all reviews by this customer
)
I gave this item to my Girlfriend for Valintine's day. She loved it, I would highly recommend. Its not how much you spend but what the gift is and this means a lot to her.

Photo Friendly
By
jan D.

(ashland, VA) - August 12, 2010 (
See all reviews by this customer
)
I was delighted with this photo/memory box. I bought it as an engagement gift. I can't wait to give it to my friend. The box is beautifully made, and the quality of the engraving is great. It is well worth the cost. Love it!

Perfect!
By
Andrea M.

(Gentry, AR) - December 4, 2010 (
See all reviews by this customer
)
The box looks as good in person as it does in the picture. The wood is pretty and smooth and the engraving looked great! Fast shipping.

Great gift idea!
By
Sandra K.

(Bloomington, MN) - August 17, 2010 (
See all reviews by this customer
)
I thought the photo box was of nice quality - and appeared as more expensive than one would expect. With the personalization, it is a unique gift. My only suggestions for possible improvement would be to line the interior and use real glass on top. That said, it was a lovely gift.

Picture Perfect
By
Tricia E.

(Friona , TX) - March 31, 2010 (
See all reviews by this customer
)
Loved it....it was exactly what I was looking for...and the price was great....

Great purchase for bridesmaids
By
Kelli G.

(South St. Paul, MN) - June 30, 2010 (
See all reviews by this customer
)
I am very impressed with the quality and timeliness of the items. They are very nice and appear of high quality. They also arrived at my house about 2 days after I ordered them. I definately recommend these!

Great gift for keeping memories
By
Shopper

(Monroe, VA) - February 23, 2011
Once again, I'm in love with the gift I bought from personalizationmall. I was hesitant about the quality of the box because of the cheap price. But once I received it, I was shocked at how great it looked. I bought this for my boyfriend to be able to keep special things (such as tickets from movies we've been to together, gifts, cards, pictures, etc.). I can't wait to see his reaction! The only reason I gave it four was the reason many others did too. I wish it would have some sort of lining in it. Otherwise, a great product to keep memories in.

Photo Box
By
Debbie S.

(Winston-Salem, NC) - June 12, 2011 (
See all reviews by this customer
)
I purchased the photo box as a welcome home gift for friends who were recently married. It is just lovely and beautifully crafted. I can't wait for my friends to see it.


Anniversay gift
By
Shopper

(Newtown, CT) - September 20, 2011
Just got my memory box today. Fast service and good quality product. The shipping and processing nearly doubled the stated price. I am pretty happy with the product and would recommend it.

Okay I guess
By
Carmen Olivia M.

(Colorado Springs, CO) - July 5, 2013 (
See all reviews by this customer
)
The box itself is cute. It's not really what I wanted, but under a budget it works nice. It has a personal touch. I dislike that you can't just inscribe whatever you want around the box.

Great gift!
By
Suparna K.

(Rochester, NY) - February 11, 2010 (
See all reviews by this customer
)
I gifted this to my boyfriend on Valentine's day and knew that he'd love it the day I got it in the mail.. Its a beautifully carved box. Only thing though- would've been nice to have a fastner to lock the lid in place when closed.. Other than that, awesome gift! Also, they ship it super fast- I had it in my mail in 4 days !! Love it!

Beautiful
By
Darcy M.

(Lake Forest Park, WA) - February 8, 2011 (
See all reviews by this customer
)
I am very pleased with this purchase. The box is lovely and the engraving looks exactly as it did on the website. The box is larger than it looks online so I was happy about that. My only comment is that, like other reviewers have said, it would be nice if the inside of the box was lined. I would gladly pay an extra dollar or two for that - then it would be 5 stars. Even so, I am very pleased with my purchase and I would buy from this website again.

Just Beautiful!!
By
Clarissa S.

(Vail, AZ) - January 21, 2010 (
See all reviews by this customer
)
This is my second order with Personalization.com and I couldn't be happier with the results! The high quality of this box is evident when you take it out of the box and the workmanship is spot on. Thank you for the wonderful products the quick turn around in getting it to me. This company is A +++ in my book! Will continue to ship here for my unique gift needs...thank you!

PS: Would be even better if the box was lined. :)

Great
By
Renata V.

(Philadelphia, PA) - January 21, 2010 (
See all reviews by this customer
)
This is the first time that I'm shopping here. The box is great and I love the engraving. It looks just like the picture. I got it in 2 days. I also ordered it the day before it went on sale and customer service gave me back the difference.

Love this item
By
Amber D.

(Macomb, IL) - February 17, 2010 (
See all reviews by this customer
)
This is a very nice item. Another great guy gift. I had it personalized and gave it for an anniversary gift. He really liked it and uses it for his change and watch. It could be a gift for a guy ir girl cause after I saw it I wanted one for myself. Wood was very smooth, no knicks or scratches. Good quality.

absolutely stunning!
By
Mary Anne B.

(San Antonio, TX) - December 6, 2009 (
See all reviews by this customer
)
great quality wood and the engraving is wonderful! The quality of this item is very great and I wouldn't hesitate in recommending this for a loved one! The shipping and delivery was speedy and I am extremely pleased with this item!

Great keepsake box!
By
Rebecca M.

(Springboro, OH) - December 11, 2009 (
See all reviews by this customer
)
Love the box and the personalization. Recommend!Becky

GREAT GIFT!
By
Noelle T.

(Brooklyn, NY) - January 19, 2010 (
See all reviews by this customer
)
I bought this gift a few months ago, and my boyfriend raves about it each time he receives a letter from me. He uses it to keep our letters together. I would recommend this box to anyone. I find this site easy to use, great products, and the shipping is fast and accurate. I ALWAYS use this site.

Awesome
By
Shopper

(Cortland, NY) - January 31, 2012
Very pretty and good quality. Amazing price

Very nice gift
By
Shopper

(Canada) - February 4, 2012
Happy with purchase - makes nice wedding or anniversary gift.

How you use the product
By
Shopper

(Oak Lawn, IL) - February 14, 2012
Came very quickly and was EXACTLY what I wanted. I gave it to my goddaughter for her christening gift instead of a couple and just had her full name engraved on the bottom. Now she has a keepsake box that she can hold on to forever. Was very, very happy with this purchase and it makes an excellent gift for anyone since any name (couple or not) can be engraved on the bottom.

Great Gift
By
Shopper

(Clearfield, PA) - December 15, 2011
Very nice peice.

Perfect Gift!
By
Shopper

(Diamond Bar, CA) - January 13, 2012
I decided to purchase this for my boyfriend of nearly 3 years for Christmas. He really didn't have a place to put all of the ticket stubs, photos, and the cards that I have made for him over the years. When I found this Personalized Photo Box, I knew it would be perfect. I had also gotten him some other things as part of his gift, but he said the box was his favorite part.

Personalized photo box
By
Shopper

(Ormond Beach, FL) - January 21, 2012
Very happy with the quality of this item and fast service.

Quality attractive gift
By
Sharon C.

(Berryville, VA) - December 13, 2012 (
See all reviews by this customer
)
The construction and engraving of this box is very good. It is attractive, sturdy and just the right size -- not too big or too small. My husband loved it!

Great Buy
By
Shopper

(Lincoln, NE) - September 15, 2013
This is a great buy! I looked around at several different websites before puchasing this item. It is of great quality and the laser engraving was done really well! I ordered this as a surprise for my boyfriend (who used to be a laser engraving superviser), and he is thrilled with the purchase! He thinks that personalizationmall did an excellent job. I have always had success with this company (I have purchased about 10 items so far).

Personalized Photo Box
By
Shopper

(Neshanic Station, NJ) - November 3, 2013
good price good quality great service

Wonderful gift
By
Sharon R.

(Portland, OR) - March 3, 2012 (
See all reviews by this customer
)
Personalizing gifts is as cheap as going to the main stream retail stores...they are more of a keepsake plus so personal to the receiver.