The Perfect Wedding Gift
By
T.J. S.

(napa, CA) - December 6, 2011 (
See all reviews by this customer
)
I'm a wedding photographer and I love the "Our Memories of Love" photo box. The personalized engraving and photo opening allows me to customize the box for my brides. Their feedback has been so positive. I'm certain that the Memories of Love box is leaving a wonderful impression with them.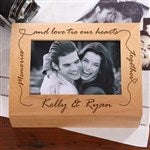 Beautiful box
By
Shopper

(Spring Creek, NV) - August 9, 2011
Wonderful box. High quality.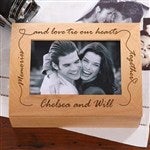 5th Year Engagement Gift
By
Shopper

(Plato, MO) - July 6, 2011
My husband is fighting overseas for our 5th year engagement and I did't know what to get him. This was perfect. I sent him pictures inside that he wanted and put a picture of us on the outside. And it came so quick.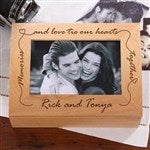 Great Craftsmanship
By
DEBORAH P.

(EXCELSIOR, MN) - March 11, 2011 (
See all reviews by this customer
)
It is perfect. The craftsmanship of the box with dove-tail corners was impressive. This product was worth the value and then some. And the delivery time was unbelievable. I ordered it on a Sunday and received it on Wednesday.

I am organizing a 5oth Wedding Anniversary and wanted to think "outside of the box" do give the couple something that they could cherish. So instead of a guest book I purchased this terrific photo box and am using it to hold specially designed cards on which we are inviting the guests to jot down memories and best wishes for the happy couple. This personalize box with their wedding photo will be the perfect touch. I have recommended this product and website to several of my friends and would not hesitate for a second to make another purchase. With the wonderful selection; you can find a gift for everyone on your list.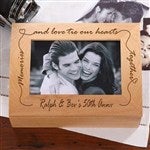 Loved it
By
Sara O.

(Van Nuys, CA) - April 14, 2014 (
See all reviews by this customer
)
Bought this as a gift. I did not see the actual item, since it was shipped directly to the person, but they said they loved it. The person I sent it to is pretty direct and would tell me otherwise, so I believe them. :) I would recommend it. :)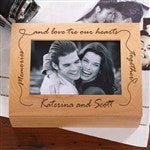 Wonderful Gift
By
Shopper

(El Paso, TX) - February 24, 2014
The photo box arrived on time with no flaws! My girlfriend loved the box and put it to use immediately. The engraving on the box was beautiful too. This gift was worth the price.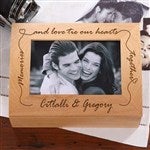 Excellent quality my wife was delighted!
By
ED A.

(TRUMBULL, CT) - February 21, 2014 (
See all reviews by this customer
)
I thought that this photo box would be something lasting and more thoughtful than to buy a dozen roses or something similar.

I picked a hundred or so photos of our wedding, stages of family life, grandchildren etc. from my photo gallery and ordered 4x6 prints to pick up at the local Walgreen's and put them in the box.

My wife, expecting to find a box of candy, was delighted when she opened the gift wrapped photo box. I will hard pressed to come up with something to match this next year.

The box was of excellent quality, I believe it is made of cherry wood. The finish is excellent. I know quality, having manufactured and sold quality furniture for over 40 years.

A nice enhancement that might be considered is to allow for a photo on the inside of the lid as I have stuck in place in the attached photo.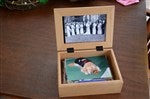 Photo box
By
Shopper

(waterbury, CT) - February 21, 2014
Love it. Perfect for what I want it for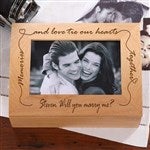 better than expected
By
Shopper

(wanatah, IN) - February 17, 2014
This was the perfect valentine gift for my boyfriend. He loved it, I love how it turned out. Would definitely recommend this site to other people!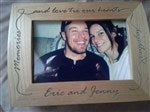 Excellent gift
By
Linda D.

(Blair, NE) - February 12, 2014 (
See all reviews by this customer
)
Ordered this for my friends 25th anniversary. I went to the party and took pictures. I then got them developed next day and put them in the memory box. Great gift for them to see the special family photos and to add special ones going thru their life.
I ordered this on a Saturday and I was so excited that it was at my house by the next Wednesday or Thursday before the event on Friday! That was wonderful--so excellent delivery and a beautiful gift.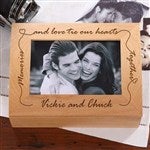 Beautiful keepsake photo box!
By
Medy S.

(San Jose, CA) - January 25, 2014 (
See all reviews by this customer
)
This is the second box I purchased, it is beautifully and well made. The first one is a gift for my son and daughter in law for their anniversary. I know its for a couple, but I wanted one for myself. I personalized it with my name, and it turned out really nice. The engraving was perfect. A lot of room for anything and a treasured keepsake box that will last a lifetime! I recommend getting this. Thanks again for another great product.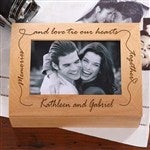 really pretty box
By
Shopper

(Southport, CT) - March 30, 2013
the box really looks good and sturdy. the wood and letter are very pretty.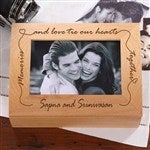 Beautiful!
By
Melody K.

(Pearl, MS) - March 9, 2013 (
See all reviews by this customer
)
I ordered the box as a gift for my husband. He loved it and so did I. It was beautiful! I was very impressed! It is certainly worth the buy. I don't think you could find any type of keepsake box so pretty and well made, for the price, anywhere else!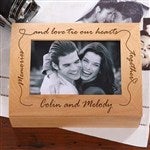 LOVE IT!!!!
By
Leslie P.

(Bassett, VA) - March 5, 2013 (
See all reviews by this customer
)
I bought this as a wedding gift and loved it! Makes me want to get one for myself now. Looks even better in person than in the picture!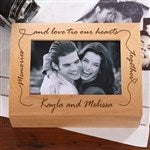 Quality memory storage
By
Shopper

(West Palm Beach, FL) - February 15, 2013
I bought this for my husband who likes to keep room keys, corks, postcards, etc., from vacations we go on. Its the perfect size and displays beautifully. The laser embossing and the craftsmanship is very good. He was very impressed with it and appreciated the wood-working details.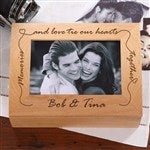 A beautiful Maid of Honor gift
By
Pamela E.

(Minneapolis, MN) - December 16, 2012 (
See all reviews by this customer
)
I ordered this memory box as a gift for my maid of honor in my wedding, for her to keep treasured photos and keepsake memories. The product arrived quickly, was accurately personalized, and really looks well made and of good quality. It was an affordable, personalized gift option that really brings quality and sentiment to my gift.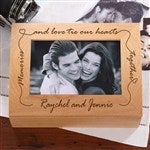 Great gift!!
By
Julie J.

(MONROE, LA) - November 2, 2012 (
See all reviews by this customer
)
I love the personalized memory box. Great quality and the engraving in the wood was awesome. Will definitely by from you again.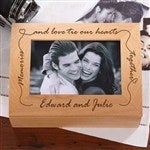 Beautiful Keepsake
By
Shopper

(Prineville, OR) - July 2, 2012
I purchased this for my Granddaughters Wedding. It is so nicly made, no staples or glue. Just perfect for her keepsakes and treasures. I am writing a "Special Letter" from Grandma and putting it in the box along with a gift card for them. I know they will love this Memories & Love Photo Box. Their names are so nicely done. It is just beautiful! I will be ordering from Personalization Mall.com again!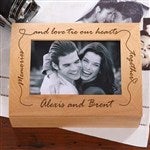 PERFECT GIFT
By
Shopper

(Allentown, PA) - March 17, 2012
This is a beautifully crafted wooden box that can be used for keepsakes, photos, trinkets, keys, etc. It was purchased to give as part of a wedding gift for my son. It's perfect yet I've given it FOUR stars rather than FIVE only because it should have a felt lining inside ... as was mentioned in previous reviews!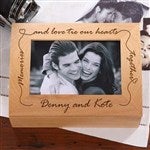 High quality must-have keepsake
By
Shopper

(Bloomington, MN) - March 4, 2012
Love it!! Received item yesterday & have to agree with the others--the workmanship is top notch! Very high quality & the size is just right. I got this for myself to hold my boyfriend & I's momentos. He doesn't think I save anything of ours but I have been & will show this to him one day when it's full:) Perfect gift for yourself or your loved one. Highly recommend.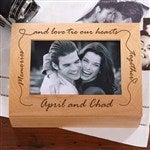 Surprised & pleased
By
Shopper

(Crystal Lake, IL) - February 24, 2012
The photo box is made out of quality materials. Workmanship is excellent & laser etching exquisite. It looks even better than the picture.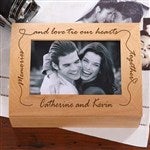 Very pleased
By
Shopper

(oshkosh, WI) - February 19, 2012
I got this for my boyfriend for valentines day, all the pictures we have that are not in frames just lay around the house in piles. It was perfect and he loved it! The engraved names add the perfect touch!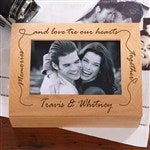 Great Valentine Gift
By
Kristen G.

(Stony Brook, NY) - February 14, 2012 (
See all reviews by this customer
)
This item looked nice on line, and was just as promised when I got it. I got if for my boyfriend to hold love notes that I leave him. He has kept them all and I find them stuffed in drawers around the house. This makes nice little place to store them. I love the fact that you can see what your engraving looks like on the box before you purchase it.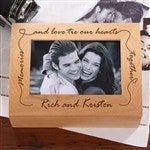 Memorable Keepsake
By
Samilla S.

(Houston, TX) - January 31, 2012 (
See all reviews by this customer
)
I purchased this box for my boyfriend to place our date night photos, movie tickets, etc in and he smiled ear to ear! The box is well put and so classic! It's made very well and we both love it!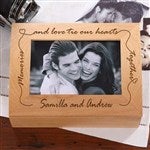 Quality Engraving
By
Donna M.

(Watertown, CT) - January 9, 2012 (
See all reviews by this customer
)
The item was on sale which was a big plus. It did not take long to arrive. The product was quality and the engraving just right.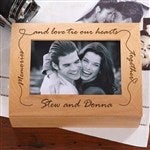 Perfect!
By
Andrea M.

(Gentry, AR) - December 4, 2010 (
See all reviews by this customer
)
The box looks as good in person as it does in the picture. The wood is pretty and smooth and the engraving looked great! Fast shipping.

Great V-Day gift
By
Robert D.

(Methuen, MA) - February 22, 2010 (
See all reviews by this customer
)
I gave this item to my Girlfriend for Valintine's day. She loved it, I would highly recommend. Its not how much you spend but what the gift is and this means a lot to her.

Great quality, good value.
By
Robyn A W.

(Minot, ND) - December 27, 2010 (
See all reviews by this customer
)
I have ordered from Personalization Mall several times, and I have never been disappointed.

The box is sturdy and the engraving is perfect. It looks like I paid more for it than what I did!

Exellent prodect
By
Sujeong Sylvia L.

(Somerville, MA) - January 3, 2011 (
See all reviews by this customer
)
This product is exactly same as the one on the picture.
I am satisfied with my choice, so I am going to order one more soon !

Picture Perfect
By
Tricia E.

(Friona , TX) - March 31, 2010 (
See all reviews by this customer
)
Loved it....it was exactly what I was looking for...and the price was great....

Memory Box
By
Laura C.

(Davis, CA) - September 14, 2010 (
See all reviews by this customer
)
Not only was this box beautiful,it was shipped quickly. It was wonderful to be able to view the actual personalized product before ordering it. It came out exactly as I had hoped. Everything about this purchase was great!

Great gift idea!
By
Sandra K.

(Bloomington, MN) - August 17, 2010 (
See all reviews by this customer
)
I thought the photo box was of nice quality - and appeared as more expensive than one would expect. With the personalization, it is a unique gift. My only suggestions for possible improvement would be to line the interior and use real glass on top. That said, it was a lovely gift.

Nicer than expected
By
Tracy T.

(Sandston, VA) - October 5, 2010 (
See all reviews by this customer
)
I was very pleased when I received this as it's part of an Anniversary gift for my girlfriend. It is of very nice quality and the lettering around the picture frame top is engraved in the wood, not printed. Shipping was very fast, overall great value.

Great purchase for bridesmaids
By
Kelli G.

(South St. Paul, MN) - June 30, 2010 (
See all reviews by this customer
)
I am very impressed with the quality and timeliness of the items. They are very nice and appear of high quality. They also arrived at my house about 2 days after I ordered them. I definately recommend these!

Photo Friendly
By
jan D.

(ashland, VA) - August 12, 2010 (
See all reviews by this customer
)
I was delighted with this photo/memory box. I bought it as an engagement gift. I can't wait to give it to my friend. The box is beautifully made, and the quality of the engraving is great. It is well worth the cost. Love it!

Better than expected!
By
Stacey G.

(Mt Pleasant, MI) - February 19, 2010 (
See all reviews by this customer
)
This box was much larger than I thought it would be, which was a welcomed surprise! The quality was also better than expected! I purchased it for my fiancé for Valentine's Day and he LOVED it! He took it to work to keep his candy in on his desk! Highly recommend!

Great gift for keeping memories
By
Shopper

(Monroe, VA) - February 23, 2011
Once again, I'm in love with the gift I bought from personalizationmall. I was hesitant about the quality of the box because of the cheap price. But once I received it, I was shocked at how great it looked. I bought this for my boyfriend to be able to keep special things (such as tickets from movies we've been to together, gifts, cards, pictures, etc.). I can't wait to see his reaction! The only reason I gave it four was the reason many others did too. I wish it would have some sort of lining in it. Otherwise, a great product to keep memories in.

Photo Box
By
Debbie S.

(Winston-Salem, NC) - June 12, 2011 (
See all reviews by this customer
)
I purchased the photo box as a welcome home gift for friends who were recently married. It is just lovely and beautifully crafted. I can't wait for my friends to see it.


Anniversay gift
By
Shopper

(Newtown, CT) - September 20, 2011
Just got my memory box today. Fast service and good quality product. The shipping and processing nearly doubled the stated price. I am pretty happy with the product and would recommend it.

Okay I guess
By
Carmen Olivia M.

(Colorado Springs, CO) - July 5, 2013 (
See all reviews by this customer
)
The box itself is cute. It's not really what I wanted, but under a budget it works nice. It has a personal touch. I dislike that you can't just inscribe whatever you want around the box.