Lovely gift
By
Jordan W.

(West Des Moines, IA) - February 20, 2014 (
See all reviews by this customer
)
Got it for my fiancee with lyrics from her favorite song. She loved it since she adores puzzles, me, and that song. Perfect gift if you're looking for something a bit more personal and special.
All in all, good quality puzzle. Cute bag, nice look, pieces weren't flimsy, good price and got here on time, like they said.
Only a couple things wrong, those being that some of the connector pieces top layer started coming off and it's a bit messy with puzzle dust and such. That's it. Framing it.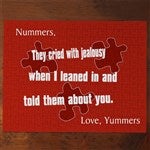 Gifts for friends
By
Frank P.

(Guam) - February 18, 2014 (
See all reviews by this customer
)
My best friend loved the puzzle . There are so many pieces so I wouldn't buy this for someone who doesn't like challenges to put this puzzle together since the pieces are small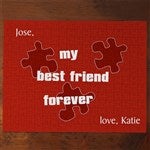 Love it
By
osmeily M.

(somerset, NJ) - February 13, 2013 (
See all reviews by this customer
)
I gave my boyfriend this as a 2 year anniversary & wrote a nice message. He loved it!!!

Awesome!!
By
Noha H.

(Springfield Gardens, NY) - January 2, 2013 (
See all reviews by this customer
)
great quality. loved it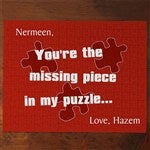 all the pieces fit
By
Shopper

(Doylestown, PA) - February 21, 2012
The puzzle came just as ordered, it is challenging doing a puzzle with all the same color. IT WAS WORTH IT. We glued and framed the completed puzzle.... A GREAT gift for that special piece in your life!!!

AMAZING!
By
Shopper

(Fredericksburg, VA) - February 5, 2012
This product was awesome and soooooo cute!!! I am very excited to give it to my boyfriend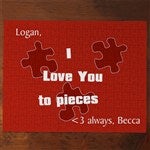 GREAT GIFT FOR A GUY!
By
Shopper

(Sunnyvale, CA) - February 15, 2011
I got this for my boyfriend this year for our first Valentine's Day! HE LOVED IT! He thought it was very unique and thoughtful! This wasn't too MUSHY esp since our relationship is still fairly new! We had fun putting it together. If you haven't put a puzzle together in a LONG TIME this does take time but worth it!

Missing Piece: Personalized Puzzle
By
Shopper

(Tempe, AZ) - February 15, 2011
This has been the perfect valentines gift, ever!! I cannot wait to look on my fiance's face when he puts it together.

Perfect
By
Tuyen N.

(Mobile, AL) - February 6, 2011 (
See all reviews by this customer
)
The item came in perfectly! Great idea for a gift.

BLOWN SURPRISE!!!
By
Kimberely J.

(APO/AE, AA) - February 12, 2010 (
See all reviews by this customer
)
I am currently deployed in IRAQ. It has been a while that I have been with my husband, and not to mention the many of holidays that we have missed. I saw this puzzle and thought this was great. He got it and was looking at the packing sheet and it said what the puzzle said so my huband said that there was no point to putting it together because he already knows what it says. I contacted the company and all they said about it was that they would contact the marketing dept. WHAT a pitty.. Another holiday with no surprise.. Thanks to this company.


Great Idea!
By
Shopper

(south elgin, IL) - October 28, 2012
I found this product to be a great idea and exciting to put together for the most part. However, I do wish that the pieces were a bit bigger in order to make the puzzle making process a bit easier. Putting together many plain red pieces in the puzzle can be a bit tedious.
Also, a few pieces were little bent and tearing at corners. But this was a minor issue.
Alltogether, a great buy and joy for the recipient to put together!

really cool
By
Jeremy B.

(Marquette, MI) - February 12, 2012 (
See all reviews by this customer
)
the pieces were not all that sturdy but it was really romantic and i would buy it again =)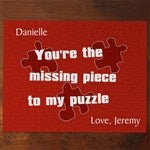 love it with one suggestion..
By
Rachel S.

(Bothell, WA) - March 31, 2010 (
See all reviews by this customer
)
I love this as a gift for a husband/boyfriend or vise versa. The one suggestion I have is a picture like you would have on the cover of a puzzle to look at while putting together.:) Great gift though!

Good, but not great.
By
Michelle J.

(Birnamwood, WI) - March 15, 2010 (
See all reviews by this customer
)
I like the idea of this product more than I liked the actual product. Some of the pieces were not cut all the way through and some were starting to come apart before I even put anything together. It took a long time to put it together, since the pieces were mostly the same color. Overall, cute idea, but somewhat of a hassle to put together.

First Timer
By
Brittany G.

(West Chester, OH) - February 19, 2010 (
See all reviews by this customer
)
Very nice gift, my boyfriend was very surprised and loved that it was personalized. The pieces were cut ok, it defiantly was not a high quality puzzle but for the price you can't beat what you receive. I will be using this site again in the future.

Excellent
By
Abby G.

(Winona, MN) - February 19, 2010 (
See all reviews by this customer
)
I loved this puzzle and so did my boyrfriend... once we could get all the red pieces together! haha! It really is fun and cute.

Very Creative
By
Alyssa V.

(Winston Salem, NC) - February 15, 2010 (
See all reviews by this customer
)
I got this item for my boyfriend who loves puzzles for Valentines Day. He really loved it, but it took a couple hours to do. This isn't the easiest puzzle to complete. It's 250 pieces, but all of the red pieces are exactly the same color. Nonetheless, there are so many ways to get creative with this. And it's just an awesome idea for someone to know they had a puzzle made just for them.

cute yet to much glue
By
Sara S.

(North Tonawanda, NY) - January 25, 2010 (
See all reviews by this customer
)
the puzzle was adorable and i love it however the pieces were over glued and not punched out all the way so some backs got ripped. However the puzzle is my favorite gift its adorable and still functional so its one factor that doesnt totally matter.

missing you puzzle
By
Hanh L.

(Des Moines, IA) - October 15, 2009 (
See all reviews by this customer
)
The shipping process turned out to be missing one piece of puzzle. Everything turn out nice, except there's one missing piece. I wonder if Personalization could send the missing piece to me.

ok quality
By
Shopper

(Indianapolis, IN) - February 16, 2011
This wasn't as impressive as I was expecting. Some of the pieces were still stuck together or torn inappropriately. It looked as though the puzzle was cut in a hurried fashion & not checked after completion, simply thrown into the bag. It was nice being able to personalize a puzzle with a special message, but it would have been a better gift had it not seemed cheap.

Not a great buy!
By
Sabrina S.

(Canada) - February 14, 2012 (
See all reviews by this customer
)
Looked like a nice whimsical gift until it came!
Pieces were frayed and not properly separated!
I wouldn't recommend this gift until the quality Is improved!!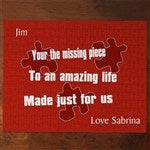 Terrible Puzzle Design
By
Joe S.

(Greenwood, IN) - February 15, 2011 (
See all reviews by this customer
)
There is one single piece shape. Sure they vary enough that you can't fit anything but the correct piece together for most of them, but they are all the same basic shape.

I did not know I was buying a torture device for my wife. Putting together all of the red pieces that look exactly the same is a lesson in trial and error. There needs to either be a continuous shade change across the background or a pattern or something. It currently sits with the message and everything that isn't red together. And we can slowly add a single red piece after trying for 20 minutes.

It is just frustrating.

There is also an issue with the die used to cut out the puzzle. There are many pieces that delaminated when ripped apart but the packers. So many pieces have a layer of cardboard that ripped off the adjacent piece.

All in all, not a great purchase for the money. I wouldn't buy it again.

What was the point?
By
Tracy N.

(Porterville, CA) - February 12, 2010 (
See all reviews by this customer
)
I had this puzzle personalized and shipped across the U.S to my boyfriend for valentines day. When he received it, there was a slip that said exactly what the puzzle said. What was the point? I was very disappointed because the excitement and curiousity of putting the puzzle together to figure out the "message" was completely pointless. Now that the recipient already knows what the message in the puzzle is, what's the point of putting it together? This was very disappointing for us.