great product
By
Shopper

(Port Angeles, WA) - December 27, 2011
These golf balls have a great personal touch for an avid golfer. However, don't pay for the express shipping, it took a week to arrive instead of 1-2 days :(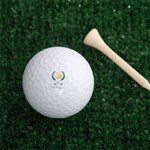 Micro Print
By
david C.

(slidell, LA) - December 1, 2011 (
See all reviews by this customer
)
Just received mine and am extremely disappointed. Ordered for a huge corporate customer (CHRISTmas gifts)and would be embarrassed to give them out. Literally cannot read the print (my company name). Example-the print is 1/3 the size of the 'Top Flight' wording! Seriously!! Asked them if I can send back and get larger font-we'll see if they can/will help. My first mistake, I ordered 10 dozen, yes 10 dozen. If you have a large order please order a trial order first. If you are okay with the micro print than proceed, but please don't do as I and place your whole order without first seeing the finished product. Packing was good and shipping was prompt, even now at three weeks before Christmas. Hope I'm not stuck with 120 practice balls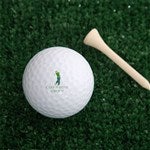 Very Unhappy
By
Bruce C.

(Howell, NJ) - October 3, 2011 (
See all reviews by this customer
)
The personaliztion was so small you could hardly read it. I have purchased items in the past however I believe this will be the last time I purchase from this company. The description was innacurate when I placed the order and it was embarassing to present this gift......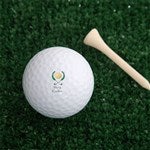 You Design It Golf Ball Set
By
Shopper

(Pico Rivera, CA) - September 19, 2011
I ordered these golf balls for my husbands, Retirement Party. His golfing buddies will love to remember him and the celebration. Tony will be surprised and thrilled by the personalized golf balls. It will be a special surprise!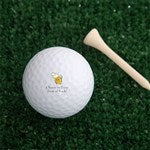 Printing
By
susan S.

(los ranchos, NM) - August 7, 2011 (
See all reviews by this customer
)
Printing size of the Just Married logo with our daughters name on it, was much smaller than expected. Know there is not a whole lot of room on the golf ball but wasn't expecting to have to use a magnifying glass to read their names, and see the logo. Might you have printed these a bit larger?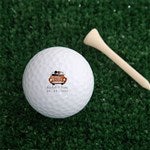 Fun Wedding Favor
By
Sara B.

(Fitchburg, WI) - July 29, 2011 (
See all reviews by this customer
)
We are going to have a golf scramble and these are going to be great to give to our guests that participate.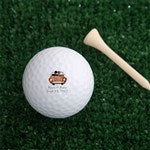 Need glasses to see imprint
By
Marie F.

(Syracuse,, NY) - July 25, 2011 (
See all reviews by this customer
)
Service and delivery excellent. Web page easy to use. However, the personalized imprint I ordered was so small I need a magnifying glass to read it. Would have liked a larger print.

too small
By
Shopper

(Farmington, MN) - June 20, 2011
Printing is way too small as well as emblem I chose.

Father's Day Gift for Sons
By
John W.

(Saint Charles , MO) - June 15, 2011 (
See all reviews by this customer
)
I was very satisfied with the customer service and the promptness in receiving the order. The golf balls were of good quality but I was very disappointed in the personalization. The writing is extremely small and very hard to read. I wish you could work on a larger, clearer font.

Disappointed
By
Ronald B.

(Colorado Springs, CO) - June 12, 2011 (
See all reviews by this customer
)
I was disappointed in the size of the personalization, the golfer was much smaller than the picture indicated. We liked the golf tees we ordered they meet our expectation but the golf balls didn't. You can hardly see the golfer. I have seen other golf balls and I know it could have been much bigger. Hope you can do something to correct this. We are using them for a family reunion in Aug. and are not very happy with them.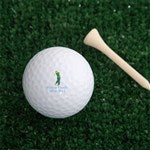 Personalized Golf Balls
By
Rebecca W.

(Mill Spring, NC) - June 6, 2011 (
See all reviews by this customer
)
This is a really neat item, just perfect as favors for our future son-in-law's wedding day golf tourney. The only reason I didn't give a 5 star and the only thing I would change is that the logo and especially the print are very tiny, but afterall... it is printed on a "golf ball"!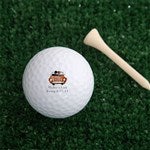 YOU DESIGN IT GOLF BALL SET
By
James W.

(Westbrook, CT) - May 23, 2011 (
See all reviews by this customer
)
Gave us a chance to make our own Logo for our annual golf tourney--all members liked it because it gives us a chance to put our own identity on the golfballs each year. Great Idea, we will keep using it.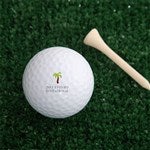 small lettering
By
Courtney E.

(Clatskanie, OR) - May 22, 2011 (
See all reviews by this customer
)
I got these for my little brothers birthday, and I think the design was amazing and he will love them, I wish the personalization was written a little bit bigger. Otherwise I was very pleased with the product and will definatly be shopping here again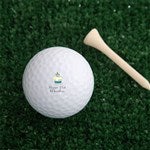 Shopper
By
Shopper

(Chico, CA) - March 28, 2014
Good quick service...easy to use website..many good options
All in all very satisfied..I did think the lettering might be
a bit larger...but still all OK...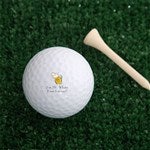 Disappointed
By
KIMBERLY B.

(CAMILLUS, NY) - January 10, 2014 (
See all reviews by this customer
)
Sorry, but I was bummed by how incredibly small the picture & words we had put on these were. Both are so small and the coloring is so light that they can barely be seen. Grandma & Grandpa couldn't make it out. And therefore, way to expensive even for Nike golf balls.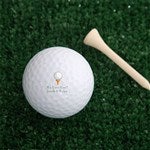 Deb
By
Deb R.

(St. Pete Beach, FL) - December 21, 2013 (
See all reviews by this customer
)
Well,so much product info on ball, and such small monogram, you can't really tell it's monogrammed.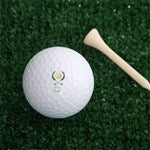 logo
By
joan A.

(chaumont, NY) - November 8, 2013 (
See all reviews by this customer
)
I thought the personalization would be larger. There was so much writing on the ball, it took away from the info I put on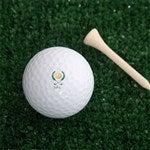 Prizes for Birdie Shooters
By
Kathy M.

(Centerville, OH) - September 15, 2013 (
See all reviews by this customer
)
This is my first time ordering from Personalization Mall. I read the reviews and knew the writing on the ball would be small. The writing is extremely small. One thing I really liked was the website actually showed me the balls with the personalization that I had chosen. One suggestion would be a woman golfer choice. Placing my order was easy and I received the balls within a week. I think our ladies will be very pleased when they receive the balls. I will definitely order from this company again.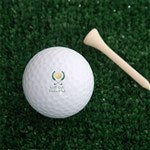 Personalized golf balls
By
David M.

(Alliance, OH) - June 18, 2013 (
See all reviews by this customer
)
Very disappointed with how small the lettering is. If anything I am impressed that they can print that small.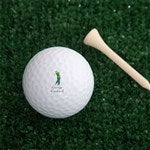 smallville
By
Shopper

(Great Falls, MT) - May 15, 2013
The quality of the balls was good and as expected. The personalization was ridiculously small, had people with average eyesight who could not read it. Definitely needs revision as to size of imprint. If remains the same small size, will not order those again.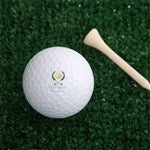 Golf Ball Set
By
Shopper

(Clinton, NJ) - December 19, 2012
You need a magnifying glass to see the writing, and can hardly tell what the image is on the actual product. Not worth the money!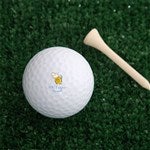 Would not order again
By
Jill B.

(Elmira, NY) - December 12, 2012 (
See all reviews by this customer
)
I have always been happy with the items from Personalization Mall - with this item though - I'm not happy. The personalization is small and does not really show up with all of the logos already on the ball. I would not order this item again, not even sure if I will be giving these as a gift to the person I bought them for.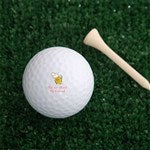 Font to small
By
Shopper

(Wayne , NJ) - November 28, 2012
This was a great idea for a gag gift but when they arrived the font was so small I hope he will be able to read it.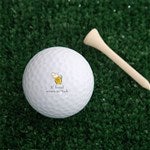 Disappointed
By
Shopper

(West Chester, PA) - November 17, 2012
The golf logo overpowers any personalization that you may request on the golf ball.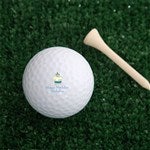 not as it appears
By
Shopper

(NY, NY) - October 23, 2012
First of all - thought the price was a bit high to get name on a golf balls. Balls, even the less expensive ones, are still very expensive. Price jacked up higher then could purchase separately. But it a gift....

I reviewed it on-line and it looked great. Then got the balls, and the writing was SO SMALL you could barely read it. On top of the too small type, there are all kinds of really BIG logos on the balls - which make the part you WANT to read even harder to see, and it NOT something you see on-line when reviewing.

The REVIEW of the customization writing should be more accurate as to how it will ACTUALLY looks when received. Would have made the biggest font available if knew was going to look as small as it did. It is very misleading what you see and what you get.

I would say not worth it unless can fix the size - can't really read. Made for a sad birthday surprise for my Nephews. Would not buy again. The picture they show you at the end is NOT close to what get.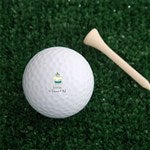 Awesome!
By
Ben O.

(Atlanta , GA) - September 16, 2012 (
See all reviews by this customer
)
We loved them. They came out clean and were delivered quickly. We gave them as wedding gifts along with a custom tee and everyone loved them!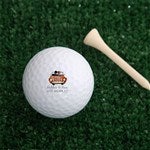 my dad loved this!
By
Kristen B.

(Lincoln, RI) - September 8, 2012 (
See all reviews by this customer
)
I bought this set of golf balls for my dad's 70 'th birthday. It was very easy to create and it shipped when it said it would. The product is great quality. I purchased the diy wrapping set and it was perfect. My dad loved his gift. My only complaint is I wish the font was a little bigger. I will purchase more products from your company. Thank you!!!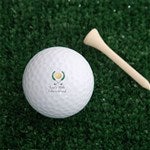 Tiny
By
michael K.

(wallingford, CT) - July 7, 2012 (
See all reviews by this customer
)
The personalization on the golf balls was so tiny I could barely read it,iI would have sent them back but there is no refund policy.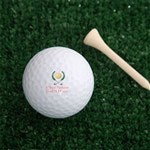 Great gift for any golfer
By
Shopper

(Gulfport, FL) - May 15, 2012
I purchased this because I wanted my gifts for my bridal party to be original, I am so happy with the choice that I made. I also included the gift box in my order and it did make the perfect presentation.
The personalization on the golf balls are very nice, I would suggest this to anyone who is thinking about it. You will like them too!
It gives more of a personal touch as for saying "thank you" to the one who will receive it.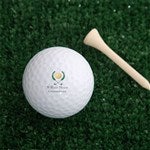 golf print
By
Harriet H.

(Bloomfield, CT) - May 13, 2012 (
See all reviews by this customer
)
Hi, The Blue print is very light and hard to read and there was no choice of sizes or styles of print. This needs improving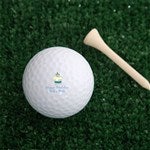 4913-TF - You Design It© Golf Ball Set - Top-Flite® Complete Distance
By
Shopper

(Stephenson, MI) - May 3, 2012
Great idea except you need a magnifying glass to see personalized print. Not impressed.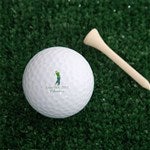 Beautiful Balls
By
Shopper

(Lakewood, CA) - April 3, 2012
Husband is a golf nut. So it is nice to be able to go online pick what I wanted and poof they were here.
It is a nice gift for him and the guests at the 50th Birthday party.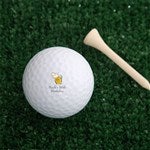 AWESOME!
By
Mary M.

(Dallas, TX) - March 5, 2012 (
See all reviews by this customer
)
My boyfriend who is a die-hard golfer loved the personal golf balls celebrating his 40th birthday. So he asked me to order some for our family/reunion vacation in San Cabos for this summer. I will definelty be doing so in a few days. Thanks so much!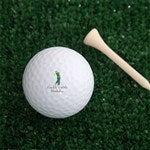 Best gift for someone that has everything
By
Shopper

(New City, NY) - January 7, 2012
I purchased personalized golf balls two days before christmas as a gift from my daughter to her uncle/godfather and I received them just in time to be opened on Christmas day. They were an absolute hit and I would highly recommend this gift to anyone that would like to get someone a little something to make them feel special.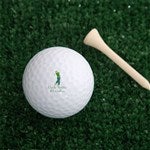 Just ok
By
Shopper

(Farmington Hills, MI) - November 11, 2011
Although I'm sure that the golf balls are of excellent quality, I was disappointed with the way the personalization looked. The size of the lettering/font was very tiny. I was expecting it to be larger. It should be
larger.

A bit small
By
Ann M S.

(New Rochelle, NY) - December 30, 2011 (
See all reviews by this customer
)
The golf balls themselves were of exceptional quality (Callaway) but I thought that the personalized print should have been slightly larger. Realize these are golf balls and aren't something large, but still the print could have been set in a larger type. Otherwise, satisfied.

tiny ... Tiny... TINY Monogram
By
Therese M.

(Englewood, CO) - January 24, 2011 (
See all reviews by this customer
)
Really Not Worth The $$$ To Have Monogramed ~~~ You Need A Giant Magnifying Glass To See It ~~ SIGH!

Don't waste your money
By
Mary D.

(Venice, FL) - November 30, 2010 (
See all reviews by this customer
)
The design on the golf ball is so small that you can barely read the name of the person imprinted on the ball. I cannot belive your quality control would allow this to be shipped out.

Cute, but...
By
Shopper

(Morristown, NJ) - September 19, 2011
Great gift, but the logo was too small. Price was a bit high for what it is.

personalized print
By
Denny F.

(Greybull, WY) - June 28, 2010 (
See all reviews by this customer
)
i ordered the callaway golf balls for my husbands birthday. I was very dissapointed in the personalized text. So small you had to have a magnafing glass to read it. Need to enlarge the text!! Denny Greybull Wyoming