Excellent quality and value
By
Shopper

(Boise, ID) - May 19, 2014
Pictures printed very well. This gift was REALLY appreciated.

SO BEAUTIFUL
By
Shopper

(Lake Placid, FL) - July 2, 2013
I received this canvas within a week and I was concerned if I would like it or not an if the pictures would be clear... I have a NIkon camera so its a really nice camera and pics are always clear.. and I was soo happy with the results! I LOVED IT! they came out soooo clear and is going to look so awesome on my wall of my new home!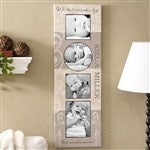 Very nice!
By
Shopper

(Teutopolis, IL) - January 1, 2013
I ordered this for a friend...she loved it!
My adult children couldn't believe how nice it was and thought it would have cost more than it did for the quality.

Very Affordable!
By
Shopper

(Goodells, MI) - December 24, 2012
So well made! Gave to boss and family-success!

Perfect!
By
Katie H.

(Cornelius, NC) - December 12, 2012 (
See all reviews by this customer
)
Very impressed by the quality! Personalization Mall always delivers!

Absolutely wonderful
By
kimberly B.

(McHEnry, IL) - November 28, 2012 (
See all reviews by this customer
)
The collage looks fabulous. Creating it online was so easy, and the hints/tips for picture resolution etc was very helpful. It looks so terrific it will be a challenge for me to actually wait until Christmas to give it to my son and his wife. I am a long time customer of Personalization.com and recommend them to people all the time. I have NEVER been disappointed in anything I have purchased from them

Far exceeded my expectations!!!
By
Shopper

(Gillette, WY) - October 12, 2012
I bought this item as a Christmas gift for my son. I absolutely love the item. I am never disappointed with personalization mall.

Excellent product, excellent service
By
Shopper

(France) - August 11, 2012
I organised this gift from France for my sister's 50th birthday. It was delivered well within the timing, and whilst I haven't seen the end result myself, my sister was absolutely thrilled with it!!

Beautiful
By
Shopper

(CHATTANOOGA, TN) - May 21, 2012
I bought this as a wedding gift and it is absolutely perfect! I am sure they will love it.

LOVE!
By
Carly T.

(Plainfield, IL) - March 20, 2012 (
See all reviews by this customer
)
It's fantastic! Great quality, quickly received and great packaging! Worth every penny!


long Canvas
By
Michael S.

(Dallas, TX) - February 28, 2012 (
See all reviews by this customer
)
The only problem is that the pictures came out a little dark whenever I changed them to black & white...i am guessing that was my fault when I was personalizing it.

LOVE THIS!!
By
Shopper

(Tutor Key, KY) - February 16, 2012
SO BEAUTIFUL!!!!!!!!!! this was so beautiful and i loved it even more then i thought i would!! thank you !!

Simply Amazing
By
April D.

(Manchester, NH) - February 15, 2012 (
See all reviews by this customer
)
The quality of this canvas made my home so much happier. Couldnt be more impressed.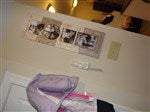 Beautiful canvas!
By
Shannon V.

(Jacksonville, FL) - December 31, 2011 (
See all reviews by this customer
)
This canvas is beautiful. It turned out even better than I thought it would. It was delivered very quickly. I received it in the same week I ordered it and it was packed so well, that here was no chance of damage during delivery. I love it!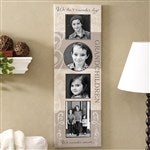 Beautiful Frame
By
Shopper

(Westminster , CO) - December 9, 2011
I got this for a present for my mother. It is a great piece and the quality is great. Fast production and received in a very timely manner.

Beautiful
By
Shopper

(Atlantic Beach, NY) - December 7, 2011
Pictures look beautiful on the canvas. Perfect addition to my family room.

Photo collage - great keepsake
By
Bianca A.

(bowie, MD) - June 21, 2011 (
See all reviews by this customer
)
I purchased this for my husband for Father's Day and included pictures of my son, my husband, his deceased father and his grandfather. He absolutely loved it and is looking forward to passing it down to our son!! It was easy to upload the photos and I was especially pleased to see a mock up of the finished product before ordering. It arrived quickly and was exactly as expected. I'm thinking of ordering one for my father too.

Great Housewarming Gift
By
Shopper

(Oakmont, PA) - April 20, 2011
This product is great!!! I am so pleased with how it turned out and the quality of it. The size of canvas is perfect. It was a perfect housewarming gift for my sister, everyone loves it.
It arrived very fast and in perfect condition.

Exceeded expectations
By
Jackie F.

(Mason, OH) - February 12, 2011 (
See all reviews by this customer
)
The directions were simple to follow; it was no trouble to design and select the product I wanted. The photo canvas came out even better than I expected and arrived in just a few days, in spite of the ice storm that covered the US. If only other online sites were this easy and provided this much satisfaction!

Unique Gift!
By
Alexis O.

(New York, NY) - December 30, 2010 (
See all reviews by this customer
)
This collage is awesome. I filled it with my fiance's family photos as a gift for his parents. They loved it! It even made me soon-to-be mother-in-law get teary eyed!

Love it
By
sabrina H.

(Clearlake, CA) - December 15, 2010 (
See all reviews by this customer
)
I Love this photo canvas it turned out so well they even called me to tell me I needed to change one of the pictures because it was not coming out so I could send in another one.

incredible!
By
Ashlee B.

(Camden, TN) - December 9, 2010 (
See all reviews by this customer
)
I saw this and thought it would make a great gift for the grandparents. I got it in and was so excited! I took it to work and so many of my coworkers ended up ordering some for Christmas presents. This is an awesome gift at an incredible price!

4 picture collage
By
Dachelle R.

(Lexington, TN) - November 30, 2010 (
See all reviews by this customer
)
This is my favorite of my entire order! When I made it on the computer, it was for a gift, but my husband saw it and said no we are keeping that! When it arrived, I knew he loved it b/c he hung it right away! Again the quality and timely delivery are exceptional and I highly recommend this product!

Very Happy!!
By
Amy M.

(Valrico, FL) - November 11, 2010 (
See all reviews by this customer
)
I am very impressed with this item. It is high quality and will be an amazing Christmas gift for my parents. Thank you! Worth every cent!

Great canvas collage
By
nicholas T.

(vineyard haven, MA) - October 6, 2010 (
See all reviews by this customer
)
Loved it !

AMAZING BUY!
By
Meredith L.

(Hiram, GA) - June 19, 2010 (
See all reviews by this customer
)
I was thrilled when I came home to the huge canvas on our doorstep! I bought a personalized canvas on another site weeks before. It was a fourth of the size, and cost the same amount as this huge one. The quality was nothing near as good as personalizationmall.com! I am so happy with the steal and I just know my dad will love the product. Thank you for a great memory that will be forever hung in my parents house!

LOVE IT!!!
By
KELLY J.

(ELY, NV) - June 3, 2010 (
See all reviews by this customer
)
I love this canvas. The pictures look wonderful and it is a great size. You will not be disappointed with this purchase.

4 Photo Collage© Personalized Canvas Art -Excellent Product!
By
Sheliza A.

(Frisco, TX) - February 11, 2010 (
See all reviews by this customer
)
The 4 Photo Collage© Personalized Canvas Art frame I ordered was perfect!
The picture quality was just fantastic.
Gratitude from one satisfied customer :o)

Great Value for Beautiful Gift
By
Melanie T.

(Marietta, GA) - January 30, 2010 (
See all reviews by this customer
)
I loved the way this turned out, it was beautiful and such great value! Cannot believe the price for this. It was a gift for my Mom who was turning sixty and the layout was perfect with the three smaller pictures (one for each of us siblings with our significant others) and the last, bigger one of Mom and Dad.

Needless to say, she loved it. It now hangs by the living area of my parents' home and guests would always comment on it.

Another great gift from Personalization Mall!

Wonderful Canvas
By
Kitty F.

(Tucson, AZ) - October 1, 2009 (
See all reviews by this customer
)
The quality of the photos on the canvas is terrific. I have to say that it is a wonderful collage with excellent quality for the low price!

great gift
By
Shopper

(grand island, NY) - December 30, 2013
download was easy but the placement was not so easy . Had to go back and replace the photos in the order I wanted. Also all colored photos are made black and white and not all keep the same brightness ...I found two of the photos became very dark and the detail was lost. If using the photo correct program offered by the manufacturer be wary it may turn the black and white photo too dark. The attached photo is the one I submitted but when received it was way darker on two of the images , does not look like the finished product It was still a good quality item and the turn around time was very impressive for being ordered 5 days before Christmas!

Beautiful gift for family members
By
Nichole G.

(Pleasant Grove, UT) - December 31, 2010 (
See all reviews by this customer
)
I ordered three of these at once, crossing my fingers that they'd turn out and be the heartfelt gift I was hoping for. They showed up on Christmas Eve (luckily!) and were very much what I'd hoped. The picture quality isn't completely clear, but because it's canvas, looks like it's meant to be that way. Very classy.

I do wish they'd offered a color option for the pictures, or at least a color touch up option for the black and white, just to enhance them, but I'd definitely buy these again. All three of mine were received with a great response. *LOVE*

Lovely Gift
By
Christine M.

(Sandy Spring, MD) - December 11, 2010 (
See all reviews by this customer
)
This is a very charming gift for a family. I really love it and I know my parents will as well! The personalization makes it extra special!

Pick very bright pictures
By
Elicia M.

(Tomball, TX) - December 18, 2009 (
See all reviews by this customer
)
Since this was a gift for another family, I had limited pictures to choose from - but they were all from a boating trip in mid-summer. Apparently, they were still a bit too dark. The black/white doesn't showcase the pictures as well as I thought when I saw the preview - though the product itself is outstanding, especially for the price. Just make sure to brighten or choose extra-bright pictures!

Beautiful idea for precious pictures... But very big
By
Shopper

(Hazlet, NJ) - December 16, 2011
this canvas came out so nice it's just so much bigger than I expected the picture online of the canvas on the wall makes it look alot small
But again it's very nice product