Good enough
By
Shopper

(New York, NY) - August 14, 2011
A nice gift idea for office!

Surprised and disappointed.
By
Amy N.

(New Castle, PA) - February 16, 2011 (
See all reviews by this customer
)
The mug came quickly enough,but it was a bit fuzzy and not as crisp or clear as I expected it to be. The colors were not as bright or vibrant as I expected either. I have ordered other items, this is the first time I was less than thrilled about my selection.

Just ok
By
Mellisa T.

(Abingdon, MD) - August 5, 2010 (
See all reviews by this customer
)
This item was ok - the cup isn't made with the best materials - but the name inprint looks nice.

It was fine
By
Susan H.

(Fort Smith, AR) - August 3, 2010 (
See all reviews by this customer
)
The personalization looked great and I love the quote on the back. However, I was disappointed with the mug itself...it's not a very high quality mug and not one that I would enjoy drinking from. This could be a really great item if the mug was upgraded or if there was an upgraded choice available.

First item received with negative review.
By
John D.

(Wilkes-Barre, PA) - July 20, 2010 (
See all reviews by this customer
)
Sorry to say when I received the mug I was alittle disappointed as the square background appeared black with the blue lettering I chose online and looked great. Unfortunately, the square background on the mug I received was brown with the blue. Not looking so good. Quote was printed crooked also and first letter not highlighted although own quote was chosen. Outside of these flaws, I would have enjoyed giving this gift.

Personalized Mugs
By
Lisa J.

(Menlo Park, CA) - June 11, 2010 (
See all reviews by this customer
)
Overall I liked the idea of personalizing these for teachers gift with the quotes. I didn't quite get the color combinations, didn't show up that well online, so ended up with a lot of brown.

NEEDED MORE DESCRIPTION
By
DIANA P.

(COLONIA, NJ) - March 31, 2010 (
See all reviews by this customer
)
THE INK, ON MY QUOTE, APPEARED DISCOLORED. THERE IS A HINT OF PINK ON THE LETTERING. ALSO, I WISH P/M HAD DESCRIBED THE SQUARE BACKGROUND AS BEING BROWN,AND THE QUOTE PRINTED IN BROWN. MY ONLINE PICTURE OF THE MUGS APPEARED BLACK, FOR BOTH. I HATE BROWN. I WOULD NOT HAVE PURCHASED THE MUGS IN BROWN, BUT THAT'S WHAT HAPPENS WHEN YOU BUY ON-LINE, UNLESS THE DESCRIPTION IS THOROUGH, WHICH IT WAS NOT. EVERYTHING ELSE I HAVE EVER ORDERED . . .I JUST LOVED. THE THREE MUGS WOULD HAVE BEEN PERFECT OTHERWISE

a little unhappy
By
ELAYNE M.

(LEXINGTON, SC) - March 11, 2010 (
See all reviews by this customer
)
i think the coffee mug is overpriced
it looks nicer online

Just OK...
By
Leza H.

(Missouri City, TX) - January 2, 2010 (
See all reviews by this customer
)
Purchased as a gift. Print is a bit off-centered. Company should take better care in inspecting its work before shipping.

The font is a little bit small for the quote side of the mug
By
lisa H.

(Tupelo, MS) - December 27, 2009 (
See all reviews by this customer
)
The mug is just what I expected, the font for the quote is really too small for the size of the mug. I would keep that in mind when ordering another personalised mug

quality lacking
By
Grace W.

(Pensacola, FL) - December 24, 2009 (
See all reviews by this customer
)
Sorry, but this is the only product I have not been pleased with from your line. The personalization was crooked and the quote was partially blurred (verified by others). All of the other products we have ordered have been of excellent quality.

A little disappointed
By
Stacha T.

(Kennesaw, GA) - October 5, 2009 (
See all reviews by this customer
)
For the most part, I do like the product. However, if you are entering your own quote on the back, the first letter is not highlighted (as in the photo) and the print is a little off centered. I think more attention should be paid to those details.

Just OK....
By
Shopper

(Saddle Brook, NJ) - December 29, 2011
I ordered four (4) mugs which I personalized...they were just OK. I expected a better quality printing on the back of the mug. I've ordered items in the past and I've never been disappointed with the quality, but this time I saw some black stains on the bottom of the mugs and the printing (printing of my personalized quotes) on the back was very light...the visibility of the print was poor. I'm a bit disappointed but the people I gave the mugs to as gifts seemed to really like them.

PACKAGED WELL
By
Shopper

(hollis, NY) - December 12, 2011
PRINTING ON COFFEE MUG WAS NEAT AND PROFESSIONAL. THE COLOR I SELECTED BASED ON THE PHOTO ON THE WEBSITE DID NOT MATCH TO WHAT CAME IN THE MAIL BUT NONETHELESS THE RECIPIENT WAS PLEASED WITH THIS GIFT.

Not so pleased
By
Shopper

(Ypsilanti, MI) - May 25, 2011
The cup is really good quality but I'm not thrilled with the overall look and feel of it. I've ordered mugs from here before and I loved them. this one is not white, it is a dull off-white/creamy color which makes the mug looks ancient. The person I picked this mug four has a four letter name, which appeared very small and odd looking... I would not buy again.

Nice idea...close but no dice
By
Kathy F.

(Dallas, TX) - December 28, 2009 (
See all reviews by this customer
)
The photogragh of this item looks elegant and timely. When I received my order (for a Christmas gift) I was immediately disapointed. The monogram on front of the cup was smaller, the colors were not as vivid, and there were flaws in the print. On back, the quote was also smaller and printed crooked. Because it was too close to Christmas, and I need the gift for a coworker, I gave it anyway...hoping that his eye would not catch these flaws. Nice idea and could have been really great, but missed the mark. oh well, live and learn.

Mug in pieces
By
Shopper

(East Providence, RI) - December 22, 2013
The mug arrived in pieces. I was unable to use the gift.

Disappointed
By
Shopper

(Mexico, NY) - December 5, 2011
Very bland and generic product. Not at all what I've come to expect from this company. I probably will not give it to the person I bought it for. Quote is very difficult to read.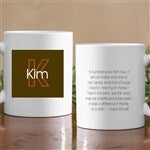 Disappointed
By
Arlene M.

(Philadelphia, PA) - July 25, 2011 (
See all reviews by this customer
)
I was very disappointed when I received the mug. The color was very dull and boring. Even after choosing the orange color it didn't help. Wont order again.

Not worth it!!
By
RAJESH P.

(IRVING, TX) - January 7, 2010 (
See all reviews by this customer
)
I bought this mug for my husband's birthday.
It is completely different form my order and very cheap quality. I will not buy this product again.. Those who is tempted to buy pls. think twice before your order.
I was completely disappointed.

Not worth the money!!!

I would never order again
By
Michael S.

(Spring, TX) - October 8, 2009 (
See all reviews by this customer
)
I AM VERY VERY UNHAPPY WITH MY PURCHASE, THE MUG WAS FOR MY WIFE ON OUR ANNIVERSARY WITH THE DATE ON IT. THE MUG ARRIVED WITH THE WRONG DATE. I WAS UNABLE TO GET A MUG WITH THE CORRECT DATE WITHOUT PURCHASING A NEW ONE. NEEDLESS TO SAY MY WIFE WAS VERY UNHAPPY THAT THE DATE WAS NOT CORRECT. I WILL NEVER BUY ITEMS FROM THIS COMPANY AND WILL TELL MY PURCHASING MANAGER AT THE OFFICE WHO WAS WAITING TO SEE HOW THE ORDER TURNED OUT, NOT TO MAKE ANY PURCHASE'S. THEY WERE THINKING OF ORDERING FOR THE ENTIRE OFFICE FOR APPRECIATION GIFTS. THANKS FOR A VERY DISAPPOINTING EXPERIENCE, PERSONALZATION MALL.COM MY WIFES ALSO THANKS YOU