Very Nice
By
Mary S.

(Tonawanda, NY) - September 21, 2013 (
See all reviews by this customer
)
I bought two of these mugs for my daughters. The brown is a little masculine but they really came out easy to read and having so many sayings to choose from was great. I would get one again.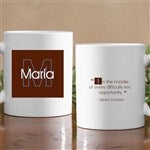 What I was looking for
By
Shopper

(Hinckley, OH) - September 3, 2013
Ordered 4 mugs with same personalization and they were perfect! Shipped quickly and packed very well. Will soon be ordering some for Christmas gifts! Very good quality.

Wonderful Product
By
Shopper

(Durham, NC) - August 23, 2013
I bought this product for a present for my husband. He was thrilled. My husband's hands are pretty big and all of our mug's handles were alitle small, but ths 15 oz mug had a great handle; all four fngers fit perfectly. The personlized name and last initial behind it looked great and his favorite ssaying was on the back. This product was perfect!!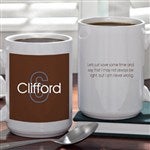 Satisfied Customer
By
Shopper

(West Milton, OH) - August 3, 2013
Another pleasant experience. I have never had a complaint with Personalization Mall. The products look just like you see them on-line and are shipped out the day after ordering. I will definitely be back!!!

BEAUTIFUL OVERSIZED MUG
By
Sabrina J.

(Canada) - July 9, 2013 (
See all reviews by this customer
)
THIS WAS EXACTLY WHAT I EXPECTED. ONLY WISHED THE SITE OFFERED TEA CUPS AS WELL AS MUGS THAT CAN BE PERSONALIZED LIKE THIS. MAY BE PURCHASING MORE IN THE FUTURE.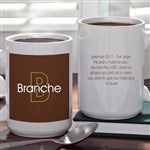 Great products and great service.....
By
Shopper

(West Milton, OH) - July 7, 2013
I was totally satisfied with the personalized mugs that I purchased and was very surprised that I received them within 5 days. I would recommend this company to anyone. I have ordered quite a few times and have always had a positive experience.....Thank You!!

Personalized coffee mugs
By
Janice W.

(Knoxville, TN) - July 7, 2013 (
See all reviews by this customer
)
Quality coffee mug, personalized with name and initial. The colors and script are great. Plus, I love the verse on the reverse side.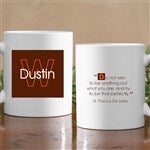 Happy Customer
By
Shopper

(Philadelphia, PA) - July 5, 2013
I gifted this to a friend who always had to take a mug to work back and forth with him daily as his desk space was shared and mugs could not be stored in the small kitchenette. No one can mistake the use of his mug and the quote is very meaningful to him. Having his favorite colors did not hurt either!

Got my value and faster than I expected
By
Norm B.

(Newport Beach, CA) - June 29, 2013 (
See all reviews by this customer
)
Ordered a personalized mug for the outgoing leader of our Toastmaster's group. Put it off till the last minute (of course) and had but 1 week to get it; it came in 2 days early, looks great, I'm a fan.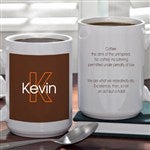 Love
By
Shopper

(Thompsons Station, TN) - June 22, 2013
It was better that I expected!

A Quote For Any Mood
By
Mary Sue S.

(Arlington, TX) - June 21, 2013 (
See all reviews by this customer
)
This is my third Quotes mug and will certainly not be my last. The quality of the mugs is very nice, but the thing I like best about these is the variety of quotes from which to choose. I have given them as gifts and every time I choose gifts for others, I get one for myself. One time I was buying for 4 of my friends and ended up buying 5: I'm a friend to me, too! Then, two more friends, plus myself, and this time, a beer mug for my friend and another quote mug for me.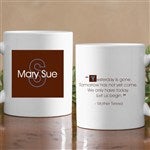 Nice
By
Shopper

(Nanuet, NY) - June 15, 2013
I gave this mug to some teachers they love it!

Perfect
By
Mark R.

(Middletown, CT) - June 10, 2013 (
See all reviews by this customer
)
Mug exceeded my expectations!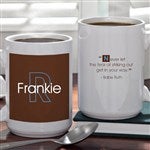 A special message
By
Joyce B.

(Queensbury, NY) - May 28, 2013 (
See all reviews by this customer
)
This is the second mug like this we have ordered . Being able to customize the message on the cup was exactly what I was looking for. The lettering was very clear and exactly as I wanted. The front monogram and name is very bold and just perfect. The recipent was very pleased and it meant a lot to have the message I requested on his mug.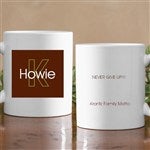 PERSONALIZED COFFEE MUG
By
DAWN W.

(LUTHERVILLE, MD) - May 28, 2013 (
See all reviews by this customer
)
I was so happy with my personalized coffee mug that I got as a gift for friend. It came out great, was shipped very quickly and price was Great!

They delivered as advertised
By
Joseph H.

(North Wales, PA) - May 20, 2013 (
See all reviews by this customer
)
I ordered a personalized coffee mug. Nothing spectacular, but the order was processed and the mug delivered in a timely manner and as promised. They provided good communication along the way as to the status of my order and shipping information.

great gifts
By
Lisa S.

(Sullivan, IL) - May 15, 2013 (
See all reviews by this customer
)
purchased these personalized mugs as gifts for employee appreciation day. they were beautiful. we were proud to be able to provide our employees with such a lovely gift, without breaking the bank. would definitely recommend.

Perfect Coffee Mug
By
Richard E.

(Winnetka, CA) - May 15, 2013 (
See all reviews by this customer
)
This 15oz mug does quite well in the dishwasher, and has a very ergonomic handle design that is easy on the hands. The graphics and lettering are high quality. This is the 6th mug of this type that I have bought for either myself or a relative, and everyone who receives one is quite pleased with all the factors I mentioned. I definately would -- and will -- purchase another cup from this fine company.

Their merchandize is always packed very well, too, and shipping is swift.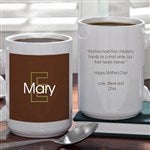 Great gift
By
Peggy R.

(Harlingen, TX) - May 13, 2013 (
See all reviews by this customer
)
I gave these at graduation for my group of Dale Carnegie class mates. I personally wrote something regarding their growth regarding what we learned over our 12 weeks of working together. I added a quote and then the year on the bottom. They loved them. Super nice heavey mugs. Very pleased.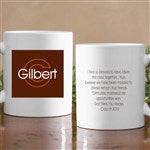 Great gift item
By
Shopper

(Angola, IN) - May 8, 2013
We ordered this for our granson's graduation. Shipment was very quick and the mug is exactly what we had hoped it would be.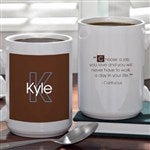 Happy Office Staff
By
Ruth D.

(Atlanta, GA) - May 6, 2013 (
See all reviews by this customer
)
I ordered this mug for everyone on my team at work and they loved them. Nice quality and strong mug. Very happy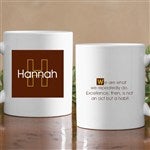 Came out great
By
Shopper

(Slidell, LA) - May 3, 2013
Great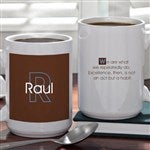 Excellent Workmanship!
By
Shopper

(Mantua, NJ) - April 21, 2013
The gift mugs I ordered exceeded expectations. The quality was A+, and the shipping speed was extraordinary. I highly recommend this company.

Personalised Mug
By
Shopper

(New Hyde Park, NY) - April 15, 2013
Thanks for prompt shipping of this mug and a great quote suggestion which we hope will inspire our graduate every time she uses it!

1st time purchaser
By
Ruby S.

(Detroit, MI) - April 12, 2013 (
See all reviews by this customer
)
My first purchase and I am completely satisfied. Ordered mug Thursday and received on following Tuesday. Quality and lettering are excellent.
This will not be my last purchase. Ability to view order prior to purchase is excellent.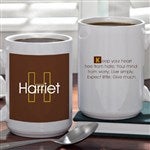 Nice size not to big not to small
By
Shopper

(Pontiac, IL) - April 8, 2013
Nice idea for a personal gift.

Uniquely personalized mug
By
Shopper

(Aurora, IL) - April 7, 2013
This mug was a perfect showcase for a little poem I had written! I'm always glad to find items for which I can provide my own text, allowing me to create unique and completely personal gifts.

GREAT gift for my Dad
By
Mayra G.

(Madera, CA) - April 1, 2013 (
See all reviews by this customer
)
My Dad is a difficult person to shop for. With Christmas just around the corner, I found this website and decided to purchase this mug for my dad. I love the fact that the description of the item was on the mark. The image that the computer produced after my personalization was dead on to the actual item (once I received it) :). Love the way it came, love the quality of the mug. Great purchase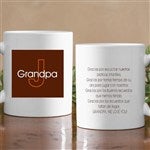 My cup runnith over with satisfaction!
By
Shopper

(Orchard Park, NY) - March 19, 2013
This particular item is a gift, so to tell you how it feels when I use it- I can't. But- I am sastisfied with it's appearance.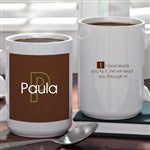 Super Swift
By
Clara I.

(Las Cruces, NM) - February 11, 2013 (
See all reviews by this customer
)
Tne mug came really quickly and was really beautiful


Satisfied Customer
By
Shopper

(Warner Robins, GA) - February 2, 2013
I absolutely love this mug and what makes it special is that it's personalized. I would highly recommend this company to all of my friends and family. Will definitely order future purchases.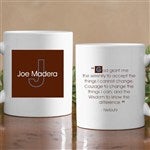 Quality peice
By
James R.

(Fairview Heights, IL) - January 26, 2013 (
See all reviews by this customer
)
This mug is of quality
that surpasses others.
And you can't beat the price!

100% SATISFACTION!
By
Mark H.

(San Diego, CA) - January 21, 2013 (
See all reviews by this customer
)
I needed a specific coffee cup for a new hire in our office. Personalizationmall.com made sure it arrived as ordered and in perfect time! Thank you!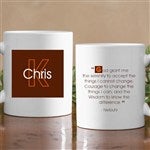 Great
By
Shopper

(Olean, NY) - January 9, 2013
I love this coffee mug it came out great. I received it days before it was scheduled to show up and I couldn't be happier. I will definitely be ordering more in the future.

Something 'DIFFERENT' for a change!
By
Jay L.

(Newton, NJ) - January 7, 2013 (
See all reviews by this customer
)
I wanted something more unique than the everyday gift; I believe I succeeded.

Co Worker in Tears
By
Marie C.

(Plant City, FL) - January 7, 2013 (
See all reviews by this customer
)
This was a belated Christmas gift for my coworker she called me at home and told me she was in tears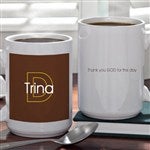 very nice product
By
Shopper

(Casco, ME) - December 27, 2012
cups are a nice size with easy to hold handles even for those with severe arthritis. great product; just wish it came in color other than brown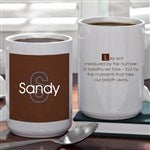 exactly as expected
By
Shopper

(Schaumburg, IL) - December 26, 2012
very happy with the mug looking exactly
as I had ordered, good quality

Employee Gifts
By
Shopper

(Harleysville, PA) - December 24, 2012
It was very well received by my staff. They love the personalized touch. I love the reasonable prices and excellent quality!

Really very, very nice
By
Kerry P.

(Peachtree City, GA) - December 24, 2012 (
See all reviews by this customer
)
The mugs came out beautifully --imprinted with the quotes I chose. Came quick, look beautiful. Very pleased with my purchase! Highly recommend!