Great Quality!
By
Jennifer J.

(Vail, AZ) - October 2, 2009 (
See all reviews by this customer
)
This frame is a great quality frame. The engraving/woodwork looks spectacular!

Nice Gift
By
Shopper

(Bensalem, PA) - December 10, 2012
I purchased this frame and by the looks of the preview picture when its personalized looks awesome! When I rec'd it, the carved lettering wasnt as dark & engraved as I expected. I added two names (on the bottom of the frame) and they are very spaced out. Not what I had in mind. I added an extra line to fill the empty space.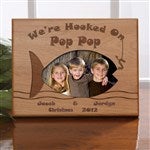 Super cute!
By
Shopper

(Sturtevant, WI) - September 21, 2012
I love this frame, but I wish that the website would allow two names to be on the same line. I added middle names to get them aligned properly.

Nice personalized frame
By
Shopper

(San Diego, CA) - June 30, 2012
Good quality, nice customization. Very cute!

Nice frame
By
Jackie M.

(Isanti, MN) - December 29, 2011 (
See all reviews by this customer
)
Photo not interchangable unless kids are in the same order or you don't care. Good quality and a great gift!

Excellent product
By
Sarah M.

(Whitehall, OH) - December 8, 2011 (
See all reviews by this customer
)
I purchased this for my father, a long time fishing fanatic, as a Christmas gift from my kids. It is very cute and high quality! My only complaint is that the names at the bottom are not exactly centered on the frame, but it still looks okay. I am sure that he will love this.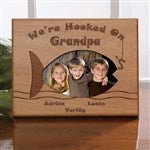 Very nice gift
By
Shopper

(Kewanee, IL) - June 24, 2011
Love this personalized picture frame! Made a great gift - grandpa loved it. Wish we could personalize the "grandpa" part of the frame, but it makes a great keepsake either way. Very well made!

Father's Day Gift
By
Russ D.

(Matteson, IL) - June 23, 2011 (
See all reviews by this customer
)
We bought this gift for my dad for Father's Day. He's a first time grandpa, so we placed a picture from our ultrasound in it for him to take to work. I loved how the lettering is engraved into the frame and not just painted on. My dad loved it.

My only problem was putting the name on the bottom. I wanted to write "Grandpa's First Father's Day 2011", but because the bottom is really only for names, the wording appeared as names and turned the "I'm hooked" into "We're hooked". So I had to change it back.

Other than that, it's a good sturdy frame and just plain adorable!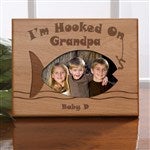 Great gift for Papa
By
Sera T.

(Joplin, MO) - December 29, 2010 (
See all reviews by this customer
)
Good quality. Everything was right. Only reason I didn't give 5 stars is tere was a noticable 1/4 inch divet in the wood, right by the oval for the picture.

cute frame
By
Machelle S.

(centerton, AR) - December 13, 2010 (
See all reviews by this customer
)
Cute frame for a grandfather who loves to fish. Was hard to get group picture in opening so don't zoom in too close. The names did not come in the same order as previewed on site. Overall a cute frame if you have someone hard to shop for that loves to fish.

picture size
By
Carmela W.

(Elmira, NY) - June 24, 2010 (
See all reviews by this customer
)
I was pleased with the finished product overall although I thought that the opening for the picture could be a little bigger.

great gift...only one problem
By
Melissa L.

(Oceanside, CA) - October 12, 2009 (
See all reviews by this customer
)
I loved the product it was great! My father-in-law was thrilled. The only problem i would say was that the frame stated it was for a 5X7 picture and when i placed a 5X7 picture it didn't come out on the fish. THe best thing to do was get a 4X6.

take it or leave it
By
Shopper

(Glenwood, IA) - June 21, 2013
It was a good idea for the frame. I wouldn't buy it again. There are better sites with lower prices and that let me customize it to exactly what I am looking for. Had to try the site out before I knew for sure I won't come back because it doesn't beat the other options.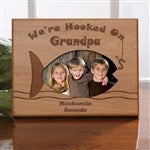 good quality frame
By
Jody C.

(Pawtucket, RI) - December 28, 2011 (
See all reviews by this customer
)
This frame was great, good quality wood, looked great and was a big hit! (we gave it as a gift) BUT I had a huge problem with the backing. When I tryed to take the back off to put a picture in, it was fitted so tight I couldnt get it off! I ended up breaking all 4 corners trying to pry the back off with a butter knife! I finally got it off, put a picture in (which looked great) and had to hammer the back on again. I dont think my FIL will ever be able to change out the photo without replacing the back completely!

Frame is cute - disappointed with personalization
By
betsy M.

(highlands, NJ) - June 18, 2010 (
See all reviews by this customer
)
The frame itself is cute, and the quality is better than expected. For my order, two names were added to the personalization, and rather than aligning the names horizontally, they were aligned vertically. (I was able to preview this prior to ordering, but was hoping it would be corrected.) Bottom line, frame makes a great gift, and as long as you are requesting three or more names, it should turn out exactly as you hope.

hooked on grandpa frame
By
Jeanne S.

(New Berlin, WI) - November 20, 2009 (
See all reviews by this customer
)
the frame itself I have no problems with, However, the personalization was not done correctly. I had requested 2 names to be put on the frame. the first name is correctly placed on the left but the second name was placed in the center instead of on the right and the right side is blank