Happy Nana
By
Gail C.

(Baisden, WV) - October 22, 2009 (
See all reviews by this customer
)
This is a perfect gift for my grand-daughter for her baptismal. I know she will love it and it will help make this day memorable one for her. Thank you for your prompt service.

Adorable lamb not just for babies.
By
Arlene L.

(Gallatin, TN) - October 19, 2009 (
See all reviews by this customer
)
I purchased this lamb for my mother's bed. She is coming for a visit. She is 84 and the world's best Mother. I have made sure her room is special and decorated just for her. The lamb engraved with "GOD BLESS MY MAMA" sitting on her tea rose bed spread was just the finishing touch I was looking for to make her feel loved and welcome. Thank you!

A much appreciate gift
By
Monya H.

(Columbia, SC) - October 19, 2009 (
See all reviews by this customer
)
I was very impressed by the quality of this product and the speed at which it arrived at my home.

Adorable!
By
Brenda M.

(Angier, NC) - October 8, 2009 (
See all reviews by this customer
)
I bought this along w/ a little blanket for my new grand nephew. It's very precious & plush and absolutely adorable!

Great christening gift
By
Barbara C.

(Monroeville, PA) - October 8, 2009 (
See all reviews by this customer
)
Loved these lambs! i purchased them as christening gifts for my twin grandbabies. They where a nice size and the monogramming makes them very personal. also, the shipped very quickly.

Loved It!!
By
Linda G.

(Ripon, WI) - October 7, 2009 (
See all reviews by this customer
)
I bought this lamb for my grand daughter and I wanted to get her something special. I looked all over in christian stores, malls, etc and didn't find exactly what I was looking for. When I saw this and that I could personalize it I knew it was the gift for me to get. It is adorably cute! I received fast and prompt service. It was easy to order over the internet and I could even get an idea what the personalization would look like. Shipping was unbelievably quick. I had about a week before her baptism and didn't think I would get it in time. I received it and with a couple days to spare. I would order from this company again.

So Soft and Sweet
By
Lucille E.

(Novato, CA) - October 3, 2009 (
See all reviews by this customer
)
The lamb is so soft and has a sweet expression. It is made even more special by having my nephew's name embroidered beautifully on the belly. We are giving this to the baby for his Baptism gift.

Cute cuddly lamb!
By
Kristen F.

(Manchester, CT) - June 9, 2014 (
See all reviews by this customer
)
This is the fifth Baptism Blessing lamb I have ordered. They are so soft and cuddly - a wonderful rememberance gift that a baby can snuggle with. The first four had blue block lettering which was easily readable, but this one has pink script and I am not quite as happy with it. The first letters of the name, Vi seem a little crunched together and because of the fur seem a little hard to make out. I'm sure it has something to do with these letters and a programmed sewing machine and is probably unavoidable. I would definitely order another lamb when an occsion rises, but I think I will stick with the block lettering.

soft and cute
By
Shopper

(Hillsborough, NJ) - May 12, 2014
this is very soft and cute. it does have a zipper at the bottom (the entire "coat" comes out - probably so the personalization can be done easily) - may scratch young children

so cute!
By
Mary C.

(Arlington Heights, IL) - January 2, 2014 (
See all reviews by this customer
)
Looks exactely like expected. Cute and soft.

Personalized Baby Lamb
By
Shopper

(Thornton, CO) - September 3, 2013
This is the 2nd baby lamb I've purchased. It is just the right size, soft, and cuddly. I am a little disappointed in this one however. The script is harder to read through the soft nap than the block style. It also has wrinkles and looseness in the fabric where it was seamed together on the tummy. I've considered returning it to have it re-sewn, however, I don't want the delay in giving this precious gift. So, I think the receiver will be pleased, anyway. It really is cute, I just can't give 5 stars because of how it is sewn together.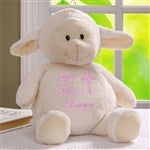 Lamb
By
Shopper

(Cambridge , MA) - March 23, 2013
I was very happy with purchase of the lamb the quality and size of the lamb was exactly as shown in the picture online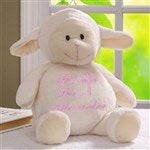 Great baptism gift!
By
Shopper

(Canada) - October 28, 2011
Very impressed, quality product!!

cute stuffed lamb
By
Shopper

(Egg Harbor Township, NJ) - September 9, 2011
cute and soft, embroidery smaller than pictured.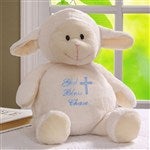 Great product minus one detail
By
Christa D.

(Pittsburgh, PA) - March 21, 2011 (
See all reviews by this customer
)
This is a great product. The material is very soft and the personalization was beautiful. It is perfect for a baptism gift. My only concern about this gift was that I bought it so the baby would be able to play with it, however, on the back part of the lamb, there is a zipper where you can take the stuffing out to wash it? I presume. I'm sure the baby would be fine, but it would be much nicer without the zipper.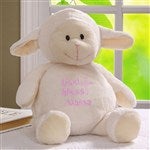 It's big and soft.
By
Millene S.

(Mason, OH) - November 24, 2010 (
See all reviews by this customer
)
Looks exactly how it is advertised. The body is bigger than I expected... I bought two of these, one for a girl and one for a boy. The embroidery is nicely done. I give it 4 out of 5 starts because I think it could be stuffed more... the body is big and felt a little deflated, but nothing visually noticeable.

Pretty Cute!
By
Julie M.

(Galion, OH) - August 20, 2010 (
See all reviews by this customer
)
Well I received my little lamb and she was pretty cute. I do wish I had gotten the block letters instead of the script because I found the script lettering somewhat hard to read. I had purchased the baptism teddy bear that you sold previously and I think I preferred that to the lamb, but that product was no longer offerred. All and all I think the "new mommy to be" will enjoy receiving this little lamb at her shower. Thank you!

It's cute
By
Sally F.

(Philadelphia, PA) - August 2, 2010 (
See all reviews by this customer
)
Purchased for my new grandchild. It's cute. I am pleased with it, however I don't know if I would buy another one. Just my taste, I guess.

A very unique and special gift idea
By
Andrea G.

(Airmont, NY) - May 3, 2010 (
See all reviews by this customer
)
I really wanted to find something special to give my grandaughter to go along with the check, (aside from the usual cross etc.) My daughter didn't like the idea of jewelry for a baby. When I found the lamb on line it was just one week before the christening. I was amazed that I was able to order it with the personalized embroidery and get it in time. It is a beautiful, extremely soft lamb. The personalization was correct, but slightly difficult to read. That may be because I chose script instead of block style. My daughter and grandaughter both loved it. It was a big hit!

sweet, soft & cuddly
By
Patricia F.

(Spokane Valley, WA) - April 2, 2010 (
See all reviews by this customer
)
Perfect baptism gift from someone special........Lamb's face is precious. All the reviews were 100% right on. A true keepsake gift. Pictures of it with my Grandson on "the day" will be adorable. Bigger than I thought it would be. Sits by itself very easily. Not sure I would wash as one of the reviewers wrote though. Stuffing stays in legs, arms & head so outside is not entirely removable. I did not see any cleaning instructions. Due to off white color lamb is more a sit on the shelf type of gift. I believe zipper is on torso just so it can be embroidered. Writing is very clear & legible.I had his middle name also stitched making it a completely unique personalized gift. The only thing I would suggest is the cross be stitched solid so it would stand out more. A little disappointed in that. I would defintely recomend & buy again. Everything it was advertised to be & more. Way to go!

Great Baptism gift
By
Nicole G.

(New York, NY) - February 24, 2010 (
See all reviews by this customer
)
I ordered this for a god daughter's christening. It arrived very quickly and is so cute. The bottom has a zipper to remove stuffing and wash.
The lamb is very soft.
Script was not as clearly legible as I would have hoped, but otherwise, a perfect gift!

Nice but different
By
Lisa S.

(Eden Prairie, MN) - January 26, 2013 (
See all reviews by this customer
)
This lamb is a nice baptism gift and I like the personalization, but I wish it hadn't changed. I ordered one 2 years ago for my niece and now one for my nephew. The new one is quite a bit smaller - about 2/3 the size - and the face is less detailed with less of a smile now. I would rather have paid more to keep it the same, because now the difference is very noticable since I gave them siblings.

OK
By
Kerri S.

(Detroit Lakes, MN) - August 2, 2010 (
See all reviews by this customer
)
This item was an okay purchase. It does have a large zipper on the rear-end of the lamb that I wasn't expecting. Also, it is tough to read the words on the belly. I got the "script" font. I'm gonna try to trim down the fuzz around the lettering so it is easier to read. It still is cute, though. It looks like it would sit on a shelf very nicely. The size of the item was very good as well.

It has a big zipper!
By
Christina E.

(Colfax, NC) - January 31, 2014 (
See all reviews by this customer
)
While the lamb is cute, the description leaves out the important fact that it has a large zipper on the back and removable round stuffing. Our stuffing was dirty and soiled, but Personalization Mall addressed the problem promptly and with great customer service. All in all, it is a cute lamb, but a little expensive for the quality you get. I attached a picture showing the zipper on the rear and part of the stuffing ball to better give an idea of where the zipper is and its size.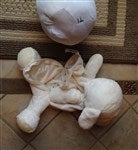 Disappointed With Zipper
By
Shopper

(Cottage Grove, WI) - September 20, 2013
Overall its cute and soft and arrived quickly. The problem is with the zipper, it goes accross the whole back butt of the animal. This is for little children who you know are going to unzip the lamb and pull out its insides. In addition there is not even a zipper cover over the zipper, so when they snuggle with it the zipper is exposed. With the rating this got by everyone else and the price of the lamb I would have expected at the very least a cover with velcro that covers the zipper for safety reasons. The zipper exposed makes it look very cheap. We actually first thought it was for storage. Would return it but do not want to deal with the hassle. I did notice that it does not show the zipper in any of the photos.