Great gift
By
Shopper

(Warren, MI) - March 18, 2014
I bought this for my Great Niece's first birthday and my Niece loved it. It is so cute!! I think cuter than the website shows. Very cute and tall once the hat is put on. Can't beat the price or the personalization. Very well done!!

A beautiful gift!
By
Shopper

(Mequon, WI) - October 27, 2013
My Godchild loved this!!! I also bought the stand which she loves to use to display her doll.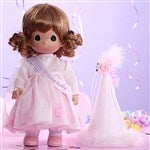 SUPER CUTE!!!!
By
Camille L.

(Albertville, MN) - May 15, 2013 (
See all reviews by this customer
)
I bought this for my two year old niece and she absolutely LOVES her 'baby'. I bought the stand to go with it, thinking it would be more of a keepsake but she drags it around everywhere and just adores her. Product looks just like in the picture, hair is maybe a bit redder even than it shows but it's very close. LOVE IT.

Love
By Shopper (Canada) - May 5, 2013
ADORABLE...that's all I have to say!

Absolutely Precious!
By
Shopper

(Highland, IN) - April 13, 2013
Perfect gift for my daughter. Perfect keepsake for years to come for her too.

Last minute birthday gift
By
Tina T.

(Omaha, NE) - March 16, 2013 (
See all reviews by this customer
)
I was a little behind getting something sent to my niece for her 1st. birthday and came across this one night. Looked cute in the picture so I decided to order it. I ordered this on Sunday or Monday night and was sure it would never make it in time. It was shipped on Tuesday and arrived to my niece on Thursday before her birthday on Saturday. My brother and sister-in-law loved the doll and the personalized sash. I am sure this will become a treasure that my niece will keep for a long time!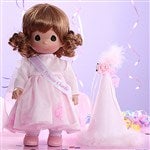 My Granddaughter's Gift
By
Shopper

(Holbrook, NY) - November 24, 2012
My granddaughter loved her doll. She loved the purple dress and hat. The bouncy blonde curls were so cute.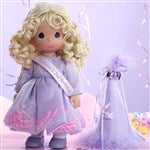 Beautiful doll for my beautiful granddaughters!
By
Carol L.

(Staatsburg, NY) - February 12, 2012 (
See all reviews by this customer
)
I purchased two of these dolls..one for each of my granddaughters. The dolls are beautiful and as it turns out...their outfits just happened to be the perfect color choices since one granddaughter's favorite color is purple and the other prefers pink. The colors are beautiful and of course the quality of the doll is excellent...it's a Precious Moments Doll!! I have to say that there was a little mix up with my original order but Personalization Mall went above and beyond to make it right. Their customer service is the best!

Beautiful Doll
By
Shopper

(Kennesaw, GA) - November 14, 2011
This is a present for my daughter's 3rd birthday. It's quite lovely in person. It is very well made. A must keepsake item for anyone. I would like to note that the auburn in the picture is a little darker/redder than the actual doll. The actual doll has a much lighter auburn color with more of a honey brown undertone. But, I still feel the doll is worth 5 stars since auburn can come in many different shades.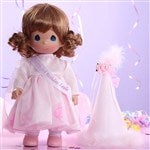 Sweet
By
Sridevi D.

(Topeka, KS) - November 12, 2011 (
See all reviews by this customer
)
My mother has always been a precious moments fan. So when I stumbled on this while searching for a bday present this year, I thought she'd like it. She really did, and the personalized ribbon adds such a sweet and personal and unexpected touch. As always, great service and products from personalizationmall.com! A great site for thoughtful and personal, creative gifts and even better customer service.

Precious Baby Doll
By
Shopper

(Williamsburg, KY) - November 6, 2011
I bought this doll for my granddaughter's 1st birthday. The personalized sash on the dress helped to make it special for the occasion.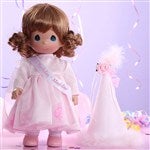 precious monents doll
By
Leslee M.

(Vista, CA) - September 11, 2011 (
See all reviews by this customer
)
I know this is basically a birthday doll, however I wanted to give to a dear friends daughter for Christmas. I put the childs name and the year. That way they will always be able to look at the doll and know Aunt Leslee loves them and the year it was purchased. I Love it!!!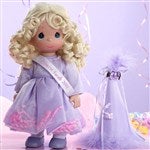 Absolutely Perfect and Beautiful!
By
Lois M.

(Mesa, AZ) - July 8, 2011 (
See all reviews by this customer
)
This doll FAR exceeded my expectations. It is quality from head to toe. The fabric is lovely, as is the party hat. What gorgeous hair, protected with a net to keep the curls in place. The only comment I might have is that the printing on the sash does not show up as nicely as I would have liked it to...it is light pink. Thank you for making my granddaughter's first birthday memorable.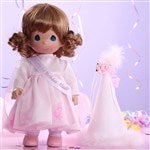 cuute!!!
By
Melisa S.

(Canada) - June 22, 2011 (
See all reviews by this customer
)
it was a present for my mom and made her cry!! so adorable..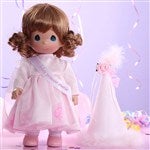 Beautiful princess doll for a beautiful b-day princess girl.
By
Hector C.

(Hacienda Heights, CA) - April 16, 2011 (
See all reviews by this customer
)
My wife order this princess doll for her sisters Quincenera (15th) B-day. Receiving your last doll is part of our tradition and this beautiful doll with her message engraved is the best gift. I recommend this product for your loved one.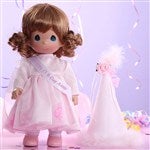 I LOVE IT...ITS PERFECT
By
kristy B.

(monroe, VA) - January 24, 2011 (
See all reviews by this customer
)
I love this...it was so much bigger than I thought it was gonna be...its beautiful...I ordered this for our daughter Savannah on what would have been her 3rd birthday...she passed away and we bought this doll to sit on her shelf....

How Precious
By
Brenda S.

(Zephyrhills, FL) - September 3, 2010 (
See all reviews by this customer
)
I ordered this product for my daughter's 18th birthday (she is a collector). If I could rate this product higher than a 5, I would. I ordered the auburn haired doll with the pink dress. The packaging was great. The quality is impecable and the price is very fair. Having the personalization on the ribbon is priceless! She will enjoy this doll for years to come.

Lovely!!!
By
Elizabeth C.

(Grayslake, IL) - June 8, 2010 (
See all reviews by this customer
)
Beautiful doll!!! i just loved it!!
shipping is always super fast. Thank you!

Just Precious
By
Lois B.

(Stroudsburg, PA) - April 14, 2010 (
See all reviews by this customer
)
We bought this doll as a special momento for our daughters first birthday. We wanted a keepsake that we could personalize with her name as the spelling is uncommon; something to keep forever and not be afraid of it breaking. This doll is so pretty and girly. This Precious moments doll is most definitely Precious.

Precious Selena
I was looking for a special personalized gift for my daughters birthday,something that she could keep forever and i saw these "Precious Moments" dolls n had too have one. Selena loved it!!! love this web site.

Precious Moments
By
Elizabeth C.

(Fort Worth, TX) - December 17, 2009 (
See all reviews by this customer
)
Another perfect gift! It is beautiful!! I am so proud to give this .. will definately order again!

Precious Moments~Tears of Joy
By
Sherry P.

(Arcanum, OH) - December 5, 2009 (
See all reviews by this customer
)
My sister loves Precious Moments and always buys my mom one for her birthday. I found this and knew it would be the "perfect" gift. I had it delivered to her home. It was late because they had gone out of state on vacation and I wanted to be sure she would be there when it arrived. When the UPS man delivered it, she was bewildered. As soon as she opened it, she called me on the phone. She was in tears. She loved it!

It was hard to choose which one I wanted, but I am planning on buying my mom one for her birthday also and her favorite color is pink, ergo the purple one went to my sister. :-)

A tradition!
By
Regina S.

(Hamilton, NJ) - October 8, 2009 (
See all reviews by this customer
)
Love the doll! Bought the auburn haired one twice now -- once for my granddaughter's 1st birthday last year and a second doll for the same granddaughter's 2nd birthday this year. Only complaint I have about it is that the white box it comes in has been somewhat 'mangled' both times so it's not very nice for gift giving. Needs to be packed differently for shipment.

Nive
By
Shopper

(Scott, LA) - December 10, 2013
It was a beautiful doll.

Embroidery on sashe cold have been darker
By
Shopper

(Mount Vernon, IL) - June 12, 2012
The doll was beautiful. My only complaint would be that the personalized sashe embroidery should have been in a darker color(ie:dark purple). It is very hard to see the embroidery of light pink on the white sashe. It is not a dark pink that it appears to be in the picture.I sent an email to customer service but was told the machine was preset with the light pink thread.Why not change it? Also, the sashe was about 2 inches too long so it didnt hang on the doll where it should have...I just cut the sashe off and sewed it up myself.Otherwise, my granddaughter loved her baby!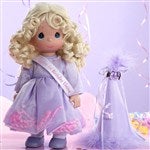 Beautiful Doll
By
Regina S.

(Hamilton, NJ) - July 16, 2010 (
See all reviews by this customer
)
Bought this doll AGAIN for our granddaughter's THIRD birthday. It's a BEAUTIFUL doll and well made. Only issue I have this time is it appears that the auburn hair is lighter this year--almost a red color instead of the darker brown it had been the previous two years. However, I wouldn't let that stop me from purchasing it again!

Beautiful
By
Rosanna E S.

(East Rutherford, NJ) - November 24, 2009 (
See all reviews by this customer
)
This doll is VERY pretty & I think the little girl I'm giving it to will love it!

Very Pleased
By
LynnMarie B.

(Pinellas Park, FL) - October 8, 2009 (
See all reviews by this customer
)
Our doll was a gift for a new arrival. It is beautiful and the new mother throughly apprecited it and the outfit and accessories. The sash provides the babies name and birthdate - WE are ALL pleased with the quality and the delivery timelines etc.
I will order again from this company.

Precious Moments Birthday Doll Auburn
By
Shopper

(Shorewood, IL) - January 31, 2012
The doll is very cute, but my husband and I are a bit concerned to give to our daughter's first baby, first birthday. We are not African American, but this doll sure looks like she is. I'm hoping when she is unwrapped and the plastic is off she will look suntan. I am going to call customer service too.