Wow - continued great service
By
Shopper

(Scotts Mills, OR) - April 16, 2012
you have come through again! I am so glad I found your website - your product is quality and your service stellar! Thanks!!

Perfect gift!
By
Shopper

(Aurora, CO) - April 16, 2012
What a beautiful First Communion gift! My granddaughter now uses it to store the precious heirlooms and special gifts that she received on her First Communion day.

Gift for Granddaughter
By
Shopper

(Manhattan Beach, CA) - March 26, 2012
This personalized gift for her Catholic Confirmation is a very lovely gift.

First Communion Box Review
By
Angela B.

(Blackstone, MA) - March 19, 2012 (
See all reviews by this customer
)
I bought this item as my niece's first communion gift. It is a quality-made box. It seems sturdy and long-lasting. I am hoping she will get a lifetime of joy and memories from it.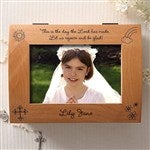 Absolutely a beautiful keepsake
By
Shopper

(Allendale, NJ) - February 16, 2012
I purchased this beautiful keepsake box for my daughter's First Holy Communion. I love how the personalization looks on the wood. Very simple and elegant. I also purchased the rosary beaded bracelet. This product even looks more beautiful in person!

great gift!
By
Shopper

(parma, OH) - June 20, 2011
had this made for my nephew for his first communion and all the other kids at the party wanted one! a real value! so happy i ordered from personalizationmall.com! always a hit! have ordered before and sure to order again!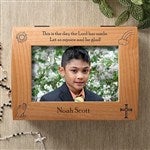 Great gift box
By
Cathy M.

(Barre, MA) - May 22, 2011 (
See all reviews by this customer
)
This is a perfect gift for anyone. The box was larger than I expected and the quality of the wood was great. Nice size picture opening and the engraving was done very nicely.

First Communion Gift
By
Shopper

(Independence, OH) - May 13, 2011
This is a beautiful box and received many oohs and ahhs as it was opened.
We were a bit disappointed that the inside bottom was unfinished wood.
So...my husband covered it with a piece of colorful sticky backed felt. That gave it a whole new and more upscale look.

christening box
By
Shopper

(Springfield, MA) - May 13, 2011
Very pleased with the purchase. Reasonably priced, spacious, and delivery was quick (within the same week!) The child was proud to keep items of various specialties in it.

Gift for Granddaughter
By
Patricia W.

(Council Bluffs, IA) - May 9, 2011 (
See all reviews by this customer
)
The box is beautiful and the engraving is awesome! I love it and I am sure my granddaughter will also. Turn around from ordering to receiving was quick.

Beautiful gift for first communion!
By
Shopper

(Stamford, CT) - May 9, 2011
I gave two of these boxes as gifts and they were both awesome! The product itself is good quality and the shipping was fast. The recipients loved them. The parents were beyond touched. This is a really a special gift for first communion at a very reasonable cost. Something that will be treasured. I printed out a little first communion prayer and put it inside the box. This is my first purchase from this website and I was very happy.

beautiful and affordable
By
Shopper

(Glen Rock, PA) - April 19, 2011
I am so impressed with the quality and turn around time for everything that i have purchased from Personalizationmall.com. this personalized box was no exception.

great to hold special keepsakes
By
Tina L.

(Salinas, CA) - April 2, 2011 (
See all reviews by this customer
)
I got this box for my older son on his first communion and he has treasured it with not only his rosary, but other items that are special to him. The picture on the front is a wonderful reminder of that special day. I can't wait to give it to my younger son this year. Thank you making such a great product.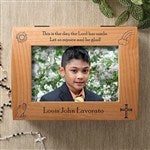 Excellent Product
By
Kerri S.

(Ashburnham, MA) - April 1, 2011 (
See all reviews by this customer
)
Extremely happy with my purchase. Beautiful gift box at a great price. I can't wait to give it to my daughter, she will love it. I like how you can view online how the personalization will look before you buy it. Thank you!

First Communion Gift
By
Maria A.

(Brooklyn, NY) - April 1, 2011 (
See all reviews by this customer
)
This box was just lovely and perfect for a young girl receiving her first Holy Communion. The wood was so pretty, shiny and smooth. The cover is large enough to put a nice photo of the event. I liked the lettering and font that was used too.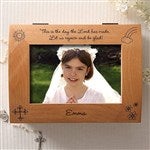 beautiful and thoughtful gift
By
Shopper

(YONKERS, NY) - March 19, 2011
I bought this gift for my grandaughters up coming communion, I know she will love it as she is always talking about putting things in a "treasure box" now she has a real one, that she will have forever, her name looks dainty and the workmanship looks great !!!! It is perfect for a forever keepsake. I'm sure we will have a great picture of her communion day to put in the front window area.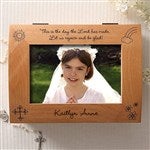 Arrived just as described.
By
Jennifer W.

(Irmo, SC) - August 2, 2010 (
See all reviews by this customer
)
We were very pleased with the quality of the box. It looks just like it was presented on the website. The finish of the personalization looks very nice.

First communion gift for my nephew
By
Windi S.

(Pearland, TX) - May 5, 2010 (
See all reviews by this customer
)
I was not there to see it, so I thought it was awesome that you are able to see what it is going to look like right here on the website, that was wonderful for me, to make sure what I engraved was going to look good!
My nephew LOVED it, and everyone there thought it was the nicest gift there! I even ordered late on Monday night, and it got there by Friday even with just standard delivery.
Thank you personalizationmall.com, you saved me!

beautiful keepsake box
By
Jennifer S.

(Spring Grove, MN) - May 5, 2010 (
See all reviews by this customer
)
I just received the keepsake box and it turned out better than I had expected. The quality and look are great!

perfect Communion gift
By
Susan W.

(Arlington Heights , IL) - May 3, 2010 (
See all reviews by this customer
)
I have purchased several of these now for 1st Communion gifts, and they're perfect. Well made. I put a rosary and mass book in for my Godson.

Beautiful Box!
By
Stefani M.

(Millsboro, DE) - April 27, 2010 (
See all reviews by this customer
)
This was a beautiful box! 8 year old girl loved it! I would highly recommend it to anyone looking for a nice gift.

just what i needed for a first communion
By
Nancy M.

(Tampa, FL) - April 19, 2010 (
See all reviews by this customer
)
I used this very nice personalized box to put other small gifts in for a first communion. My granddaughter was very excited when she opened it.

ReJoice and be Glad!
By
Shopper

(Shirley, NY) - May 13, 2012
This box arrived and I was so happy with the engraving. The script used was beautiful and delicate looking. The wood has a very rich look and finish to it. Well worth the money. My only suggestion to make this box a five star product, would be to add a velvet bottom to the inside.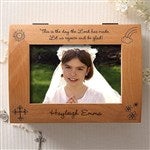 Great 1st Communion Gift!
By
Shopper

(Dallas, TX) - May 12, 2011
The Rejoice And Be Glad box was a hit for a 2nd grader honoring his 1st Communion. His mother tells me he's already loaded it with his treasures. Wish the date could have been added and that there was a lining inside. Otherwise, it looks great. It arrived within 4 days of ordering. Very pleased with entire experience.

Fantastic service
By
Shopper

(St. Louis, MO) - May 4, 2011
Bought this as a gift for my grandson's first communion. He loved it
and immediately put his treasures in it. I would have liked it better if
it had been lined on the inside but otherwise it was very well done and a
great gift for an 8 year old. My order was processed and delivered extremely
fast - great service.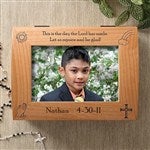 Useful gift
By
Shopper

(Weymouth, MA) - February 8, 2011
Altho not terribly inexpensive, I think the box is a nice and useful gift for the newly Baptized, 1st Communion etc. child.
I inserted a picture of the child on the cover and put the invitation in the box. I think it made a nice presentation.


Communion Keepsake Box
By
Diane C.

(Los Angeles, CA) - May 18, 2010 (
See all reviews by this customer
)
Beautifully designed box. Will be a wonderful storage to hold keepsake items.

Nice gift
By
Kimberly K.

(Scottsdale, AZ) - April 27, 2010 (
See all reviews by this customer
)
I purchased this box for my daughter's confirmation. It was a big hit - most girls love keepsake boxes and the ability to add the picture of her made it wonderful. The only problem is that the hinges are a bit cheap and feel like they may come loose.

poor quality
By
Peg F.

(Burlington, CT) - March 25, 2013 (
See all reviews by this customer
)
When I received this item, I thought that the printing on the lid made it look like a wonderfully thoughtful and beautiful gift. As I opened the lid, I noticed that the bottom was just a piece of pressed cardboard which demeaned the entire product. An elegant gift turned cheap.....