Adorable
By
Shopper

(Canada) - May 9, 2011
I was very pleased with the quality of the tie. Although it was a bit on the pricey side for a child's tie, it is a unique gift and a wonderful keepsake.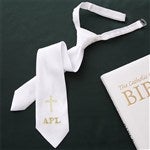 Communion tie
By
Shopper

(Wellington, FL) - April 17, 2011
I was a little concerned about buying this tie over the computer but I must say I love it...It is adorable and I can't wait for my son to wear it on his Communion Day....Thank you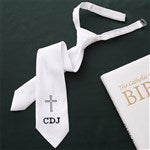 Geat First Communion keepsake
By
Indira A.

(Jacksonville, FL) - May 6, 2014 (
See all reviews by this customer
)
I was pleasantly surprise when I received the tie. The quality of it was amazing and the embroidery was superb. Would recommend to anybody looking for this same type of product.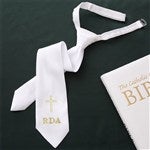 white communion tie
By
kristin D.

(Valhalla, NY) - May 2, 2014 (
See all reviews by this customer
)
I was a bit skeptical about purchasing a white tie for my son's communion but I'm pleased to say that the tie is really nice! My son loves that it has his initials. The tie is not cheap looking. Very happy!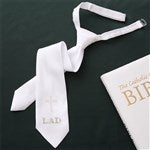 Great keepsake
By
Carol G.

(Orlando, FL) - March 11, 2014 (
See all reviews by this customer
)
Absolutely love this item and the quality. It will be a wonderful keepsake from his special day!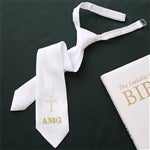 Pricey for Quality
By
Shopper

(North Haledon, NJ) - January 3, 2014
Nice for the occassion but thought the quality of the tie itself was not great. Tie feels somewhat cheap.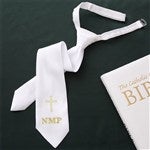 Very Nice
By
Carmen Y.

(Liverpool, NY) - May 16, 2013 (
See all reviews by this customer
)
I am very happy with the product. Good quality and speedy delivery.
I am not a first time buyer of your products and I recommended to others.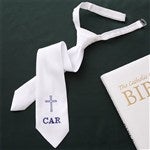 Tie
By
Shopper

(Sayville, NY) - April 21, 2013
The tie was of very good quality ,but it was way too long for my son who made his communion . I felt that it was not really made for children.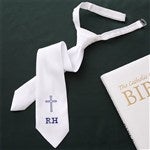 Nice
By
Shopper

(Ridgefield, NJ) - April 19, 2013
Tie is nice, but does not have much weight to the material. The cross & lettering is beautiful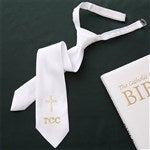 Beautiful!
By
Jessica H.

(Altoona, PA) - April 8, 2013 (
See all reviews by this customer
)
The tie is beautiful, the embroidery is perfect. Unfortunately it won't be seen with the jacket buttoned, but without it you can. It's a very nice tie, has a plastic clasp in the back.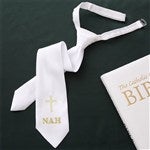 The Perfect 1st Communion Tie
By
Melinda P.

(Greenville, RI) - February 22, 2013 (
See all reviews by this customer
)
When I first saw this tie, I fell in love with it. I was glad I chose the sky blue color. It matches well with a navy suit. This item was all I had imagined and more. The tie has a sateen finish which is just dressy enough and the personalization adds that extra special touch! I would highly recommend it! My son loved it as well and he cannot wait to show it off on his special day.

Communion Tie
By
Shopper

(Wildwood Crest, NJ) - May 5, 2012
Looks cute and sets him apart from the other boys a bit! He loves it!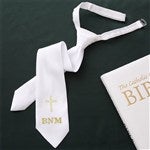 Communion Tie
By
Shopper

(astoria, NY) - March 27, 2012
Thought it was an excellent gift and it was really beautiful when we received it. Should have gotten the gift box though.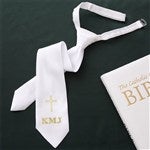 love this
By
Lisa H.

(hicksville, NY) - March 23, 2010 (
See all reviews by this customer
)
Great tie. So sweet perfect for my son's celebration. I was so impressed with the embroidery. It was a little crinkled not as smooth as the picture, however that is the least complaint I have about this item. It was a fair price for a wonderful tie and you cant just get these anywhere . Used to be well before the internet we had choices but we dont . So that is why personalization mall is so great. Everyone in my town uses them and are more than happy with their products.
I am hooked .

unhappy
By
Alicia P.

(Richmond, TX) - April 8, 2010 (
See all reviews by this customer
)
I ordered the tie on wednesday, paid for next day delivery which cost more than the tie itself. It was supposed to have been delivered on Friday and did not come in until Monday evening. It was to have been worn by my nephew for his First Communion on Saturday. UPS was incredibly incompetent. I spoke with them on the phone all day Friday and Saturday and each time I was told something different. When I did finally receive the tie, the embroidery was unimpressive. It was bunched all at the ends and could not be straightened out. I will not order from this site again. Especially because they ship through UPS.

Great keepsake for boys
By
Lorri O.

(Salisbury, MD) - April 6, 2010 (
See all reviews by this customer
)
It is so easy to find First Holy Communion keepsakes for girls -- they have their dress, their veil, the little purse with bible; I can't envision myself saving his suit -- but this tie is perfect! It is made very well and the embroidery is dense, high quality. I'm very happy with this item and I'm happy a friend recommended Personalization Mall. I'll be back often for all my special occasion needs!

Wonderful
By
Shopper

(Toms River, NJ) - March 25, 2012
So cute!
Glad I found this site.

First Holy Communion tie
By
Maria G.

(Voorhees, NJ) - March 27, 2012 (
See all reviews by this customer
)
Fine quality, beautifully embroidered with my grandson Jimmy's 3 initials. Made him feel even more special than he already is.

Communion gift
By
Shopper

(Southampton, PA) - March 6, 2014
Love my grandson has a remembrance of his First Holy Communion in May. This is a lovely tie for his suit.

WOW!!!
By
Shopper

(Stratford , CT) - May 23, 2011
I bought this for my son's communion, everyone loved it and asked me where I got it! The engraving I chose was gold. It was really really nice !! It was wrapped nicely in box. Some people complained it was wrinkled. I did NOT have that issue - IT WAS PERFECT!!!


Personalized Communion Tie
By
Cecilia M.

(Columbus, NJ) - April 27, 2010 (
See all reviews by this customer
)
It's hard having a boy during special events. There are not many ways to dress up the blue suit. So, when I saw the personalized tie I was very happy and he was really impressed with the tie (and his mom for ordering it.) I ordered it 2 weeks before my son's Communion and it was in my hands in 5 days. Which took one thing off of my worry list. I think they should offer it with a matching hankie for the suit jacket pocket. It would look very sharp.

Beautiful keepsake
By
Sheila N.

(Hudson, OH) - April 28, 2010 (
See all reviews by this customer
)
This tie was nicer than any others I found. I wanted my son to have a keepsake item from his First Holy Communion. It arrived quickly and looks beautiful.

Truly Breath Taking
By
Tina S.

(Grand Junction, MI) - May 19, 2010 (
See all reviews by this customer
)
I love this Tie The Qualiety is 5*'s too me and the cross is perfect i would recomed this product to all it Just finnishes the suit for this ocassion I am a pleased customer an My God Son loves it too, his family were happy on how it looks some kids were jellious they all want one now. Sincerly Tina S.