Backpack
By
Kyla S.

(Cross Plains, WI) - August 18, 2010 (
See all reviews by this customer
)
I was a little smaller in size than I expected, but otherwise it is very cute. I know he will enjoy it!

Back pack
By
Helena K.

(Watertown, MA) - July 12, 2010 (
See all reviews by this customer
)
Very nice but I had thought it would be bigger. Only drawback is it does not have a zipper to secure everything inside.

A lovely award for the child for his performance.
By
Giri S.

(CHICAGO, IL) - June 1, 2010 (
See all reviews by this customer
)
When seen this award by my grandson, he was very happy but only remarked that it may be a little small for taking it to school. Good for storing little toys & other items.

Adorable backpack but on the small side
By
Courtney P.

(Dallas, TX) - June 1, 2010 (
See all reviews by this customer
)
I bought this for my 2 year old son because he was required to have a bacpack for Mother's Day Out. It i sooo cute and is great quality but it is a little on the small side. I would have been disappointed if I was going to buy this for a school age child. That being said, it is perfect for my toddler and big enough to hold his lunch, diapers, and an extra change of clothes.

Very Cute
By
Suzanne C.

(Bossier City, LA) - October 29, 2009 (
See all reviews by this customer
)
I purchased the sports backpack and coordinating lunch box and was quite impressed when I received them. It would be nice to have a pocket or two on the inside of the backpack, but other than that I have no complaints. I received the personalized items within a few days of ordering them and was pleasantly surprised by that. Great purchase for my pre-schooler!

Ok, but....
By
Gabriel S.

(Monroe, GA) - August 9, 2014 (
See all reviews by this customer
)
It's an ok bag, but too small to be used for a book bag.

Flimsy straps
By
Shopper

(Bledsoe, KY) - September 7, 2013
love the Backpack but the straps are flimsy!

nice but small
By
Brenda F.

(Dubuque, IA) - December 16, 2012 (
See all reviews by this customer
)
Embroidery was nice. It was a lot smaller than I thought it was going to be.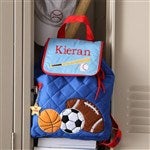 Beautiful, but straps lacking
By
Shopper

(Morristown, TN) - February 27, 2012
This is a beautiful backpack, but the straps are incredibly flimsy as is the pack overall. I really expected something more sturdy for $35.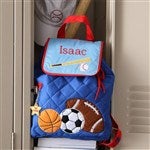 Cute Bag! Somewhat over priced though!
By
Nicole C.

(Mays Landing, NJ) - January 21, 2012 (
See all reviews by this customer
)
At first I was disappointed when I opened it. It is shipped in a very flat and tiny package so it looks very undersized for a backpack. BUT after I fluffed it up and stuffed it with tissue it looked a lot better! The quality of the backpack is nice although the straps are kind of thin and cheap compared to the rest of the bag. All in all it's a cute bag and the embroidery is nicely done but I think it is worth about $10.00 less than what I paid for it. Since everything else I've ordered has been a fantastic buy from this company I'm not too bothered by this being pricey.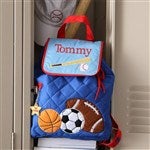 small
By
Shopper

(South Elgin, IL) - September 20, 2011
very cute, but smaller than I thought. Really is the size of a lunch bag. Ok for matchbox cars though.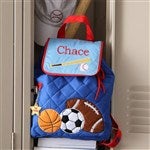 Not what I expected
By
Shopper

(Rutherford, NJ) - August 6, 2011
The prodcut is a lot weaker than what I expected. It's adorable and my two year old enjoys it but I'm afraid it's not going to last very long. The seam is weak and the fabric is very thin. Other than that...it's cute.

small
By
Vicki B.

(Morrilton, AR) - November 16, 2010 (
See all reviews by this customer
)
smaller than expected.

Back pack
By
Manuela M.

(Fortson, GA) - September 15, 2010 (
See all reviews by this customer
)
The back pack it self is nice, but very small for the money.

Straps not great
By
Shopper

(Plainview, NY) - August 25, 2014
For my use, I thought that this bag was way too small-can barely fit anything in it and I felt that the straps were very thin and flimsy...can be adjusted with buttons but not sturdy. I wouldn't recommend for anyone over two.

Cute but not the best quality
By
Shopper

(Canada) - October 23, 2012
It's a nice bag, the name is very well done but the bag itself is not as good quality as I expected.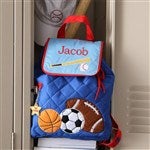 not pleased
By
Shopper

(cincinnati, OH) - August 9, 2012
I bought this book bag for my little cousin who's starting kindergarten. The measurements for this bookbag isn't correct. If you was to put a folder in this bookbag you wouldn't be able to close it completely because of the drawstring. I would not recommend this for someone who is going to kindergarten. But if you have a child who's going to preschool or daycare, it'll be perfect.


Poorly made and too small backpack!!!
By
Shopper

(Chester, NH) - November 23, 2013
Very small,very disappointed in this backpack. I's too small for a 1st grader, would not be able to fit hardly anything in it, like books. Quality was poor also,does not live up to the pictures that are being shown. Would not recommend this.