Bridal Shower Gift!
By
Laurie H.

(Chandler, AZ) - January 10, 2013 (
See all reviews by this customer
)
I was so pleased with the cookie jar! Just received it this morning and it's beautiful. My new daughter-in-law will love it for her bridal shower gift filled with my son's favorite cookie plus a "Mom's Best Recipes Cookbook" that I made for them. The quality of the jar and the artwork and color is done well. Thank you for excellent on-time service and a quality product that is certainly gift worthy.

Jar of Love
By
Joy G.

(Adrian, MI) - December 13, 2012 (
See all reviews by this customer
)
I love this cookie jar, and the personalization allows many characters which is awesome! It is adorable!!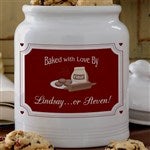 My Grandmother LOVED this!
By
Andrea H.

(Staten Island, NY) - March 12, 2012 (
See all reviews by this customer
)
I purchased this as a gift for my grandmother- she loves to bake and is always putting her cookies in throw away tins! The size is great and it also has the stay fresh closure which i was not sure if it was going to have or not. I would def recommend this product.

Perfect
By
Shopper

(Salem, OR) - February 19, 2012
My mother in law loved it! It is beautiful and it holds several cookies. She really likes the seal on it to keep the cookies fresh. We were excited to give her a gift that was not cheesy and yet personal for a Grandmother who loves to bake cookies for her grandkids.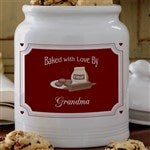 a gift that made Grandma's day
By
Shopper

(Parsons, KS) - January 31, 2012
We gave this jar as a gift from my son and his cousin to their Granny Annie - she loved it! She had been looking for a cookie jar to display on her counter so her grandkids would always know where the cookies are. The lid seals well and the jar is the perfect size - not too bulky but big enough for larger, homemade cookies.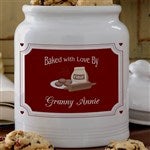 great gift for daughter-in-law
By
Amy M.

(Adams, NY) - December 15, 2011 (
See all reviews by this customer
)
What a great product for a reasonable price. My daughter-in-law loves the color purple, so I liked being able to order one with the purple background and her name on it. I know she will love her Christmas gift!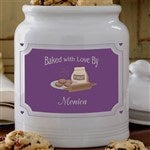 Personized Cookie Jar
By
Sandra W.

(Belleville, IL) - August 1, 2011 (
See all reviews by this customer
)
Extremely pleased with quality of personalized cookie jar. My sister will love it! Also appreciated expediency of shipping and delivery. Thanks!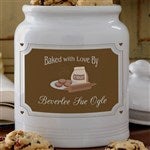 Great Mother's day Gift
By
Shopper

(Hopkins, MN) - May 14, 2011
I gave to this to my future Mother in Law, and now I'm her favorite!! It's so cute and the jar is the perfect size. I would recommend this to anyone as a gift or something fun to have in your home. I bought it in pink and it was the perfect color. I love Personalization Mall, everything I have ever bought from this site is amazing!

Huge
By Shopper (North Bend , OR) - April 30, 2011
I got this for my dad. He loves how huge it is and how colorful. He kept telling me he hasn't seen a cookie jar this big in a long time. He mention how nicely it was packaged up and fast it came from when I told him to keep an eye open for it. Thank you again personalization for making another amazing gift for a loved one.

Beautiful and very pleased
By
Shopper

(Tulsa, OK) - April 23, 2011
The cookie jar was beautiful and I was very pleased at how quickly I received it. I used this for a bridal shower. I wrap it in plain paper and attached cookie cutters and recipes to the outside of the wrapped box. Everyone at the shower thought it was a wonderful idea. For the bride-to-be I put a note with the cookie jar stating something to the effect that keeping it filled with her husband's favorite cookies will help their marriage because it is done with love.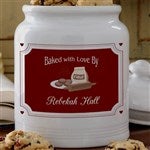 Perfect!
By
Shopper

(Vallejo, CA) - April 22, 2011
I ordered this cookie jar for my friend's housewarming. It was delivered today in very secure packaging. The product itself is amazing!! My friend will love it. Now I'm ready to bake those cookies she loves and this will literally blow her mind. Five stars on yet another fantastic purchase!!!

All I Hoped For
By
Janine W.

(Gainesville, FL) - March 28, 2011 (
See all reviews by this customer
)
I was holding my breath on buying this, thought it would make a special present for my new to be daughter-n-law either for the wedding or Christmas. Then I thought about getting one for my other two daughter n laws, but decided to hold off on it to see if it was a nice product. It came in the mail, very well wrapped, when I opened it I was trying not to get my hopes up, but since it was a unique item, I could not help my anticipation getting high. After working my way through all the extra wrapping, it blew me away. The lid fit tightly, there were no blemishes or pucks that you usually see on stuff now adays from China and the color was bright and cheery just like in the picture. The only thing I am sad is that I did not buy the other two while they were on sale for 25% off. That is serious dough, oh well I will just have to wait and see if it goes on sale again. Great buy and great item, I am hoping she will cherish it.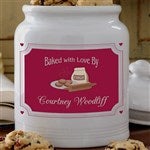 beautiful cookie jar
By
Lorena H.

(Glendale, CA) - February 9, 2011 (
See all reviews by this customer
)
I gave this as a gift...I loved it so much I wish someone would give me one!

So so adorable!
By
Vicki G.

(Libertyville, IL) - February 4, 2011 (
See all reviews by this customer
)
I just love my cookie jar! It's also heavy so the kids can't tip it over so easily. It also has a rubber around the lid that helps keep the cookies fresh.

Personalized Cookie Jar
By
Victoria Q.

(Collinsville, IL) - December 28, 2010 (
See all reviews by this customer
)
I placed my order on Monday, December 13th and it was at my door by Thursday of that week! I was absolutely blown away by how fast my order was filled, and even moreso when I saw the finished product. I purchased the cookie jar for my mom as a Christmas present from the grandchildren and great grandchildren to give her. She absolutely LOVED the cookie jar! She cried when she opened it. Grandma always has fresh baked cookies when she knows we are all coming to visit, and this cookie jar fits the cookies perfectly "Baked with Love by...." Awesome job everyone! I will definitely be a repeat customer. Thank you!

Excellent Choice
By
Susan P.

(Louisville, KY) - December 21, 2010 (
See all reviews by this customer
)
I purchased a cookie jar for my mom "grandma" and my mother in law MeMaw.
I am so excited to give these as gifts for Christmas.



Impressed
By
Richard C.

(Battle Creek, MI) - November 23, 2010 (
See all reviews by this customer
)
Honestly didn't expect something so nice from on-line with instantaneous personalization. Very nice quality ceramic base and top, with a snug-fit O-ring on the lid. This is a gift for my mom, and I'm not the least bit worried about whether or not she's going to like it!

Thank you!

COOKIE JAR
By
EVERETT D.

(PORT CHARLOTTE, FL) - August 30, 2010 (
See all reviews by this customer
)

I HAVE BEEN WANTING THIS COOKIE JAR AND AFTER DROPPING AS MANY HINTS THAT I COULD I FINALLY BOUGHT IT FOR MYSELF !!

I LOVE IT !!

IT LOOKS SO NICE IN MY KITCHEN AND I WILL BE BAKING COOKIES FOR MY 8 GRANDCHILDREN

Looks just like the pictures!
By
Jennifer B.

(Olathe, KS) - April 20, 2010 (
See all reviews by this customer
)
I ordered three cookie jars and they came in five days! And the colors and quality were true to the pictures online! One of the lids doesn't squish into the top of the jar just right, but it's manageable. Great size, shape, and colors overall! They will make great presents for my bridesmaids!

Mothers Christmas Gift
By
Elizabeth B.

(Mitchell, SD) - December 29, 2009 (
See all reviews by this customer
)
My mom just became a grandma and it was her first christmas being one. I thought this gift was so appropriate because we used to call my grandmother cookie grandma, so i bought this for her and told her that she could be my nieces cookie grandma. She really loved it! it looks great in maroon.

Pricey but great quality and ships fast
By
Sherry H.

(Raleigh, NC) - December 22, 2009 (
See all reviews by this customer
)
Cookie jar is solid and great quality. No pits or blemishes on ceramic. Great deep red color, true to website. We personalized with just 'Grandma' as opposed to 'Grandma Name'. Looks lovely. Packed well; shipped quickly with regular ground. Pricey, but worth it for simple sweet look.

great gift idea for the hard to buy for
By
Cathy H.

(Springboro, OH) - December 11, 2009 (
See all reviews by this customer
)
This cookie jar is the second one that I have purchased and have been very happy with the quality of their products. My mom was so happy with hers she ordered one for her sister and purchased other items from this company.

Cookie Jar
By
Crystal P.

(Frederick, MD) - December 8, 2009 (
See all reviews by this customer
)
The gift came in and the cookie jar was very nice. It was heavy and sturdy!! I hope my Nana likes it :)

Love It!
By
Donna R.

(Greendale, WI) - December 5, 2009 (
See all reviews by this customer
)
Exactly what we were looking for. The first thing everyone does when they get to Grandma's is look for the fresh baked cookies. It's the perfect gift. Personalization looks awesome!
Donna


Very Nice!!!
By
Susan T.

(Arnaudville, LA) - November 9, 2009 (
See all reviews by this customer
)
My stepdad will LOVE this, since he makes cookies for the granddaughters. The cookie jar is very nice, just as pictured. I wish I would have seen the tins - I think I will order those too!!! :)

Sarah Mack
By
Sarah M.

(Imperial, MO) - October 30, 2009 (
See all reviews by this customer
)
Ordered this for my mother in law, it's very cute! Good quality, looks exactly as shown. Also got my order in just a few days. A little pricey, but totally worth it.

Great Quality
By
Becky K.

(spencer, IA) - November 23, 2009 (
See all reviews by this customer
)
Very impressed with the quality and how quick it shipped. We ordered the red color and the color was true to website. The reason I rated it 4 stars is because of the font choice. I wish you could pick a different font. Our last name starts with an "S" and the font makes it looks like an "L". My sister opened the cookie jar and called my at work and told me that they made a mistake and spelled the last name with an "L" not and "S". I didn't think it looked that bad online but once I see it in person I probably wouldn't have ordered it based on the font.

weird colors
By
Jesse K.

(Lincoln, NE) - November 23, 2009 (
See all reviews by this customer
)
The cookie jar itself is fine. We ordered the personalization in purple but it came like a dark reddish pinkish slightly purple color..the color on the website is deceiving, they should call it magenta not purple or change the demo on the site so it matches the color it actually turns out to be.we ordered this one in particular cause purple is my mom's favorite color, a little disappointing.