Gift for a 65th Birthday
By
Margery M.

(Columbus, OH) - August 27, 2013 (
See all reviews by this customer
)
I was proud to present my best friend with this lovely Friendship In Bloom
Personalized Bud Vase. It made a very pretty and meaningful gift as well as
being original in that she had never seen anything like this. Also, the
personalization greatly added to its charm.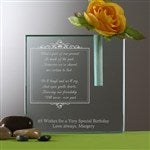 friendship bud vase
By
Maria H.

(Las Vegas, NV) - August 5, 2013 (
See all reviews by this customer
)
What a great gift for the money. Elegant and beautiful sayings on a glass bud vase. Perfect for any occasion!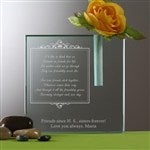 Excellent Product
By
Wendy H.

(Monroe, MI) - July 9, 2013 (
See all reviews by this customer
)
Beautiful piece with my own personalization. Quality product.

wonderful!
By
Shopper

(Ft. Worth, TX) - April 27, 2013
This product was so great! Exactly what I was looking for. It really will make a wonderful gift!

awesome
By
Ayanna H.

(Sioux City, IA) - March 29, 2013 (
See all reviews by this customer
)
I got this gift 4 my sister 4 her birthday and when she got it She said it was the most beautiful that I had ever got her she thought I spent a lot of $ on it she Loved it and each day she looks at it she cries this is a great gift 2 get any 1 I will be getting another 1 soon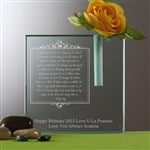 Beautiful Gift
By
Silvia S.

(Hickory, NC) - March 18, 2013 (
See all reviews by this customer
)
We ordered this gift for my daughters baby sitter who have lost numerous family members within a month. We wanted to give her something special to let her know how much she is loved. She truly did appreciate the gift as much as we appreciate her.

Excellent product
By
Shopper

(Rockwell, IA) - March 11, 2013
I loved this item and the etching looked wonderful. My friend will love it!!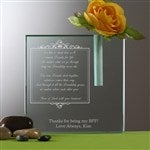 Awesome Gift!
By
Grace A.

(Maspeth, NY) - January 14, 2013 (
See all reviews by this customer
)
I ordered this for a very special friend for Christmas and she totally loved it. It was shipped directly to her so I did not get a chance to see the final result but she told me the engraving was well done and love that it was such a personalized gift.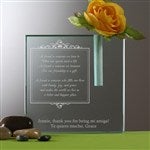 Sentimental Vase!
By
Shopper

(New York City, NY) - October 14, 2012
I ordered this Bus Vase for someone who is retiring and I have known for many years. This is perfect!! I used the wording that Personalization had on tap and when I received it, I was truly surprised. The vase is beautiful, the wording great and it looks like I had spent a lot of money. Congratulations to Personalization Mall!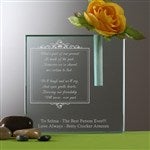 Friendship in bloom
By
Vickie W.

(DAWSONVILLE, GA) - October 8, 2012 (
See all reviews by this customer
)
My aunt was so pleased with this item I bought her. I didn't know what to get her for her 80th birthday she has everything. I wrote my own poem to her personally and she loved it. She said it looked very expensive.
Thank you so much for all your great ideas.
Vickie


My Friendship Bud Vase
By
Janet C.

(Covington, GA) - September 18, 2012 (
See all reviews by this customer
)
I sent the "Friendship in Bloom Personalized Bud Vase" for my dear friend who lives in MD and she, and her grown-up children who saw it, were ecstatic. They loved it. I was really excited at the opportunity to write my own verse for inscription on the vase--and so I did. Ah! If only it were possible to have seen the vase myself! But I will, one day soon.
Thank you, for your unique and quality gift ideas. I will certainly return again and again, and of course, spread the good word about you.

Awesome gift
By
Shopper

(Highland Heights, OH) - May 17, 2012
Made a great mothers day gift. The quality was very impressive. Will definitely use in the future.

Beautiful
By
Shopper

(Brookfield, IL) - April 1, 2012
Perfectly lovely. This vase is compact and very sturdy. Lots of room for your sentiments or a short poem or story. We used for 90th bday gift and listed out names in the upper portion and Happy 90th Birthday to our loved one at the bottom. Very versatile. The perfect thoughtful gift.

Beautiful glass, petite bud vase
By
Shopper

(Manasquan, NJ) - February 27, 2012
This vase I purchased for my best friend's birthday. It really is so pretty! It is on the small side, but nothing that was not disclosed in the product description. It's nice and heavy. Very pretty!

Beutiful and functional
By
Shopper

(Reno, NV) - January 29, 2012
I purchased this for a very good friend and was very pleased with the outcome in terms of the quality and uniqueness. I'm certain she will appreciate it for her birthday.

The Perfect Gift for an Enduring Friendship
By
Kenneth L.

(Elgin, SC) - January 28, 2012 (
See all reviews by this customer
)
When I first went to PersonalizationMall.com. I wanted a gift for my new girlfriend that expressed my appreciation of our budding friendship without being over romantic.
I had looked at everything I could find without success. Then, when I got to the Frienship In Bloom Pesonalized Bud Vase, I had almost given up with it also, but I decided to give every verse a chance. There were five choices and the first four still wasn't what I was seeking. I told myself don't give up yet. I pulled up the 5th and final verse and IT TURNED OUT TO BE EXACTLY WHAT I WAS SEKING! I highly recommend this website to everyone. I have already given the address to three of my friends. I will be ordering more items later this year. For anyone who wishes to touch the heart of their loved one this is the only place to shop. Everything about this website is second to none. I placed my order on the 17th and it was delivered on the 19th. Wow!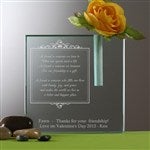 Simply lovely
By
Mary H.

(Springfield, IL) - December 22, 2011 (
See all reviews by this customer
)
Gave this to my best friend for Christmas. She loved it. The verses to choose from were great or write your own. Very, very fast turnaround time as always. Highly recommend this product and Personalizationmall.com Very pleased every purchase I have made.

friendship
By Shopper (Norwalk, CT) - December 17, 2011
its a beautiful gift for a treasured friend

Gift for a friend
By Shopper (Salt Lake City, UT) - October 7, 2011
I bought this gift for a friend whom I have known for oner 30 years.

11/11/11/ Birthday
November 11,2011 is a special day, for a special friend, born on this day

Nice thank you award
By
Julie D.

(Columbus, IN) - October 3, 2011 (
See all reviews by this customer
)
Purhased this as award to volunteer services. Personalized inscription availablility made it perfect. I little smaller than I thought, but works nicely on a desk. Wish different fonts were available.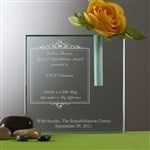 Absolutely beautiful
By
Shopper

(Rye, NY) - September 23, 2011
I gave this to one of my best girl friends for her 40th Birthday. I used one of the verses and added a few of my own words to give it a personal touch.
She LOVED it so much so she shed a tear after reading it! Ever lasting gift for sure.

Best Friend Vase (Personalized)
By
Aimee T.

(Coram, NY) - August 17, 2011 (
See all reviews by this customer
)
I bought (and personalized) this for my best friend - I used some of the pre-written sayings since they were so meaningful and to the point. I even cried while I was personalizing it! I know she's going to love it!!

Mother-In-Law Gift
By
Shopper

(Kirksville, MO) - August 14, 2011
Great product! It's beautiful and sturdy. The poem was perfectly engraved and looked even better than we expected. I know my new mother-in-law will love it as our "thank you" wedding gift to her!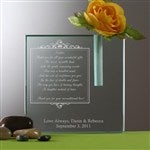 Terrific gift
By
Shopper

(Columbus, NE) - July 24, 2011
I was so happy with this friendship vase. My friend loved it and started crying as she read the verse, it was so fitting. She's moving 60 mi away and starting a new life. I have always liked all the items I have purchased from you.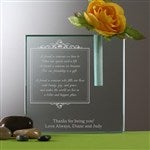 A special gift
By
Patricia R.

(Independence, KY) - June 11, 2011 (
See all reviews by this customer
)
I was quite satisfied with the bud vase. The personal message was done just the way I hoped it would be. I was so impressed with this item that I placed another order this week. I will use your company again.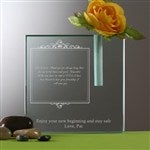 "Friendship in Bloom" Personalized Bud Vase
By
Shopper

(Amboy, WA) - May 20, 2011
It turned out lovely. Perfect for the rememberance gift
we needed.

Great birthday gift
By
William S.

(Pennsauken, NJ) - May 6, 2011 (
See all reviews by this customer
)
Excellent birthday gift. My friend loved it. And it shipped very fast, I received it 2 days after I ordered. I would recommend this to anyone.

Cute!
By
Kimberly G.

(Linden, NJ) - February 12, 2011 (
See all reviews by this customer
)
This item is just amazing! When I first received it, it was very well packaged and as I began to unravel my order I fell more and more in love with it! I wrote my own quote for this so that it would be very customized and from the heart.

My loved one enjoyed reading it and now has it on his night stand to look to every night. A wonderful gift for Valentine's Day. Sends the perfect message!

My sister-in-law was so pleased with this memorial present
By
Ursula L.

(United Kingdom) - February 4, 2011 (
See all reviews by this customer
)
A beautiful vase with lovely words and a nice present to remember a special birthday with the engraving

Elegant
By
Shopper

(North Providence, RI) - January 21, 2011
Its a beautiful piece, I loved how you can put your own message into the engraving. Will be back for more items, great site!

Personalized Bud Vase
By
Vera R.

(Garrison, NY) - October 13, 2010 (
See all reviews by this customer
)
I was able to order this as a last minute gift and custom personalize it. It arrived quickly and looks beautiful. I believe the recipient was very happy.

Memory Vase
By
Laura C.

(El Mirage, AZ) - September 17, 2010 (
See all reviews by this customer
)
Tears flowed when I opened the box...it is so beautiful. Well made, beautifully etched. Though this is originally a friendship vase, they offer the ability to write your own verbage!

Very Nice!
By
Thomasina A.

(Pittsburg, CA) - July 8, 2010 (
See all reviews by this customer
)
Rec'd this item this evening. It's small, but very elegant. Just fits the bill for the gift we were searching for.

great
nice

A Special Keepsake
By
Shopper

(Lynn, MA) - September 5, 2014
This was not only personalize, but the product, the engravement and the verses was just perfect along with the bud vase. It's a beautiful touch when placed on your desk at work or chess at home...

Wonderful...
By
Shopper

(Houston, TX) - March 30, 2014
Ordering processing was smooth, & order delivery was on time.
Would definitely recommend..
Quality was good & nicely crafted...

Slightly Disappointed
By
Jinette S.

(Farmington, NH) - February 28, 2014 (
See all reviews by this customer
)
Was nice, but the print was too small.........very difficult to read.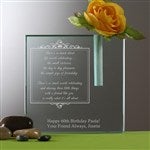 gift for my wife
By
Anthony A.

(farmington, CT) - January 1, 2014 (
See all reviews by this customer
)
personalized bud vase was as described and perfect gift of good quality

Business award
By
Julie D.

(Columbus, IN) - October 28, 2013 (
See all reviews by this customer
)
Second time to use this as an award. Like that it is small enough to fit on reception desk, but big enough to draw attention.

Do wish you could change the font inside the etched box. The small font size makes the fancy letters hard to read. Plus all capitalization (like a business acronym) look bad. With a little tweaking, this product could be great for employee recognition.