Bud Vase
By
Shopper

(Monroe, GA) - June 23, 2013
This is a nice gift; however, the engraving is too small and not very clear. This is the 1st gift that I received and was not 100% pleased with. It is still a nice gift.

Not exactly what I thought it would be
By
Shopper

(Ashland, NH) - April 27, 2013
I thought it was going to be a little bit bigger but it's still cute. The etching of the design wasn't done well, the personalization part was though. Overall still worth it to me.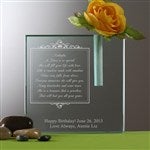 smaller than expected, but perfect otherwise
By
Vivien C.

(Blanchester, OH) - April 28, 2012 (
See all reviews by this customer
)
I guess I did not take in the size details when I placed my order. It is lovely, but a challenge to read in the size it is. Still a good value I might consider buying again.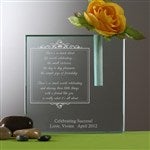 Great Lady Gift
By
Shopper

(Rowlett, TX) - December 6, 2011
I had Custom text put in (great feature) it looked bigger online (of Course) than in person and i thought the fake rose would come with (which made it look even more beautiful)... But overall it's pretty nice, I'm satisfied.

great present
By
Shopper

(Brockton, MA) - August 17, 2011
great gift for a birthday present

Good
By
Shopper

(Schaumburg, IL) - July 24, 2011
Very Good

Nice little gift
By
Geri H.

(San Francisco, CA) - November 5, 2010 (
See all reviews by this customer
)
Our daughter is being promoted to partner and we wanted to get her something meaningful and not too preachy. I had my own customized saying engraved (wish the font could be changed to a bigger font as it is really small font). Also, the salutation is a bigger font -- wish they matched the fonts.

However, still a nice token gift.

persoanalization glass and flower display
By
grace C.

(fayetteville, NC) - July 23, 2010 (
See all reviews by this customer
)
This is a nice gift because you can write your own personal saying about the person but the engraving is hard to see and it needs to be etched deeper. Also You have to order a small flower that will fit in the slot in the hold. I ordered a small crystal rose and it's beautiful.

Personalized Bud Vase
By
Judith E.

(Boston, MA) - July 14, 2010 (
See all reviews by this customer
)
The vase is beautiful. It is very sturdy, not light in weight. But, because the writing is so small, it is difficult to read.

Needs Bigger Font Size
By
Julie B.

(Simi Valley, CA) - January 20, 2010 (
See all reviews by this customer
)
I bought three of these for remembraces of grandparents that
have passed for my daughters wedding to have them there in spirit. The glass is nice and thick and very heavy. Nice quality there. My only complaint is that the engraving could have been in bigger font size as they're hard to read. Otherwise I think they'll be perfect. Thanks

Lovely but hard to read!
By
Shopper

(Beeville, TX) - December 11, 2013
I love this product as far as something special from me to my younger sister. But, The writing is hard to read. I will have to put a slip of paper with the writing on it so she can read it without glasses.

Friendship in Bloom
By
Shopper

(Paterson, NJ) - October 4, 2013
I was disappointed by the size of the font that was used. There is so much space available but it was not properly utilized and so you must pick up the
bud vase in order to read in inscription.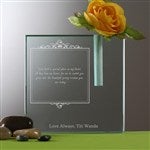 Very pretty - very Personal
By
k S.

(orlando, FL) - March 9, 2013 (
See all reviews by this customer
)
Love the quality of the glass - nice and heavy. Also, a great way to convey a very personal message. Would give it more stars, except for the fact that the message is very difficult to read, and the sentence added at the bottom appears to be just an afterthought, as it nearly runs off the edge. It is, however, much easier to read than the poem itself. All in all, a nice and thoughtful gift. I bought them for bridesmaids.

No quit what i thought
By
Shopper

(Lithia, FL) - June 5, 2012
The lettering was a bit hard to read.

For my friend
By
tonia M.

(bronx, NY) - February 6, 2012 (
See all reviews by this customer
)
I thought it was OK , I was glad to write my own words but what bothered me was
that the writing was really small i could'nt read it , I was glad the my personal words were written on a piece of sticky paper so that I could read what my gift had said to my dear friend that was not good , The words are on glass should of been much larger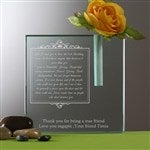 Pretty Gift
By
Tara S.

(Mount Laurel , NJ) - January 28, 2012 (
See all reviews by this customer
)
Very Pretty. Sturdy and thick glass. The writing is very small though.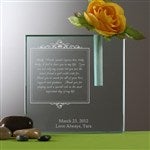 friendship gift ..joan
By
Stephanie W.

(Tomball, TX) - October 25, 2010 (
See all reviews by this customer
)
hi ..i liked the size, wording etc but the script printing is to small and hard to read ....would have liked block printing like the closing and name ..Would have liked it to have bigger letters ..its ok ..stephi

Personalized Bud Vase - Fair
By
Lee W.

(Clarks Summit, PA) - October 5, 2010 (
See all reviews by this customer
)
I love the stuff from Personalization Mall, but I would have to say that this purchase wasn't the best.

The print is very hard to read because of it's size -- which caused me to take a double check about the quality of the engraving at first.

In the end, it may possibly "fit the bill" for my purpose, but if you are looking for something that is definitely "sharp," my suggestion would be to look for other things




Friendship in Bloom
By
Arlene M.

(Mesa, AZ) - May 11, 2010 (
See all reviews by this customer
)
I was very pleased with the quality of the glass; however, I thought the poem would be bigger in size. The writing is pretty small and had I known the print was going to be so small, I would not have ordered the product.

The wrapping of the item was very well done and I was very pleased within which the product arrived. My only dissatisfaction was the size of the print. Thank you for the prompt service.

Smaller than I thought - Etching not great
By
Kimberly G.

(Oconomowoc, WI) - November 2, 2009 (
See all reviews by this customer
)
It is a nice vase, but smaller than I thought. I am surprised the vase can even fit the one flower in the picture. The etching on the glass is ok, but hard to read. I don't think I would recommend it for the price.

can't read the writing
By
Shopper

(Chagrin Falls, OH) - November 29, 2011
I couldn't read the writing on the vase.

Beautiful from the right vantage point...
By
Shopper

(Westbury, NY) - March 13, 2011
I purchased this product to use as a memorial for my grandparents at my wedding. When I received it, it looked beautiful; however, it was smaller than I had anticipated. Consequently, the writing is fairly little and it can only really be seen if you're at eye level with the item. I'm afraid my guests won't be able to read it if I put it on a table. I would have loved this were it a few inches bigger...

A Disappointment!
By
Shopper

(Lansdale, PA) - February 12, 2011
The item was MUCH smaller than I expected and the engraved message was microscopic and EXTREMELY difficult to read. I had to put it directly in front of the lightbulb of a lamp to even TRY to read the message, which was no longer than the sample messages they show on the page. The "closing" words however WERE able to be easily read. I'm 25y.o. and don't wear glasses or contacts, so if it was THIS difficult for even me to read, God forbid the level of difficulty for someone older or that wears glasses. I hope my Maid of honor can read it, or I'll have to read it aloud the best to my memory. I'm preparing to be embarassed quite frankly.