Photo frame excellent!
By
Shopper

(Warrensburg, MO) - May 30, 2011
The quality of this frame exceeded my expectations. It was a wonderful graduation gift and very well received.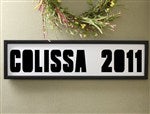 Love my Photo Collage Frame!
By
Dianne B.

(Townville, SC) - December 14, 2013 (
See all reviews by this customer
)
I bought this for my daughter and her family with their last name and one with family written on it. I place pictures of their immediate family in the last name and extended family in the family frame. I love how it turn out. I received the order promptly. I know my daughter and family will be happy with this Christmas gift for years to come.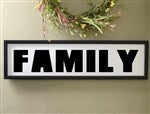 Fast
By
Caroline D.

(Newington, CT) - April 10, 2012 (
See all reviews by this customer
)
We received our order so quick and it couldn't be more perfect. The thing that would make it better is if you had an option of plain wood look instead of only black.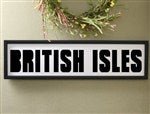 Good frame, but hanging it is tough
By
Kathryn G.

(Plantsville, CT) - March 2, 2010 (
See all reviews by this customer
)
We ordered this personalized frame and the personalization part is perfect. It looks great, and it was fun creating the puzzle of pictures to fit. However, once I was finished putting the frame back together, with the pictures it in, I realized that there are no instructions for hanging it. They include some obscure pieces of hardware, but no instructions about what to do with them. Luckily, my husband was able to rig something, but it is only on our wall because of him. That's what kept this frame from earning five stars.

Very poor quality
By
Anne N.

(Fairfield, CA) - October 1, 2009 (
See all reviews by this customer
)
Received item two days before I was scheduled to gift it to my friend who was graduating. I was too embarrased to gift it without running to the glass cutter and having them cut a piece of glass for the front to replace the cheap plexiglass that was so thin, it had feather-rips along the edge that extended up into the viewable area of the picture. I would NEVER rely upon Personalization Mall for quality items again. Shoddy work, cheap merchandise.

graduation frame
By
Eliana O.

(central islip, NY) - October 11, 2009 (
See all reviews by this customer
)
i received my order less than a week later after placing it online. it was a gift for my sister's graduation. unfortunately, it wasn't quite what i was hoping for. the casing outside is plastic not glasss and the pictures have to be 5x7 not the standard 4x6 which some places such as target do not print out but, instead have to be ordered ahead of time. it was alittle inconvenience but, it is a nice gift for any graduate and since it is plastic you don't have to worry if it falls. my sister loved the gift!

Really like, but not perfect
By Shopper (Vail, CO) - May 27, 2013
I ordered this frame as a gift for Christmas using names (the graduation fram allows for more letters than the other options)and liked it enough that I am now ordering another one for a graduation gift. However, there are some things about it that aren't ideal. The main thing being that because of the height of the letter openings, you can only use vertical pictures if you are doing one picture per letter. Horizontal picutres are slightly too short. It would be nice if the letters were a little shorter in order to accomodate both orientations. I also wish this were available in other colors/finishes besides just black.

great gift!
By
Shopper

(wheeling, WV) - December 22, 2011
great gift for my daughter, who has tons of photos from her graduation day.

Perfect gift
By
Shopper

(Henrico, VA) - May 19, 2014
This is a perfect gift for my niece's graduation. Previous reviews complained about the front of the item being plastic, but mine is glass. Overall quality is good and I'm very pleased.

great graduation gift
By
Shopper

(Essex, IL) - January 23, 2011
I love the gift. It is perfect. I was able to put the college abbreviations and the graduation year on the collage. This is the third time that I ordered this type of frame for graduations because they are so unique. The frame was a great price and was delivered quick.

Graduation Photo Collage Frame
By
L. T.

(Phoenix, AZ) - February 11, 2011 (
See all reviews by this customer
)
I've order several of these frames in the past year and have been happy with everyone one of them. It seems to be the same frame as the other Photo Collage Frames Personalization Mall offers, but the Graduation Frame allows more letters. I do recommend only using 12 letters, with 13 the letters were a little too small to fit the pictures in.