adorable magnets
By
Shopper

(Canada) - October 5, 2012
They are exactly what they look like online. I love them they are very cute on the fridge.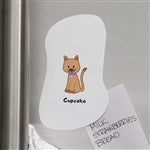 Great Magnets!
By
Victoria F.

(Fishers, IN) - September 1, 2012 (
See all reviews by this customer
)
My kids love these! We have one for each member of our family except for our fish! LOL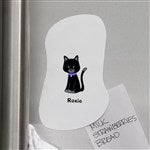 Super cute just wish I could customize more
By
Britney T.

(Plano, TX) - August 4, 2012 (
See all reviews by this customer
)
I ordered these as a birthday gift for my Dad through a Living Social deal. The print and magnet quality are good. My only complaint is you can't customize the color of the characters clothes at all. Example if you have two young boys in your family with the same hair color they will look like twins because you can't change the color of their clothes. Again, that's my only complaint.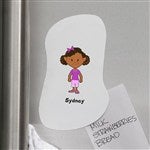 Fun and Enjoyable
By
Shopper

(Worcester, MA) - May 8, 2012
I surprised my family with these personalized magnets and we all love them. It was a great gift for my family as a welcome to our new home.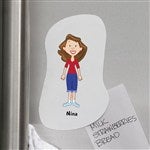 Visual Aid
By
Rhonda T.

(Abbeville, SC) - April 16, 2012 (
See all reviews by this customer
)
I purchased these character magnets for my 1 1/2 year old grandson. He loves to play with them on my refrigerator and it helps him relate the pictures with us as grandparents. I also ordered one for him so he can see "himself". They are just precious!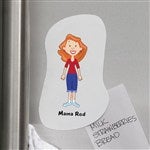 a perfect image of my twin gray cats
By
Maureanne B.

(Almont, MI) - March 5, 2012 (
See all reviews by this customer
)
So glad to have ordered these for my fridge of my twins,they are both solid gray and its nice to have a reminder of them to bring a smile to my face everytime i pass by or open the door. Was so glad i found these magnets. I wish they had more colors like a calico or even breed selections for dogs, or i could have ordered some for my best friend and her two dogs. other than that, i love my new magnets.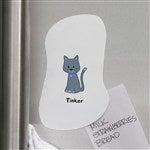 Cute!
By
Susan J.

(Dracut, MA) - April 16, 2012 (
See all reviews by this customer
)
A young woman where I work just bought a new home and I wanted to give her a little something and the magnets served that purpose. She thought they were adorable!

Cute
By
Dana S.

(Fort Washington, MD) - August 2, 2012 (
See all reviews by this customer
)
These are very cute...which they had more options for complexions and hair types.

Family Magnets
By
Shopper

(Chicago, IL) - June 19, 2012
The family magnets are great. I am a grandmother and I have one for each of my children, their spouses, and all the grandchildren. I add as needed.
The only problem is the fact that they do not stick on stainless steel. I have to get magnetic tape and attach to the character and the refrigerator.

Adorable!
By
Shopper

(san jose , CA) - November 13, 2011
I ordered these for my nices and nephews to use as gift tag for thier holiday gifts. Average quality looked just like the proofs viewed on-line.

Wish there was choices for the clothing .
By
Shopper

(Willmar, MN) - December 14, 2011
Overall i like the product.

cute - for at best $2
By
Shopper

(Hallandale Beach, FL) - December 7, 2012
These are super thin - just for decoration. One had a little scratch, and all had the personalization mall sticker on the back, which was impossible to take off cleanly, making it even harder to stay on fridge. They are cute conversation pieces, though.

non-stick Magnets
By
Christeen V.

(Ellwood City, PA) - December 30, 2010 (
See all reviews by this customer
)
The picture on the magnet was cute and exactly what I ordered, however I think the magnet was not put on the back, as it couldn't stick to my refrigerator. I figured if I returned it, that by the time I pay return freight and wait until it comes back that it is best to just buy a magnet that has adhesive and stick it to the back so it can work. But, very pleased with the other items I ordered. Great service, delivery and packaged very well. I would order again from this company.

Personalized Magnet
By
Carole U.

(Hanover, PA) - May 4, 2010 (
See all reviews by this customer
)
I was very pleased with this magnet. It came within days and was exactly what I wanted. My Granddaughter, Tayler, loved it!! Thanks.

great mothers day gift
By
Shopper

(Manitowoc, WI) - May 12, 2014
Mom loved getting these magnets on mother's day with one for each of her grandkids.

Fun but thin
By
Shopper

(Cheshire, MA) - January 23, 2011
These magnets are adorable and fun for the fridge. But they were a lot thinner than I was expecting. Not sure how much they will hold up. And some also had the imprint slightly off center. But otherwise, for the price they are cute!

Magnets
By
Nancy U.

(Waterloo, IL) - May 7, 2010 (
See all reviews by this customer
)
The magnets are very cute and exactly as I expected them to be.
Thank you,

Very cute
By
kelly L.

(glens falls, NY) - May 11, 2011 (
See all reviews by this customer
)
I gave these for Mother's Day and they were a hit!!! Everyone wanted to know where I bought them...of course I gave all the information to them..Big hit!!

Sooooo Cute!
By
Yanet R. C.

(San Diego, CA) - June 11, 2011 (
See all reviews by this customer
)
I love all of them, they look really cute on my refrigerator, fast shipping and very, very, nice and safe presentation wrap on each one, great for gift, I will buy more for my parents and my sisiter's family as soon as I see on daily deals.

magnets
By
Judy B.

(Collierville, TN) - December 13, 2010 (
See all reviews by this customer
)
Love them!! Sooo cute!

looks great
By
Shopper

(decatur, TX) - January 1, 2014
Awesome!!

Great gift!
By
Shopper

(Irvine, CA) - April 30, 2012
The first time I received this product it was faulty (had poor print), so I gave it a poor review. But personalization mall's customer service sent me a brand new version of my product in less than 4 days- free of cost- and now I am more than satisfied. It's a fun gift, and great customer service- Value for money.

Cute
By
Shopper

(Pittsburg, TX) - March 9, 2013
I got these to tuck inside a new baby card, one for each member of the family Nice little add-On gift.

2nd. time I ordered
By
Shopper

(Fenton, MI) - September 18, 2011
I loved them so much this is the second time I ordered them. I even ordered some for a friend and she loved them too.

Family Character Magnet
By
Shopper

(White Plains, NY) - November 25, 2013
Adorable!

GREAT!!
By
Gayla S.

(Patoka, IN) - September 29, 2010 (
See all reviews by this customer
)
THESE ARE THE BEST. THE ONLY THING I WISH THAT I WOULD CHANGE IS THE CLOTHING WISH WE COULD PICK THAT OUT OURSELVES. I WANTED TO ORDER 4 GIRLS BUT THEY WOULD HAVE ALL LOOKED THE SAME, CLOTHES, HAIR, SO I DIDN'T ORDER :(

personalized magnets are 4-star!
By
Edward E.

(Virginia Beach, VA) - October 6, 2010 (
See all reviews by this customer
)
The characters on the magnets are skillfully drawn and painted, and the quality of the magnetized board itself is excellent. I am a new customer but will become a "regular" customer, you can bet!

Love these magnets!
By
Shopper

(Smyrna, TN) - November 30, 2013
I love these magnets! I have an older set that my grandchildren sent me and the characters are much cuter, but the idea of these is perfect! They are always received with a big smile and the kids love to move them around on my refrigerator. The only improvement I could suggest is to add a few more varieties in hair color and clothing. Otherwise, this is a great gift for anyone!

grammy's magnets
By
Cathy M.

(Barre, MA) - May 27, 2010 (
See all reviews by this customer
)
I got these as a birthday gift for a friend who has taken on babysitting for her grandchildren and they are so cute and colorful! A nice size and each came in their own zip bag.

Love Them!
By
Katrina C.

(Amityville , NY) - December 6, 2010 (
See all reviews by this customer
)
These are too cute! Every time I look at them they make me smile!

Family cookie jar!
I love this cookie jar! I bought it for my son & his wife and their 4 children. It is SO CUTE! Thank you for the speedy service. It will make a wonderful Christmas gift for the family.

personalized magnets
By
vincent C.

(monroe, NC) - October 13, 2010 (
See all reviews by this customer
)
These are so very cute. My grandchrildren are 10 and 7 and they always have their reportcards and pictures on the refrigerator at their home. These identify which one is theirs. I received them in a few days.

Love them!!!
By
sally B.

(Canada) - November 29, 2010 (
See all reviews by this customer
)
These magnets are great fun! Kids love them and so do I!