Beautiful sentiment for my graduate...
By
karen H.

(Westerville, OH) - August 1, 2012 (
See all reviews by this customer
)
I bought this for my daughter's graduation from college. It's very good quality, very heavy, and engraving is very nice. She proudly displays this in her cabinet.

awesome products
By
Shopper

(Exton, PA) - June 24, 2012
I bought two keepsakes for high school graduation parties.Your products are great and the add on facilities(like personalization) are much appreciated, they are very very convenient. Shipping is expensive, though. Wish you somehow bring those costs down, so that your volumes move up.

grad gift
By
Shopper

(Henderson, NV) - June 18, 2012
great item, fast delivery! :)I would order from them again!

graduation gift
By
mk F.

(cumberland, RI) - June 10, 2012 (
See all reviews by this customer
)
purchased for my daughter, i was very satisfied with the quality. your website is user friendly ... what a plus. i am now using personalizationmall.com for most of my gift giving.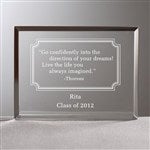 Special Quotes for Graduate
By
Synthia C.

(Ringgold, VA) - June 7, 2012 (
See all reviews by this customer
)
Absolutely Pleased!! My sons favorite personal quote etched in Superb Quality as a memory for life. AWESOME!! LOVE IT!

Wonderful Way to Express Anything You Want to Express
By
Laura N.

(Huntsville, AL) - June 6, 2012 (
See all reviews by this customer
)
This gift is a unique one for any occasion that you want to celebrate. I love how Personalization Mall gives the option for writing your own inscription. It makes the gift even more personal for the recipient. It allowed me to put my and my recipient's experiences together into words.

Fast, Quick, and easy
By
Linda H.

(Spicewood, TX) - June 5, 2012 (
See all reviews by this customer
)
My order was processed quickly, and arrived in time to give to the graduating seniors from my Kindergarten class! It came packaged very nicely, and was just as described.

I'll be back!
By
Shopper

(Sinking Spring, PA) - June 4, 2012
Great product, spot-on customization, fast shipping!

Beyond Expectation
By
Shopper

(Saint Clair, MI) - May 18, 2012
I ordered this for an award in honor of my dog who passed recently. I thought it would be nice but I was so suprised by the quality when it arrived. It arrived on the date as stated, was already in a lovely gift box too.. The acrylic is thick and flawless, looks like crystal. I have already told others about this store.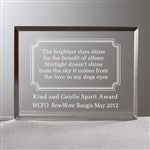 Very appealing
By
Shopper

(Villa Park, IL) - May 15, 2012
Got me brownie points - that's all I know lol! Very appealing and she liked the whole feel.

AWESOME!!
By
Timothy O.

(Boise, ID) - May 15, 2012 (
See all reviews by this customer
)
I ordered this for my fiance's graduation present, with the perfect words, it's a beautiful gift! The whole family cried including me!
The quality is fantastic!

Excellent Choice
By
Lisa M.

(Monroe, MI) - May 15, 2012 (
See all reviews by this customer
)
This keepsake exceeded my expectations. Having the ability to view the product as I created it was so helpful, and it looked exactly the way it was protrayed in the picture. I was very please with the item, and I was especially please at how fast it was delivered. Very nice quality for a very reasonable price. I will buy many things in the future from Personalization.

Great Keepsake
By
Shopper

(Spring, TX) - May 14, 2012
Very pleased with this choice for a special graduate gift. It is truly a "keeper". Am always impressed with the speed of delivery from Personalization Mall. It is very much appreciated. I would order this again in the future.

Good quality product
By
Shopper

(Pasadena, CA) - May 13, 2012
Highly recommend this product. Very nice!

Great Graduation Gift!
By
Janet G.

(Cobb, GA) - May 12, 2012 (
See all reviews by this customer
)
Bought as Graduation gifts and were well-received!


Love it!
By
Vanessa J.

(Detroit, MI) - May 9, 2012 (
See all reviews by this customer
)
I love this product, simple yet exquisite and such a wonderful gift.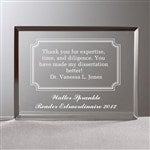 So nice I ordered more for our team at work
By
Diane K.

(Chester Springs, PA) - May 9, 2012 (
See all reviews by this customer
)
This is too sweet. We recently lost our boss and so I made a customized saying that he would say often and shared it via this keepsake.

It's a very sweet way to remember...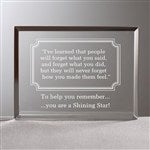 Beautiful !!!
By
Terrance S.

(Clawson, MI) - May 8, 2012 (
See all reviews by this customer
)
I ordered this as a small gift for my son to keep on his desk in his bedroom, something he will look up and see every time he sits there,. I had it printed to congradulate him on his graduation from middle school.

This item came and looked just like I hoped it would. It was perfect, and looked great.

Keep up the good work.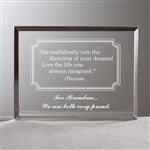 Quote Keepsake
By
Jerry P.

(Tucson, AZ) - April 30, 2012 (
See all reviews by this customer
)
We loved the keepsake and so did the fellow who received it for his birthday. We also have a Family Tree that was given to us for our 60th wedding anniversary which is so beautiful. Thanks for your quality, prompt shipping, good service, etc.

Birthday gift for my guyfriend
By
Shopper

(Saint Paul, MN) - April 23, 2012
I didn't know what to get my guyfriend for his birthday and since this website has different categories, such as intelligent, sporty, etc. which really helped me to choose a gift that was still simple but very effective and one that no one has given him before.

I was suprise by how fast the shipping was and received my product in less than a week!

I really recommend this website for any occasion. Especially to anyone who is having a hard time finding a gift for that someone and their special day whether it is a birthday, wedding, or just a simple "I'm thinking of you" event.

BEAUTIFUL
By
odalys E.

(miami, FL) - April 17, 2012 (
See all reviews by this customer
)
Great service!!!!, the quality of the product is wonderful.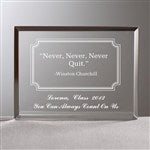 Great gift
By
Shopper

(Oroville, CA) - April 16, 2012
This item was purchased for our granddaughter's 8th grade graduation (which has not occurred yet). Hopefully she will love it.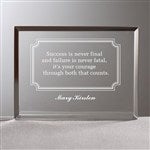 Superb & affordable products that are special keepsakes
By
Kimberly P.

(Indianapolis, IN) - April 10, 2012 (
See all reviews by this customer
)
I wish I had discovered Personalization Mall years ago! It is my new "go to" shopping venue to make giving gifts extra special for my family and friends. The products are mostly affordable and certainly serve as special keepsakes. Gone are the days of returned gifts! On my first order, I experienced a small printing snafu and am pleased that the customer service representative immediately addressed the issue at no additional charge to me. This service makes me want to shop at Personalization Mall even more. Thank you!!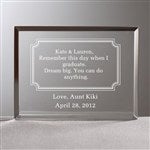 encouragement gift
By
Shopper

(Chapel Hill, TN) - April 6, 2012
This made a beautiful gift for someone very special.

Very Nice
By
Shopper

(Mason City, IA) - April 2, 2012
It was great that I was able to add my own verse on the plaque. It was a special religious celebration. The print was very nice and the plaque came in a nice box with an elastic ribbon. I didn't even have to wrap it with wrapping paper it looked so nice.

wonderful
By
Shopper

(Altoona, IA) - March 21, 2012
Exactly want I wanted for Sons College Graduation

My satisfaction and the recipients satisfaction
By
Diane E. D.

(Birmingham, AL) - February 15, 2012 (
See all reviews by this customer
)
Oh my goodness. What excellent work your company did! The personalized items I received were absolutely BEAUTIFUL. It far exceeded my expectations and the value for the cost was great. I gave seven items as gifts and each person was so elated and impressed with the gift. I received so many compliments. I would also like to say I was very pleased with the amount of time it took for me to get the items. I received my shipment on the date the company forecasted I would get them. I will definitely use the Personalization Mall again and I will be sure to refer this company to anyone looking for personalized gifts. Thank you.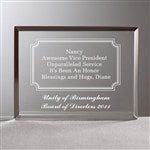 Husband Retirement
By
Shopper

(Pittsburgh, PA) - February 14, 2012
My husband loves this item and said it is a really unique gift he will treasure always!!!











Perfect Award
By
Patricia D.

(Dinuba, CA) - February 1, 2012 (
See all reviews by this customer
)
Although this was a tad smaller than I thought it might be (more the size of a paperweight, yet stands up), it turned out to be exactly what our Board wanted! It looks so classy and we are extremely happy with it.

Exclusive, elegant, yet affordable
By
William A C.

(Birmingham, AL) - January 9, 2012 (
See all reviews by this customer
)
Not only is the simple,elegant design of this Keepsake appealing, it provides for personalization which is unique, especially when the "Write Your Own" option is chosen. With a little thought, skill, and time, something priceless is achieved.

Gift was perfect
By
Shopper

(Houston, TX) - January 3, 2012
It came quickly and was made perfectly. Thank you

Unique and special
By
Shopper

(Findlay, OH) - December 16, 2011
What a special gift to give! I love the option of being able to use a custom quote--it makes it all the more personal! The quality is great--it's smaller than what I thought it would be, but I still love it and I know it will be a treasured keepsake.

Perfect Gift
By
Michael D.

(Matawan, NJ) - December 15, 2011 (
See all reviews by this customer
)
I purchased two of these items as gifts for student teachers that I supervised over the past sixteen weeeks. It was a great way of commending them for a job well done and the quote was perfect for motivating them to continue their career goals.

Retirement Gift
By
K. C.

(Arlington, TN) - September 30, 2011 (
See all reviews by this customer
)
This was an excellent retirement gift for a co-worker of mine. She absolutely loved it! The only problem I had was that it was a little on the small side, but the personalization on the keepsake more than made up for the size.

Gift Turned Out Beautifully
By
Danny L.

(Arlington, TX) - September 3, 2011 (
See all reviews by this customer
)
It looked everything like it appeared before I purchased it. The description and pricing of the item was reasonable and I was very pleased with the service. It shipped in adequate time and arrived at its appropriate time. I will order from this site again if I have any other personalization gifts necessities.

Wonderful Keepsake
By
Shopper

(Monroe, MI) - August 15, 2011
I love buying this product for special occasions for friends and family, it is always well recieved people love it and since you can write your own msg it is always a one of a kind price friendly gift.

Highly Recommend
By
Jaime P.

(Plainfield, IL) - July 31, 2011 (
See all reviews by this customer
)
I enjoyed this keepsake and bought 4 of them for the students I supervised over the past year. I created my own sayings and they turned out wonderful. As the other reviews stated, they are a bit small (smaller than I imagined), but you can't go wrong with the price. Plus, they are so professional and creative that this makes up for the small size.

Graduation perk
By
Maureen R. D.

(Camden, NY) - July 5, 2011 (
See all reviews by this customer
)
Love to give this to college graduates for them to put on their desk, apt. decoration whatever to remind them of all they've accomplished and that they are remembered and loved.

graduation gift
By
Shopper

(Anoka, MN) - June 14, 2011
everything was terrific
thank you

glass memento!
By
Shopper

(Miami, FL) - June 9, 2011
I gave this glass plague to my 15 year old grand-son on his passing on to H.S. He absolutely loved it, good size, the quotes were so inspiring, and he was so pleased that his name came out so good and clear! Thanks for an outstanding job well done!