awesome gift!! Very happy with it!
By
Shopper

(florence, SC) - December 20, 2013
I ordered this canvas as a Christmas gift and am very pleased with my purchase. I received it very quickly as well!

excellent choice
By
Loretta C.

(BUTLER, PA) - December 20, 2013 (
See all reviews by this customer
)
I created two different ones. Exceeding my expectations on quality and shipping was fast. I processed the entire order from my cell.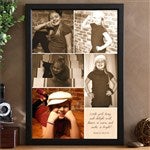 AWESOME
By
Jacqueline H.

(Dow, IL) - November 26, 2013 (
See all reviews by this customer
)
This was my first ever purchase of a custom canvas and now I am hooked, it was great quality and quick!!! After receiving the first one, I turned around and ordered another one for another Christmas gift because I thought the quality was so good. I was worried about it getting damaged in shipping but they packaged it well & arrived in perfect shape, I can't wait to give it at Christmas time to see their reaction.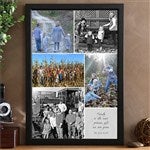 Anniversary collage
By
Pat G.

(West Des Moines, IA) - August 17, 2013 (
See all reviews by this customer
)
The collage will be a lifetime keepsake. A special anniversary to remember. I was impressed with the turn around time. I ordered the collage on Tuesday and it was delivered Thursday.

Great gift!!
By
Shopper

(Kingwood, TX) - August 2, 2013
Gave this to two of my friends for there anniversary! And they absolutely loved it! It was a great success! Would recommend it to anybody...... Everything came out really nice!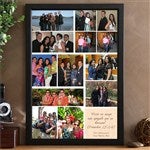 Awesome Gift!!!
By
Tricia K.

(Romeoville, IL) - June 24, 2013 (
See all reviews by this customer
)
I bought this photo collage for a Father's Day gift and I picked out pictures of my husband and our two daughters and he loved it. The quality was great for the price.

Awesome Father's Day gift for daddy
By
Alisa R.

(Harrah, OK) - June 10, 2013 (
See all reviews by this customer
)
My daughter and I have bought this gift for daddy 4 years in a row and it's awesome to see the changes with new pictures each year. Quality is great and delivery time is awesome!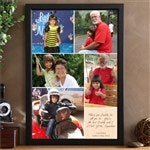 great gift idea!!
By
Shopper

(San Antonio, TX) - June 1, 2013
Got this for my husband to display in his office as a Father's Day present and was very pleased with the end product!

Bought this for a Mother's Day gift!
By
Shopper

(Willis, TX) - May 22, 2013
When I received this in the mail, I loved it so much more! It turned out beautiful! I used her children and grandchildren. My Mother in-law couldn't stop talking about how much she loved it and how well it turned out.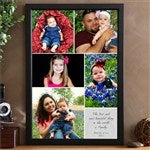 Excellent
By
lisa T.

(wixom, MI) - May 15, 2013 (
See all reviews by this customer
)
This products quality is great and it brought my mother to tears. I highly recommend it for any special occasion

Nice gift
By
Shopper

(San Antonio, TX) - May 15, 2013
This was a gift I purchased for my mother. She loved it and said it was great! I haven't seen it in person but based on her review it sounds like a great product. Thanks.

Loved it
By
Shopper

(Brookfield, WI) - May 3, 2013
Loved the finished product but did have some issues creating it. Sizing the photos was a problem and certain photos it would not let me use due to the computer image being too small or too big....not the "actual" photo but the computer size (sorry, am not good with computer lingo) Was a bit frustrating to try and find photos it would allow me to use. It also wouldn't let me shrink or expand them which was frustrating too. But once I settled on the photos that would work the completed product was excellent.

Love it!
By
Cindy W.

(Myrtle Beach, SC) - March 5, 2013 (
See all reviews by this customer
)
This is the second one I have created as a perfect gift! One as a memorial and one for a "new" grandma. I have ordered many products and have been satisfied with every single order. I have sent the web site to many friends and family.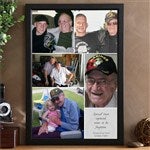 The best way to display New-Born Pictures
By
Sharena F.

(Cincinnati, OH) - February 19, 2013 (
See all reviews by this customer
)
I ordered this and the 6 photo collage and I LOVE them. I finely got around to displaying my daughters newborn pictures and I am so glad I chose to use this service and shipping was supper fast. If i could I would give this 10 stars!!! I will be ordering again when I get my daughters 1 yr pictures back!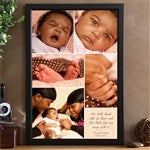 Amazing quality
By
Sharon S.

(Mount Hope, WV) - January 20, 2013 (
See all reviews by this customer
)
My daughter & son in law recently had their 1st child, so I bought this collage for my son in law for his birthday. I got it so he could hang it in his office, but when I showed it to my daughter she liked it so much she said she may make him keep it at home! I am so happy with the photo I can't wait to give it to him. I ordered several other things for Christmas and was happy with the quality that I had no hesitations in placing another order. One thing I like is when you are selecting the photos you want to use, the system lets you know if it is a good choice for your item. Very happy with everything I have ordered and sure I will be a return customer in the future. I'm a 1st time Grandma after all!

Amazing
By
Michelle C.

(San Diego, CA) - December 29, 2012 (
See all reviews by this customer
)
Awesome awesome awesome. So happy I purchased this item I actually purchased 3 of them and couldn't be happier with the quality and fast delivery. Definitely recommend it.

A very special gift!
By
Laura P.

(APO, AP) - December 27, 2012 (
See all reviews by this customer
)
I made a collage for my mother with photos of her parents and brothers and sisters from 4 family reunions in the past. It turned out so well! She cried when she opened it for Christmas and was so happy to have these memories. Thank you for doing such a wonderful job, Personalization Mall!

ABSOLUTELY BEAUTIFUL!
By
Lori W.

(Homer City, PA) - December 13, 2012 (
See all reviews by this customer
)
I bought this for my daughter and her boyfriend for their new house. I included alot of "firsts" in the pictures I selected for the collage. The fact you can see the actual product finished before you even pay for it gives piece of mind that you are getting EXACTLY what you ordered. I just got it yesterday and it is breath taking. EXACTLY as it was on the site. I have NEVER once been disappointed by anything I have bought on this site...I have bought many things too LOL. All gorgeous.

Canvas print
By
Shopper

(Powell, WY) - October 5, 2012
Love to summarize a vacation in this manner

Beautiful!
By
Shopper

(St. Joseph, IL) - September 4, 2012
I loved this canvas piece! It is very nice quality, looks expensive. It was bought as an anniversary present for some friends and they absolutely loved it!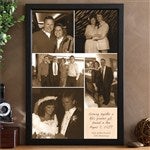 Beautiful Family Heirloom
By
Shopper

(ORWIGSBURG, PA) - June 23, 2012
Absolutely custom quality canvas print and better than expected! The quality was better on the canvas then the actual photograph and we were very pleased. The price was affordable and service fast and efficient. I took the plunge because of other reviews. You will be pleased when you do too! Will definetely use your service again for other gifts. Thank you for a memorable Father's Day gift.

Great Anniversary gift
By
Shopper

(Hesperia, CA) - June 12, 2012
Our 7 year anniversary was coming up and I did not know what to get him. I saw this and thought it was perfect! Although his gift was better....he proposed the day before our anniversary at Disneyland (the place where we had our first date).

Beautiful gift
By
Elena L.

(Jersey City, NJ) - May 24, 2012 (
See all reviews by this customer
)
I got this for my dad as a gift for his 70th Birthday and he was floored! He loved it so much he said it was one of the best gifts he's ever gotten.
Very good quality canvas, I have nothing but positive things to say about this purchase. Highly recommend!

Hanging above our bed
By
Shopper

(rison, AR) - March 30, 2012
I love it!! the pictures came out amazing a my boyfriend loved it also!! thanks so much!! the black and white turned out better than i thought it would!!!

Great as always!
By
Danielle M.

(Orland Park , IL) - March 16, 2012 (
See all reviews by this customer
)
Never disatisfied with anything from this site!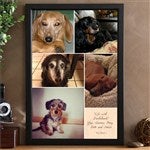 5 Photo Collage
By
Brian M.

(Frankfort, IL) - February 21, 2012 (
See all reviews by this customer
)
The photo collage was fantastic, exactly as I hoped it would turn out.
Often times things look good online and do not look as nice when you receive the real thing, in this case, I think the finished product actually looks better than the online representation.
The photo selection process is quite easy too. I wasn't sure if I needed to size the photos prior to uploading, but, as it turns out you can just upload the pictures, as is, from your computer to the site and size them quickly and easily on their site, making the entire project simple for anyone.


Perfect for Wedding Photos!
By
Alma F.

(Frederick, MD) - January 11, 2012 (
See all reviews by this customer
)
My husband and I got married two months ago and received a lot of easel picture frames we really love to display our photos, but nothing that could mount on the wall. I already had the perfect place to put something in mind and was so excited when I saw this on the website. We included five of our favorite pictures in color and instead of using the "stock" quotes, chose "All Because Two People Fell In Love". It's just so perfect! There is something about printing directly on canvas that adds a softness and special touch to pictures. Also, we were able to take advantage of a special 25% off sale so that made it even better. I've been an avid shopper of Personalization Mall for several years now and will continue to be for all my personalization needs. Items ship quickly, are of wonderful quality, and are so unique!!

Canvas pic
By
Shopper

(Bedford, IA) - December 31, 2011
Love it n my mom loved it!

Beautiful
By
Shopper

(Shirley, NY) - December 31, 2011
I ordered this item for my husband for Christmas this year from our three children. It was absolutely beautiful. The kids loved it and my husband absolutely adored it. We just had our third child and it made the item that much more special and beautiful. I would definitely buy this item again for another family member!

Great Grandparent Gift
By
Lindsay C.

(Louisville, KY) - December 30, 2011 (
See all reviews by this customer
)
I bought the photo collage canvas as a gift for my parents. I included a newborn, 3 month, 6 month, and 9 month picture as well as a picture of my son with my parents. For the writing, I included the saying "When a child is born, so is a grandparent" and then his name and birthday. My parents loved it! It was fantastic!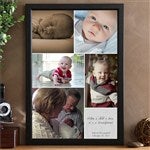 Bigger than expected
By
Tami H.

(North Las Vegas, NV) - December 26, 2011 (
See all reviews by this customer
)
Awesome gift. Great quality!!!

Perfect!!!
By
Katelynn C.

(Glendale, AZ) - December 22, 2011 (
See all reviews by this customer
)
Turned out even better than I expected!!!! Definitely worth the money spent and look amazing!

Exceeded Expectations
By
Shopper

(Hernando, MS) - December 10, 2011
I was curious as to how this would turn out but it is absolutely gorgeous and far exceeded my expectations. I ordered 2 for each set of grandparents and cannot wait to see their faces when they get it. I will definitely be purchasing more of this product in the future.

Exceeded Expectations
By
Shopper

(Oshkosh, WI) - December 9, 2011
Bought this collage as a gift for our daughter and her fiance'. The pictures look awesome and the shipping was really fast. HIGHLY RECOMMEND! Very, Very pleased with the final product!

Awesome!
By
Alisen C.

(Ft Lewis, WA) - November 22, 2011 (
See all reviews by this customer
)
Bought this collage as a gift for my husband after we lost our dog this fall. The pictures look awesome and the shipping was pretty fast. HIGHLY RECOMMEND! You won't be disappointed!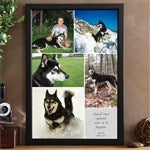 Doin it right
By
Paul W.

(Chicago, IL) - August 20, 2011 (
See all reviews by this customer
)
The entire journey from the start of the designing all the way to the delivery was great. The wonderful quality exceeded expectations and the item was delivered in 3 days after the order was placed. Highly recommended

Beach trip memories!!
By
Heather G.

(Oxford, GA) - July 16, 2011 (
See all reviews by this customer
)
The canvas turned out beautiful. I gave it as a gift and I am sure it will be treasured always. I have never been disappointed in any purchase I have made with your company. Thank you for your consistent high quality products! <3 <3 <3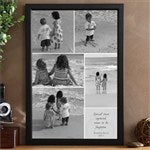 Amazing!
By
Shopper

(Sterling Heights, MI) - May 2, 2011
This was an amazing gift for my Mother for Mother's Day! she absolutely loved it!

spring break 2011
By
Shopper

(Denver, CO) - April 18, 2011
I absolutely loved my 5 photo Collage Canvas I purchased from Personalization Mall!! My 6 year old Grandson and I went to see his father,and step-mother, and we went to Washinton, D.C. on our trip! He shares his birthday with his Father, my son, so I purchased one for each of them as a "souvenir" from our trip for their bithdays!!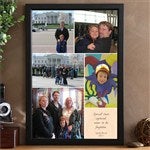 Beautiful Canvas Frame
By
Carol C.

(Vero Beach, FL) - March 31, 2011 (
See all reviews by this customer
)
I purchased this product for My Grand Mothers 90 th Birthday this May 2011. I could'nt find a 5 Generation Frame then I seen this..they had a problem using My Mothers pic because it was so old and it was the only 1 I had of her. She had past away 36 yrs ago they called and told me what I needed to do in order for them to do use it.Thank you so much.. This frame means the world to me and to my Beautiful Grandma..It arrived in just a few days and I love it! The quality is great and the price is unbeatable. I would definitely purchase this product again and have recommended it to my friends.