Just Wonderful!
By
Billie Jo F.

(Elgin, SC) - February 18, 2010 (
See all reviews by this customer
)
I have been ordering products from your company for a couple of years now, and I have always been 100% satisfied. Not only is the quality outstanding, the work is always done so quickly! I recently ordered the 5 Photo Collage Personalized Canvas Art for my husband with some of his racing pictures...he was THRILLED! He liked his so much that he ordered one for two of his friends!! Keep up the great work!

Billie Jo Frier


I am officially a fan of personalizationmall.com
By
Nadia C.

(Cedar Park, TX) - February 13, 2010 (
See all reviews by this customer
)
This was the first time I ordered an item from personalizationmall.com and I am so happy I did!! The product I received was exactly how I wanted it. The staff is wonderful and extremely helpful...wonderful people!! This was my first Valentine's with my husband and I am so happy I did not go anywhere else for his gift. Thank you so much!!!

collage
By
Brenda C.

(Carrollton, KY) - December 29, 2009 (
See all reviews by this customer
)
The collage looked even better than I thought it would. Very nice and classy!

Exceeds expectations!
By
Kendra A. C.

(Bartlett, TN) - December 28, 2009 (
See all reviews by this customer
)
WOW. Everyone who sees this says "WOW!" The quality is phenomenal. It's easy to design on the website, and shipping is so fast. We're going to treasure this for a long, long time -- and we'll definitely create more for other family members and occasions.

Absolutely beautiful high quality item!
By
Karen S.

(Versailles, KY) - December 28, 2009 (
See all reviews by this customer
)
This was an exceptional item, so worth the price. It is absolutely beautiful, looks flawless. I was so pleased, and it came so fast that was just a bonus. I will definitely order this again, it was the perfect Christmas present for my child's grandmother. Thank you!

Karen Slone

The perfect gift
By
Eduardo C.

(maricopa, AZ) - December 27, 2009 (
See all reviews by this customer
)
I got this for my mother and let just say her tears wouldnt stop she put it up right away. She thought that is was great work and wants to order more for other family members

wonderful
By
timothy G.

(vista, CA) - December 17, 2009 (
See all reviews by this customer
)
beautiful, fast shipping, no complaints

Superb Christmas Gift!!!
By
Gail K.

(Louisville, KY) - December 16, 2009 (
See all reviews by this customer
)
I ordered this gift as a Christmas Present to my Dad. We live in separate states so he opened it as soon as it arrived. I saw a picture of it he sent to me and I love how wonderful the pictures came out on canvas!!! He loved his gift and immediately hung it up!

Love their work
By
Pamela M.

(Little Elm, TX) - December 8, 2009 (
See all reviews by this customer
)
I purchased this item last Christmas for my brother and he absolutely loved it. My mom was a little upset that I didn't get one for her so I am back this year to get her one. The work is top notch and arrives very quickly. I recommend their products wholeheartedly.

Love it!!!
By
Vanessa M.

(East Patchogue, NY) - December 6, 2009 (
See all reviews by this customer
)
I have purchased several items from here and everyone I have purchased has been great. This one especially was special because I gave it to my husband for our 5 year anniversary. He loved it!!!

Beautiful
By
Rebecca M.

(Howard, SD) - October 16, 2009 (
See all reviews by this customer
)
I bought this as a present for my husband for our second anniversary. I put in pictures to show different stages of our relationship up until this point. I love the fact that you can put your own message in the corner as well. Though I could only get my pictures to come up as "good" quality in the editing screen, they all look wonderful. This gift was worth every penny. It was a little bigger than I imagined it would be (I didn't pay much attention to the measurements when buying it), but I absolutely love it, and it arrived SO quickly. I'm thinking of making a couple of these for Christmas gifts for my parents.

Beautiful!
By
Audra F.

(Monroe, MI) - October 15, 2009 (
See all reviews by this customer
)
Impressive quality with great packaging/shipping. Thank you very much!

Memories
By
Brenda L.

(blackstone, IL) - October 8, 2009 (
See all reviews by this customer
)
This is an awesome canvas art, this is the second one I have purchased for family members. The quality is excellant, I cannot say enough nice things about this. It is a great keepsake, will probably order future ones. Keep up the great job.

Beautiful Memories
By
Cheryl B.

(Greensboro, NC) - October 7, 2009 (
See all reviews by this customer
)
I have now ordered two of these framed canvas collages - one to capture memories from a special vacation and one to memorialize our black lab that recently passed away. I have been overwhelmingly pleased with the quality of this product, not to mention the ease of ordering and personalization of the gift exactly as you want it to appear. I highly recommend this to anyone who is wanting to capture precious memories and showcase them in a lovely and classy manner for others to share. This would also make a wonderful gift for someone.

Fast and Perfect
By
Caroline D.

(Newington, CT) - April 10, 2012 (
See all reviews by this customer
)
We received our order so quick and it couldn't be more perfect. The only think that would make it better is if you could change the order or layout of the picture slots.

Very Impressed
By
Danille C.

(Fountain, CO) - December 27, 2011 (
See all reviews by this customer
)
The pictures were bigger than I had visualized in my head, so I was very happy with this. Good sturdy canvas and frame. Doesn't have hooks for hanging though, but it's not a big deal to get those myself.

Quality of product
By
Shopper

(Culver City, CA) - November 28, 2011
Very good product in light of the poor photos I sent. Good communication with representatives.

Photo frame
A picture of our memories

Lovely gift
By
Dominique S.

(McHenry, IL) - December 2, 2010 (
See all reviews by this customer
)
This turned out very good & overall I am pleased with it and know that my husband (the gift recipient) will cherish it. The only thing that I am a disappointed in is that the pictures seem a little grainy because they are printed on larged weaved canvas. I think a tighter weave would look better.

Quality product, Great price, Editing tools problematic
By
Leigh H.

(Richmond, VA) - May 11, 2010 (
See all reviews by this customer
)
While I'm very pleased with the results of the layout I created, I found the editing tools quite frustrating to use, especially the cropping tool. Additionally frustrating is the inabililty to swap pictures within the layout. To change the position of photos within the layout you must back up resulting in a loss of editing. All in all I will probably purchase another canvas photo print in the future but I will think twice about creating a multi-photo canvas print.

Looks Great, But lots of time required
By
Tracy P.

(Pampa, TX) - December 15, 2009 (
See all reviews by this customer
)
The finished product looks great & was delivered quickly, but it was a hassle to find the right shape/size pic that would fit. Spent over 1 hour just to make it work.

It was everything I expected it to be BUT...
By
Shopper

(Lehighton, PA) - December 10, 2013
The product was well-made and met most of my expectations. The only problem I must say would be the fact that my pictures were printed incredibly dark. I would highly highly highly suggest making the photos you select much lighter. I would say you can't go light enough.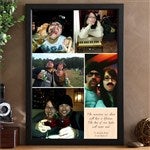 Dissatisfied with the color
By
Shopper

(Pella, IA) - January 14, 2013
I've ordered two of the 5 photo collages, one three years ago and one just recently. I loved the one I had 3 years ago, but am not as satisfied with my most recent purchase. The color on this collage came back much darker than the original pictures. Hard to see some of the faces on a couple of the pictures on this collage.

Looked okay...
By
Shopper

(Columbia, SC) - June 25, 2012
I paid like 65 bucks for this. It just looked tacky to me. The lines separating each picture were very apparent. My husband said he liked it (it was a present for him), but I wasn't very pleased.

golf collage
By
Shopper

(Copperopolis, CA) - November 25, 2011
Frame quality was disappointing. Also, the frame covered part of the photos--some people cut out. Had spent two hours putting this together with different editing programs so this wouldn't happen.