Senior gifts for Soccer players
By
Shopper

(Hapeville, GA) - April 15, 2014
The key chains are a good quality. I am very pleased with them.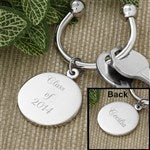 Happy with my order
By
Dina L.

(Yukon, OK) - March 16, 2014 (
See all reviews by this customer
)
I picked this keychain design for my step daughter birthday with her name & birthday printed in one side and her son name in the other side. I know she will love it as I am. Very happy with this order.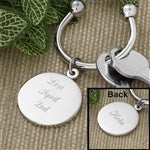 Wonderful
By
Shopper

(Jackson, MO) - March 15, 2014
What a perfect girt for my husband!! I was having a hard time trying to decide a gift for our vow renewal and this was perfect!!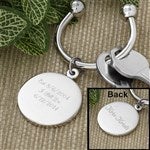 Love it
By
joan P.

(providence, RI) - January 24, 2014 (
See all reviews by this customer
)
This is a lot nicer in person. Im really glad I ordered this. I will be buying from them again.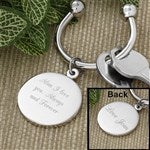 High Quality, quick to receive
By
Shopper

(Kettering, OH) - December 26, 2013
Everything was perfect. Received very quickly.

glad we ordrred this for my niece's 16th bday
By
Shopper

(New Albany, OH) - December 26, 2013
We wanted to get a sweet 16 gift for our niece. Our initial thought was to get sterling silver, but we found this key chain as an alternative. It was beautiful and looked every bit as nice as one in sterling and is much more practical. We were concerned about it looking and feeling cheap. Not the case at all - it is heavy and sturdy. Most of all, she was very happy with the gift.

great gift for a new driver!
By
Shopper

(Yardley, PA) - July 1, 2013
This is my go to gift for the Sweet 16 driver to be. It is really nice, larger than the photo and very nice quality. A perfect gift for that special occasion!

Graduation gifts
By
Shopper

(Carolina Beach, NC) - June 2, 2013
Purchased two, one for my granddaughter and one for her boyfriend. Engraved their names on one side and their colleges on the other. Quality was great, engraving great and packaging good. Great for the price.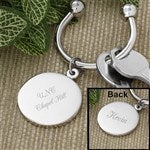 great graduation gift
By
Shopper

(Garner, IA) - May 25, 2013
This key chain was a very special graduation gift. Nice.

Really nice
By
Linda B.

(New Britain, CT) - May 19, 2013 (
See all reviews by this customer
)
Got this for a gift. I found it a little smaller than I thought it would be but I really liked it. I'm always pleased with things I purchase from this site. Great Quality!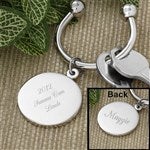 as expected
By
Shopper

(Ashburn, VA) - May 15, 2013
order and personalization are as expected

Kimberly Pyatt
By
Brenda W.

(North Charleston, SC) - May 1, 2013 (
See all reviews by this customer
)
Truly lovely! quality excellent!

Graduating Grandkids
By
Debbie R.

(Roscoe, IL) - December 14, 2012 (
See all reviews by this customer
)
Very nice key ring. Easy to personalize. Very fast shipping.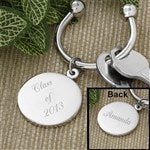 KeyChain
By
Shopper

(Wilson, NC) - July 5, 2012
Really nice! Just got it in and liked it so much, getting ready to order another one!

beautiful key ring
By
Shopper

(Grinnell, IA) - June 17, 2012
what a beautiful key ring especially for the price. thank you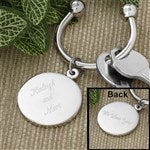 Love it!
By
Leah P.

(Aiken, SC) - May 4, 2012 (
See all reviews by this customer
)
All my personalizations were perfect, it arrived quickly and looks great! Very cute and it's really nice, not cheap quality.

Great Item!
By
Shopper

(Hardin, MO) - May 1, 2012
Excellent item. I purchased this for my little sister and had a personalized engraving added to it. She love it.

Key chain gift
By
Shopper

(Murrieta, CA) - April 15, 2012
The item was lovely and the engraving was well spaced and centered. I would order this again as a gift.

Great Quality for Price but Error on Engraving from Personalization Mall
By
Shopper

(ladera ranch, CA) - December 25, 2011
I purchased 2 key chains and had names engraved as a gift. When they arrived both key chains had the same name engraved on them, even though the outer packaging labeled showed my correct order. I called immediately and they sent out another key chain, I still have not received it and it has been 1 day past their promised delivery date. The quality of the key chain is nice and has a good weight to it. It is not cheap feeling or looking. If you are ordering as a gift make sure you allow yourself some time in case you have to reorder due to an engraving mistake.

awesome
By
annie M.

(ketchum, ID) - November 24, 2011 (
See all reviews by this customer
)
you will love everything in this web

Very Nice Gift
By
Shopper

(Elk City, OK) - May 30, 2011
I was very impressed with the speed at which the package arrived. When I inspected the key ring everything was perfect!

Beautiful
By
Kathy C.

(Bronx, NY) - February 28, 2011 (
See all reviews by this customer
)
Sometimes when I purchase items online you are taking a big chance. I first purchased 2 baby rosary bracelets for friends of mine having grandchildren baptized. These bracelets are beautiful!! So, after having alot of faith in what I purchased then, I took a chance and purchased this key ring for a niece of mine that graduates in May from college. This key ring is spectacular. Thank you the fine quality of items you sell.

Silver Plated Key Ring
By
Shopper

(Sunnyvale , CA) - January 11, 2011
It was a great college graduation personalized gift. I would highly recommend this item.

Beautiful gift!
By
Lynn S.

(Pearland, TX) - December 27, 2010 (
See all reviews by this customer
)
Very classy, impressive gift for a reasonable price. Everyone was thrilled with their personalized gift. Caution: When removing the little screw-on balls to add keys - one person lost it immediately!

Great for anyone
By
Tracy B.

(Burlington, KY) - December 26, 2010 (
See all reviews by this customer
)
I gave this to a friend as a gift and she was so excited when she rec'd it. It was engraved correctly and a nice size. Great Idea!!

BEAUTIFUL
I bought this key ring for my sister. The picture does it NO JUSTICE at all. when i recieved it in the mail and opened it. it was the most beautiful key ring i had ever seen and i had a tiffanys one. when my sister opened it for her bday. she cried. she wont even use it because she dosent want it to get scratched. i want someone to but me one. i LOVE IT. HIGHLY RECOMMENDED

Great for Teenagers!
By
Gina K.

(Hatfield, PA) - August 13, 2010 (
See all reviews by this customer
)
I've actually ordered several of these key chains already.

It's great for teens just getting their license. The nice thing is that you can write your own message to them on one side & put their name on the other. So far, I've had success with my neices & nephews loving it.

Would highly recommend it for a personalized gift to anyone.


key ring
By
susan Q.

(creswell, OR) - June 14, 2010 (
See all reviews by this customer
)
Excellent product, price, and gift!

"Happy Camper"
By
Jodie E.

(McAllen, TX) - June 12, 2010 (
See all reviews by this customer
)
GREAT ITEM ~ This is the 2nd one that I've purchased to give as a Graduation Gift. The recipients marveled at the quality & personalization of the keyrings. The price is reasonable ~ the promptness from ordering to delivery is wonderful. Would highly recommend this item & have recommended your company to many. Thanks for such great products.....

Graduation Present
By
Jean J.

(Concord, CA) - May 24, 2010 (
See all reviews by this customer
)
This keychain is perfect for a neighbor's son who is graduating from college.

Love it!!!!!
By
Maria S.

(Cambridge, MA) - May 7, 2010 (
See all reviews by this customer
)
Love it, very good quality!

Great graduation gift
By
Joyce W.

(Pikeville, KY) - October 8, 2009 (
See all reviews by this customer
)
Ordered 8 of these for grads and they all loved them!

Always good quality
By
Shopper

(Glenolden, PA) - December 1, 2013
Efficient service, fair price and good quality.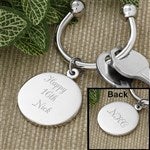 Good quality
By
Shopper

(Valhalla, NY) - June 3, 2013
Good quality key ring. We'll have to see how it stands up over time. Wish it was offered as a standard loop key ring. the horseshoe is a little awkward.

Nice gift item
By
Shopper

(Farragut, TN) - August 19, 2012
The keyring I had engraved for my sister's "big" birthday really turned out nice. I felt the quality of the product was good, too. The box it came in and the "velvet" bag it came in are cheaper looking, so I discarded those and used my own. But the gift itself, I was pleased with and glad I bought it. I was pleased with the quick service and shipping so much that I ordered two more gifts for other people.

A nice gift
By
Shopper

(Carmichael, CA) - June 4, 2011
A perfect little something for the female high school graduate.

Key ring
By
Miranda H.

(Anderson, IN) - April 26, 2011 (
See all reviews by this customer
)
This was so beautiful, It's a perfect gift for any occasion. The key loop i had troubles with so i just put it on a regular key ring.

Great quality
By
Angel F.

(West Henrietta, NY) - February 26, 2011 (
See all reviews by this customer
)
I bought this for my husband because his keychain was overstuffed, and I wanted him to have something with easy access to keys and other things (whenever he flies, he has to take off his Swiss Army knife). This key ring looks great and seems to be of quality construction. I like that it can hold several keys and accessories.

While I like the screw-on/off ball at the end so he can switch things in and out without prying open a traditional key ring, I offer one caution: make sure you tighten the ball very well. The day after he got it, we were walking out of a restaurant, and I saw his pocket knife drop to the ground, then found that other things had fallen off because the ball wasn't properly secured. Fortunately, we found everything, and he has since tightened it up and not had further problems.

One thing I would like to see offered for this product is a choice of fonts on the personalization - the script is more feminine than I'd like for my husband.

Very Pleased with Purchase
By
April M. R.

(Whittier, CA) - May 26, 2010 (
See all reviews by this customer
)
I purchased this key chain as a graduation gift, so i haven't used it, but it looks really nice. I think it would be better as a circle, rather than a horseshoe (wondering if it will be a pain to stick in a pocket and I worry about losing the balls on the end, which is the only reason I gave it a 4). The engraving looks great, it's good quality, and I'm very pleased.

Personalized Silver Plated - Key Ring
By
Mimi S.

(Ridgeland, MS) - May 25, 2010 (
See all reviews by this customer
)
They look great and I love them!