Key Ring
By
Shopper

(JAMESVILLE , NY) - July 26, 2014
Received my personalized key chains and they are just what I have been looking for. Now all 5 of my vehicles have a common classy connection!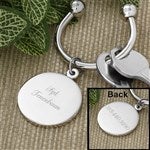 Key chain
By
Shopper

(HOLLY HILL, FL) - June 21, 2014
Beautiful. Thanks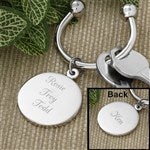 LOVE this!!!
By
Shopper

(Saginaw, MI) - June 10, 2014
This was the perfect grad gift. It was super classy looking, yet still fun. Fast shipping too!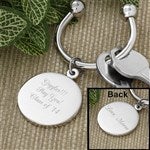 Key chain
By
Shopper

(Pasco , WA) - May 27, 2014
He loved his gift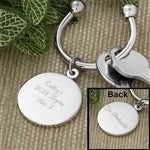 Grad gift
By
Robin F.

(Green Bay, WI) - May 11, 2014 (
See all reviews by this customer
)
Very nice! Good quality and very speedy delivery! I will shop on this website again!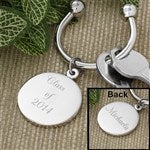 Senior gifts for Soccer players
By
Shopper

(Hapeville, GA) - April 15, 2014
The key chains are a good quality. I am very pleased with them.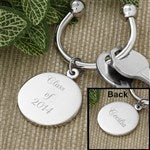 Happy with my order
By
Dina L.

(Yukon, OK) - March 16, 2014 (
See all reviews by this customer
)
I picked this keychain design for my step daughter birthday with her name & birthday printed in one side and her son name in the other side. I know she will love it as I am. Very happy with this order.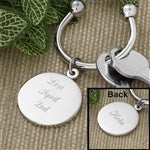 Wonderful
By
Shopper

(Jackson, MO) - March 15, 2014
What a perfect girt for my husband!! I was having a hard time trying to decide a gift for our vow renewal and this was perfect!!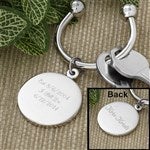 Love it
By
joan P.

(providence, RI) - January 24, 2014 (
See all reviews by this customer
)
This is a lot nicer in person. Im really glad I ordered this. I will be buying from them again.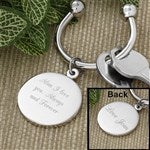 Always good quality
By
Shopper

(Glenolden, PA) - December 1, 2013
Efficient service, fair price and good quality.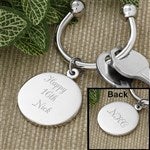 Graduation gifts
By
Shopper

(Carolina Beach, NC) - June 2, 2013
Purchased two, one for my granddaughter and one for her boyfriend. Engraved their names on one side and their colleges on the other. Quality was great, engraving great and packaging good. Great for the price.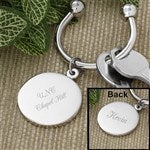 Really nice
By
Linda B.

(New Britain, CT) - May 19, 2013 (
See all reviews by this customer
)
Got this for a gift. I found it a little smaller than I thought it would be but I really liked it. I'm always pleased with things I purchase from this site. Great Quality!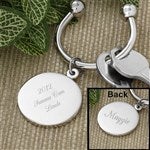 Graduating Grandkids
By
Debbie R.

(Roscoe, IL) - December 14, 2012 (
See all reviews by this customer
)
Very nice key ring. Easy to personalize. Very fast shipping.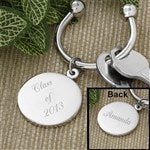 Nice gift item
By
Shopper

(Farragut, TN) - August 19, 2012
The keyring I had engraved for my sister's "big" birthday really turned out nice. I felt the quality of the product was good, too. The box it came in and the "velvet" bag it came in are cheaper looking, so I discarded those and used my own. But the gift itself, I was pleased with and glad I bought it. I was pleased with the quick service and shipping so much that I ordered two more gifts for other people.

beautiful key ring
By
Shopper

(Grinnell, IA) - June 17, 2012
what a beautiful key ring especially for the price. thank you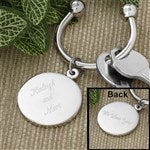 A nice gift
By
Shopper

(Carmichael, CA) - June 4, 2011
A perfect little something for the female high school graduate.

Good quality
By
Shopper

(Valhalla, NY) - June 3, 2013
Good quality key ring. We'll have to see how it stands up over time. Wish it was offered as a standard loop key ring. the horseshoe is a little awkward.

Graduation Present
By
Jean J.

(Concord, CA) - May 24, 2010 (
See all reviews by this customer
)
This keychain is perfect for a neighbor's son who is graduating from college.

"Happy Camper"
By
Jodie E.

(McAllen, TX) - June 12, 2010 (
See all reviews by this customer
)
GREAT ITEM ~ This is the 2nd one that I've purchased to give as a Graduation Gift. The recipients marveled at the quality & personalization of the keyrings. The price is reasonable ~ the promptness from ordering to delivery is wonderful. Would highly recommend this item & have recommended your company to many. Thanks for such great products.....

Love it!!!!!
By
Maria S.

(Cambridge, MA) - May 7, 2010 (
See all reviews by this customer
)
Love it, very good quality!

Very nice
By
Rhonda O.

(Dallas, GA) - August 25, 2014 (
See all reviews by this customer
)
Very well made and beautiful... Only problem is usability with certain keys, especially car keys because of the closure. Some keys would not stay on the ring.

Great graduation gift
By
Joyce W.

(Pikeville, KY) - October 8, 2009 (
See all reviews by this customer
)
Ordered 8 of these for grads and they all loved them!

Key ring
By
Miranda H.

(Anderson, IN) - April 26, 2011 (
See all reviews by this customer
)
This was so beautiful, It's a perfect gift for any occasion. The key loop i had troubles with so i just put it on a regular key ring.

Not exactly what I expected...
By
Hugh H.

(Dallas, GA) - May 9, 2010 (
See all reviews by this customer
)
It doesn't appear to be silver plated, more like chrome plated. The engraving was off center on both sides. For the price you could at least expect that to be right...

Cute but not functional
By
Ashley H.

(SLC, UT) - October 1, 2009 (
See all reviews by this customer
)
The key chain is very cute, however I have had problem with the ball staying on the end. It tends to fall off and my keys end up all over the place. I have also had the charm fall off from time to time. I've ended up using a different key ring (the ball fell off and is now lost) and bought a new ring for the charm to hang on.

Keeps falling apart
I bought this key chain for my nephew for his birthday. The ball wouldn't stay on and now is lost. The loop that held the charm on came off. Loved the look but not sturdy enough for everyday use. You can't buy a replacement ball from this website.

Disappointing
By
Hillery T.

(Oakland, CA) - October 14, 2011 (
See all reviews by this customer
)
the medallion fell off the ring on day one. Fortunately it was in my purse. I had to replace the ring since the one that came with it was too soft in terms of the metal.

Terrible
By
Adrienne E.

(Phila, PA) - April 17, 2012 (
See all reviews by this customer
)
Very disappointed. My car keys do not fit on horse shoe ring. I really wish the ring would fit through my Honda car key. Very disappointed!!

Very Pleased with Purchase
By
April M. R.

(Whittier, CA) - May 26, 2010 (
See all reviews by this customer
)
I purchased this key chain as a graduation gift, so i haven't used it, but it looks really nice. I think it would be better as a circle, rather than a horseshoe (wondering if it will be a pain to stick in a pocket and I worry about losing the balls on the end, which is the only reason I gave it a 4). The engraving looks great, it's good quality, and I'm very pleased.

Great quality
By
Angel F.

(West Henrietta, NY) - February 26, 2011 (
See all reviews by this customer
)
I bought this for my husband because his keychain was overstuffed, and I wanted him to have something with easy access to keys and other things (whenever he flies, he has to take off his Swiss Army knife). This key ring looks great and seems to be of quality construction. I like that it can hold several keys and accessories.

While I like the screw-on/off ball at the end so he can switch things in and out without prying open a traditional key ring, I offer one caution: make sure you tighten the ball very well. The day after he got it, we were walking out of a restaurant, and I saw his pocket knife drop to the ground, then found that other things had fallen off because the ball wasn't properly secured. Fortunately, we found everything, and he has since tightened it up and not had further problems.

One thing I would like to see offered for this product is a choice of fonts on the personalization - the script is more feminine than I'd like for my husband.

Personalized Silver Plated - Key Ring
By
Mimi S.

(Ridgeland, MS) - May 25, 2010 (
See all reviews by this customer
)
They look great and I love them!


Great gift
By
Shopper

(Wexford, PA) - June 18, 2011
Overall this is a great keyring. I only gave it three stars though because the "ring" that holds the engraved plate to the key ring is terrible. It is not strong enough to hold the plate and keeps opening. I plan on replacing it with a stronger ring. The plate itself and actual key ring are a better quality than I was expecting and I would buy it again.

Great customer service but...
By
Shopper

(newport beach, CA) - January 9, 2012
Ordered this ring, with in 24 hours the plate had fallen off. I sent customer service an email and they promptly mailed a new one. However, the little ball that screwed on to the keychain had fallen off a few days later. You'll have to be very careful with this key chain. it was a cute concept but hopefully the second one does not fall apart.

Kimberly Pyatt
By
Brenda W.

(North Charleston, SC) - May 1, 2013 (
See all reviews by this customer
)
Truly lovely! quality excellent!

as expected
By
Shopper

(Ashburn, VA) - May 15, 2013
order and personalization are as expected

KeyChain
By
Shopper

(Wilson, NC) - July 5, 2012
Really nice! Just got it in and liked it so much, getting ready to order another one!

Great Item!
By
Shopper

(Hardin, MO) - May 1, 2012
Excellent item. I purchased this for my little sister and had a personalized engraving added to it. She love it.

Love it!
By
Leah P.

(Aiken, SC) - May 4, 2012 (
See all reviews by this customer
)
All my personalizations were perfect, it arrived quickly and looks great! Very cute and it's really nice, not cheap quality.

High Quality, quick to receive
By
Shopper

(Kettering, OH) - December 26, 2013
Everything was perfect. Received very quickly.

Good quality
By
Nikki M.

(Galloway, OH) - June 8, 2014 (
See all reviews by this customer
)
Very nice product, good quality. Makes a great gift