See below
By
Barbara M.

(Henderson, NV) - December 18, 2011 (
See all reviews by this customer
)
I have used your site for several purchases the last couple of years and have always been very satisfied. A few weeks ago I ordered a personalized keepsake to send to a friend in Miami as a surprise.....as it was a saying we always kept saying to each other while in Las Vegas, "It's Only Money". You sent him (single man) the wrong item - it was a baptism gift, yet on the outside of the pkg., it had written "it's only money", so it spoiled my surprise and of course when he opened the pkg it was the wrong item. Your company did resend him the correct item, but I was very disappointed that my surprise was ruined.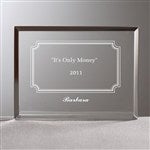 Classy and Inspirational Gift
By
Joanne G.

(Fort Pierce, FL) - October 28, 2011 (
See all reviews by this customer
)
This is the perfect gift for a family member, colleague, recent graduate, or friend. It has the look of etched glass yet very durable. Anyone would be proud to display this on their desk or shelf. The choice of inspirational phrases coupled with the recipient's name or a short personal message makes this gift perfect for men and women alike.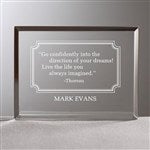 The perfect gift!
By
Shopper

(Marietta, GA) - July 29, 2011
I bought this for a client and she loved it! It was beautiful and even the box it came in was a perfect presentation. Very cost effective and it arrived in days not weeks. I can't wait to order more of them!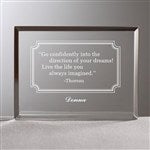 Very Classy!
By
Nancy C.

(Fallbrook, CA) - March 21, 2011 (
See all reviews by this customer
)
This little item has a lot of weight to it. It is the perfect little momento to say you care with!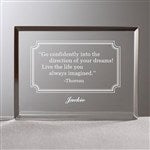 Good, although not exactly what I expected.
By
Judy F.

(Charlottesville, VA) - April 14, 2014 (
See all reviews by this customer
)
I was very pleased w/the laser engraving, although the glass was a little smaller than what I expected. Over all the gift was very nice and I will still order from personalizationmall.com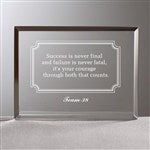 Pleased
By
Shopper

(orlando, FL) - January 22, 2014
The gift was what I expected the only thing that I was not happy with was the time it took to deliver it. I was promised a 5-7 delivery date and it went beyond that :(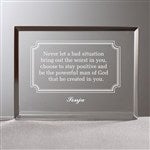 christmas present
By
Shopper

(Knox, PA) - December 31, 2013
ordered and sent quickly, smaller than I thought but my boyfriend loved it thank you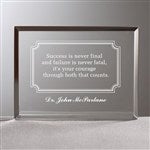 Inspiring Quotes personalizes Keepsake
By
Judith I.

(Wallingford, CT) - July 16, 2013 (
See all reviews by this customer
)
I was very disappointed thought it was bigger than what was stated would have been nice if larger.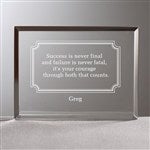 Okay
By
Nori S.

(Hephzibah, GA) - July 2, 2013 (
See all reviews by this customer
)
It was well made I just wish it was glass instead of latex.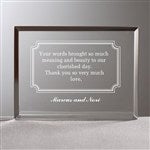 Product features you liked
By
Shopper

(Saint Louis, MO) - June 3, 2013
The keepsake was in excellent condition upon arrival and th product was exactly as pictured, the engraving was set perfect and the quality was exceptional for the reasonable price.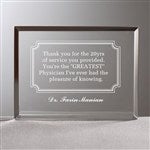 Wonderfule keepsake
By
Gina M.

(Lawrenceville, GA) - May 14, 2013 (
See all reviews by this customer
)
The paperweight was beautiful, it was given as a gift for a colleague's recent promotion. He absolutely loved it! The item came packaged in a nice black box ready to give,the item didn't have one fingerprint on it! I didn't even need to re-wrap. It arrived on time and the engraving was beautiful.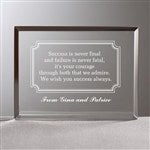 Fun Gift
By
Shopper

(Ruskin, FL) - January 3, 2013
I ordered this item as a Trophy for our Ugly Sweater Contest. Great hit. It is really cute and makes a nice desk top or book shelf piece. Packaged very well and looks better than I expected. Fast delivery, ahead of schedule.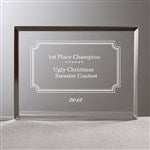 A Classy Gift!
By
cecelia S.

(San Francisco, CA) - January 2, 2013 (
See all reviews by this customer
)
What a Classy and Special gift!
I have given these to work and personal friends and they have been wowwed!
This was so easy to do over the internet!
The wrapping and the box made for a grrrreat presentation!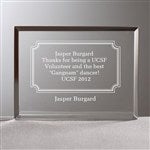 Paperweight
By
Yolanda S.

(Detroit, MI) - December 18, 2012 (
See all reviews by this customer
)
THe product was really nice and of great quality. The only downfall is that it seems much larger on the computer than it really is.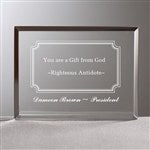 Just as I hoped it would be
By
Alicia H.

(Peachtree Corners, GA) - December 13, 2012 (
See all reviews by this customer
)
I looked at a couple of sites and the engraving charges were crazy. I found Personalizationmall.com and ordered this keepsake. Not only was it reasonably priced,it turned out just lovely. Exactly as I had hoped. I will use this company again. Was impressed by the quality.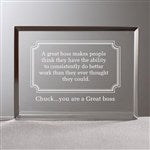 Looks great
By
Shopper

(Hurlock, MD) - March 25, 2012
I bought this for my son's birthday and had one of his own expressions engraved on it along with his name. He is going to love it! Looks very elegant and I'm sure he will put it on his desk at work. Delivery was fast and the quality is very nice.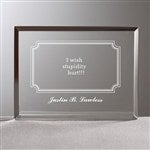 Great quality and quick delivery
By
Leticia M.

(Covina, CA) - May 26, 2010 (
See all reviews by this customer
)
I'm very pleased with this item. It was just as ordered and received fairly quickly.

A Perfect Item to Say "Thank You"
By
Sandra M.

(Tampa, FL) - April 7, 2010 (
See all reviews by this customer
)
I was searching for something to honor members of my Board of Directors, each of whom gives time and service to our organization (which is merging with another entity, thus disbanding our Board). Being a small agency cost was a factor and yet I didn't want to give just a certificate or a plaque that gets lost in the grand scheme of things.

This Inspiring Quotes Personalized Keepsake provided the perfect gift to our Board members, while honoring their service. I know that each will be reminded of us every time they see the keepsake and I'm very happy to have found something that made for a unique remembrance!

Promotion Present
By
Magda V.

(miami, FL) - December 12, 2010 (
See all reviews by this customer
)
Great keepsake

Inspiring Quotes Personalized Keepsake
By
Joseph B.

(Fair Lawn, NJ) - December 1, 2010 (
See all reviews by this customer
)
It looks amazing!! I LOVE IT. Though I didn't put a quote on it it still was a great bargain. I used it as an award and put my own text on it. Other items like it would have cost me $50+ on a different website. I definitely will be buying more items of this website

desk keepsake
By
Shirley C.

(Mexico, MO) - May 6, 2012 (
See all reviews by this customer
)
This was smaller than I expected and the print is not very bold.

So glad I bought this!
By
Cathy O.

(Cumming, GA) - December 6, 2010 (
See all reviews by this customer
)
I used a saying my son said many, many times in his teenage years--but has even greater significance now that he is a young professional just out of college. It was so cool to see it engraved and his name attributed to it. Fun inside joke of sorts, but inspirational for us to revisit the simpler times and know he was right after all.
It looks fantastic and the price can't be beat!

Too tiny.....
By
Shopper

(arlington, VA) - July 28, 2014
Picture was deceiving but ultimately my fault for ordering in a hurry and not reading specs. It is too small to commemorate anything without being a bit embarrassed for the recipient. I luv personalization mall and this is the first thing I've ordered and not been happy about. Learn from my experience.

customer testimonial
By
BARBARA H.

(PERTH AMBOY, NJ) - December 21, 2010 (
See all reviews by this customer
)
This is the third time I've used & purchased special occasion item that was truly fabolous! Everyone just raved of the quality engraving, product & the price when asked.
Delivery was right on times as stated. Bookmark this site for anyone that is a hard to get person or who has everything.Thank you again.

Beautiful.
By
Shopper

(JERSEY CITY, NJ) - January 8, 2011
I bought this as a gift for my boss. I thought it would be much bigger (in size) but overall it's a beautiful piece. Engraving is flawless!

Perfect Gift
By
Dana M.

(Clovis, NM) - December 21, 2010 (
See all reviews by this customer
)
I bought 2 of these for my step-daughters for Christmas and personalized it with the write-your-own inspirational quotes that best suit each girls' current struggle as they transition from girls to young women. They came out beautifully and were received in plenty of time to ship them to England. I'm already composing one for my best friend's daughter's graduation.

Perfect!!!
By
Ana F.

(Gainesville, FL) - December 14, 2010 (
See all reviews by this customer
)
I purchased this gift for my boyfriend of two years, I loved the fact that I could create my own personalized message. The finished product was absolutely beautiful and the shipping was speedy! You can't lose with this gift!!

Smaller than I expected
By
Rose Marie C.

(Thousand Oaks, CA) - December 15, 2010 (
See all reviews by this customer
)
I thought it was very nice, but small and a little hard to read. I bought it for my daughter who is a real estate agent, to have on her desk, so other people could see it too, but it will be a little hard, seeing it's so small.

smaller than expected
By
Charlotte P.

(Greenwood, IN) - September 6, 2010 (
See all reviews by this customer
)
I know the dimensions were posted, but this item is really small "in person." I expected it to be similar in size to ones I had ordered from another company, and I should have checked the dimensions carefully before ordering.

Great Service!
By
Leslie J.

(Camden, AR) - December 20, 2010 (
See all reviews by this customer
)
Absolutely the fastest processing time I have ever seen for a personalized item! I was so impressed with not only the speed, but also the level of customer service. The product shipped remarkably fast & was exactly as described when it arrived. I love the fact that you get to preview your items before purchasing, too. Love this site!

Very nice Gift
I purchased this for my young teen daughter & developed my own poem for it. I was very pleased with the gift! It's smaller than I thought, but is very nice for a desk or shelf. It can also be a paper weight. My daughter really liked it. I plan on ordering this again, this time for a colleague of mine. I really like the fact that you can create your own message/poem and have it personalized with their name.

to small
By
Shopper

(Oakland , CA) - October 17, 2012
to small

Personal Glass Item
By
Shopper

(New London, CT) - December 8, 2012
I love it! I have used this site many times and it alwyas impresses me with the quality.

Well received gift
By
Heidi G.

(Cottonton, AL) - October 25, 2013 (
See all reviews by this customer
)
We purchased this keepsake for our boss for National Boss's Day. He was very moved, we had a quote from John C. Maxwell in the main body and his name below. The item was heavy and well made, but the actual size was smaller that I imagened. If you are buying this double check the dimentions, so you know what you are getting.
The price was very fair.

Very nice!
By
Shopper

(Prestonsburg, KY) - March 22, 2011
Even though these keepsakes were much smaller than we expected, we really liked them when we purchased them for staff last year. We have ordered them again this year because the employees really liked them and I see them displayed in many offices of the recipients. Being able to customize it added a personal touch and made it a very nice gift.

Perfect for the boss
By
Shopper

(Leander, TX) - December 18, 2011
In trying to get something different, this more than met our qualifications for a Christmas gift for our boss. Quality, for the price, is very good.



Small but...
By
Courtney D.

(Athens, AL) - December 21, 2011 (
See all reviews by this customer
)
cute & turns out just like the picture

inspirational plaque
By
Shopper

(Monument, CO) - August 31, 2011
We were very happy with the quality of the plaque. The personalization was perfectly done.

Very pleased
By
Patricia D.

(Syracuse, NY) - November 30, 2009 (
See all reviews by this customer
)
We ordered this as an anniversary gift for our Boss owning the Company. I had looked at quite a few sites before picking this one and I'm very glad we choose here. The product was exactly as explained and it was a very nice quality. There were no mistakes and the lettering was very nice. It was actually sent out on the day I ordered it and I received it the next day in the mail. Outstanding service all around. Would recommend it to anyone.

Great gift
By
Erin W.

(Mc Coll, SC) - December 23, 2009 (
See all reviews by this customer
)
We ordered this for a Christmas present for my father in law. It's very nice and would look good on anyone's desk!