Heart Mirror Compact
By
Shopper

(westminster, CO) - November 19, 2012
This product exceeded my expectations. I would purchase from this company in the future.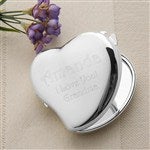 beautifully done and quick
By
Pamela O.

(Daphne, AL) - October 19, 2012 (
See all reviews by this customer
)
I finally found something nice a week before the wedding and was worried I wouldn't get them in time. They were engraved correctly and delivered within 2 days! Couldn't be happier.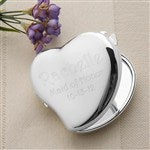 Great Product
By
Shopper

(Sheboygan, WI) - August 10, 2012
The compacts that I bought turned out beautifully and I got them so fast. It only took three days after my order was put in for them to get to my front door. I am very pleased with everything!

A great gift!
By
Shopper

(Casper, WY) - July 23, 2012
I bought five of the heart compact mirrors for my bridal party, mom, and mother in-law. I love them, they look high quality and the engraving was perfect. I received them very quickly, about a week i think. The only bad thing I could say is dont bother with the gift wrapping. The plain white paper was too boring so i ended up re-wrapping them in prettier paper. Over-all a great product!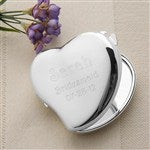 Bridesamaid's Gifts
By
Cathy C.

(Saint Paul, MN) - May 11, 2012 (
See all reviews by this customer
)
These were wonderful gifts for my bridesmaids. They are all personalized and beautiful, yet affordable. I looked at a similar product at "Things Remembered" and it would have cost easily twice as much. AMAZING deal and quality gift!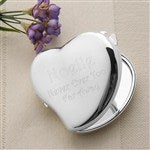 Just What We Expected
By
Shopper

(Georgetown, IN) - April 16, 2012
We ordered these mirrors for bridesmaid's gifts and were very pleased. The engraving is beautiful.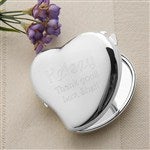 Awesome :)
By
Lena G.

(bronx, NY) - March 16, 2012 (
See all reviews by this customer
)
I loved the compact mirror. It was very special & personal. I had a chat online with a customer rep & she was great. I liked the way they handled my order. Very professional & with care. I love it, love it, love it. Keep up the great customer service. Again can't say enough, Awesome!!! It was so great I ordered another one today for my sis in law!!!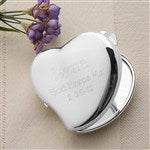 Like it
By
Brian K.

(Milwaukee, WI) - March 13, 2012 (
See all reviews by this customer
)
It is really a great value nice engraving i'm very happy with it!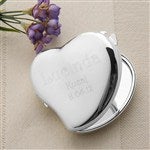 loved the item
By
Shopper

(Houston, TX) - January 23, 2012
I purchased this for my Great Aunt for her 95th b-day. She loved it. High quality.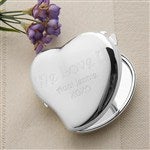 Great Purchase
By
Shopper

(Philadelphia, PA) - August 13, 2011
I love these mirrors !!! I bought five for my party and one for me and I used my new name!!! Can't wait to show my fiance!! : )

Perfect
By
Shara S.

(Monroe Township, NJ) - June 9, 2011 (
See all reviews by this customer
)
If you need something that just shows your friends that they were amazing for you during your wedding, this was perfect for that.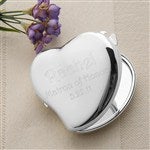 Cheerleading Gifts
By
Shopper

(Lancaster, PA) - May 17, 2011
I have a competition cheerleading squad that I started about four years ago. This year we had true graduating seniors and I wanted something special for them. They always need a mirror for make up and this was just perfect b/c it is not too big but yet the girls can use it.

The gift was engraved with their names on and they were perfect! The girls loved them.

Thank you so much!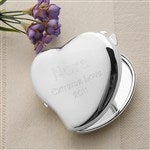 AMAZING service.
By
Karl S.

(SPOKANE, WA) - March 4, 2011 (
See all reviews by this customer
)
I have to say that I am very impressed by the customer service of personalizationmall.com. Not only is the quality of the mirror better than I anticipated, it's MUCH better. Also, UPS lost our order. When I called Personalizationmall.com, I reached a person right away. The very professional woman on the other end of the line was very nice and promptly shipped a brand new order which I recieved without incident. They even sent a follow up e-mail appologizing for any inconvenience. Awesome. It's good to see that someone still takes pride in their work and customer service. Thanks again, my fiancee can rest a little easier knowing that her bridesmaids will have their gifts.

Review
By
Megan C.

(Livonia, MI) - August 16, 2010 (
See all reviews by this customer
)
Loved them!! Great packaging and very happy!

Great product
By
Tara H.

(Canton , OH) - June 25, 2010 (
See all reviews by this customer
)
Great quality! Comes in a box and inside is a velvet bag with the mirror inside!! Very attractive and the personalization looks great!!

Very Pretty
By
Amy O.

(Bayonne, NJ) - April 15, 2010 (
See all reviews by this customer
)
Beautiful product that looks exactly like the photo. Shiny, clean, and engraved well. Great gift!

Beautiful!
By
Shannon P.

(Toledo, OH) - October 9, 2009 (
See all reviews by this customer
)
I gave these compacts to each girl as I asked them to be in my wedding. It was a big hit! All of the engraving turned out beautiful! Everyone loved them, would definitely recommend!

Cute Gift for Bridesmaids
By
Fortuna S.

(New York, NY) - April 10, 2012 (
See all reviews by this customer
)
I had been looking for a personalized compact for my bridesmaids, and this was the best deal I found on the whole internet! They look very nice and cute. The lettering is a good large size and definitely visible. And the compact itself is on th smaller side, but still very nice. I think this item was a great deal, and it looks great!

Perfect
By
Shopper

(Laguna Niguel, CA) - November 16, 2011
I wanted to ask my girlfriends to be my bridesmaids in a cute way and these heart mirros turned out to be just what I was looking for =) I put each girls name on them and the date of our wedding. I had them wrapped beautifully. They all loved them and I am so happy I ordered from this site. The personalized compacts arrived very quickly as well!


Okayish
I got one of these when I was in a wedding (which is how I found this website and why I'm on it 24/7) and while I love it and use it all the time while touching up make up, it has gotten wobbly on me. The hing is lose so it doesn't close right, but it's not a huge deal. It's up to you whether or not that would bug you. Overall I love it!

charly
By
Shopper

(sanford, FL) - August 30, 2012
cute but too small

Pretty but small
By
KATHLEEN R.

(LANSDOWNE, PA) - January 16, 2012 (
See all reviews by this customer
)
This is a lovely "little" gift,craftmanship was spot on, though the size of the mirror itself is way too small.If this was larger it would be a sure fire winner.

Gift
By
Shopper

(Granite City, IL) - August 21, 2011
I bought these for my bridal party for my upcoming wedding. The personalization came out nice. The problem I had is that the compact is very hard to open. It hurt my fingers trying to open it and it seemed like it was going to break.