LOVE THIS-VERY STURDY
By
KATIE W.

(REYNOLDSVILLE, PA) - April 15, 2013 (
See all reviews by this customer
)
THIS IS VERY WELL MADE. ONLY BAD THING I HAVE TO SAY IS, THE LITTLE INSIDE SQUARES WEREN'T ALL CUT EVENLY. ONE HAS A CHUNK MISSING. ONCE HUBBY PLACES STUFF IN THERE, YOU WONT SEE.
LOVE THE PERSONALIZATION. BIGGER THAN I THOUGHT. WILL BE PUT TO GOOD USE.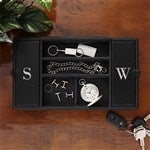 Hubby loved it
By
Shopper

(Phoenix, AZ) - March 17, 2013
I bought the organizer as a "just because" gift and he loved it. Now he's more organized and I'm happy too. Excellent quality for the money.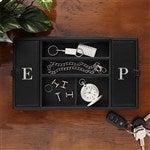 Awesome
By
Laurie M.

(VANCOUVER, WA) - March 11, 2013 (
See all reviews by this customer
)
Bought this for my husband and it is as nice as they described. Good weight and the leather is really nice. I'm glad I spent a little more for this one as it is worth it and I'm sure will last a long time.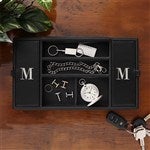 Satisfied customer!!
By
Nicholle W.

(Belvidere, IL) - March 5, 2013 (
See all reviews by this customer
)
I love this website! I have introduced it to several friends who also love it. I have ordered several items and completely satisfied with ALL of them. They were all gifts and the recipients loved them just as much! I especially love the personalized card option. I will continue to order from this site! Delivery was amazing also!!! :)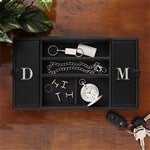 cover does not close
By
Shopper

(BROOKLYN, NY) - February 24, 2013
I bought this for my husband for valentines day. I was excited when I got it but was quickly disappointed. The personalized part that's the cover would not close. The other part had no problem closing. Overall it is a very nice gift. Just have to check an mak sure the cover closes before you give it as a gift.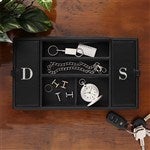 Beautiful Gift
By
Shopper

(Columbia, SC) - October 21, 2012
I bought this gift for my husband. He really enjoyed it. Hopefully he'll use it instead of the typical "where'd I put my ___ this time?" :)
The product is really good quality and attractive, too.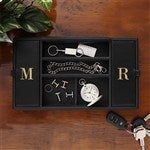 True to picture
By
Shopper

(troy, MI) - October 10, 2012
i received the valet quickly and the personalization was well done. My only concern is that one of the side tabs fits very snugly...so much so that it feels like you might tear the tab when pulling it out of the tray. Hopefully, that won't happen as we are otherwise very pleased with the product.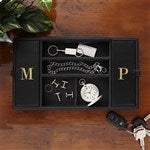 Awesome
By
Wendy S.

(Lithia Springs, GA) - September 16, 2012 (
See all reviews by this customer
)
My husband is one to dump everything on his nightstand. I was really happy to see that there was a remedy for this. It smells like genuine leather and the craftsmanship is top quality. I cant wait to share this with him on his birthday 9/18. The shipping was super fast. Just purchased two more items. Cant wait for them to arrive.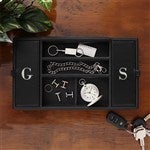 Nice quality
By
Maxine D.

(Alexandria, VA) - August 28, 2012 (
See all reviews by this customer
)
I purchased this jewelry organizer for my boyfriend for our anniversary. He really liked it and it appears to be good quality.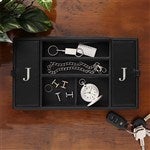 Organize my husbands everyday items.
By
Shopper

(mandan, ND) - February 12, 2012
Great present for my husband, loved how I could presonalize the item for him.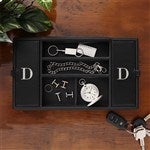 Very nice product
By
Tracey W.

(Westport, MA) - February 14, 2012 (
See all reviews by this customer
)
This made a very nice Valentines day gift for my Fiance. Very timely shipping and the quality was pretty good. The only thing is the engraved pieces come off and i wish they were alitle more sturdy but overall... he was very pleased with his gift!

great gift
By
Kristi A.

(Crosby, TX) - February 15, 2012 (
See all reviews by this customer
)
the receiver of this gift was pleased and received multiple compliments

Nice organizer
By
Lori C.

(West Lebanon, NH) - November 28, 2009 (
See all reviews by this customer
)
It's a nice organizer. I think a bit overpriced compared to others I have seen in local retail stores, but I really wanted it monogrammed.

Nice, but small
By
Michelle P.

(Statesboro, GA) - February 25, 2010 (
See all reviews by this customer
)
Purchased this for my sweetie's 60th birthday. I think he really liked the personalization, but I was concerned that it was a little smaller than what I had hoped for....

Great groomsmen gift
By
John C.

(Covington, LA) - March 23, 2010 (
See all reviews by this customer
)
We just received these and they look great. I wish you could choose if you want silver or gold lettering, but they are a nice, classy gift

Good valet
By
Shopper

(Belle Mead, NJ) - November 16, 2011
This is a good valet. Enough compartments for any accessories he may have. The fact that the compartments are of different sizes makes it even better. The quality seems to be good. The only slight negative is that the compartments on the side (where the initials would go) are a little difficult to open (takes a little pulling of the tabs), but that's not a big deal and I'm sure it'll get better over time. The box it comes in is beautiful with an elastic ribbon around it so that you don't even have to wrap it if you don't want to. I would recommend this to anyone.

Very nice!
By
Nicole H.

(Ringgold, GA) - March 29, 2010 (
See all reviews by this customer
)
It looks just like the one at Brookstone, but it was around 20 dollars cheaper! The leather is really nice and genuine! I loved that it came in a nice gift box. That way I don't have to wrap it, if I choose not to. I would def recommend!

Beautiful Little Valet
By
Patricia C.

(Terry, MS) - October 16, 2009 (
See all reviews by this customer
)
This valet is really nice. The leather is soft, it is well made, and the price was very good. The speed at which we received it was also a plus. It came packaged so nicely that you don't have to wrap it if you don't want to. I would recommend this item and this company to anyone.

Excellent quality valet
By
Shopper

(Naperville, IL) - July 30, 2011
Much larger than I thought. The quality is excellent. I purchased early for Christmas. The compartments are much larger. Its another excellent purchase. I couldnt be happier.

Excellent Quality
By
TRINIDAD M.

(DALLAS, TX) - December 16, 2013 (
See all reviews by this customer
)
Good sturdy workmanship, very vice, I bought as a gift, I know he will love it.

Organize my Organizer
By
Shopper

(Canada) - July 10, 2011
This gift was very nice. The quality is very well done. I can't wait to give it to the person. It's just a really nice gift for any guy. Finally something the men can use to organize their stuff. Highly recommend this gift.

Liked the Product
By
Shopper

(DeWitt, MI) - December 18, 2012
I really like this item and it was good quality. The compartments weren't as deep as I was expecting but it is nice.

Stylish Organizer
By
Shopper

(Abingdon, MD) - February 29, 2012
My husband loved receiving this as a gift and using it everyday. The slots are the perfect size for his glasses, watch, cell phone and loose change. The material is smooth and strong and we are very happy with it.

Gifts
By
Shopper

(Fort Collins, CO) - November 7, 2011
We gave these to our groomsmen and everyone seemed to be pleased with the look, feel, and smell of the leather. They ship very quickly!

Love!!!!!!!!
By
Abby G.

(Lansing, MI) - May 25, 2010 (
See all reviews by this customer
)
I really love the valet. I bought it for a fathers day present for my husband, and I bought the personlized phote cufflinks with my daughters picture that I am going to stick in the valet. It has very nice leather and looks like you spent a lot of money on it. Also very speedy shipping. I would recommend this to anyone. I love this company!!!

pleased!
By
Lenora L.

(Bastrop, LA) - May 24, 2010 (
See all reviews by this customer
)
I ordered this for a third anniv. present. very nice, fast delivery. I'm always exceptionally pleased with anything I order from you. So far no regrets

birthday gift
By
Chante R.

(Henderson, NV) - April 5, 2010 (
See all reviews by this customer
)
really nice and unique item..very pleased

very nice valet
By
Shopper

(Pflugerville, TX) - May 31, 2011
I bought this item as part of the wedding gift for my husband-to-be. I'm excited to give this gift to him! It is even nicer in person than it looks in the picture and the monogram is very elegant and well done. I think he's going to love it. I recommend this gift to anyone who is looking for a man's valet.

Leather Valet Organizer
By
Shopper

(San Antonio, TX) - February 4, 2011
The valet is a perfect gift for your Valentine. The engraving is beautiful. My boyfriend is going to enjoy using the valet since it will help keep all his personal items in one place rather than scattered around the house.

mens valet organizer
By
Virginia C.

(Boynton Beach, FL) - June 1, 2010 (
See all reviews by this customer
)
excellent purchase excellent quality love it