garbage product
By
Eric W.

(Bradford, MA) - November 27, 2011 (
See all reviews by this customer
)
Only thing good with this product was the shipping. The item itself is poorly made, quailty is junk and the monogram is not straight and is coming off. I would not recommend..................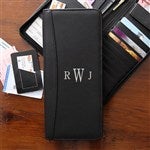 For Everyone
By
Shopper

(Leesburg , FL) - December 31, 2012
Ordered for my brother who doesn't travel that often but for Christmas I wanted to provide him with funds to assist in flying to see a loved one. The case arrived promptly in a black rectangle box with a silver stretch bow which did not require any additional wrapping for Christmas. Opening the box a perfectly laid white tissue embraced the ticket case. The monogramming and stitching looked impeccable! I love the zipper closure and all the spaces for credit cards, id's, tickets and cash. I enclosed several gift cards along with hid cash in the pockets with a note. My brother is a hunter, fishing man, auto mechanic type hands on man, and he absolutely loved the Personalized Ticket Case ..go figure in fact I want one and will more than likely buy one for each family member and use this as the Gift Card holder instead of the ones you see on every rack in the stores.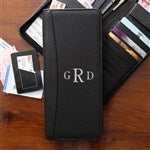 nice but not fabulous
By
Shopper

(VERPLANCK, NY) - December 27, 2012
Well made but disappointed in the monogram. Print is very light. Looks like almost ran out of ink. Leather could be a little softer. Item is very stiff.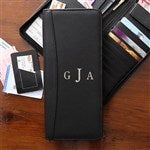 A better organizer for my husband
By
Cynthia S.

(District Heights, MD) - December 16, 2012 (
See all reviews by this customer
)
I had been looking for a organizer that was easy to carry and able to carry a number of things my husband like to have with him. This ticket case turned out to be perfect for everyday use as well as when we travel.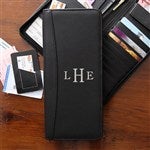 OverPriced
By
Shopper

(Cottage Grove, MN) - August 14, 2012
I ordered this as a gift for a frequent traveler. It arrived as scheduled (I needed to select 2 day delivery). The actual case is packaged in a nice box that one could keep the case in while not traveling, however, the nice box was crushed on one end - thus not a good presentation as a gift. Additionally, the monogram is poor quality and looks like it will not withstand time (which is why I purchased as a gift for a retirement). It's a nice idea and looks decent - but think it is overpriced.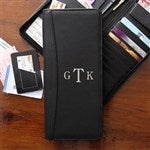 Nice Finishing - Good product
By
Soumen S.

(Mt Prospect, IL) - December 13, 2009 (
See all reviews by this customer
)
The leather quality is good and the finishing of the leather is also nice. But I would be more satisfied,if the dimensions of the product would be slightly more, means the length and breadth. Otherwise i would recommend it to buy.

Nice Leather Travel Case
By
Amanda S.

(Burlington, NC) - October 8, 2009 (
See all reviews by this customer
)
Ordered 2 of these as wedding gifts for our fathers. The lettering on one wasn't the greatest, but the other was perfect. Would recommend.

A PERFECT GIFT
By
Lia V.

(Los Angeles , CA) - April 5, 2010 (
See all reviews by this customer
)
I recently bought this ticket case as an anniversary gift for my husband. I liked it very much. It's very nice, very soft leather, very convenient. In one word I liked it very much. And I am definitely going to refer this product to a friend. If you have someone who travels a lot and you want to surprise him, this product is the perfect gift. Besides it comes in a cute gift box. I liked it very much!!!!
Thanks a lot to your web site. Every time I find unique gifts and gift ideas here!!!

Excellent Gift
By
Melissa S.

(Mesilla, NM) - June 17, 2010 (
See all reviews by this customer
)
I bought this for my dad who was going on vacation and he loved it. The leather isn't soft, but maybe that keeps it from getting scratched so easily while traveling. Great gift for someone on the go.

Leather ticket case review
By
Chee C.

(Edison, NJ) - December 10, 2009 (
See all reviews by this customer
)
The ticket cases are really nice. We like both the quality,
and the service. Our only complaint is that since we ordered 2 as gifts to a couple, it was a shame that there is not a different color(such as bergendy)available for the wife.

Simple and Nice
By
Shopper

(Hatboro, PA) - December 21, 2011
I ordered this item as a gift. I was pleased when I received the ticket case in the mail. The leather feels nice and the engraving adds a special touch.

Gift for the Traveling Husband
By
Shopper

(Martinez, GA) - May 31, 2011
I bought this for my husband who travels quite a bit, I like the idea that everything he needed to travel...passport, tickets, boarding passes, credit cards, ID, were in one place to access easily, especially when trying to get through the airport from gate to gate. He also found it a good place to store foreign currency and only take what he needed when he went out.