Very pleased with quality of this heart slate.
By
Mary Ann B.

(Walpole, MA) - July 30, 2012 (
See all reviews by this customer
)
I had seen this heart slate at my friend's house. He had recently lost his dog, and his daughter used your website to have a slate of his dog made for her father. I got in touch with her to see where she had it made. She sent me your website, and I ordered one for my Maggie. I love the heart shape and the quality of the slate. The picture came out great as well. It was everthing I expected and more. I love it. I have ordered other items as gifts.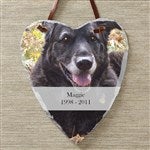 A great memorial
By
Shopper

(Overland Park, KS) - May 5, 2012
I loved the way this turned out. It looks wonderful and looks great on the wall.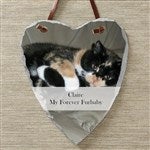 Awesome!!!
By
Shopper

(Fall River, MA) - April 27, 2012
If you want a beautiful way to honor you beloved pet, this is the way to go.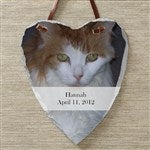 Headstone Memorial Photo
By
Susan P.

(Greensburg, KY) - March 2, 2012 (
See all reviews by this customer
)
In searching for an affordable option for a photo application to my pet's headstone I returned to PM. I will be bonding the slate memorial to the headstone since it is for indoor/outdoor use. I am confident that it will brave the elements well as the finish over the image is very nice and looks to be of very high quality. Thanks again Personalizationmall.com !!!!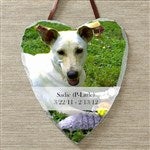 Beautiful
By
Shopper

(Brodheadsville, PA) - December 1, 2011
I am so happy with this product. I was supposed to put it under the tree this year as a gift to my fiance but I couldn't wait to hang it up.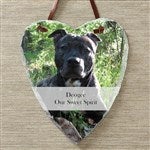 Quality Keepsake
By
kathleen M.

(tallahassee, FL) - September 9, 2011 (
See all reviews by this customer
)
The Pet Memorial Heart Slate is a wonderful way to memorialize a favorite pet. It is durable enough to hang outdoors and classy enough to hang in the living room of my home. I will cherish this personalized gift for years to come. I highly recommend this item and it's reasonably priced as well. I absolutely love it!

Love this!
By
Shopper

(Omaha, NE) - August 21, 2011
I ordered this heart slate with our dog's photo on it & it really turned out nice. It's a great size - not too big or too small. Good quality. Perfect for any room. I would recommend this to anyone.

Beautiful memorial for my Beloved Dog.
By
Shopper

(Sicklerville, NJ) - April 15, 2011
Losing my best friend was the most difficult thing I have ever experienced. This personalized heart slate will be the perfect finishing touch in my dog's memorial garden. The heart slate with her photo is so pretty and captures her smiling, loving face that I can continue to see when I sit in her garden.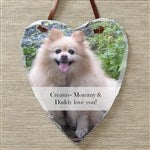 so happy with the product it made me cry!
By
Holly W.

(Ypsilanti, MI) - February 26, 2011 (
See all reviews by this customer
)
I was so happy and pleased with this product! It is something i can keep forever of are beloved dog that has passed and now we can hang this in the livingroom and have her with us even though shes not with us. so many people have commented on it and wanted to know were i got it, everyone loves it!

not just for pet memorials...
By
Jennifer H.

(Massapequa Park, NY) - January 21, 2011 (
See all reviews by this customer
)
I used the personalized heart slate as gifts for Christmas--I uploaded pictures of my children for their grandparents and added special thoughts--It came out beautifully and the family loved it!! Great Quality!!
Would definately recommend

Excellent
By
Mary W.

(Glen Burnie, MD) - September 10, 2010 (
See all reviews by this customer
)
It was very upsetting for my son and his family to lose their dog after 14 years, this heart slade will be a gentle reminder of the love they all had for thier dog, Zack.

Pet Memorial
By
Karen L.

(Crystal Lake, IL) - September 9, 2010 (
See all reviews by this customer
)
I was very impressed with the size and quality of this heart shaped faux stone product. The picture I sent was not the best but it ended up fitting correctly and looking perfect. I highly recommend ordering this item for a fond memory of a loved pet.

beloved pet
By
Pamela S.

(Bonaire, GA) - September 6, 2010 (
See all reviews by this customer
)
I was very pleased with this tribute to my precious pet that died the end of July 2010. This is my way of remembering her, we had her for 14 years and this was very special to me. Personilization did a fantastic job on this. Thank you very much.

Pam

Heart shaped memorial stone
By
William W.

(Ankeny, IA) - April 5, 2010 (
See all reviews by this customer
)
Looks even better than I expected -- was going to put this outside but it is way too nice for that!

very speedy
By
sarah H.

(galloway, OH) - January 25, 2010 (
See all reviews by this customer
)
the product was exactly as I expected and came very quickly. I was very pleased!

Beautiful.
By
Samantha .

(Springfield, VT) - January 2, 2010 (
See all reviews by this customer
)
I bought this in memory of my dog (who I called my four legged brother) who was just put down after almost 14 years in October. He was my best, best friend and I had to order this the second I saw it. When I got this in the mail (very, very quickly I might add) along with everyone else, it completely exceeded my expectations. The picture quality turned out perfect, the slate is beautiful and it has a beautiful finish to it. It made my mother and I both cry when we saw it. Absolutely beautiful. Thank you so much for the order! We are more than pleased. We will be back to do business with you again!

Gorgeous Memorial
By
Carolyn H.

(San Diego, CA) - December 2, 2009 (
See all reviews by this customer
)
This turned out better than I ever imagined. It is such a beautiful piece and will make my brother so happy when he gets it ast Christmas.

heart slate
By
Kim J.

(Georgetown, DE) - November 30, 2009 (
See all reviews by this customer
)
the memorial heart slate was very nice, it made losing my dog all that easier. It exceeded my expectations.

memorial plaque
By
jane F.

(valley stream, NY) - November 25, 2009 (
See all reviews by this customer
)
just the right size, and the picture quality is excellent on the slate (however they do it).........the price is equally perfect........a great memory of our ozzie

Memorial plaque for our beloved dog Biscuit.
By
dennis C.

(largo, FL) - October 11, 2009 (
See all reviews by this customer
)
Very nice quality, wonderful picture reproduction, beautifully done on natural slate. Not sure how they do it but it's perfect. We have placed it at his memorial site.

A Great Memorial for People Too!
By
Theresa W.

(Peru, NE) - November 30, 2011 (
See all reviews by this customer
)
I ordered three of these, not as a pet memorial, but for a memorial of my recently passed fiancee for his mother, father and sister. I originally found this memorial slate when I saw a pet memorial slate my cousin had done after loosing her dog. I used three different photos of my fiancee (one for each of his family members) and two of them turned out wonderfully. The third one he had on a green shirt, but when printed it was blue with green around the collar and the folds of the shirt. I informed Personalization Mall of the problem and they did send a replacement, but the shirt was still mostly blue instead of green. I have decided not to have that one reprinted for a third time since it continues to have the same problems. Overall a GREAT product, I know they will be cherished for years to come.

Nice, but a little disapointed...
By
Annalisa W.

(Canada) - August 24, 2011 (
See all reviews by this customer
)
I love the concept, and it turned out nice, but I'm not a huge fan of the gloss finish of the photo. Expected the finish to be like the matte finish on the marble plaque. I like the heart slate, but if you can't decide...go with the marble plaque instead!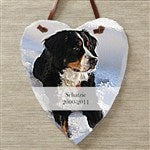 Pet memorial
By
joanne W.

(enfield, CT) - April 30, 2012 (
See all reviews by this customer
)
I have been purchasing from Personalized Mall for several special items and I have to say this purchase was very disapointing. The slate was cut with very sharp edges and the top of heart did not look finished the top was never finished