Nice
By
Shopper

(Fenton, MO) - October 5, 2013
Great service as always from this company! I bought it as a "Citizenship" gift.

Americana Personalized Heart Slate Plaque
By
Shopper

(Summerdale, PA) - August 30, 2013
This item is beautiful, in person, and of very good quality. The friend I gave it to, who is very patriotic, absolutely loves it. It will last for many years to come.

Simply Beautiful
By
Jessie J.

(Ashland, NH) - April 19, 2013 (
See all reviews by this customer
)
Came out perfect and feels like it will last for a long time

Beautiful America
By
Elizabeth B.

(Savannah, GA) - March 30, 2013 (
See all reviews by this customer
)
I love these and their representation of America... I'm using these to thank my family and friends for their support during my military career - Perfect!

great gift
By
Shopper

(Orlando, FL) - December 23, 2012
My in-laws are going to love this. I got it for them for Christmas. Great quality, I liked it even more in person. Will definitely shop this website again!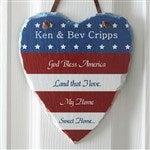 why I like the product
By
Jan M.

(ST AUGUSTINE, FL) - November 13, 2012 (
See all reviews by this customer
)
I am always looking for something unique for a few couples
that we exchange gifts with every year. These are perfect!
They are not too big and they are something being as patriotic
as my friends and family are - just fit perfectly into their house and
the personalization adds to the gift in that some planning had
to go into the gift.
I am very pleased.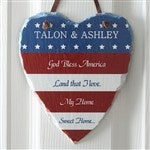 Amazing Quality!
By
Briana C.

(Killeen, TX) - July 3, 2012 (
See all reviews by this customer
)
This is the first item I ordered from personalization mall, and I was very impressed! The picture does not do justice to the quality of the plaque. It is very beautiful and absolutely perfect! Couldn't ask for a better piece to hang on our front door. If you're thinking about ordering this, do it! You won't regret it.

Personalized Gift
By
Shopper

(Portland, TX) - December 19, 2011
Love the personalization and quality of the product - thanks!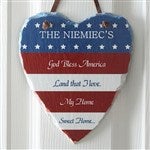 5 star review
By
Shopper

(Pittsburgh, PA) - December 7, 2011
bought for a veteran family who love the red white and blue theme, they went crazy over it, it is nicer than on the website. I recommend to anyone.

Americana Heart Slate Plaque
By
Shopper

(Winchester, IL) - November 19, 2011
The product arrived in a timely manner and was packaged so no one could tell what it was. The item turned out to be even better than I expected!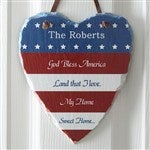 Veterans 77th Birthday Gift
By
Charlotte L.

(Sunnyvale, CA) - July 11, 2011 (
See all reviews by this customer
)
My fella was in Korea & Vietnam. A 21 yr. Air Force Retiree. He's very proud of his military service and I'm very proud of him for his lifetime dedication both to the military and supporting all armed forces.
I ordered this to let him know how much I care and support him.
It's a delightful gift.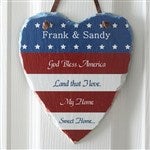 Father's Day Gift for Veteran
By
Linda W.

(Hanahan, SC) - June 24, 2011 (
See all reviews by this customer
)
We gave the personalized heart plaque to Dad for Father's Day, and he was very pleased! He is a WWII veteran and sincerely patriotic. A perfect gift!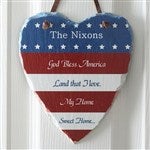 Great Gift!
By
Shopper

(Jacksonville, NC) - April 4, 2011
This was the cutest sign. We gave it to a family member for their birthday and they just loved the item. The personalization was nice! I was worried that it would look cheap, but it did not. It is on slate and it's heavy and real. The piece that it hangs on is leather.

wonderful gift
By
Madeline C.

(Matthews, NC) - December 21, 2010 (
See all reviews by this customer
)
I ordered this as a gift for my recently retired grandparents, who travel a lot in their new RV, as a gift to hang in their "home away from home". It came quickly, and was just as I expected it to be.

Welcome
By
Arlene S.

(Fayetteville, NC) - August 16, 2010 (
See all reviews by this customer
)
Love having this hanging by our front door. Good quality product with excellent sentiment.

Cute sign
By
Dani S.

(Lincoln, NE) - June 17, 2011 (
See all reviews by this customer
)
I just ordered this for my sister as a wedding shower present for her husband who is currently serving in Afghanistan. She absolutely loved it. I think it was a very thick heavy piece. The only reason I gave it 4 stars instead of 5 is that it was more glossy than the picture indicates. Great quality as usual though!!

Better than expected!
By
Heather G.

(Rome, GA) - December 21, 2009 (
See all reviews by this customer
)
I was expecting a cute little gift to get for my mother and I got a gift I almost wanted to keep for myself. You can't tell in the picture but there is a glaze put over the colors on the slate that will help protect it but that make it look much nicer than I thought it would.

Americana Heart
By
Rory C.

(Lacey, WA) - January 30, 2012 (
See all reviews by this customer
)
The first one we ordered looked great. However, we had to return the second one because the lettering was not centered. Customer service was great; we received a new one in the mail within a matter of days. However, the new one had a (different) defect, too. One of the letters was cut off. We returned both and do not intend to order it again.