"It Wasn't What I Thought It Was"
By
Kobie C.

(Detroit, MI) - April 2, 2013 (
See all reviews by this customer
)
I thought this personalized globe was going to be the size of a real globe like the kind you see in classrooms. But come to find out this globe was a paper weight. Now the reason why I thought it would be so much bigger is because the advertising picture made it look like that. And no where in the description did I see where it said this is a paper weight. But perhaps the measurements were mentioned in the description. And I guess it would have been asking too much to get all of that for the price. But any way the quality of the product is up to standard which is according to my father(the person I bought it for).

Smaller than looks online
By
Shopper

(Elkins Park, PA) - June 23, 2012
Beautiful, but much smaller than I expected.

Small but lovely
By
KESHA B.

(DEERFIELD BEACH, FL) - November 7, 2011 (
See all reviews by this customer
)
There was no size in the description of the item, even though I was impressed by the item, the size was a little disappointing.

Robs review
By
ROBERT Q.

(ARLINGTON, VA) - June 15, 2011 (
See all reviews by this customer
)
I thought it was a nice globe just a nice spot for it on the desk in the office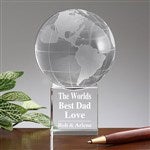 Nice but small
By
Shopper

(Waycross, GA) - August 18, 2013
This was very nicely done and came very quickly, but it was small for the price and I would not order it again.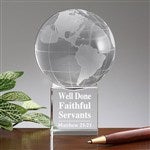 not too pleased
By
Shopper

(Jacksonville, AR) - July 7, 2012
i should have checked the measurements...

Very Small
By
Shopper

(Philadelphia, PA) - June 19, 2012
The item was very small not what I expected at all. Did not like the font of the personalization. Wish I did not order it.

disappointed
By
Barbara W.

(Holt, MI) - February 23, 2012 (
See all reviews by this customer
)
I was not happy with the quality of my globe. The world sits very wabbly on the base. The engraving and looks were a very nice job. Just feel it will end up broken because it does not sit securely on the base.

World's Greatest Personalized Globe
By
Isela R.

(Garland, TX) - June 4, 2010 (
See all reviews by this customer
)
This was my second purchase and thought this would be a great Father's Day gift to a friend. I was quite displeased at the sight of the wording on the glass stand as it was not centered perfectly. The left margin is much larger than the right and the father's complete name just barely made it on the front of the glass stand. This is a great piece and think the alignment of the engraving could have been centered a little better.

Too small
By
esha B.

(hermiston, OR) - October 21, 2012 (
See all reviews by this customer
)
The item was too small. Smaller than we had expected it to be.

Save your money
So not worth $50 so save your money. Smaller than a can soda.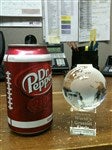 So small
By
kevin J.

(schererville, IN) - July 25, 2011 (
See all reviews by this customer
)
I really can't belive how small this thing is. It didn't feel good giving me father a "World's Greatest Dad" gift that was almost the size of a golf ball. I felt bad having to give it to him and I am very dissapointed in this website for the size they show in the picture.

Teeny tiny globe
By
Shopper

(Rye Brook, NY) - June 20, 2011
Item was incredibly small....so much smaller than it looks like in the picture

CERTAINLY NOT WHAT I EXPECTED!!!
By
Noressa T.

(Gadsden, AL) - December 12, 2009 (
See all reviews by this customer
)
THIS ITEM IS NOT WHAT I EXPECTED. IT'S VERY VERY SMALL AND IT NOT WORTH THE MONEY I SPENT ON IT. THE BALL THAT SITS ON THE STAND IS NOT SECURE. IT NEED TO BE IN A SAFE PLACE BECAUSE IT WILL EASILY FALL OFF. IF I COULD SEND IT BACK I WOULD. VERY VERY DISAPPOINTED!