Outstanding Gift
By
Shopper

(Escondido, CA) - March 9, 2014
I ordered a pair of these mugs as a late Anniversary gift for my sister & brother-in-law. They love therm. My brother-in-law just has shoulder surgery and he said these awesome mugs give him the motivation to get better so he can get back on the golf course and have a "cold-one" waiting for him afterward. They said the quality is excellent and the personalized touch will be treasured always. Thanks!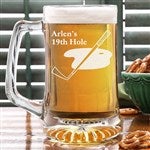 Awesome Mug
By
Joyce T.

(Harlingen, TX) - December 17, 2013 (
See all reviews by this customer
)
Mug was outstanding. Service is very very quick.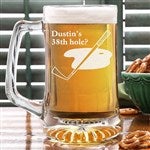 perfect gift
By
Shopper

(Hamilton, TX) - November 19, 2013
It was perfect! My boyfriend loves it!!!!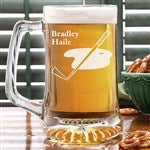 19th hole beer glass.
By
Shopper

(Midlothian, VA) - August 16, 2013
Very happy with the quality of the beer glass and the etching on the glass. I would order other items in the future.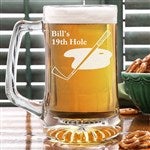 Great gift for a golfer
By
Kimberly C.

(Erie, PA) - July 30, 2013 (
See all reviews by this customer
)
I ordered four of these for our annual golf outing. Four old friends gather once a year then we meet for dinner with the spouses. I know the men will enjoy this mug! It's engraved with the street they grew up on together-28th Street Golf Outing. It's quite substantial in weight and glass thickness.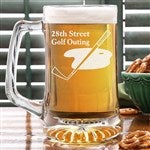 Complete happiness
By
Jason W.

(Moraine, OH) - July 1, 2013 (
See all reviews by this customer
)
Couldn't ask for anything better with the service, how fast the packaged arrived and good selection and options. Will recommend.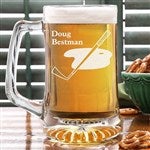 PARfect Gift for My Golf Nut Son
By
Shopper

(Mechanicsville, VA) - December 26, 2012
Bought this mug for my son as a way to "wrap" a gift card to a golf store for my son for Christmas. I used gold tinsel in the mug, tucked in the gift card in the middle, unseen, and used white tinsel on top for the "foam". He loved it!!!! This mug is very well made, was able to personalize it with my son's name & with the saying ______'s PARfect Day!! The lettering was crisp, it arrived in just a few days, and I couldn't, as usual, been more satisfied with this purchase. Personalization Mall has been my "go to" merchant when I am looking for something unique, and they have never disappointed me with their awesome service and wonderful products. I highly recommend them for a completely satisfying shopping experience - and you can shop in your pajamas!!!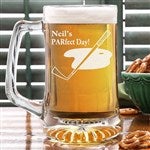 Satisfied
By
Shopper

(Elburn, IL) - October 19, 2012
I have looked at the mug and I am very satisfied with how it looks. I will be giving it to my brother for his 75th birthday next week so anxious to see his reaction. I'm pretty sure he will love it!!
Bonnie

Great Value
By
dawn F.

(san diego, CA) - June 9, 2012 (
See all reviews by this customer
)
This mug was perfect. Heavy weight glass with beautiful personalization. Well worth the money!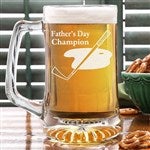 great job
By
JAN S.

(WOODINVILLE, WA) - February 7, 2012 (
See all reviews by this customer
)
When I got the package, and look at the product, it was beautiful. I'm going to pass your name on to my friends. Thanks again Jan S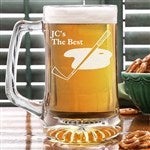 Great product
By
james M.

(brentwood, MO) - September 9, 2011 (
See all reviews by this customer
)
The mug is actually better than I expected! It is top quality and the engraving was perfect. It arrived at my home very fast and the packaging was excellent!

Hole in one year b-day mug
By
Shopper

(Martinsville, IN) - July 26, 2011
What better way than to celebrate your friends, relatives or boss with a mug with their name on it and their birthday! Very sturdy, I highly recommend! As always great stuff from Personalized Mall

Awesome!
By
Isabella H.

(Birmingham, AL) - October 21, 2010 (
See all reviews by this customer
)
Great quality mug! Exactly what I wanted!

Really Nice Mug!!!
By
Lynn Q.

(Graham, NC) - July 6, 2010 (
See all reviews by this customer
)
For the man who has EVERYTHING, this mug was perfect!! Nice, heavyweight and the personalization was beautiful!!

beer mug
By
tamara H.

(gladstone, MI) - May 6, 2010 (
See all reviews by this customer
)
Exceeded my expectations, its a real quality beer mug.

Beautiful
By
wanda G.

(maspeth, NY) - February 1, 2010 (
See all reviews by this customer
)
My Boyfriend is a Golf Freak, I was not sure how he was going to like but he LOVED it is wayyyy nicer than what I thought it would be.

The 19th hole mug a great gift
By
Michael B.

(Stilwell, KS) - December 20, 2009 (
See all reviews by this customer
)
The 19th Hole beer mug was a great gift idea. When I received the mug it was a very high quality mug and the etching looked perfect.

Appearance on glass
By
Shopper

(Honolulu, HI) - February 17, 2011
I absolutely love this mug, but once we put a cold beer in it, the text and picture on the mug are really hard to see. I wish it would show up as bright and vibrant as it does on the website picture. Overall, I was really impressed with the quality of the glass! Just wish the text and picture showed up better.

Mug Size and Etching
By
Renee D.

(Canada) - December 10, 2010 (
See all reviews by this customer
)
The mug is a bit too big. The size is not apparent on the website. More than that, the personalized etching is totally NOT visible unless there is some kind of liquid in the glass. The etching should be dyed or painted to stand out even when the mug is empty.