great paperweight
By
Mary T.

(Owasso, OK) - May 1, 2012 (
See all reviews by this customer
)
I ordered this item for my son and a family friend and they came quickly and were in excellent condition. - Thanks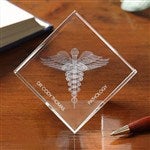 Beautifully Designed
My doctor got a huge promotion at Tempe University and is moving to PA from the University of Michigan, Ann Arbor. I wanted to give her something very "special" and searched for weeks trying to find something. I finally came upon this beautiful sculpture and at first I was hesitate about ordering it because of the personalization and not being able to return it if I was not happy with it. However, I was so taken by the uniqueness of the sculpture, I ordered it. And, I am very happy I did. It is breathtaking. My doctor was so taken with it and the look on her face was priceless. She actually said it will be a mouthpiece of future conversations for years. She could not believe how beautiful it was. I highly recommend this gift to anyone looking for something to buy someone in the medical profession. The personalization is small, but personal and legible. It is an absolutely PERFECT gift!

Perfect
By
Shopper

(East Greenwich, RI) - May 24, 2011
This item was exactly as described. Everyone including the recipient was impressed with the interesting angles and the well-made quality of the item. I would have preferred that the box not contain the name of the purchase site, but I am very happy to have come across your services and would recommend this item and your company in the future.

One Word....Beautiful
By
Shopper

(Lawrenceville, GA) - May 24, 2011
I ordered this crystal sculpture for my sister's graduation from medical school. It is beautiful. She worked hard and she really appreciated this gift. For all the doctors in your lives, give them this gift. They will love it.

a personalized paperweight for a new Dr. desk
By
Shopper

(Fort Wayne, IN) - May 22, 2011
It was just what I wanted. It will look great as a decoration on a cake.

Awesome
By
Deborah P.

(Waterbury, CT) - May 22, 2011 (
See all reviews by this customer
)
After reading some of the reviews I was a little skeptical because people claimed the engraving was not readable and small! Well, I am glad I use Perasonalizations again because they NEVER dissapoint! This Caduceus is gorgeous! The detail is beautiful,it is a classy exceptional piece that I know my friend who is an MD will love as an elegant addition for his desk! His name & specialty were done perfectly, this sculpture is exquisite in every way! My opinion is never go by reviews, go with your gut, this company never lets me down and that is why I'm a returning customer! Thanks you!

Graduation 3-D Glass Caduceus
By
Shopper

(Davis, CA) - April 16, 2011
The quality of the glass is beautiful and crystal clear, the hologram within is perfect and clearly visible. It was engraved properly and looks wonderful!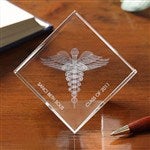 A Magnificent Medical Personalized Professional Gift
By
Shopper

(DOYLESTOWN, PA) - April 1, 2011
A beautiful,artistic,personalized,forever lasting, perfect, eloquent, quality gift, to be treasured and displayed equally by male/female Physician Recipients for a special occasion. This item, PROUDLY and JOYFULLY given,is a very unique purchase for that" very celebrated person in your life"!!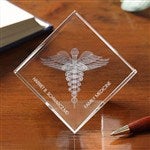 BUT, BEAUTIFUL!
By
Winnie L.

(Roseburg, OR) - October 22, 2010 (
See all reviews by this customer
)
We were very impressed by the beauty of the two Caduceus,
3-D, Crystal Sculptures that we will be giving to two of our physicians this Christmas, in thanksgiving for their qualitative, personal cares which they have rendered to us for the past 5 years. I am an R.N., and so I have asked my husband for one for Christmas, and I will proudly display it for all to enjoy. The beautiful box that each sculpture came in is awesome and makes the sculpture appear to be even more classy, if that is possible. Thank you also for the speedy delivery and the strong protective packaging!

Caduceus 3-D PERSONALIZED CRYSTAL SCULPTURE
By
Joy W.

(Waco, TX) - July 16, 2010 (
See all reviews by this customer
)
THIS IS A VERY CLASSY LOOKING PAPERWEIGHT. THE SUSPENDED CADUCEUS IS VERY UNIQUE. I GAVE THIS TO SOMEONE GRADUATING FROM MEDICAL SCHOOL. I KNOW HE WILL DISPLAY IT WITH HONOR. THANKS FOR THE GREAT GIFT AND FAST, EFFICIENT SERVICE!

Wonderful!
By
Michael E.

(Fort Worth, TX) - June 9, 2010 (
See all reviews by this customer
)
I am very satisfied with the appearance and quality of this piece and was especially surprised at how quickly I received it.

Caduceus - 3D Personalized Crystal Sculpture
By
Linda R.

(Oceanside, NY) - June 8, 2010 (
See all reviews by this customer
)
The Caduceus was absolutely beautiful . I am giving it to my son at his Cardiology Fellowship Graduation this week and I can't wait to see his reaction. I am sure he will love it!

Caduceus Crystal Sculpture
By
Brenda Z.

(Ravenna, OH) - May 25, 2010 (
See all reviews by this customer
)
I purchased this for my daughter who is graduating from medical school next week. It is very elegant and the engraving is perfect!

A Gift Worth Giving
By
ROMEL N.

(HOUSTON, TX) - December 21, 2009 (
See all reviews by this customer
)
I am very pleased with this purchase. It is very classy and it's guaranteed to please the recipient. I should get one for myself, ha!