Elegant, Classy Product
By
Cynthia B.

(Tolleson, AZ) - July 8, 2013 (
See all reviews by this customer
)
I am very pleased with this product selection. I gave it to a friend as a graduation gift. She absolutely loved it!!!! The product is well-constructed and high quality. It looked exactly as it did in the sample photo. The personalization was perfect! I recommend purchasing the easel as well.

Thank you for a great gift idea
By
Shopper

(brooklyn, NY) - June 17, 2013
Looking for a gift for my dr. Was not easy, but this made it personal and I think he really appreciated it.

Expect the Unexpected!
By
Nikki C.

(Fresno, TX) - May 28, 2013 (
See all reviews by this customer
)
This product is terrific. I bought 2 for my son's doctors to show my appreciation. I was expecting it to look like I printed it on my own. They came out perfect and with class. They appeared like they were expensive and elegant. They coordinated with each office and everyone still ask...Who made this?!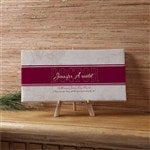 Doctor's Day Gift.
By
Dolores K.

(Waldorf, MD) - April 9, 2013 (
See all reviews by this customer
)
What do you buy that favorite doctor? They have pens, books, cases, etc. I got the idea about your products from my daughter Denise who purchases items all the time from you.

I choose the canvas art because I was able to add my own message that really discribed my doctor. I purchased two, one for each of my favorite doctors. They were really touched when they saw it, and read the message.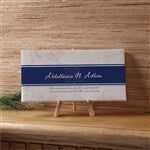 Great Office Gift
By
Leslie L.

(Saint Clairsville, OH) - March 22, 2013 (
See all reviews by this customer
)
This was a very nice office gift for one of our Managers. I wanted to let her know how much she was appreciated and also have a gift for her to set out in her office. I love the choices of wording. The quality is wonderfu, the colors to choose from, etc.. I plan on getting my daughter one as well.

Personalized Canvas
By
Stacy M.

(Pasadena, TX) - February 19, 2013 (
See all reviews by this customer
)
Great gift idea. Was received as expected and didn't look cheap like others that I've purchased elsewhere. Thanks for a great product.

This gift certainly fit the bill for something out of the ordinary.
By
Shopper

(Alpharetta, GA) - January 21, 2013
For the "hard to buy for" boss, family member or friend, this is an excellent gift! A very well-constructed piece of craftsmanship complete with a personal touch! No way to go wrong with this one.

Beautiful
By
Katheryn W.

(Waldorf, MD) - December 12, 2012 (
See all reviews by this customer
)
Our office ordered two of these, one for each of the surgeons we work for. WHile they are a bit smaller than we expected, the quality is wonderful. These will look great on the doctors desks!

Love it!!!
By
Shopper

(Kodak, TN) - November 2, 2012
I bought this for my mom who is a nurse!! I loved it and she did too!!!:)

Wonderful
By
sharon D.

(Youngstown, OH) - September 15, 2012 (
See all reviews by this customer
)
everything I hoped it would be

Doctor's gift!
By
Dianne C.

(Concord, NC) - July 14, 2012 (
See all reviews by this customer
)
I was so excited whenever this gift arrived. It is such an awesome, appreciative, loving and re-memorable gift. I feel quite certain my doctor will cherish this gift and be humbled by the scripture as well. Thank you for supplying such gifts for others.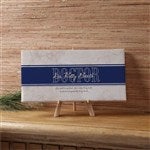 Perfect gift
By
Shopper

(Glastonbury, CT) - July 3, 2012
Great gift idea. Will look wonderful on easel but also has a hook for attachment to wall.

Elegant gift
By
Amani S.

(pawtucket , RI) - June 12, 2012 (
See all reviews by this customer
)
I have bought this gift for my doctor hubby for his birthday gift, he liked it so much... I would recommend it as a gift

Perfect Gift
By
Shopper

(New Ringgold, PA) - May 21, 2012
Bought this for someone that graduated from Medical School, knowing mostly what they need is money, thought this was a nice addition to give her something very personal for her huge accomplishment. I was very pleased with the purchase and she really liked it. Also bought the easel so can be displayed anywhere easily.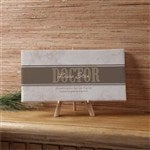 A lot nicer in person
By
Phyllis P.

(Perrysburg, OH) - May 1, 2012 (
See all reviews by this customer
)
I was pleased at the quality of this canvas, it is larger and heavier then I expected. I would recommend this Item for a gift. I got the easel also and am glad I did.

For my first "real" job
By
Huda R.

(Canada) - March 4, 2012 (
See all reviews by this customer
)
I bought this for myself. It looked absolutely beautiful when it was displayed on my desk. I would recommend this to be given as a present. Although the background letters are not that visible, it's still a nice product.... great job pmall =)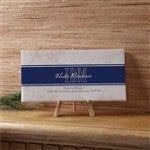 Just for You
By
Elizabeth M.

(Sparta, NJ) - November 1, 2011 (
See all reviews by this customer
)
This is the perfect gift for that Special Someone that was made for them alone. Almost any career or profession can be recognized and personalized. Looks great on an easel. It can also be used with a Family name in the background and first names personalized as a wedding gift with the wedding date & place in the bottom area.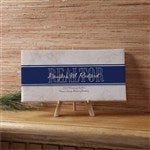 Nice Surprise
By
Candyce T.

(Melbourne, FL) - February 17, 2011 (
See all reviews by this customer
)
I read the reviews of this canvas AFTER I ordered mine and some of them mentioned it looking cheap and not being stretched enough. I was expecting the worst when my order arrived, but to my surprise it was more lovely than the picture! I ordered it for my niece's med school graduation, and added a scripture verse on the bottom, and I couldn't be more pleased. I know she will love it!

Awesome Gift
By
Kathryn L.

(Utica, IL) - January 3, 2011 (
See all reviews by this customer
)
I ordered this for my daughter who will graduate from Medical school at UCLA in June 2011. It is so neat and to make it personalized was the best. It looks so nice. Great size and will proudly be displayed. Thanks You!!!

Wonderful!!
By
Patricia M.

(Dansville, NY) - March 29, 2010 (
See all reviews by this customer
)
I have purchased three of these for various nurse practitioners and physician assistants in my life. They are wonderful gifts & I am very impressed with these canvas gifts. I will be back to order more!!

very pleased
By
joseph H.

(coffeeville, MS) - February 19, 2010 (
See all reviews by this customer
)
i wanted to thank our obgyn for everything that he did for us and this was a good gift and a very reasonable price..

Smaller than I realized
By
Marie P.

(Austin, TX) - January 25, 2012 (
See all reviews by this customer
)
I guess I didn't pay attention to the measurements and the images on the website made it appear larger than it was. I bought this for my aunt who is a dentist and she loved it though.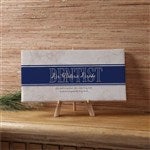 Just what they said it would be!!!!
By
Kimmi N.

(Morton, IL) - December 14, 2011 (
See all reviews by this customer
)
I was very very happy with the product that I received from this website! It was a random google search that I found this site but I love it!

The only thing I have to "complain" about is the print had two imperfections, they are very small dots on both sides of the personalized name that were scratched marks but interestingly enough they are about even on both sides and to my dad, receiving the gift, and his not detail oriented eye he will see it as a purposeful thing or he will not even realize!

LOVED that I got to see a preview of the product and loved the fast shipping!!!

THANKS, definitely using this site again and again! :D

Product features liked
By
Shelah B.

(Whitehouse, OH) - June 20, 2011 (
See all reviews by this customer
)
I provided this item as a gift to a graduating resident physician. He appreciated the gift so much he had me sign the back. The personalization made the gift extra special.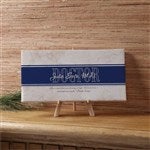 The name could extend in length more
By
Shopper

(TAMPA, FL) - April 1, 2011
The quality of this item is very good. I used this set up to create a baby gift. Instead of a name of an occupation, I used the last name of the baby. The baby's full name appears "over" the last name & in place of typing a verse under the name, I typed the baby's full name: first, middle & last.

My only dissappointment was that the name does not fill the entire canvas. Unless you have a long name, it is primarily only in the middle of the canvas.

The quality is very nice & it will make a nice gift that can be kept forever.

Plaque
By
James P.

(Independence, KS) - January 29, 2010 (
See all reviews by this customer
)
This plaque was a gift for a friend. I absolutely love the way this item looks. Very beautiful, stands out enough to get attention but not enough to be extreme. Perfect. Was a little unhappy with the staple marks on the back where staples had been removed and replaced to readjust the canvas but overall this is a beautiful item and great for practically anyone.

Canvas Art Plaque
By
Kathleen M.

(Mentor, OH) - December 24, 2009 (
See all reviews by this customer
)
I love the look of the plaque, and it was a gift. The doctor I gave it to loved it. The back of the plaque is just stapled so on the desk it looks unfinished. I wish it had a covered back.

font is too small you can't see
By
Shopper

(Roseville, MN) - January 3, 2012
Did not meet my expectation because the quote font is very small, you can't see It. It would have been great if the quote was bigger than the doctor.

Not what it appeared
By
Jennifer B.

(Hamilton, NJ) - November 17, 2009 (
See all reviews by this customer
)
The canvas is loose. This was purcahsed for a terribly picky doctor, I know she will be scrutinizing the quality, I was quite disappointed, it looks like it was slapped together. I have purchased other items and not been as disappointed, I am not sure why this one looks so cheap.

Disappionted
By
Mindy L.

(Lehi, UT) - June 2, 2010 (
See all reviews by this customer
)
We got this for my brother who is graduating from Medical School. It was a great idea, but it is printed on canvas and the canvas is all wrinkly like it needs to be pulled tighter. It looks cheap and I'm super disappointed with it. So, just beware.