very pleased
By
joseph H.

(coffeeville, MS) - February 19, 2010 (
See all reviews by this customer
)
i wanted to thank our obgyn for everything that he did for us and this was a good gift and a very reasonable price..

Smaller than I realized
By
Marie P.

(Austin, TX) - January 25, 2012 (
See all reviews by this customer
)
I guess I didn't pay attention to the measurements and the images on the website made it appear larger than it was. I bought this for my aunt who is a dentist and she loved it though.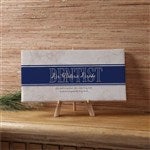 Just what they said it would be!!!!
By
Kimmi N.

(Morton, IL) - December 14, 2011 (
See all reviews by this customer
)
I was very very happy with the product that I received from this website! It was a random google search that I found this site but I love it!

The only thing I have to "complain" about is the print had two imperfections, they are very small dots on both sides of the personalized name that were scratched marks but interestingly enough they are about even on both sides and to my dad, receiving the gift, and his not detail oriented eye he will see it as a purposeful thing or he will not even realize!

LOVED that I got to see a preview of the product and loved the fast shipping!!!

THANKS, definitely using this site again and again! :D

Product features liked
By
Shelah B.

(Whitehouse, OH) - June 20, 2011 (
See all reviews by this customer
)
I provided this item as a gift to a graduating resident physician. He appreciated the gift so much he had me sign the back. The personalization made the gift extra special.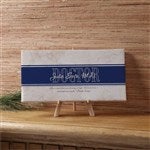 The name could extend in length more
By
Shopper

(TAMPA, FL) - April 1, 2011
The quality of this item is very good. I used this set up to create a baby gift. Instead of a name of an occupation, I used the last name of the baby. The baby's full name appears "over" the last name & in place of typing a verse under the name, I typed the baby's full name: first, middle & last.

My only dissappointment was that the name does not fill the entire canvas. Unless you have a long name, it is primarily only in the middle of the canvas.

The quality is very nice & it will make a nice gift that can be kept forever.

Plaque
By
James P.

(Independence, KS) - January 29, 2010 (
See all reviews by this customer
)
This plaque was a gift for a friend. I absolutely love the way this item looks. Very beautiful, stands out enough to get attention but not enough to be extreme. Perfect. Was a little unhappy with the staple marks on the back where staples had been removed and replaced to readjust the canvas but overall this is a beautiful item and great for practically anyone.

Canvas Art Plaque
By
Kathleen M.

(Mentor, OH) - December 24, 2009 (
See all reviews by this customer
)
I love the look of the plaque, and it was a gift. The doctor I gave it to loved it. The back of the plaque is just stapled so on the desk it looks unfinished. I wish it had a covered back.

font is too small you can't see
By
Shopper

(Roseville, MN) - January 3, 2012
Did not meet my expectation because the quote font is very small, you can't see It. It would have been great if the quote was bigger than the doctor.

Not what it appeared
By
Jennifer B.

(Hamilton, NJ) - November 17, 2009 (
See all reviews by this customer
)
The canvas is loose. This was purcahsed for a terribly picky doctor, I know she will be scrutinizing the quality, I was quite disappointed, it looks like it was slapped together. I have purchased other items and not been as disappointed, I am not sure why this one looks so cheap.

Disappionted
By
Mindy L.

(Lehi, UT) - June 2, 2010 (
See all reviews by this customer
)
We got this for my brother who is graduating from Medical School. It was a great idea, but it is printed on canvas and the canvas is all wrinkly like it needs to be pulled tighter. It looks cheap and I'm super disappointed with it. So, just beware.