A Huge Hit
By
Shopper

(New Bethlehem, PA) - September 9, 2011
My seventeen-year-old niece loved the crystal golf ball recognizing her hole-in-one.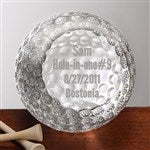 Awesome Gift!
By
Patricia H.

(Tucker, GA) - August 13, 2011 (
See all reviews by this customer
)
I purchased two of the personalized crystal golf balls; one for each of my sons. They read "World's Par-fect son, Love, Mom." They are beautiful. The packaging is luxurious and I received them in a few days. My sons love them. They are useful paperweights and great conversation pieces. This is one of the few times I received more quality than what I paid for. Personalization Mall is now on my "Favorites" list for future shopping.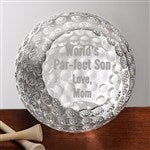 Awesome Golfer Gift
By
Rosaria S.

(Flushing, NY) - April 16, 2011 (
See all reviews by this customer
)
I bought this as a surprise gift for a golfer friend of mine. He absolutely loved it and now he can think of golf at work every time he looks at this!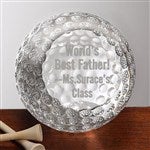 golf ball trophy
By
Shopper

(Herndon, VA) - February 10, 2014
These are fantastic. The golf ball is heavyweight, always perfectly engraved, catches the light, and looks exactly like the picture. I order these engraved as a trophy for the winner of our family annual golf tournament.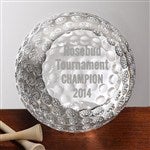 SO PERFECT!
By
Alana S.

(Winterville, NC) - September 16, 2013 (
See all reviews by this customer
)
This is soooo perfect for what I needed! My dad is an avid golfer and it will be a great something for him to display in his mancave! It is a GREAT quality and was packaged so nicely and in a display box with satin lining. I was super impressed! I continue to be impressed with pmall and how QUICKLY they customize and ship. I think the price was a little steep - but still way worth it!

Good gift for a Golf Fan
By
Shopper

(South Beloit, IL) - June 25, 2013
This was a Father's Day gift to my Grandfather who is an avid golfer. He loved it!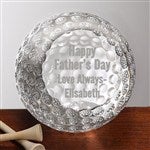 Very well done
By
Shopper

(Spring Hill, FL) - May 29, 2013
Better than I hoped. Very nice engraving and product.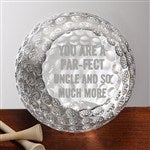 Love it
By
Elvira F.

(Kansas City, KS) - September 18, 2012 (
See all reviews by this customer
)
My husband is an avid golfer so what better item to celebrate our first anniversary. I believe he will love this paperweight and know how much he means to me.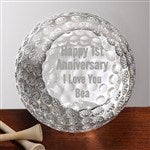 Crystal golf ball
By
Shopper

(Fort Worth, TX) - July 30, 2012
This was packaged very well and my Dad really liked the inscription and quality of his gift.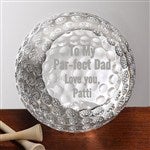 Wonderful quality gift.
I had this engraved for my aunt after my uncle passed away and I was unable to attend the funeral. 'Uncle Jim "Fore" Ever in our hearts'~ I was afraid this would be tacky or inappropriate but I am very glad I took the chance. This is a beautiful crystal. Perfect size and very heavy. The engraving was just right. I'm very impressed and look forward to sending this on to my family. I normally don't write reviews but felt this deserved some respect.

Very nice looking
By
Arthur S.

(Mesa, AZ) - June 18, 2010 (
See all reviews by this customer
)
I was a little hesitant to purchase this due to the price, but I am very pleased with the final product. The picture makes the ball look silver, but it really does like like a "crystal" ball. It's really nice and arrived just in time for Father's Day as promised.

Lovely gift!
By
Denise B.

(Lansing, MI) - July 26, 2010 (
See all reviews by this customer
)
I ordered this for my Aunt and Uncle's 60th wedding anniversary (they are both avid golfers). Had "Par-fect Couple for 60 Years" inscribed. It looked lovely, was packaged very nicely for gift giving, and they loved it! I would highly recommend this gift for any golfer in your life (in fact, I would love one for myself!).

Crystal Golf Ball
By
Michelle S. S.

(Detroit, MI) - July 26, 2010 (
See all reviews by this customer
)
The gift is awesome. The engraving was magnificant and I know the receipant will treasure this gift forever.

Nice Gift
By
Crystal W.

(Canada) - November 24, 2009 (
See all reviews by this customer
)
Even though it looks a bit flashy for a male it makes a great gift. A good size. Nice weight to it and comes in a box for storage if needed.

Good package
By
Shopper

(Los Altos, CA) - June 19, 2011
The crystal ball shows up in the expected condition. I am pleasantly surprised that it came with a nice looking gift box and a well-protected package.

Solid and beautiful
By
Kim H.

(Fort Wayne, IN) - October 17, 2009 (
See all reviews by this customer
)
I was impressed with this Crystal Golf Ball. It is a solid and strong ball that looks beautiful with an engraving. The gift box that this comes in is beautiful too.

A fabulous gift idea!
By
Carol C W.

(Alamo, CA) - October 9, 2009 (
See all reviews by this customer
)

For that special golfer in your life, the Personalized Crystall Golf Ball is absolutely the BEST! From the engraving, to the shape and weight of the ball, to the beautiful packaging, it is an absolutely superb gift for that special person or persons in your life!

You will not be disappointed.

Good & dislikes about item
By
Shopper

(Barnesville, MN) - September 1, 2013
I enjoyed the size & quality of the Golf Ball, but the printing is very hard to read - maybe a different color of the printing.

A true collectible
By
Joan C.

(Miramar, FL) - May 10, 2010 (
See all reviews by this customer
)
I was amazed at the quick, accurate service and the crystal golf ball was truly graciously accepted and everyone in attendance was jealous.

Ron's Retirement gift
By
Ann W.

(Dayton, OH) - January 5, 2010 (
See all reviews by this customer
)
Several work associates went in on a retirement gift for our friend - who is retiring to take it easy - and have more time for golf! We were impressed with the appearance, size, weight (nice and heavy), and packaging. The speed of the order and arrival was outstanding. The only thing we would have wished for would be the option of having a painted etching (to make it stand out more). Overall it's very impressive as a gift, and we are very pleased with it.

Excellent gift
By
Levornia S.

(Port Wentworth , GA) - May 26, 2013 (
See all reviews by this customer
)
My father loved this gift. I think everyone should order this for their father it will make them feel really special.

Beautiful
By
Shopper

(San Antonio, TX) - December 20, 2012
Very pleased with the product and the engraving.

Perfect!
By Shopper (Franklin Furnace, OH) - October 21, 2012
This couldn't have been any better! It was engraved beautifully and was even bigger than I expected. As others have said, the packaging was unbeatable as well. I gave this to my boss who LOVES golf for Boss's Day. He loved it so much and it meant so much to him. Definitely worth the money!

very nice
By
Joann O.

(Eustis, FL) - December 19, 2013 (
See all reviews by this customer
)
This crystal golf ball came out very well. The personalization was done beautiful . This was my first time using this company and would I definitely use them again.

Coach's gift
By
Lynn N.

(Ashtabula, OH) - October 18, 2013 (
See all reviews by this customer
)
Very pleased with the quality of the product. Will make a great gift.

Great Gift for Golf Lovers - Bosses, Etc.
By
Shopper

(Costa Mesa, CA) - May 28, 2013
This crystal golf ball did not disappoint. Our boss (a woman)who is an avid golfer absolutely loved it. We personalized with World's Greatest Boss and it brought tears to her eyes. It is sitting on her desk.

Crystal golf ball review
By
MICHAEL W.

(CHULA VISTA, CA) - June 11, 2011 (
See all reviews by this customer
)
The crystal golf ball with inscription is very nice. It is better than I expected and will be perfect for a desk decoration and lasting memory for the recipient who will receive it.

This is a GREAT gift! Top Notch!!!!
By
Heather G.

(Land O Lakes, FL) - December 10, 2010 (
See all reviews by this customer
)
The picture doesn't do it any justice....it's very heavy and a nice size and comes in a beautiful silk lined box! Quality is perfect....I ordered one for my boss who loves to Golf....very cool idea!

Par-fect
By
Mary P.

(Reston, VA) - November 10, 2010 (
See all reviews by this customer
)
Great gift for outgoing president of women's golf association. Quality look and feel. Easy to order. Got it in two days. Par-fect!

Golf Trophy
By
Patricia G.

(Fredericksburg, VA) - August 20, 2012 (
See all reviews by this customer
)
I participated in a Sr. State Golf tournament in Aug and came in second place in my division. I wanted a reminder of my experience and something other than the check I received. I ordered the Crystal Golf Ball and had it engraved. To my delight it was a pleasant surprise to see the quality and feel the weight of the trophy that I chose. It is displayed prominently on my desk.

brothers gift
By
robert D.

(ocklawaha, FL) - February 14, 2012 (
See all reviews by this customer
)
gave this to my brother he's a golf nut he loved it

Nice gift
By
Shopper

(Maitland, FL) - March 15, 2014
Got this for my husband as a paperweight for his new job. Bigger than it looks and came in a really nice silk lined box. He loves it.