Awesome Bag!
By
Shopper

(Brooklyn, NY) - March 5, 2012
This bag is pretty big and really cute! Wish I ordered one for myself!

Great gift!
By
Shopper

(Long Branch, NJ) - January 15, 2012
I bought this for a friend for Christmas, and she loves it!! She described it as "beautiful" and very roomy!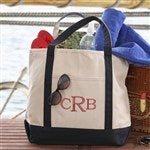 Christmas shopper
By
Shopper

(santa rosa, CA) - November 25, 2011
Very sturdy and quite nice. Fast shipping.

Great Website, Never Disappoints
By
Darrel L.

(Canaan, CT) - November 1, 2011 (
See all reviews by this customer
)
Again, another wonderful gift. I have purchased many Christmas and Birthday gifts here. It is pretty big, bigger than I thought, but truly amazing! I bought this for my brothers girlfriend on her eighteenth birthday! Thank you Personalization mall!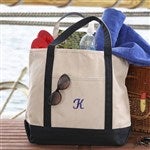 Terrific Bag!
By
Janet B.

(Mount Airy, MD) - July 25, 2011 (
See all reviews by this customer
)
I purchased this for my daughter for a weekend trip. It is the perfect size. She loves it.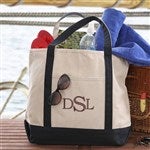 GREAT BAG!!
By
Sharon B.

(Mobile, AL) - July 17, 2011 (
See all reviews by this customer
)
I bought six of these bags for myself and my bridesmaids and they turned out AMAZING!! They are a perfect size and the monogramming looks great! I cant wait to give them to my bridesmaids filled with goodies!!

Love this bag!
By
Margaret V.

(Jessup, MD) - July 12, 2011 (
See all reviews by this customer
)
I love this bag. The monogram looks exactly as pictured, and the bag is so roomy. I have more space then I need, which is great. Thanks so much for the great bag. I always love the gifts I buy from personalization mall.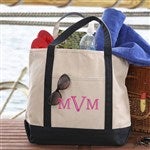 Love these Monorammed Bags!
By
Eve A.

(Aliso Viejo, CA) - May 22, 2011 (
See all reviews by this customer
)
I love these bags, bought them as Hostess gifts for my daughter's Wedding Shower. I also bought one for each of my daughters. This will last for years and has a multitude of uses!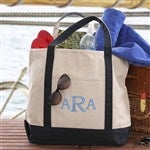 Great tote!
By
Shopper

(Westmont, IL) - May 13, 2011
I bought this as a gift and was pleasantly surprised how large it is. The fabric seems good quality too!

Great Bag
By
Linda W.

(Columbia, SC) - August 10, 2010 (
See all reviews by this customer
)
Love this bag!

Monogram Tote
By
Dana A. P.

(Oak Forest, IL) - July 28, 2010 (
See all reviews by this customer
)
My tote is awesome. I love it !!! It is a lot bigger than it looks in the picture. Perfect for a weekend getaway or going to the beach.

Weekender Tote
By
Cheryl F.

(Gastonia, NC) - May 26, 2010 (
See all reviews by this customer
)
This is a gift for my mom for her yard, needles, etc. It is of good quality and the pocket on the front will be very handy. The monogramming is beautiful. I am very pleased with this item and the quick delivery.

Very nice surprise!
By
Kelly K.

(Ballston Lake, NY) - May 8, 2010 (
See all reviews by this customer
)
I ordered these bags for my bridesmaids and was very pleasantly surprised at both the size and quality of the bags. A nice, durable canvas material and large enough for them to take anywhere. I am sure they will enjoy them.

Great bag!!
By
Mara B.

(Warminster, PA) - May 2, 2010 (
See all reviews by this customer
)
I ordered this bag last minute for my future daughter in law to have at her bridal shower with her new initials. It arrived in less than 1 week (thankfully) and got filled with lots of beachy things for their honeymoon. Great quality and size. She was thrilled with it!!

great size, very durable.
By
R. L. H.

(Middleton, MA) - January 21, 2010 (
See all reviews by this customer
)
This is an excellent size tote for everyday - not too big and also very durable -recomend it highly. Received it so quickly, also!

great size
By
Shopper

(Chicago Ridge, IL) - August 18, 2013
This bag was much larger than I thought which is perfect for me. It is also very sturdy. I just wish the personalization was a little larger.

Weekender Tote
By
Shopper

(Midlothian, VA) - July 28, 2013
I was very pleased with the weekender tote bag!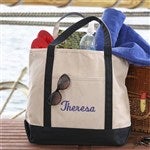 Large Quality Tote
By
Shopper

(Jacksonville, NC) - June 29, 2013
The tote is quite sizable and durable. The trim appears black in the picture, but it is actually a navy blue.

Good quality, good price
By
Elizabeth D.

(Nashville, TN) - June 22, 2013 (
See all reviews by this customer
)
This is a great tote with ample room for beach or boating items. Very pleased with quality and speed of shipping. Two points that prevent this from getting 5 stars. 1) I would have liked a thread option that matched the blue trim on the bag - the navy blue thread was not dark enough, so I opted for black, which looked pretty good in the preview image when placing the order, but clearly does not match the navy blue. 2) Either the item description or someone else's review of the item lead me to believe the tote had a zipper close. The item I received does not close at all. Still very happy with the purchase.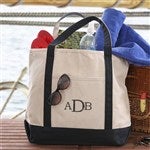 Great Bags! But they change.
By
Hannah V.

(Staunton, VA) - May 13, 2013 (
See all reviews by this customer
)
These bags are fantastic. The quality is great. They are very heavy duty.
The only thing I would like to warn people about is that the bags you receive may not always be exactly the same. It seems that whoever embroiders the bags receives the actual canvas bags from somewhere else, and the supply changes. So to use my experience as an example, I bought these for all my bridesmaids and readers and videographer for my wedding. I got them at separate times and the bags I got were slightly different from one another because of my separate orders. The fabric was a little grittier on some and more clean on others and the design changed slightly. It used to be that these bags had zippers at the top, but now there is no zipper and instead there is an extra pocket and a key holder. So I have 8 bags with zippers and one without. Pay close attention to the description of the bag when you order it, and just know that you might get bags that are not exactly the same, especially if you order them at different times. But they are all high quality and GREAT GREAT bags! I highly recommend them.

Nice Bag! but no zipper and can't wash
By
Shopper

(Temecula, CA) - April 22, 2013
I bought this for a coworker. This is a really nice bag; she really liked it! It's a huge bag! The only things I didn't like about it is that it didn't have a zipper and you can't wash it otherwise the colors will bleed. Other than that, the delivery was timely and the embroidery was really nice and looked exactly like the preview when I was ordering! I would definitely buy again!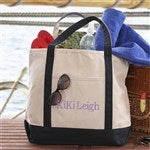 lots of room
By
Shopper

(cordova, TN) - August 22, 2011
I just used this tote for a week at the beach, and it was great! I had plenty of room for towels, sunscreen, and other items. I really liked the outside pocket for smaller items. I will definitely be using this tote for a lot of things!

Monogram
By
Shopper

(Conroe, TX) - June 4, 2011
The quality of the tote is good. I was disappointed in the personalization. The middle and last letters in the mongram don't have any space between them.

Quality not great, smelly canvas fabric
By
Shopper

(Brewster, NY) - December 29, 2011
Not the worst but far from best quality and canvas fabric was a bit smelly!! Wouldn't recommend