Beautiful heirloom stocking holder
By
Beth J.

(Oak Ridge, TN) - December 23, 2011 (
See all reviews by this customer
)
I cannot say enough about the quality and beauty of this product. I got one for each person and they were just beautiful on my mantle. I can change the pictures through the years, or just keep the younger ones for nostalgia. Excellent investment in an elegant Christmas memory-maker.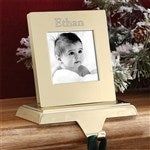 SJShopQueen
By
lakecia H.

(Blackwood, NJ) - December 18, 2011 (
See all reviews by this customer
)
I love this item. Well done and sturdy. It is a keepsake for my daughter. I love this website and only use this company for personalized items.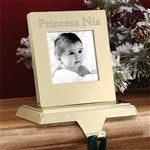 Happy
By
Shopper

(Belmont, WI) - December 17, 2011
I was very pleased with my purchase of the Brass Photo Stocking Holder. I was reluctant to rate them with 5 stars because I have no idea how the finish will hold up over the years.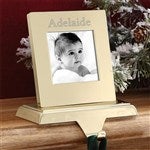 Great idea
By
Shopper

(Marietta, GA) - November 18, 2011
I purchasd these stocking holders for my Grandson's stockings that will hang at Gramma's house. The best part is that I can change the picutre each year as they grow. I was very pleased with the quality and size of the holder.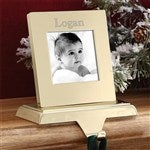 Beautiful and high-quality
By
Susan K.

(Fairfield, OH) - December 9, 2012 (
See all reviews by this customer
)
This stocking holder was ordered for our new granddaughter. We can change the photo each year as she grows and changes. The holder is very pretty and shiny and complements our other holders.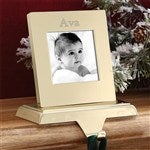 Great stocking hanger
By
Veronica B.

(Hatfield, PA) - December 9, 2012 (
See all reviews by this customer
)
Got this for my granddaughter. Love the idea of putting a photo in the hanger!! Makes the stocking more personalized and gives it an extra touch. Highly recommend this, makes the memories more special.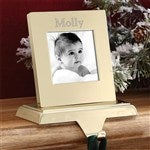 The best stocking holder I've ever seen
By
Catherine N.

(Shelby Twp., MI) - December 2, 2012 (
See all reviews by this customer
)
I bought this for each member of my family 2 years ago and loved it! I'm so glad they still had it in stock this year when my son was born. They are beautiful and very well-made. I receive compliments each year when I pull them out for Christmas.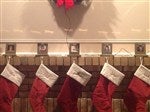 #1 gift
By
Shopper

(Mohrsville, PA) - November 14, 2012
I bought "another" stocking hanger this year for our new grandson and also purchased one for ourselves. I have gotten all of our grandchildren their stocking hangers and our hangers from your company because they are so well made and customer service is "excellent". They are simply beautiful! I actually made a mistake with ordering this year and I placed a call to customer service and the woman who helped me was so very nice and changed my order with no problem. Thank you so much to that woman (sorry, I don't have your name). I will continue ordering from your company in the future. Thanks so much.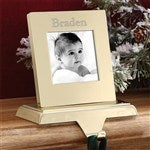 beautiful but not sturdy as stated
By
Elaine T.

(Houston, TX) - February 7, 2012 (
See all reviews by this customer
)
I want to say I was disappointed in this and so it probably won't get posted in reviews. The item is beautiful, but it says that it will hold the heaviest stockings; this is so NOT true; we received our items tested it with a light stocking and no go, it comes tumbling down. Buy it for it beauty but not for practicality as a stocking holder. Since it was personalized they would not accept a return or issue me any credit.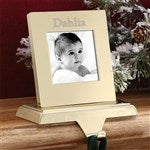 Exactly what I was looking for.
By
Julia K.

(Elgin, TX) - December 13, 2009 (
See all reviews by this customer
)
I was looking for something special this year to display our stockings with, and this was it. Since this is our first Christmas with our son, I wanted to do something special that we can update each year as he grows. We have his first picture with Santa displayed for this year and plan to update it this year with a new Santa picture as well as new pictures of ourselves as well. We purchased a couple extra not personalized to use for the dog for now but hopefully for children in the future. They are a nice weight to hold all the stocking stuffings from Santa with ease.