Classy, well presented
By
Christina V.

(Henrico, VA) - December 12, 2009 (
See all reviews by this customer
)
These cards are gorgeous, simple, and elegant. They come with a gold sticker sealing the plastic case, and they are the perfect gift for family. I would definitely recommend them to anyone looking for a personalized, useful gift.

Perfect Personalized Presents
By
Carla Z.

(Westminster, MD) - December 6, 2009 (
See all reviews by this customer
)
The note cards are as high a quality as those I have purchased from print shops I use for my business stationary. The paper weight and the design make this a great gift. The ease of the website in creating my order was user friendly. The feature allowing you to see your product beforehand is fantastic. The speed of delivery was another great advantage of using your site. I will be returning as I have other needs.The quality of your work will keep me a customer.

stamper
By
Shopper

(Nanuet, NY) - December 8, 2013
The layout was nice ink pad wasn't working when received, but after wetting it and letting it sit it started to work better.

Clean, Crisp, and Simple
By
Shopper

(Rossford, OH) - April 21, 2012
These cards appear professional and give off an element of sophistication. Although the design is simple, the product is printed very well. I am very pleased.

Good buy!
By
Shopper

(Newberry, FL) - October 17, 2011
Good buy! Great Customer Service!

Great value and product
By
Lesley S.

(Rockville, MD) - September 28, 2011 (
See all reviews by this customer
)
We were looking for an affordable return address stamper and this is by far the best bang for your buck.We are very happy with the look of the stamper.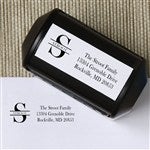 Exactly what I wanted
By
Diane S.

(N Tonawanda, NY) - December 27, 2010 (
See all reviews by this customer
)
This was a gift (stocking stuffer) for my husband. Didn't want anything fancy, just a readable stamp with only his name on it. That's exactly what I/we got. I thought the print might be a bit larger, but understand you're dealing with a small space!

folding cards would be nice
By
Lisa E.

(Seibert, CO) - August 25, 2012 (
See all reviews by this customer
)
Very quick shipping. Would have like to seen the cards folded and placed in a gift box. Most stationary is a gift and needs to be presented as such.

Could be better
By
Jaclyn M.

(Pearl River, NY) - August 17, 2012 (
See all reviews by this customer
)
This is a really great idea and would work really well if the ink distribution to the stamp were even. There are only two holes for ink to come through to the stamp and they are on both edges of the stamp so the middle always comes out light, no matter how much pressure you put on it when stamping. Would be a great product had there been a third hole to allow more even ink.

Disappointed
By
Rick R.

(Miamisburg, OH) - August 23, 2013 (
See all reviews by this customer
)
I bought three return address stampers for my business. I thought it was the style that rests against an ink pad and flips when you operate it. However, it is not. From the first time I used it, and ever since, I have had to hold it to the envelope for about ten seconds to get a readable stamp.

Terrible Quality
By
RD S.

(newport beach, CA) - December 2, 2013 (
See all reviews by this customer
)
I purchased Cards and envelopes from personalizationmall and unfortunately I was very disappointed with the quality when they arrived. the paper stock is a bad shiny white with a cheap looking embossing. also they added their lame logo on the pack with some sort of bar code. The worst part of this is I ordered a 100, for the price, this could be the worst stationery I've ever seen. I called their customer service and was told too bad, the stationery has your name on it. Guess my kids can use it for drawings