Grandma Loved Them!
By
Shopper

(Milwaukee, WI) - September 13, 2011
My Grandma is always difficult to shop for. She loves to write cards to friends and family so I bought her these as a birthday present. She absolutely loved them and she has had many people comment on how lovely they are. Now she wants me to order some for her to give as gifts. This is probably the best present I've ever given her.

Perfect
By
Shopper

(loves park, IL) - August 26, 2011
I ordered a monnogram (my new married name) with my husbands and my name below it. We use these for thank you cards and various other corrospondance. I am so pleased at the quality of these note cards. They are beautiful. I love the classic elegance of this card.

Beautiful note cards
By
Shopper

(Medford, OR) - February 16, 2011
Perfect gift for our bride-to-be daughter and her fiance.

Nice quality
By
Rebecca S.

(Portsmouth, NH) - January 15, 2011 (
See all reviews by this customer
)
Beautiful cards, exactly what I needed, lightening fast delivery. THe only think I didn't like was the GIANT logo on the back of the card. A little tacky.

Better than we thought!
By
Amber G.

(Royal Oak, MI) - October 29, 2010 (
See all reviews by this customer
)
The cards were great. They were heavier stock than I thought they would be, which is great. A lot better quality. I may be ordering more!

Beautiful
By
Erin R.

(Bellingham, MA) - August 24, 2010 (
See all reviews by this customer
)
This was the perfect gift for a bridal shower. The stamp was VERY affordable - much more so than similiar products you can find elsewhere - and it fit the bride's garden theme perfectly. I would definitely recommend this product!

Simple and Elegant
By
Paula F.

(Carbondale, IL) - January 19, 2010 (
See all reviews by this customer
)
I purchased these notecards as a gift and the lady wrote a thank you note back to me on them. They are very simple but elegant looking. Nice quality.

Beautiful notecards!
By
Greer A.

(Richmond, VA) - December 26, 2009 (
See all reviews by this customer
)
I ordered these as a gift for that "hard to buy for" family member. I hope she enjoys them because they look great! I will definitely be a repeat customer at Personalization Mall!

Great gift!
By
Kelly J.

(East Meadow, NY) - November 28, 2009 (
See all reviews by this customer
)
This is a beautiful product!

Two happy customers
By
Shopper

(Irvine, CA) - February 13, 2012
I purchased this stamp as a gift for my sister, who just bought her first home. Personalizing the stamp was easy and she was delighted with the outcome. The one thing I would've like to see is other font options. They have a predetermined font style and I would've liked to pick one with a little more pizazz to compliment the floral monogram. Still, she's happy and that means I'm happy!

Nearly perfect!
By
Patricia L.

(Bar Harbor, ME) - December 8, 2011 (
See all reviews by this customer
)
I would have given 5 stars had the card been of a slightly heavier stock.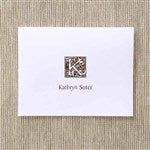 Personalized cards
By
Alissa M B.

(Fairfax , VA) - May 23, 2011 (
See all reviews by this customer
)
I am using these as invitiations to a wedding event my husband and I are hosting for our oldest son. Lovely heavy card stock. Just what I wanted. Thank you!

Looks good
By
Shopper

(Metairie, LA) - May 16, 2011
The lettering is nice not crowded or small and the price it's great.....normally 39.00 plus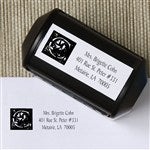 Floral Monogram Address Rubber Stamper
By
Shopper

(Canada) - March 22, 2011
I received this Stamper last week in the mail.
I had ordered this for a friend. I tried the stamper and works wonderful and looks very nice!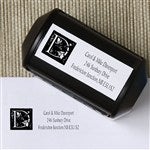 Satisfied
By
Rebecca W.

(West Greenwich, RI) - October 7, 2010 (
See all reviews by this customer
)
Very pretty, simple print for an all purpose card that I'm giving as a gift to my In-Laws. The printing is crisp and clear. Overall, I'm happy with the product but do have a few issues...I chose to have the envelopes stamped with the return address and had to change my text color to match. My first choice was Olive, but that color is not offered for the address. Ultimately had to choose the only other color match that wasn't black. Also, the cards and envelopes come in a flimsy clear plastic box that is not very attractive and mine is poorly taped and twisted. Since I'm giving it as a gift, I intend to look for another option for packaging.

A great way to put your address on your envelopes
By
Rhonda H.

(Carson, CA) - April 6, 2010 (
See all reviews by this customer
)
Beautiful print. Just be careful to press completely and fully for stamp to show all the way.

Nice but...
By
Michelle P.

(Statesboro, GA) - March 17, 2010 (
See all reviews by this customer
)
Ordered the item with similar envelopes. I liked the notecards...not exactly the quality I wanted..but I knew it wouldn't be a raised embossed type of thing anyway. So, I am pleased. Just wished the color on the envelopes would have matched as well as the type font. (I ordered the olive with the notecards and the green with the envelopes, it was close, but again...not exact).

Other than that...very pleased.

very nice
By
Ada N.

(Chicago, IL) - January 18, 2010 (
See all reviews by this customer
)
These are really nice cards for the money and the are "custom" which is fabulous. I think it adds a classy touch and stayed "well within" our budget!!


Note card stationery set
By
LyNell F.

(Concord, CA) - April 20, 2010 (
See all reviews by this customer
)
The personalization looks lovely on the cards, but the stock for the envelope is not a comparable quality paper. It does not coordinate well with the paper stock used for the cards. Though I know an envelope is typically a lighter weight paper, this one is so light, it feels as if it doesn't belong with these notes, but got included by mistake. They look cheap. Since I'm giving the set as a gift, it's even more disappointing.