gift item
By
Karamjit K.

(Burlington, MA) - December 29, 2011 (
See all reviews by this customer
)
they are better than i expected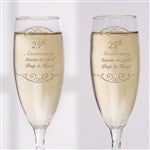 Perfect Anniversary Gift !!
By
brian L.

(Canada) - December 11, 2011 (
See all reviews by this customer
)
She was very surprised and loved the glasses !!!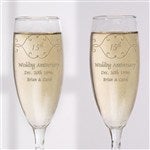 The stem on this flute set is beautiful
By
Shopper

(San Antonio, TX) - November 22, 2011
This Flute Set is beautiful. The picture on the site is good but holding them in your hands no picture can capture. A great deal and the engraving was awesome. Will return again...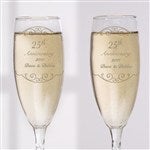 Anniversary champagne flutes
By
Shopper

(Lompoc, CA) - October 23, 2011
Perfect gift for a memorable wedding anniversary (70th). The couple said it was their favorite gift and will treasure it. The beauty, quality, and inscription was commented on by many who inquired regarding the name of your company. Thank you.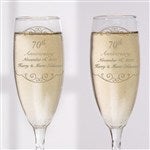 Very elegant and memberable
By
Patti E.

(Highland, CA) - October 10, 2011 (
See all reviews by this customer
)
I was so bummed out when I finally found the perfect gift for my Parent's 50th. Anniversary and you guys said that you were out of stock. So I submitted my email in hopes that there would be enough time to restock the items I wanted. Low and behold, I got the email 3 days before the big day! I was so happy and greatful that they arrived. The only thing I did not like was I had to use the next day mailing to get my gift to them on time (October 1st.). But it was worth it. Thank you very very much!!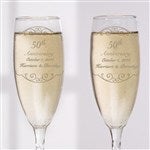 Mrs
By
Maritza R.

(Glendale, AZ) - October 4, 2011 (
See all reviews by this customer
)
thank you so much! I am so happy with the way they look. I can not wait to use them!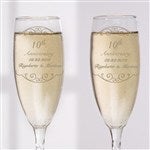 very disappointed
By
Shopper

(Springfield, MA) - October 3, 2011
The picture is very misleading. The glasses are cheap. Very bad quality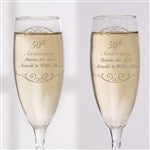 Elegance For A Great Price
By
Lou B.

(Fairport, NY) - October 2, 2011 (
See all reviews by this customer
)
I ordered the Flute Set as a 60th wedding anniversary gift for my parents. When the set arrived, one glass was perfect and the other one had the 'niv' in anniversary smudged out.I immediately called customer service since the anniversary was less than a week away. I sent customer service 3 digital photos of the problem. They got back to me within an hour stating that they will order and send a new glass with express shipping at no cost to me. The new glass arrived 3 days later and was a perfect match.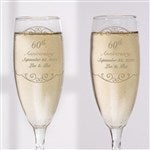 Very nice
By
Kammie R.

(Fontana, CA) - September 11, 2011 (
See all reviews by this customer
)
The flutes turned out very nice. Very pleased ESP with the quickness of the order. I will definitely order from here again.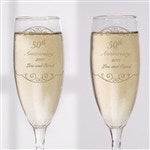 Thank you!
By
Dale G.

(Carson, CA) - September 4, 2011 (
See all reviews by this customer
)
They loved it! Thank you for the great quality and service!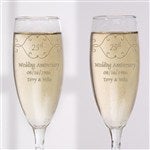 comment
By
Barbara E.

(Roseville, CA) - August 27, 2011 (
See all reviews by this customer
)
The ordering process was easy and our glassware Items look awesome! I would order from this company again.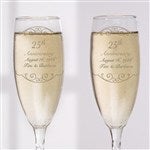 Fast service!
By
Jeanne K.

(Warren, OH) - August 1, 2011 (
See all reviews by this customer
)
I bought this product for my friend and her husband. It turned out beautiful and was the hit of the party! The best thing about it was that it arrived in 4 days! I will be ordering again. Thanks!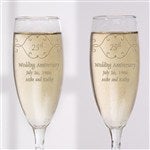 Wonderful Product, Excellent Customer Service
By
TIFFANY C.

(HENRICO, VA) - July 18, 2011 (
See all reviews by this customer
)
These flutes are beautiful - My parents loved them for their 25th anniversary! One of the flutes had a scratch on the glass, and customer service rushed out the replacement super fast, you can't find great customer service like this any more!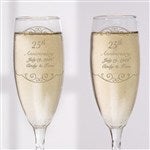 beautiful toast glasses
By
Annie R.

(Wellesley, MA) - June 28, 2011 (
See all reviews by this customer
)
Just loved the 50th anniversary toast glasses! It was a lovely touch to the celebration!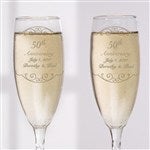 Toasting Glasses
By
Shopper

(WILMINGTON, DE) - June 22, 2011
I am very pleased with this product! They are beautiful!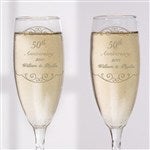 Extremely pleased with the product
By
Shopper

(San Bernardino, CA) - June 12, 2011
The 25th toasting glasses look better in person. I was very pleased and would buy from PersonalizationMall.com again. Thanks.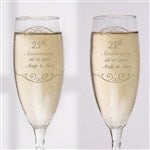 Personalized flute set is a great buy.
By
Lynn V.

(Holtsville, NY) - May 25, 2011 (
See all reviews by this customer
)
The personalized flute set is great for an Anniversary gift. I received only one glass. I called the 800 number and got customer service. The customer service were understanding and great at solving my problem. Sent out a new set right away. Would recommend this company to everyone.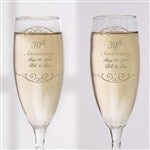 Best Anniversary Gift
By
Shopper

(Creswell, OR) - May 22, 2011
The Anniversary Toast Glasses are awesome! Best Gift Ever.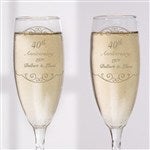 It was a gift for a 50th Wedding Anniversary...
By
Shopper

(Mount Joy, PA) - May 21, 2011
We bought these for a 50th wedding anniversary for some family friends... The etching was elegant, the glasses classy and the gift receivers LOVED them... Need a unique gift idea, this is IT!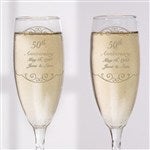 beutiful memorable gift
By
Cindy H.

(Galion, OH) - May 10, 2011 (
See all reviews by this customer
)
excellent product - just what we wanted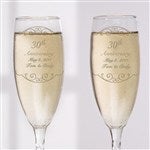 Very satisfied
By
Shopper

(Cumming, GA) - April 21, 2011
For the money these were right on! My parents loved their gift! I really liked the braided stems - it really added to the look of the glasses. They were shipped and delivered within 5 days. They were very professionally packaged - I was worried about them breaking during shipping but this is not an issue! No complaints! I would not hesitate to order from them again!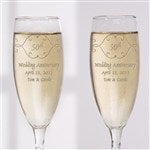 Amazing!!
By
Carly O.

(Fort Collins, CO) - April 19, 2011 (
See all reviews by this customer
)
I ordered these for my parent's 30th anniversary. I was very pleased with how quickly I received them, as well as the packaging - they were packed so well there was no chance they would break. I haven't given them to my parent's yet but I am completely confident they will love them! They turned out amazing, the engraving looks wonderful. I'd definitely order these flutes again.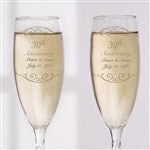 Fantastic website !
By
Shopper

(Saint Augustine, FL) - April 16, 2011
I highly recommend this website to anyone !Especially if you are in a jam and cant find a gift ! I look forward to ordering more products for other family occasions.Very Fast delivery .I got My parents 30th annivesary gift which they loved !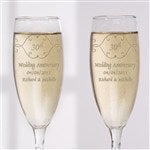 25th wedding anniversary success
By
Bethaney S.

(Gloucester, MA) - April 11, 2011 (
See all reviews by this customer
)
I ordered these champagne flutes for my parents' SURPRISE 25th wedding anniversary. I was surprised at how fast they arrived. They were tightly wrapped and arrived at my house in perfect condition. The flutes are beautiful and the crystal stem is gorgeous. The names were written correctly and beautifully on the flutes. Overall I was very happy with these glasses and I would definitely recommend them.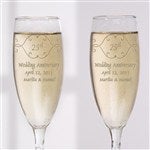 WOW
By
Joseph V.

(Binghamton, NY) - April 10, 2011 (
See all reviews by this customer
)
I am extremely pleased with the products I have purchased both recently and in the past and the delivery service provided. I have highly recommened "Personal/zation MALL.com to many friends and family members. In my opinion you are the BEST !!!!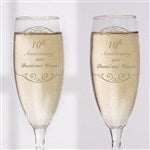 Anniversary Toast Personalized Flute Set
By
Shopper

(Pismo Beach, CA) - March 28, 2011
Product was exactly as described on the website. Shipping was timely, and the flute set was packaged very carefully and arrived intact. This was a good purchase. Thanks!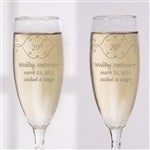 Awesome
By
Amy T.

(Sebastian, FL) - March 26, 2011 (
See all reviews by this customer
)
A beautiful gift!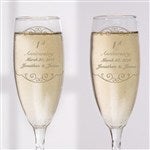 Checked many sites but this was awesome
By
Patricia B.

(Leesburg, FL) - March 25, 2011 (
See all reviews by this customer
)
After so many sites that offered flutes,NONE compared, I decided on theses glasses for the simplicity and by my previous experience with PersonalizationMall in the past. Particularly their engraving techniques.
They furnished my 10th anniversary Renewal of Vows albums and I about fainted when I opened it and literally lost my breath. Both sit here in anticipation of the big day.
At this point in your life, and a second chance at love, aftering having already celebrated too many candles on the cake looking forward to the 10th and finding such AWESOME pieces is exciting and a wonderful experience. YOU WILL NOT BE DISAPPOINTED with any purchase from this company!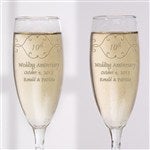 Special Occasion
By
Michelle K.

(Seguin, TX) - March 14, 2011 (
See all reviews by this customer
)
These 25th Anniversary Flute are exactly what I wanted and the engraving is beautiful. They will be a very special part of our celebration.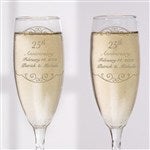 Anniversary
By
Gail J.

(Pasco, WA) - January 17, 2011 (
See all reviews by this customer
)
I love this. The engraving was beautiful. We enjoyed a nice glass of champion in them. The price was just right.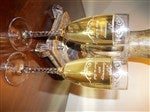 Love Them
By
Mildred M.

(Wirtz, VA) - April 14, 2014 (
See all reviews by this customer
)
I just received the Anniversary Toast champagne flutes I ordered! Since this is a special day, our 40th, I wanted something memorable to use for a toast that day. I couldn't be happier with them.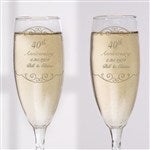 wine glasses
By
ROSALINDA E.

(YAKIMA, WA) - March 31, 2014 (
See all reviews by this customer
)
very pleased with my order..I have ordered from this company for quite a while and every single order I order I AM VERY HAPPY.. NEVER NO COMPLAINS. I recommend them.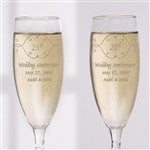 Neighbors Loved this for their 50th Anniversary
By
Nancy L.

(Kansas City, MO) - March 1, 2014 (
See all reviews by this customer
)
I sent this to one of our neighbors down the street
for their 50th wedding anniversary! They were so surprised
and really Loved them! Very Beautiful flutes for an Anniversary gift!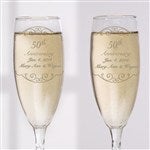 So So quality
By
Shopper

(Grand Junction, CO) - February 21, 2014
They were exactly what I ordered. The glass is pretty thin but they will serve us well.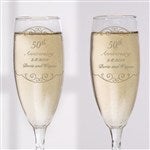 Beautiful Flutes
By
Shopper

(Simi Valley, CA) - February 21, 2014
Arrived on estimated date; packaged with lots of bubble wrap. Beautiful flutes and an excellent price. Highly recommend!!!! Everyone loved them at the 50th Anniversary Party. Will be a treasured keepsake.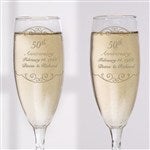 The glasses were beautiful!
By
Shopper

(Grand Bay, AL) - February 17, 2014
The finished glasses were absolutely stunning. My grandparents will love this for their anniversary. The shipping was fast and the price was reasonable. Personalization Mall is where I will be buying my gifts from now on!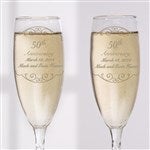 Just beautiful
By
Peter S.

(Colonia, NJ) - February 10, 2014 (
See all reviews by this customer
)
These are just a beautiful gift my wife simply loved it I gave her a bottle of champagne with and she went crazy and the price was easy on the pocket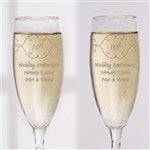 first rate seller , and all items
By
robert j. B.

(apopka, FL) - January 25, 2014 (
See all reviews by this customer
)
feel safe to buy here.. this item is super quality,, packaging 5.0;; shipped in a timely matter.. and great communication.. will definitely use this company again... thank you..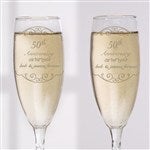 Lovely anniversary flute set.
By
Shopper

(Columbus, NC) - November 14, 2013
As always, service and quality are the hallmarks of Personalization Mall. We received these champagne flutes no more than 4 days after ordering, beautifully engraved and flawlessly packaged. We were able to get them to my brother and sister-in-law exactly on their 50th wedding anniversary and they called to tell us how much they loved and appreciated the fine workmanship and overall beauty of the glasses. We have never purchased anything from Personalization Mall that wasn't of the highest quality. Highly recommend this fine company.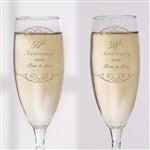 Great experience with Personalization
By
Anna G.

(FORT MILL, SC) - November 2, 2013 (
See all reviews by this customer
)
The picture of the flute set looked nice, but when they came in the set looked so much better than the
picture. They said it would come in by a certain date and it was here. Have no problem telling everyone
about this site.