Darling little Hoodie
By
Shopper

(Columbia City, IN) - March 16, 2013
Bought one for each of my eight grandchildren, and they are adorable! High quality material, excellent embroidery work, and super-quick shipping, as always with PersonalizationMall items. Just wish it had gone on sale before I bought mine!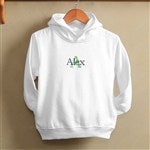 Baby bib
By
Shopper

(lancaster, NY) - January 13, 2013
The bib was very well done and I gave it as a gift and they thought it was awesome

This is a First Rate Product!
By
Shopper

(Floral Park, NY) - January 1, 2013
I have ordered quite a few of these toddler sweatshirts and everytime I have received wonderful feedback....The quality of this sweatshirt is just beautiful. The monogramming is First Rate, All the colors they offer is just amazing. I love sending this gift and my friends love receiving them!
A great and beautiful gift. I would truly, highly recommend this sweatshirt.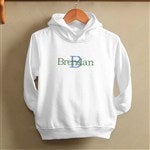 THE BEST EVER GIFT!!!
By
Shopper

(Floral Park, NY) - December 19, 2012
I cant tell you how beautiful this sweatshirt is!!!! The personalization is just beautiful.....and the color choices are wonderful.....Our friends constantly ask where I purchased it and I am proud to say at Personalization.com. I believe we have started a ring of friends who use your website.......I must admit I do order alot from this website.....and the delivery is unbelievable.......dont just sit there......Go and Order this item!!!!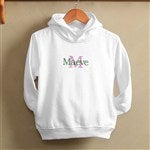 Personalized Bib
By
Shopper

(Forest Park, GA) - December 16, 2012
Received the personalized bib for our granddaughter..excellent item. Arrived very quickly and good quality. Will keep this company as a favorite and will
recommend to family and friends.

love the name...
By
lisa B.

(whitman, MA) - April 7, 2012 (
See all reviews by this customer
)
really happy with this. even cuter in person. going to order another 1 as a gift for a customer.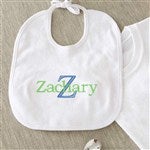 Great Gift
By
Shopper

(Yuma, AZ) - December 6, 2011
Very pleased with the product and it made a great personalized gift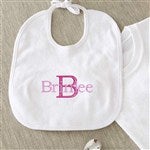 Great baby gift!
By
Shopper

(Cincinnati, OH) - September 26, 2011
This item is fantastic because it will be used ALOT and it's personalized which is special. The embroidery is well done and the colors are great, it's a great bib!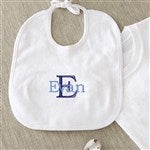 I've ordered 2 now
By
Shopper

(temecula, CA) - August 19, 2011
Ive now ordered this bib twice for two different friends- I like it and think its really cute to tie on the outside of a gift. Everyone thinks its soo cute.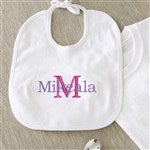 Infant Tshirt
By
Heather F.

(Geneva, IL) - October 10, 2010 (
See all reviews by this customer
)
I have officially transitioned to your company from another embroidery internet company! I love your service.....super fast delivery, great prices and good quality. Thank you!

Awesome
By
Karen F.

(Bulhead City, AZ) - September 16, 2010 (
See all reviews by this customer
)
I have bought two of these bibs (one for each grandchild) and think they are adorable! I like that they tie also because when they get smart enough those velcro ones come right off with a little tug. With the ties it takes a little more intelligence :-)

A seamless transaction.
By
Peter S.

(Altadena, CA) - August 19, 2010 (
See all reviews by this customer
)
Actually, I ordered these items for a friend to give to a friend of hers and thus I never saw them. She was immensely pleased with them. The quality is matched by the value: outstanding! They came so quickly, it seemed as though you shipped them before I ordered them!

FIVE STARS!

very pleased!!
By
TRACY F.

(Portsmouth, VA) - June 23, 2010 (
See all reviews by this customer
)
I was hoping it was going to be good stitch work and when it arrived within a week of my order i was suprised and then when i saw the items i was SO PLEASED!!! the cloths were good material and the stitching was outstanding!! I will get more stuff from here! they were the perfect gifts for my new great nephew!!!!

kitkat
By
Cathie K.

(Sarasota, FL) - March 8, 2010 (
See all reviews by this customer
)
Great unique babygift. Personalization is done beautifully. Priced nice too! Option to pick your own thread color was great. Will purchase again for future gifts.

Wonderful Gift
By
Vicki G.

(Saint Albans, WV) - February 25, 2010 (
See all reviews by this customer
)
This is the first time I ordered from your company and it won't be the last! The bibs I ordered are just beautiful and I am so satisfied. My personalized bibs were exactly as I ordered. The quality is great and thank you for great service. Thank you, Vicki Gruse

Delightfully cute
By
Dana Dee B.

(Hopkinton, MA) - February 12, 2010 (
See all reviews by this customer
)
Better looking in person than in the picture! I chose the brown color for the name on each of two bibs. For one bib, I chose a lime green initial, and for the other bib, I chose a lavender initial. They both look fantastic. I haven't used or washed them yet, but the stitching looks pretty reliable; I hope they hold up in the wash.

Great little baby or Christening gift
By
Jacqueline H.

(Wellesley, MA) - January 25, 2010 (
See all reviews by this customer
)
I ordered this as a Christening gift and it looked just as pictured and described. The monogramming was accurate and very well done. My only complaint was that it took a week after PM said it had shipped to arrive. Not PM's fault, but a disappointment as it was a day late.

Ayden
By
Linda R.

(Jacksonville, FL) - January 25, 2010 (
See all reviews by this customer
)
We just loved the bibs! They are so cute and precious, and can't hardly wait until our grandson is born so we can start using them.

Terry hoodie
By
Jill W.

(Albertson, NY) - January 7, 2012 (
See all reviews by this customer
)
Great for a beach cover up. Bought it for a 1 year old birthday gift for people who have a beach home. They Loved it!!!! Looks much more expensive than you pay.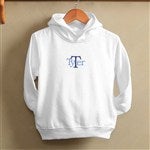 Made in USA bib
By
Emily C.

(Wildwood, MO) - July 20, 2010 (
See all reviews by this customer
)
I needed a gift for a friend's baby in Germany and had trouble finding anything not made in China. Was thrilled that this bib was made in the USA. It was good quality, although as a mom myself, I wish the bib was velcro instead of one you have to take time to tie. The design seems to look better with longer names, but using Ivory Cream for the initial and Navy Blue for a four-letter name looked nice in the end.

adorable
By
robin D.

(newark, DE) - April 7, 2010 (
See all reviews by this customer
)
quick, easy, fun. My daughter was so happy when she opened this gift, she did not want to use it and mess it up with apples or squash because it's so cute.
Price could be slightly less.


Cute but runs small
By
Shopper

(Millstadt, IL) - December 10, 2011
This is a cute shirt however get a size bigger then you need because it runs small. It is not a very good quality shirt but for the price it was fine.