Great little canvas print!
By
Michelle Z.

(Henderson, NV) - April 4, 2011 (
See all reviews by this customer
)
This was a great idea. I used a picture of three grandchildren, with their names in the captions! My husband loved it. Another great product I have ordered from personalization mall!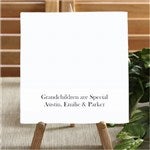 Wonderful gift idea!
By
Shopper

(Portsmouth, VA) - February 20, 2011
I wanted to surprise my hubby w/a recent photo of us to put on his nightstand and the photo turned out great! I love that you have the option of making it sepia or black and white as well. It was very easy and the delivery came right on Valentine's Day.

Great finishing
By
DORIS R.

(Lincoln, NE) - February 19, 2011 (
See all reviews by this customer
)
Got this for a valentines gift. He loved it. Looks professional.

Good Find
By
Rozanne K.

(Arvada, CO) - December 28, 2010 (
See all reviews by this customer
)
I purchased this for a photo of our friends new grandson. Put his name and date of birth on one line and a bible book& page on the next. It came out soo cute.

This Size Fits All!
By
Jill G.

(Lemont, IL) - December 14, 2010 (
See all reviews by this customer
)
What to get my son's girlfriend?? I don't know her decor or sizes. She loves her rescued dog, so I had my son email a picture to me and Personalizationmall.com did the rest!

When I showed my son he smiled and said "That looks great! She will love it." She can group it, hang it or place on her desk.It has turned out to be one of the "I can't wait to give" gifts this year!!

Absolutely Love It!!!
By
Michelle G.

(Raymore, MO) - November 30, 2010 (
See all reviews by this customer
)
This by far exceeds my expectations! I love being able to choose the photo and the text and be able to preview it before I purchased it! This unique gift will no doubt be a huge hit. Thanks!

Nice memento gift.
By
Barbara B.

(Buffalo Grove, IL) - August 26, 2010 (
See all reviews by this customer
)
The image is very clear. You have to make sure you play around with the crop feature to get the exact placement that you desire. Check the size requirements before you upload your picture. I'm sure the couple I purchased this for will love it.

Brilliant Work!
By
Tanvi S.

(Las Vegas, NV) - August 24, 2010 (
See all reviews by this customer
)
The product was lovely...The picture print was very good quality and both me & my husband loved it!
I will be ordering a few more of such in future for sure!Thanks a lot guys!
Good Work!

Perfect!
By
Anna B.

(Keller, TX) - July 21, 2010 (
See all reviews by this customer
)
I saw this and made some small personalizations to give to my sister as a cute gift for her birthday. Arrived quickly and in the exact condition as described. She thought it was a great gift! Another excellent experience with this website!

Beautiful Work and Fast Too!!!
By
Donna H.

(New Albany, IN) - November 20, 2009 (
See all reviews by this customer
)
I wouldn't go anywhere else for my canvas work. Personalization Mall does beautiful work and I can't believe the turn around time...you have your item in just a few days.

I've just ordered my third canvas in a much bigger size received today and it is just as great.


Personal Canvas
By
Lauren R.

(Bowling Green, KY) - October 8, 2009 (
See all reviews by this customer
)
I loved this canvas as well! This was so neat to have my own picture on there! I gave one to my sister, and she thought it was really neat! This is a wonderful gift for anyone!

Very Quick & affortable
By
Regina R.

(Warren, PA) - April 5, 2013 (
See all reviews by this customer
)
I was In search of an engagement gift for my younger sister something that was thoughtful and different for them.. This is a great gift idea.. I was although disappointed on how small it was but that is my fault for not reading the dimensions of it. I was concern about the picture because i did use photo flix to hide some old man behind my sisters head.. lol and it turned out great!! There are some great gift ideas on this website. My order came very quickly and packaged well. I will definitely order again!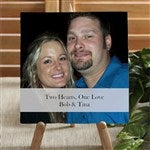 Nice
By
Karen M.

(Cheshire, OR) - May 11, 2012 (
See all reviews by this customer
)
This came out a bit dark but over all it is great. Maybe have an a recheck before you guys print it to adjust brightness as all computers are different.

Pleased!
By
Erika G.

(Brownsville, TX) - December 27, 2010 (
See all reviews by this customer
)
I am very, very pleased with the service I received. I was concerned in the beginning because there was a problem with the first picture I sent. I had to send a different picture as the first was going to look distorted. Due to the changes, I had to change the personalization and when it was shipped, the personalization was not changed. I called immediately and was told not to worry that they would take care of it right away and that they would be sending the correct one that same day. Not only did they keep their word, but I was told to keep the first canvas they had sent as well and would not be charged. My Christmas gift to my brother was a hit!! We both loved it and I will definitely continue to buy from Personalizationmall.com, as well as recommend them. Thank you so much for providing such wonderful service!!

Great Gift!
By
Veronica D.

(Huber Heights , OH) - December 8, 2010 (
See all reviews by this customer
)
I gave this to my parents for their anniversary. The picture came out very clear. The only issue I have is it doesnt feel like its attached to well in the back. Its not a problem though if you are going to get a stand to display it as I did. Overall a wonderful personal gift idea!

Nice canvas for Children
By
Yolanda M.

(Newark, NJ) - May 3, 2010 (
See all reviews by this customer
)
If you want your child to make a canvas for a gift for Friends or Family perfect gift.

Too Cute
By
April W.

(Chattanooga, TN) - November 27, 2009 (
See all reviews by this customer
)
It was smaller than I had anticipated, but a very cute and unique picture.

Anniversary gift
By
Shopper

(escondido, CA) - March 24, 2013
I bought this canvas for my parents. The first picture i sent was blurry and grainy, so the company was nice enough to call me to tell me to send another picture. The second picture i sent was much better, it was very clear and nice. My only complaint was that the writing was covering both my parents mouths. if the picture was a little higher i would have no complaints.
if it wasn't for the writing, i would have rated it higher because the actual picture did turn out fantastic.

Smaller than expected
By
Shopper

(Norristown, PA) - January 13, 2013
I must say I was a little disappointed with my purchase..I expected the item to be a bit larger, but the overall concept turned out nice and that was why I did not return the item.

disappointed
By
Tina G.

(Bartlesville, OK) - February 14, 2011 (
See all reviews by this customer
)
The photo canvas I ordered was very true to color and the picture I sent in to have replicated. The problem was when I got it in the mail I was expecting something a little larger. The canvas was only 5 1/2 inches X 5 1/2 inches. Not a lot for the money spent.

Not exactly what I expected--but still a very nice gift that I would recommend
By
Tiona T.

(Burlington, MA) - March 22, 2010 (
See all reviews by this customer
)
I really LOVE the concept of this gift. I gave it to my best friend for her bridal shower and she too absolutely loved it. My only gripe is that when I actually received it the picture was slightly shifted from how it was displayed when I first ordered it. I put four smaller pictured onto the canvas, it took me HOURS to get them centered so they all were cropped and fit nicely but when I received the canvas, three of four pictures had MOST of the photo cut off including the grooms head in one and the bride's in another. It was still lovely but if I would've knowsn 4 photos wouldn't have fit on the canvas, I would've chosen just one. Unfortunately when they displayed it before the final order confirmation, it appeared to fit perfect.

READ THE FINE PRINT
By
Shopper

(Warrenton, VA) - August 30, 2012
I was expecting a larger canvas for the amount of money I spent. I know that I can get a better looking canvas at a large supply store for a couple of dollars extra without the personalzation and I wish I had done so. They are much smaller then I expected. And the picture turned out darker and its not very good quality on the canvas. Not happy with this purchase.

READ THE DETAILS
By
GRACE J.

(GRAND ISLE, LA) - December 28, 2011 (
See all reviews by this customer
)
I was extremely upset with this item. I bought this for a family member,"knowing they would love it." And thinking the canvas was a little larger then what it was when it arrived. It was also not a true canvas! The printed it, and then stapled it crooked on the box. It is not worth your money at all! Real canvas could be worth 23$ but stapled on, crooked, I dont think so.



Little disappointed
By
Rihab K.

(Australia) - February 10, 2012 (
See all reviews by this customer
)
little disappointed .... Not what I expected...