Pretty in pink
By
Mary C.

(Arlington Heights, IL) - February 1, 2014 (
See all reviews by this customer
)
I purchased 7 robes for a sisters get away at my house. They were all pleased to find the robes with their names, laying on the bed at the arrival. Everyone loved them! We looked so cute and great quality.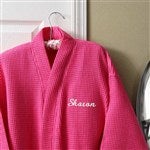 Not Impressed
By
Shopper

(Conyers, GA) - December 28, 2013
The picture of the Embroidered Robe did not exceed or even met my expectations. One size fits all is misleading. I weigh 148 lbs and it is not a comfortable fit. The material is thinner than I expected. Very disappointed in my purchase.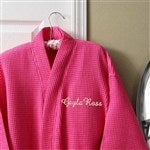 All in all a good purchase
By
Bill G.

(Plantation, FL) - December 28, 2013 (
See all reviews by this customer
)
Seems to be of good quality and is well made. The name looked good and the person I gave it to seemed to genuinely love it. As others have said, it seems a bit short, but luckily the person I gave it to is not tall, so it worked out well.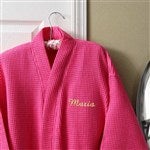 Shopper. Bellefontaine Mo.
By
Shopper

(Bellefontaine Neighbors, MO) - November 24, 2013
Wow!

I love the quality of your items. My daughter brags on her gifts, she thinks I searched from store to store. She was suprised to learn that good quality comes easy with a click of a mouse on your website. Thanks!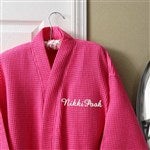 Great buy!
By
Shopper

(Lake Elsinore, CA) - November 19, 2013
I loved this idea for a gift! Great product! Personalization Mall website was easy to use, the purchase was easily done and shipping time was short.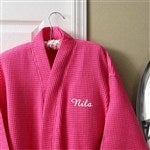 Pink Kimono Robe
By
Viola D.

(Bloomington, IL) - November 2, 2013 (
See all reviews by this customer
)
I ordered this robe as a Christmas gift. I love everything about it. The color is vibrant and the Personalization of the name is excellent. So many colors and different lettering to chose from!!!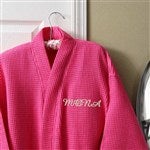 The smallest rob ever!
By
Shopper

(Raton, NM) - October 27, 2013
The shortest rob I have ever seen, I would have never bought it if it would have said in the description it was more of a shirt than a rob, it does not cover the backside at all it ends at the waist.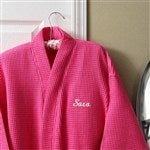 Beyond in love with it
By
Laura M.

(Miami, FL) - October 22, 2013 (
See all reviews by this customer
)
Th robe is perfect! I love it. I got it as a birthday present and I'm sure my friend will love it too!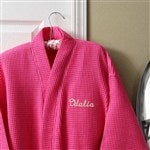 Mom's bday
By
mona C.

(new york, NY) - October 8, 2013 (
See all reviews by this customer
)
My Mom was so happy she love her 70 birthday gift. She called me this morning and told me for the number of times how much she love it.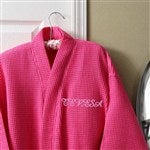 Perfect experience
By
Steven J W.

(Saugus, MA) - September 14, 2013 (
See all reviews by this customer
)
great quality, shipped fast. Great experience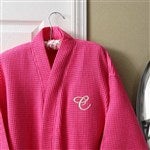 Very adorable!!
By
Shopper

(Roseville, CA) - August 25, 2013
I'm only giving this three stars because the robe doesn't fit me very well. I'm 5'10" and at a size 20, and it's too small for me (bride), but they would definitely fit my bridesmaids who will love them!! The squared stitch makes it look fabulous and the kimono style is super cute!!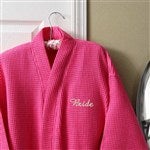 Great gift!!!
By
Ahki L.

(West Orange, NJ) - August 18, 2013 (
See all reviews by this customer
)
My jr bridesmaid will love this robe! Perfect gift!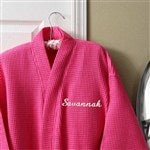 Great robe
By
Edmond C.

(Albany, GA) - August 18, 2013 (
See all reviews by this customer
)
This is a great robe. It would be nice to be able to obtain a matching bath sheet made of the same material and color.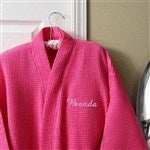 Love this!
By
Tamara E.

(Elma, NY) - August 2, 2013 (
See all reviews by this customer
)
Gave this gift w/ matching slippers to my daughter for HS grad. Great quality, fits perfectly. She loved both. Quick delivery. Love your products, love your website!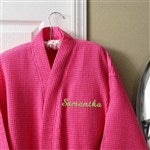 Mom loves it
By
Shopper

(Hawthorne, NJ) - May 17, 2013
Excellent value! Made a great gift for Mom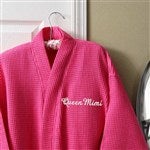 Susan
By
Shopper

(EATONTON, GA) - May 14, 2013
Mother's Day present for my daughter! Beautiful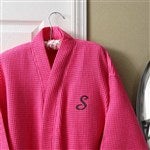 Very good gift
By
Brianna D.

(La Mesa, CA) - May 5, 2013 (
See all reviews by this customer
)
This was a really cute gift I gave my Mom for her birthday. I really like it, but I had thought it was going to be a little longer than it was. Still an awesome gift though, and my Mom uses it all the time.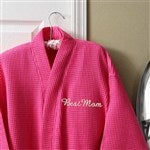 Perfect
By
Ellen L.

(Morris, IL) - April 13, 2013 (
See all reviews by this customer
)
This is exactly what I was expecting. I absolutely love it!!!
I would love a long robe too in this material, but I'll take this one - its adorable!!!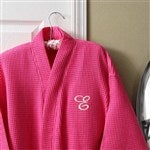 Great product, reasonable price
By
Jill T.

(Garland, TX) - March 8, 2013 (
See all reviews by this customer
)
This robe is a nice light weight, but not cut from flimsy or cheap material. It comes just below the knee on me and is a little on the large size (to be expected from a one size fits all robe), and I'm 5'4". The pockets are nice and deep and overall it's a good fit.

It's a vibrant pink, and the stitching was just as I ordered it. The preview function was invaluable so that I could see exactly how it would come out.

I only have a couple of small complaints: there are too few spaces on the embroidering to fit "Maid of Honor" which was what I needed for the second robe, and there is no option for fonts so that you can do initials or something in a block font instead of script. I had to request MoH, and it looked weird with either capital or lower case "o" so I used a zero instead... it came out great! Additionally, I wish the fabric came in at least a couple of other colors... black and white would be welcome additions!

Generally speaking, this robe is a great purchase for the money. I shopped a lot online for personalized robes, but this was the best deal around. Very happy with it, and I can't wait to give my Maid of Honor hers. I'm already wearing my Bride robe around the house!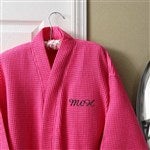 2 year anniversary gift to wife
By
FLOYD W.

(MANHATTAN, KS) - March 2, 2013 (
See all reviews by this customer
)
My wife loved the robe and slippers! I on the other hand was actually expecting the robe to be a bit longer and made of thicker material. But all in all she was happy so it was great gift. Thank you.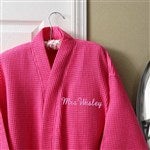 It's ok
By
Shopper

(Ashburn, VA) - February 22, 2013
While the product is nice, the quality is just okay. It's very thin so the price for the quality is not very good. This product should only be $25 tops. I am giving this to my bridesmaids as a gift, I have not given it yet so I am not sure what their reaction will be. But as of right now, this product is just okay.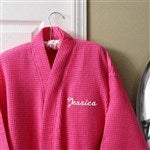 My aunt loved it!
By
Shopper

(Lindenhurst, NY) - February 18, 2013
Got this for my aunt who lives in Florida. She loves it!
Nice touch that it is personalized. Shows you are considerate and didn't think of the person at the last minute.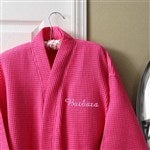 Embroidered Pink Make-up Bag
By
Tim L.

(Kerrville, TX) - February 16, 2013 (
See all reviews by this customer
)
My wife loved the color and fabric of the robe and the embroidered name made it even more special. This and the other two gifts I bought her made Valentine's Day special.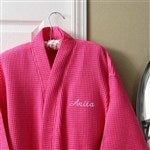 Great Robe Well Made
By
Shopper

(Gainesville, FL) - February 16, 2013
I purchased this robe as a gift for a friend. She is delighted with the robe. I too was impressed by the quality.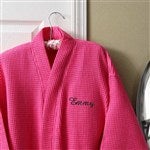 perfect
By
Shopper

(Milwaukee, WI) - February 10, 2013
This was a perfect gift and delivered on time.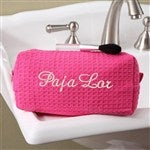 A little shorter than I anticipated.
By
Clare S.

(Onalaska, WI) - December 27, 2012 (
See all reviews by this customer
)
I bought this for my 13 year old daughter for Christmas expecting it to be a "one size fits all" when we received it it was extremely small and very short.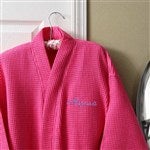 Fantastic!
By
Shopper

(NEWARK, NJ) - December 22, 2012
I love the robe and so did the recipient. I will be buying more of them when occasions arise. I really like it alot!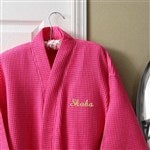 Nice Lightweight Fabric
By
Shopper

(Harrisburg, PA) - December 21, 2012
I love how lightweight it is. Makes it easily compactable and transportable. The name is large and white is a perfect contrast to the pink.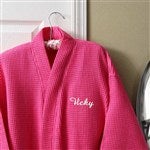 One Happy Bride-to-Be!!!
By
Terry G.

(Signal Hill, CA) - December 8, 2012 (
See all reviews by this customer
)
These robes are awesome! I ordered 3 for my wedding party and 1 for myself. The fabric is so soft, the color is exactly like the photo, the personalizations are perfect and they arrived at my door right on time. I highly recommend this item to anyone who wants to make a great gift-giving impression! I can't wait to see my wedding party's faces when they receive their robes! Happy, happy, happy Ms. Johnson-to-be!!!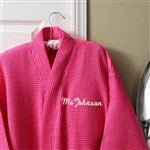 Very Nice!!
By
Shopper

(Asheville, NC) - November 24, 2012
This is an awesome Christmas or Birthday gift. I was pleasantly surprised with the size of this bag. It also has a side compartment on the inside. It's lined well and the monogramming is perfect!
I will use this as gift again. I love the pink color and the white lettering. My daughter will love it as well~ Great gift! at a great price!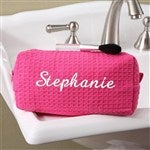 Embroidered Robe
By
Shopper

(Villa Hills, KY) - November 16, 2012
I bought this robe as a Christmas gift for my mom. I love the way it looks and feels so much that I was thinking of ordering one for myself.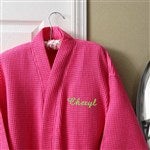 quality
By
Shopper

(Miami, FL) - November 11, 2012
this robe is great quality and will be a wonderful Christmas gift for my girlfriend. It is very impressive and the price was great.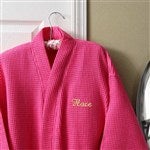 This Bathrobe is the Perfect Weight for Florida
By
Shopper

(CROSSVILLE, TN) - November 9, 2012
Bought this as a gift for my sister who lives in Florida. She called to say she loved your waffle weave bathrobe, it was the perfect weight for Southern states - not too heavy. She did ask if the bathrobe came in other colors. Might be an idea for your manufacturing suggestion box. Pink is is my sister's favorite color, but it might not be everyone's favorite color. Thanks!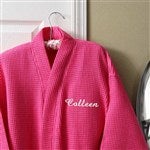 Spa robe
By
Shopper

(wilton, CT) - October 26, 2012
I ordered four ladies robes for a ladies spa trip .. the fun color pink and bright green thread will make memorable pictures.. the quality for the price is great , I like the length and the style of the robe and the waffle cotton is very upscale and spa like...this woud also be great over PJ's or right our of the shower .Plus it would brighten up any ones morning . i researched many sites for a product like this..
lets hope the ladies i am giving it to like it as much as me..!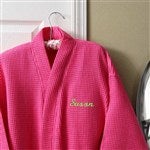 Pretty in Pink!
By
Lesley E.

(Scottsdale, AZ) - September 23, 2012 (
See all reviews by this customer
)
Been looking for a comfortable & lite-weight robe for travel & for my days at the Gym. The fabric is perfect and looks great. A perfect pick for everyday.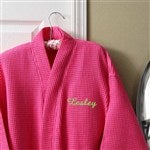 LOVE
By
Shopper

(Arlington, TX) - September 7, 2012
I love this!! It is the right size, right fit, and so comfortable! It's even cuter that my name is on it. I've gotten so many complimes from friends on how cute this is. It's
Also not a sky high price like some other robes. Def one of my favorites!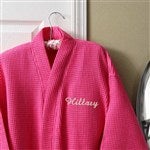 Cozy and Cute
By
Shopper

(Dunn, NC) - August 7, 2012
Very soft material. I bought this for my Mom and she loves it! Not too heavy, and not too light. Simply perfection!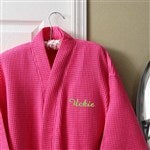 A Gift
By
Marquita M.

(District Heights, MD) - August 2, 2012 (
See all reviews by this customer
)
This was a gift for my niece and she loved it. She is going to use it when she goes to the spa. The Kimono Robe was soft and the name stood out very well.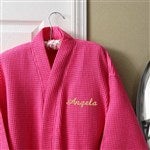 Dissapointed
By
Shopper

(Cresco, IA) - July 10, 2012
I bought these robes for my bridal party & personal attendants. Debating if I will still give the robes to them or if I will have to find them something else.
The robes are NOT one size fits most...I am a size 8 and it fits me about perfect. I have a bridesmaid who is a size 0 and she is going to be lost in this robe and 3 others that are a size 12 or larger - I don't believe these will even tie around them!! Plus they are 60% cotton so if they shrink they will be even worse.
I haven't washed them but the fabric feels itchy, not comfortable!
I also didn't realize that the sleeves are around 3/4 length - but fall funny on my arms...I am 5'8", luckily I am the tallest in our wedding party..so hopefully the sleeves will fit better on the shorter girls. But if anyone is over my height it would fit at the elbow or above.
I would NOT purchase this item ever again!!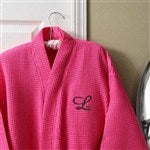 My mom loved it
By
Jacqueline J.

(Chandler, AZ) - May 21, 2012 (
See all reviews by this customer
)
I purchased this robe for my mom for mothers day. She loved it. Great find at a great price.