Great gift...
By
Jessica R. B.

(Armonk, NY) - October 29, 2010 (
See all reviews by this customer
)
I ordered this for a friend of mine. It's a great gift, as long as whoever you're buying it for isn't a "larger" person.

It will probably fit up to a size large in regular clothing but if you are ordering this for a busty or larger woman I would be careful of the "one size"...

prompt
By
Sameer Y.

(McLean, VA) - October 25, 2010 (
See all reviews by this customer
)
the service was prompt. i wish i could have gotten more for that price

Good and bad
By
karen L.

(rio rancho, NM) - March 23, 2010 (
See all reviews by this customer
)
High quality material, shorter than I thought it would be.

CUTE!!
By
Luisa P.

(Elizabeth , NJ) - December 22, 2009 (
See all reviews by this customer
)
Very pretty Robe. i love the Material, i thought it would be longer, but it fits well.

One Size
By
dewayna J.

(fort myers, FL) - December 7, 2009 (
See all reviews by this customer
)
I like the robe its nice but I think that larger sizes should be available to customer.

Make Up Bag
By
Cindy S.

(Broussard, LA) - December 16, 2010 (
See all reviews by this customer
)
The embroidered work is fine; however, the size of the actual bag is not what i thought it would be based on the picture.

Robe is not what it seems
By
Khadijah A.

(Bristol, CT) - August 26, 2010 (
See all reviews by this customer
)
I was a bit disappointed by the material of the robe, it felt very thin and cheap. I also thought that a better job could have been done in the back of the engraving where there is a label behind the robe. The paper was cut very poorly, resembling a cut you would do with your scissors at home. I've had items engraved before and the cutting of the paper behind the engraving was of a professional cut, trimmed accurately to the engraving. This little insight is important especially if you are giving the item as a gift. Also a better picture of the robe showing its length should be included. I thought it was longer.

The smallest rob ever!
By
Shopper

(Raton, NM) - October 27, 2013
The shortest rob I have ever seen, I would have never bought it if it would have said in the description it was more of a shirt than a rob, it does not cover the backside at all it ends at the waist.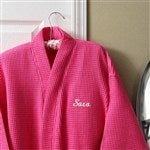 Dissapointed
By
Shopper

(Cresco, IA) - July 10, 2012
I bought these robes for my bridal party & personal attendants. Debating if I will still give the robes to them or if I will have to find them something else.
The robes are NOT one size fits most...I am a size 8 and it fits me about perfect. I have a bridesmaid who is a size 0 and she is going to be lost in this robe and 3 others that are a size 12 or larger - I don't believe these will even tie around them!! Plus they are 60% cotton so if they shrink they will be even worse.
I haven't washed them but the fabric feels itchy, not comfortable!
I also didn't realize that the sleeves are around 3/4 length - but fall funny on my arms...I am 5'8", luckily I am the tallest in our wedding party..so hopefully the sleeves will fit better on the shorter girls. But if anyone is over my height it would fit at the elbow or above.
I would NOT purchase this item ever again!!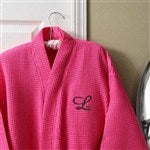 Not like the picture
By
Shopper

(Silver Spring, MD) - May 21, 2012
Although this robe looks nice in the picture, the color is not the same, it is an ugly pink and it is also one size which means it didn't really fit right. i would not buy this product

Not what expected
By
Shopper

(Haskell, NJ) - May 14, 2012
This robe and personalization is of very poor quality. The robe is very thin and the name printing is very poor quality. Looks like it was done in an elementary art class. Very dissapointed with my purchase. Due to being personalized, no returns either. Lesson learned.

picture was better looking that the product
By
louna A.

(lowell, MA) - April 3, 2012 (
See all reviews by this customer
)
the material was cheap at best. sorry i didn't like it. The color was accurate and the lettering was pretty. the bag was tacky.

not the size shown i n your add
By
james S.

(south pittsburg, TN) - December 16, 2010 (
See all reviews by this customer
)
in your add it shows a lot larger robe than what I recevied and it is made of a very cheap material the quality of your add and service need to be changed to read this is not the accual size of the item nore the quality all the items I order were not the size shown in your add