Grandma's Gang
By
Marilyn S.

(Kansas City, MO) - October 1, 2009 (
See all reviews by this customer
)
The night shirt was very cute. I like that there was space for several names and colorful. I would have liked for the material to be a little thicker or better quality; but Grandma loved that she can now cuddle with all 15 grandchildren!

Little disappointed
By
Shopper

(Weirton, WV) - November 26, 2013
Of the 5 mugs I purchased for christmas gifts, this is the one I was most disappointed in. The "W" in the word down is very light and looks incomplete. When online chatting with customer service, I was told that is how it is in the preview --- was extremely disappointed with their customer service department in that regard.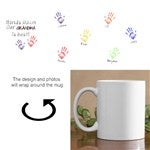 Cute idea but hands and names small
By
Shopper

(Sea Girt, NJ) - June 10, 2013
Nice size mug and cute idea, however, when my dad opened the gift for his birthday, I felt very bad when he couldn't read his 6 grandchildre's name on it because they, along with the handprints, were very small.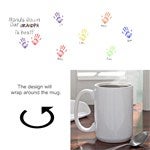 cute- but not yellow print
By
Michelle C.

(Quartz Hill, CA) - November 5, 2012 (
See all reviews by this customer
)
I had 6 handprints printed on the mug and the company chooses the colors for the handprints on their own, which I was fine with. But when I got it in the mail I can barely see the yellow handprint. I can see all the others but the yellow one is VERY hard to see. Kind of a bummer!

very nive but...
By
Peggy B.

(Chicago, IL) - July 16, 2012 (
See all reviews by this customer
)
it is a very nice shirt. the print looks very small on a mens large t-shirt. but my Dad really liked it. Also the t-shirt is undershirt quality not thicker like a normal t-shirt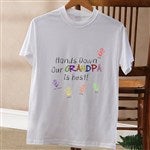 Pretty Mug but why the one yellow hand?
By
Tanee G.

(Philadelphia, PA) - May 18, 2012 (
See all reviews by this customer
)
I ordered this gift for mothers' day for my grandmother from her great-grandkids. Nice design however she thought one of the hands were missing she couldn't see the yellow hand. To make it better maybe they should let you pick out your own colors!!! But great mug!!

okay
By
Beth B.

(Saint Joseph, IL) - April 29, 2010 (
See all reviews by this customer
)
I bought two of these and the second doesn't look as good as the first.

Good idea for mother's day though!

SMALL HANDS
By
Rachel C.

(Chesterfield, MI) - April 20, 2010 (
See all reviews by this customer
)
MY MOTHER N LAW ONLY HAS 3 GRANDKIDS BUT I STILL WANTED TO GET HER A SHIRT BECAUSE I THOUGHT IT WAS CUTE. BUT WHEN I GOT THE SHIRT I WAS DISAPPOINTED THAT THE HAND PRINTS WERE SO SMALL AND SO WAS THE NAMES. I THINK THAT IT SHOULD BE SIZED ACCORDING TO HOW MANY NAMES ARE ON IT SO IT DOESNT APPEAR TOO SMALL.

disappointed
By
Stephanie B.

(Pueblo West, CO) - November 19, 2009 (
See all reviews by this customer
)
This shirt is very cute but the hands look funny because they are placed in awkward places. I needed 7 hands. They placed 4 hands on the bottom and they look great but the 3 hands on top are all placed on the right side. It makes it look funny and unbalanced. I am a bit disappointed.

small and cheap
By
Shopper

(Thomasville, NC) - November 25, 2011
These cups are small and cheaply made. cup walls are thin. be very careful when you wash them and DON'T wash them in your dishwasher!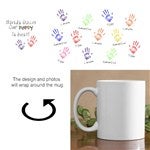 Sizing a problem
By
Shopper

(Spokane, WA) - December 19, 2011
The graphics are nice but the sweatshirt is WAY too big. I ordered a small size as the product is 'generously sized' but it is still way to big and unfortunately Grandma will not be able to wear it.

Off Center
By
Laurie D.

(Byhalia, MS) - May 6, 2010 (
See all reviews by this customer
)
The preview shows the three hands centered above the text, when I got the shirt, they were all shifted to one side, it does not look good. When I asked about it, they said if they remade it, it would turn out the same..(???), so mom is getting an off-center, kind of dumb looking shirt for Mother's Day.