Nice gesture, bad present
By
Nichole C.

(St. Croix Falls, WI) - April 25, 2011 (
See all reviews by this customer
)
I really like to customize my gifts, so when I saw this rug, I thought it was perfect! However, there was major advantages and disadvantages to this purchase.
The advantage was the rug came looking as is in the picture, was very cute!!! The disadvantage was that the material the rug is made out of, well it can't really be cleaned, so my grandma decided she wanted to make it more of a decoration than a rug because she was too worried someone would get it dirty. Now it's my understanding that rugs are supposed to get dirty, however, this rug is like a felt material. You could MAYBE clean it with a damp washcloth, as long as you didn't push or rub too hard.
So overall, my gesture was appreciated but its definitely not something to put outside on the ground. You'll waste your 25 dollars in 5 minutes....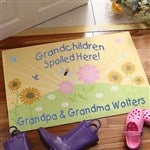 Good size and quality material...
By
Cynthia S.

(West Carrollton, OH) - April 15, 2011 (
See all reviews by this customer
)
Very colorful and fun. And the personalization of this product made it extra special as a gift for friends.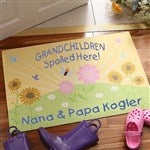 Loved it!
By
Shopper

(Glendale Heights, IL) - April 13, 2011
I purchased this item for my mom and she loved it!
I have been nothing but pleased with all of the items that I have purchased from you guys!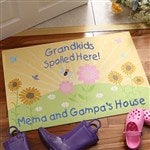 Loved it
By
Jeffrey B.

(Sherwood, AR) - April 8, 2011 (
See all reviews by this customer
)
My mother and father in law loved it.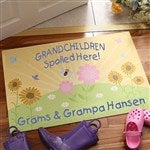 Great quality
By
Shopper

(Trenton, MI) - April 4, 2014
The mats are great quality. Sturdy and washable which is nice on these bright colors.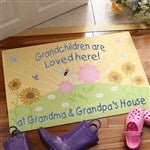 Spoiled Grandchildren Doormat
By
Lorraine S.

(Manahawkin, NJ) - February 24, 2014 (
See all reviews by this customer
)
I absolutely love this. It came exactly as pictured. My granddaughters loved seeing their names. Everyone asked me where I had gotten it. I already ordered another style mat as a gift.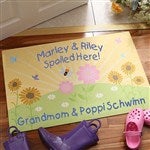 Make Grandma and Grandpa Smile
By
Shopper

(Sioux Falls, SD) - February 12, 2014
This is sure way to put a smile on any Grandpa and Grandma. Also will be create excitement from the children...Very cute.. Beautifully done. A guaranteed winner for all. Thank you Personalization Mall...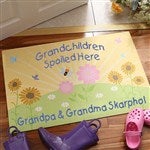 Personalized doormat
By
Shopper

(Texarkana, AR) - January 25, 2014
I really love the vibrant colors and the personalization. Only gave the doormat a 4 star because it is flimsy. Would have liked a thicker mat. I don't think this one will last very long!

Perfect for Spring
By
Shopper

(Clover, SC) - January 23, 2014
Bought this for a Christmas present for my parents from my lil boy. Great quality, bright colors, perfect for Spring. They loved it!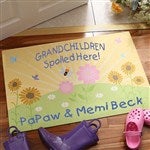 Personalized grandparent may
By
Shopper

(Lewiston, ME) - December 24, 2013
I was so very surprised when I opened the box, the mat was better quality than I thought it would be and the names and colors were done so very nice. I will definitely be shopping through this company more. People love getting personalized gifts and this company provides items of high quality and great prices.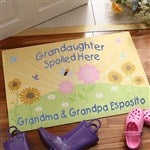 Very impressed!
By
Tristan H.

(Wetumka, OK) - October 26, 2013 (
See all reviews by this customer
)
The mat came in the mail and I was very impressed. Color quality and the quality of the mat itself was fantastic! I would definitely order from personalization mall again.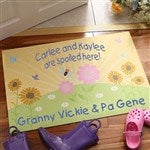 Great gift for grandma
By
Karol C.

(Charles City, IA) - September 18, 2013 (
See all reviews by this customer
)
Such a clever way to appreciate a grandma or great grandma. They love it. Once again Personalizationmall is my go to for gift giving and ideas. Never have been disappointed and they stand behind their products.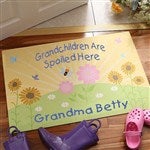 Grandparents Day gift
By
Shopper

(Cameron, MO) - September 7, 2013
My Mom said it is "so cute" and LOVES it! Thank you!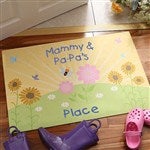 awesome gift
By
janice S.

(winchester, TN) - June 17, 2013 (
See all reviews by this customer
)
my husband was so proud of this doormat. only he has hung it up so noone can walk on it. everyone who has seen it commented on how beautiful it was and the workmanship was outstanding, including the non-slip material on the back of it.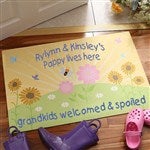 grandpa
By
yolanda H.

(Red Oak, GA) - June 15, 2013 (
See all reviews by this customer
)
My dad loved his gifts and was confused about it being hung or used in the proper format.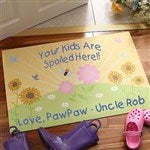 Mother's Day gift
By
Tiffany H.

(Fort Wright, KY) - May 28, 2013 (
See all reviews by this customer
)
Great gift for my mother in law. She loved it! and it's a great rug for spring/summer time.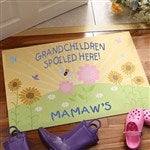 Very pleased!!!!!
By
Lynnsie R.

(La Porte, IN) - May 20, 2013 (
See all reviews by this customer
)
This beautiful mat is just as shown! I am very pleased with this and would recommend to everyone!!!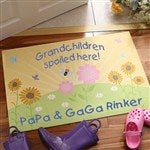 Personalized beyond my expectations!
By
Shopper

(Indianapolis, IN) - May 19, 2013
I love that buyers can change the content of suggested text to make an item truly unique at Personalization Mall! All it takes is a little creativity. Am loving the welcome mat I customized...it's now no longer a product for grandparents, as I customized it from the point of view of an aunt spoiling her nieces. And, the girls love it, too!!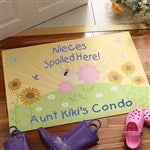 Great present
By
Shopper

(Knoxville, TN) - May 13, 2013
Got this for my Mom for her 1st Mother's Day as a Grandmother..she loved it! Looks just like the picture- seems to be good quality, sturdy product.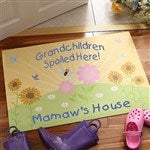 Grandparent mat
By
Shopper

(North Olmsted, OH) - May 11, 2013
This is was super cute and my grandparents loved it! Definatley worth the money!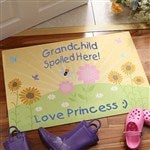 Very pleased
By
Shopper

(Timberlake , NC) - May 3, 2013
Item looked great. Used standard shipping & item was here in 3 days! Very happy with the product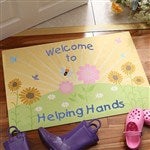 very cute
By
Shopper

(Bedford, KY) - December 28, 2012
Looks great, not sure about how it will hold up.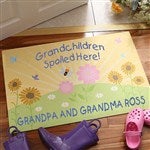 Very Pleased
By
Pamela J.

(Marquette, MI) - December 26, 2012 (
See all reviews by this customer
)
I bought this for a gift for my daycare provider and put their name and slogan. It turned out great and they liked it a lot!!! Highly recommend it~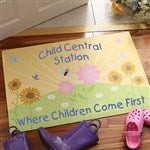 door mat
By
Shopper

(Tampa, FL) - December 26, 2012
I loved being able to put just the right saying on the mat. My daughter loved it.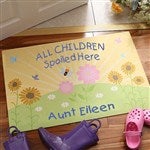 Momof6
By
Shopper

(MUNFORD, AL) - December 6, 2012
Nice quality, cute, good price, would definitely buy again.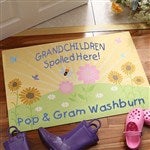 High quality mat
By
Dayle P.

(Asheboro, NC) - December 2, 2012 (
See all reviews by this customer
)
I ordered this mat for a friend who has a new home and we also exchange gifts every Christmas. She has what she needs and I thought this mat would be perfect for her. I love it and the quality is more than I expected. I know she will love it too, especially with her grandkids so nearby now.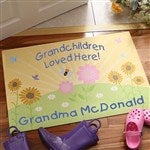 Beautiful!
By
Shopper

(Tucson, AZ) - November 19, 2012
The colors are so bright and vibrant. This is a beautiful matt. Engraving was well-done. Just wonderful, I can't wait for my grandma to open it!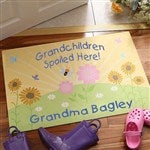 Excellent
By
Shopper

(Norwood, MA) - November 6, 2012
This product exceeded my expectations. Personalization is the focus.
The recipient was thrilled and all attendees were surprised as it was the best gift.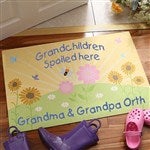 Love It
By
Sabrina T.

(Bluefield, VA) - September 7, 2012 (
See all reviews by this customer
)
This turned out nicer then what I really expected. My parents loved it!!! Great quality and bright colors. well worth the price.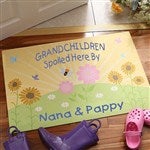 Proud Grandparents!!
By
Shopper

(Unicoi, TN) - July 1, 2012
What better way to show how proud we are of our two grandchildren and how much we love them!!We have it at our door that everyone uses!!!!Got raving comments on this doormat,a must have for any grandparent.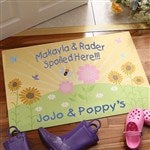 Nicely Done
By
Colleen M.

(Spokane, WA) - May 28, 2012 (
See all reviews by this customer
)
Grandma loved it, it was very special to her to receive it on Mothers Day. I wish though it would of been a little thicker but still what a great product.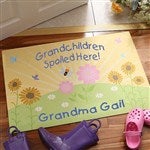 Very pleased!
By
Shopper

(Kansas City, MO) - May 21, 2012
This is the second rug of this type I've ordered as gifts and both recipients have been very pleased initially with the appearance, and quality. I hope they hold up as well as I expect them too. Wonderful company, quick delivery, quality products.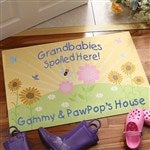 Grandparents happy!
By
Shopper

(Surprise, AZ) - May 19, 2012
I ordered this doormat as a mother's day gift for our kids' grandma. She really loved how it was personalized. The colors came out much brighter than in the photo...the background is almost a neon lemon color. This is why I gave it 4 stars. The quality is great. In fact, grandma is using it inside because she loves it so much. However, it would work great outside too because of the material. It appears to be water resistant. I would order this again.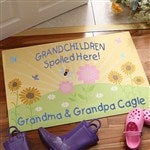 Really Cute... Just a little too brightly colored
By
Shopper

(Omaha, NE) - May 15, 2012
It was a beautiful Mother's Day gift.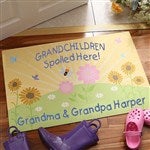 Looks great!
By
Shopper

(Milton, FL) - May 12, 2012
Got this for my mom for Mother's Day (from my kids) and so haven't given it to her yet (it's tomorrow) but it looks great, and seems to be good quality. It's an indoor mat, not for outdoor I can tell. I thought when I first looked at the picture that it would be a front door mat, but it's not. But will be adorable in the kitchen :)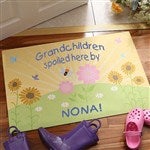 Great gift
By
Patience F.

(summit, NJ) - May 11, 2012 (
See all reviews by this customer
)
I got this for my parents and grandma bc they really do spoil my son. They absolutely love this mat. It is the perfect mothers day and fathers day gift.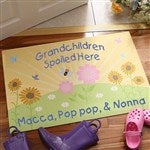 Gift for Nana
By
Lolita A.

(lithonia, GA) - May 9, 2012 (
See all reviews by this customer
)
My mom is going to love this bright colored mat from her 3 grandchildren. We personalized it with all 3 names. Super Cute.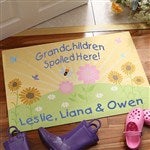 Beautiful Doormat
By
Karyn F.

(Windsor Mill, MD) - May 3, 2012 (
See all reviews by this customer
)
Purchased this as a gift from my son to his grandmother (my mom). We're going to give it to her for Mother's Day. I think she'll love it. She also spoils her other 6 grandchildren!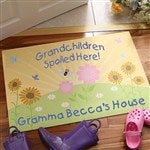 Well Done
By
Michael S.

(Madison, WI) - April 10, 2012 (
See all reviews by this customer
)
I have purchased a number of personalized gifts and products from PersonalizationMall.com, and every item arrives faster than possible, and better than expected. We got the "grandparents" mat just in time for our family Easter celebration, and it's just perfect, and appropriate, right in front of the refrigerator. That's where Grandma does much of her spoiling.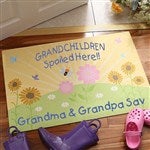 Fantastic!
By
Jennifer C.

(Cumming, GA) - April 10, 2012 (
See all reviews by this customer
)
I bought this for my parents for Easter. It is fantastic quality and truly beautiful. My mom wanted to hang it up so that people wouldn't walk on it :)