cute
By
Nicole M.

(Sun Valley, NV) - September 23, 2012 (
See all reviews by this customer
)
My Husband and I love to cook together so this was a great addition to our memories

Given as a gifts
By
Shopper

(Cupertino, CA) - April 14, 2012
Three times I have given these gifts to future brides. They loved the aprons! Feedback was great quality, washed well, and rec'd many compliments on the design. Personally, I think the price is a bit steep for cotton aprons. However, unique, fun gift for bridal showers.

size of print on apron
By
Shopper

(Geneva, NY) - November 21, 2011
The man tuxedo print is too small compared to the bride (she's big!), but the whole idea is so cute!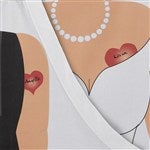 Custom Apron Set
By
Shopper

(Strongsville, OH) - August 22, 2011
Absolutely, very good product. Shipping too expensive.
Thank you.


Something Useful!
By
Shopper

(LAS VEGAS, NV) - July 3, 2011
Friends recently celebrated their 50th Anniversary party and requested no gifts. Long-married couples really don't need any more "do-dads" to dust but we wanted some type of gift to acknowledge their accomplishment. They love to grill on the patio, so these aprons were perfect. My only negative is that the hearts were quite small. We old folks need big print!

Cute bridal shower gift
This will be a nice bridal shower gift.

Great but sure would like to be able to change an item after ordering
By
Sharon M.

(Springfield, MO) - August 10, 2010 (
See all reviews by this customer
)
I really like the aprons however seconds after I ordered the aprons I realized I had made a mistake. I should have put the groom's name on the bride's apron and the bride's name on the groom's apron. It was just seconds after placing the order and I know it could have been changed but your company has a no chance policy. Maybe you should look into a portion of time when a person can change an order. It sure would have been nice.

Gift for fiance
By
PATRICIA B.

(SOUTH GATE, CA) - August 2, 2010 (
See all reviews by this customer
)
I bought these for my fiance and I to wear at our wedding shower. They were a big hit with him and all our friends. The only thing I would complain about is that they faded a lot after only the first washing. His tuxedo is now grey and the lines aren't as crisp as they once were. If I were to purchase this again, I would wash it in cold and line dry.

Cute!
By
Barbara M.

(Butler, PA) - June 14, 2010 (
See all reviews by this customer
)
Purchased for my daughter for her wedding shower and everyone thought it was so cute and unique. It was ordered and personalized in one day and I received it 2 days later!

Names
By
Linda O.

(Burbank, IL) - June 29, 2013 (
See all reviews by this customer
)
When I personalized the aprons, I thought the brides name should be on hers and grooms on his. I realized when I looked at them athey were tattoos and the names should of been reversed. I wish I would of been contacted and asked about it since I do order frequently from your sight.

OK, but ....
By
William K.

(Tallahassee, FL) - June 3, 2013 (
See all reviews by this customer
)
Exactly as pictured/advertised/described but I expected a little higher quality "graphics" and printing. Many people will have to put on their reading glasses and lean in to "get it". If you don't know what I'm talking about, look at the picture over to the right ... can you read what the tattoos say?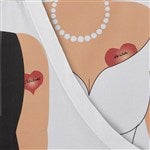 Personalizations wasn't clear to me from the website
By
Barbara W.

(Chevy Chase, MD) - April 28, 2010 (
See all reviews by this customer
)
I purchased the aprons as a 'shower' present for the bride and groom and realized the grooms name was on the brides apron and the bride's name on the man's apron. It wasn't clear to me that this was this way. I thought the heart was supposed to say 'The Bride' or 'The Groom'. I realize if I had looked more carefully at the hearts I would have noticed and therefore it's my fault, but I am disappointed with the results and feel funny about giving them as gifts.