PERFECT
By
Shopper

(Baltimore, MD) - November 29, 2012
SUPER NICE...LOVED IT...WORTH THE PRICE..DEFINITELY 5 STARS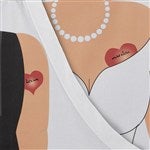 Bridal shower gift for coworker
By
Vicky L.

(Brooklyn, NY) - September 23, 2012 (
See all reviews by this customer
)
The aprons were delivered very quickly. I ordered the aprons on Tuesday morning and was delivered early Friday. I love how the aprons tuned out. The quality is excellent. The name was printed nicely. When I gave it to the bride to be, she loved it and put it on right away. I would definitely buy it as a gift again.

Excellent - Super cute!
By
Shopper

(Watertown, MA) - August 28, 2012
The Mr. & Mrs Custom Apron Set is super cute and personalized. I got it as one of the gifts for my co-worker's wedding. The product is exactly the same as Picture. I can't wait until she sees it.

Mr. & Mrs. Aprons Are a Great Wedding Shower Gift
By
Gloria M.

(St Louis Park, MN) - August 2, 2012 (
See all reviews by this customer
)
These are adorable and since my future son-in-law has some tatoos and is a chef, this was perfect for the couple.

Big hit at bridal shower!!
By
Shopper

(Danvers, MA) - August 1, 2012
I purchased the Mr. and Mrs. Customer Apron set to include as part of a shower gift! The aprons were such a big hit and both the bride and groom wore them during the remainder of the shower!!!

product feature to like
By
Shopper

(Weatherford, TX) - August 1, 2012
absolutely adorable!!

Apron Set
By
Shopper

(Bellevue, WA) - May 21, 2012
Customer service was excellent and delivery was fast. The quality of the aprons looks good but they are a gift and haven't been used or laundered as yet so not sure how they will hold up through that.

Cute Cute Cute
By
Shopper

(Salisbury, MD) - November 14, 2011
This is the perfect gift for a Bridal Shower. The Aprons are so cute, the bride and groom designs are very good. The best feature is the cute hearts on each apron that is monogramed with each other's names. The couple we gave them to has them hanging on kitchen hooks in their kitchen, they look great!!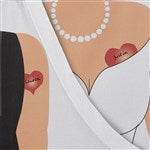 VENUS
By
Shopper

(Canada) - October 29, 2011
Very please with this product. They where a hit for the couple that has everything and it was unique to them. Quality printing and nicely presented in a gift box.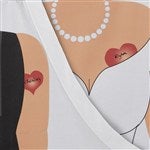 Adorable!
By
Shopper

(Goleta, CA) - September 12, 2011
I was looking for cute aprons for us, since we do a lot of cooking now that we got a bunch of kitchen supplies as wedding gifts. And this is by far the best aprons I have come across. They look exactly the way they do in the pictures. And even my husband enjoys wearing his. It is very fun but very practical. The material is easy to wash and it is very comfortable around the neck and fits great. So happy we got it!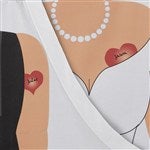 Great shower present!
By
Shopper

(Bridgewater, MA) - June 4, 2011
Friend of mine is getting married soon and is having an outside reception. They will be having a BBQ and she was concerned that she would get her dress dirty. I bought this as I thought it would be cute and that she would laugh when she got it. It was adorable! Very well made and cute at the same time. The bride to be loved it!

The Bride Loved it
By
Shopper

(Westminster, CA) - June 3, 2011
Shipment was fast. Quality of the aprons were GREAT and most importantly the Apron Set was a HIT. The personalized heart tattoo with the names on them were the perfect touch. 100% would recommend this item and site.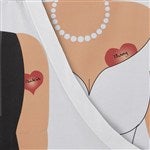 Fun Wedding Shower Gift
By
Leah R.

(Plantation, FL) - May 21, 2011 (
See all reviews by this customer
)
Cute gift for the newlyweds who enjoy cooking together. Aprons are made of good quality material.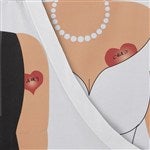 Delightful!
By
Shopper

(Hilo, HI) - May 1, 2011
I ordered this apron set for my parents' 39th anniversary because they love to cook together in the kitchen. They were so tickled with them and put them on right away as soon as they unwrapped their present. Thank you for a delightful gift idea!

Quick Delivery Nice Quality Product
By
Shopper

(Rougemont, NC) - April 8, 2011
These were shipped very quickly. Communication excellent. Product good quality. Very pleased. Would do business again.

DARLING
By
Geri T.

(Orchard Park, NY) - April 5, 2011 (
See all reviews by this customer
)
Totally unique. I bought this for my daughter's birthday; her wedding is in June, she was thrilled!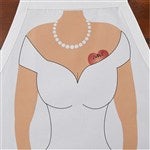 heavy duty material
By
Kim E.

(Neenah, WI) - March 17, 2011 (
See all reviews by this customer
)
placed my order Sunday evening...the aprons were in my mail box Thursday. Very pleased with the fast delivery and super pleased with the product!

Nice and funny gift !!!!
By
Shopper

(ALLIANCE, NE) - March 12, 2011
I ordered these aprons for our 1rst Anniversary Weeding .. and they were perfect, nice, funny, also every body likes them !!! I LOVE THEM, good size, material,a good print !!!

Thank you for correcting my error, when I ordered two cards and only needed one.
By
Helen Rose L.

(Safford, AZ) - February 8, 2011 (
See all reviews by this customer
)
Very happy with this item.
Very,very pleased with the prompt service!

Love them
By
Emily M.

(Titusville, PA) - December 31, 2010 (
See all reviews by this customer
)
Fantastic aprons! They are beautiful, and thick, and perfect for us (the future bride and groom)!

Oh, and the tattoos are hilarious! Thanks Personalization Mall!

awesome
By
John D.

(Woodbury, CT) - October 12, 2010 (
See all reviews by this customer
)
couldn't be happier with purchase!

Nice touch on newly just married couple
By
Mihaela S.

(Redmond, WA) - September 28, 2010 (
See all reviews by this customer
)
Loved the prints.... really god size of aprons!!

Hilarious
By
Michelle R.

(Columbus, OH) - September 28, 2010 (
See all reviews by this customer
)
I am the maid of honor for my best friend's wedding, and I've gotten them the typical wedding gifts for the showers, but this gift was a hit. I had it mailed to her address, I got a phone call right after they opened it and all I could hear was laughter! They made chili with their aprons the next day :] An instant classic

AWESOME
By
Michele M.

(Enfield, CT) - September 27, 2010 (
See all reviews by this customer
)
I ordered these aprons for my nieces wedding present. They are fantastic. The material is outstanding and the printing of their names was great. I would recommend this for everyone. They exceeded my expectations.

Just like the picture
By
Angela D.

(Anchorage, AK) - July 26, 2010 (
See all reviews by this customer
)
These aprons are so fun. I purchased both as part of a wedding gift. My brother likes to BBQ and his new wife loves to cook. So, the set is perfect. The material is heavy and the printing is wonderful. It's great quality!

wedding shower hit
By
sandra C.

(amherst, NY) - May 26, 2010 (
See all reviews by this customer
)
My daughter and I purchased these for a 30 year old friend who was getting married. Our big gift was cooking classes in NYC (where they live) but we needed to have something for the shower to "open." We put them in a reusable bright pink bag with print tissue paper along with the gift certificates. They were a big hit with everyone at the shower from 30- 80 years old. They loved the name tattoos and the aprons themselves were a nice heavy weight material and very good quality. I would highly recommend these aprons.

Great, great, great!
By
Matthew T.

(Memphis, TN) - May 5, 2010 (
See all reviews by this customer
)
I thought these aprons were great and worth the money! The "tattoo" hearts with the others name in them are adorable. My engaged best friend loved them.

Great gift for Newlyweds
By
Andria S.

(Howard Beach, NY) - April 20, 2010 (
See all reviews by this customer
)
Very cute... perfect accent for the baking basket I am putting together for a friend's Bridal Shower.

Fun and clever
By
Shopper

(Hamburg, NY) - March 18, 2013
Nice quality!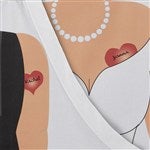 Personalized Apron Set
By
John T.

(Orlando, FL) - January 15, 2013 (
See all reviews by this customer
)
Purchased this set for my son and his wife. They cook out on the grill on occassion and I think they will get a big kick out of these. Appear to be good quality and the personalization is perfect.

cute
By
Nicole M.

(Sun Valley, NV) - September 23, 2012 (
See all reviews by this customer
)
My Husband and I love to cook together so this was a great addition to our memories

Given as a gifts
By
Shopper

(Cupertino, CA) - April 14, 2012
Three times I have given these gifts to future brides. They loved the aprons! Feedback was great quality, washed well, and rec'd many compliments on the design. Personally, I think the price is a bit steep for cotton aprons. However, unique, fun gift for bridal showers.

size of print on apron
By
Shopper

(Geneva, NY) - November 21, 2011
The man tuxedo print is too small compared to the bride (she's big!), but the whole idea is so cute!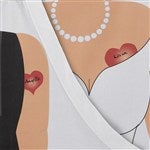 Custom Apron Set
By
Shopper

(Strongsville, OH) - August 22, 2011
Absolutely, very good product. Shipping too expensive.
Thank you.


Something Useful!
By
Shopper

(LAS VEGAS, NV) - July 3, 2011
Friends recently celebrated their 50th Anniversary party and requested no gifts. Long-married couples really don't need any more "do-dads" to dust but we wanted some type of gift to acknowledge their accomplishment. They love to grill on the patio, so these aprons were perfect. My only negative is that the hearts were quite small. We old folks need big print!

Cute bridal shower gift
This will be a nice bridal shower gift.

Great but sure would like to be able to change an item after ordering
By
Sharon M.

(Springfield, MO) - August 10, 2010 (
See all reviews by this customer
)
I really like the aprons however seconds after I ordered the aprons I realized I had made a mistake. I should have put the groom's name on the bride's apron and the bride's name on the groom's apron. It was just seconds after placing the order and I know it could have been changed but your company has a no chance policy. Maybe you should look into a portion of time when a person can change an order. It sure would have been nice.

Gift for fiance
By
PATRICIA B.

(SOUTH GATE, CA) - August 2, 2010 (
See all reviews by this customer
)
I bought these for my fiance and I to wear at our wedding shower. They were a big hit with him and all our friends. The only thing I would complain about is that they faded a lot after only the first washing. His tuxedo is now grey and the lines aren't as crisp as they once were. If I were to purchase this again, I would wash it in cold and line dry.

Cute!
By
Barbara M.

(Butler, PA) - June 14, 2010 (
See all reviews by this customer
)
Purchased for my daughter for her wedding shower and everyone thought it was so cute and unique. It was ordered and personalized in one day and I received it 2 days later!

Names
By
Linda O.

(Burbank, IL) - June 29, 2013 (
See all reviews by this customer
)
When I personalized the aprons, I thought the brides name should be on hers and grooms on his. I realized when I looked at them athey were tattoos and the names should of been reversed. I wish I would of been contacted and asked about it since I do order frequently from your sight.