Special gift for special friends
By
Shopper

(Roseville, CA) - June 3, 2013
I purchased the Anniversary Wine Art-Flute for a 40th Anniversary present for my friends. This was a great alternative to a gift card. They could display the wine bottle and relive the day many times over. When they are ready, they could celebrate another special occasion by breaking open the bottle.

Personalized bottle of wine
By
Shopper

(Hughson, CA) - May 22, 2013
The 25th Anniversary couple were very surprised and delighted with this personalized gift. They thought that it was a very unique keepsake gift that would look nice on display.

Wonderful gift.
By
Shopper

(Mashpee, MA) - May 16, 2013
What a special gift for a 50th anniversary..........or for any occasion. After the wine is consumed, there is a wonderful keepsake to display in your hutch or china cabinet. And after 50 years, how much other "stuff" do you really need? I was pleased and proud to give this as a gift.

Perfect Gift
By
Shopper

(La Crosse, WI) - April 13, 2013
I ordered this item for my sister's 45th wedding anniversary which is a hard # of years to find a gift for, lots of 25 and 50 year gifts but not many 45. I received it last week and was very happy with my purchase. I can't wait to give it to them! The bottle is quite elegant with very nice engraving. I couldn't be happier with my purchase and feel it is the perfect gift!

Have ordered twice and will again
By
Connie F.

(Chicopee, MA) - March 2, 2013 (
See all reviews by this customer
)
I think this is a fantastic gift for couples who have everything. I bought one 8 months ago for friends getting married - each for the 2nd time. They LOVED IT! They plan to open the bottle on their 1st anniversary. After they finish the bottle, they want to turn it into one of those decorated wine bottles with lights inside. The 2nd bottle I ordered is for a couple's 30th wedding anniversary. They don't really need anything; so I thought this was a good commemorative gift. I would recommend it highly.

A great couples gift
By
Angelko M.

(Sunnyside, NY) - July 29, 2012 (
See all reviews by this customer
)
I was very happy with my choice of the etched/hand painted wine bottle I chose to send as an anniversary gift. The couple the that received it were amazed and very happy. 5 star product!

Anniversary Wine
By
Susan M.

(Lorton, VA) - May 15, 2012 (
See all reviews by this customer
)
I really loved the Anniversary Wine. The quality of the painting and engraving was fantastic. I would highly recommend this product.

what to get for a 60th wedding anniversary?
By
Gina C.

(Plainfield, IL) - April 17, 2012 (
See all reviews by this customer
)
What a great gift. The bottle was perfect, the etching was so nice,will continue ordering from the company.

beautiful!
By
Shopper

(san jose, CA) - February 14, 2012
This was a gift to my best friend's anniversary!
She was crying on the phone with so much joy and happines.
Great and unique gift. Extremely well done!

Anniversary Wonder!
By
Madeline J.

(Moosup, CT) - January 27, 2012 (
See all reviews by this customer
)
This company is fantastic! I didn't know what you get for my sister's 50th anniversary and found this knid of late but ordered anyway and hoped for the best. Not only was the item at my door prior to their anniversary date, it was so beautiful. they loved it and it was a huge hit! DON'T HESITATE TO ORDER, YOU WILL NOT BE SORRY.
Thank you for the beautiful product and for the timely shipment, I'm very grateful.

Lovely Anniversary Gift
By
Janet P.

(Stuart, FL) - December 17, 2011 (
See all reviews by this customer
)
Ordered this item for very special friends celebrating their 25th Wedding Anniversary.

The gift arrived on time, the engraving was perfect and even after you finish the wine, it made a great keepsake gift celebrating their "special day".

They loved it!!!





Love the beautiful etching
By
Shopper

(Black River Falls, WI) - December 16, 2011
The wine was wonderful and the etching was beautiful. Perfect compliment for our 25th anniversary dinner. Thank you so much.

Perfect Anniversary Gift
By Shopper (Cleveland, MS) - September 19, 2011
I purchased this personalized wine bottle for my husband for an anniversary gift. He loved it, and we will have a beautiful reminder of our speceal day.

Beautiful Anniversary Gift
By
Samuel S.

(Spring Branch, TX) - April 24, 2011 (
See all reviews by this customer
)
I've ordered items from the Personalization Mall before and I've always been pleased with their products. This time I ordered a personalized bottle of Merlot as a gift to my wife. The bottle was gorgeous. The Merlot tasted great. I scored a lot of points with the wife. I highly recommend this as a gift for your next anniversary. It makes for a very romantic gift.

Beautiful Win Bottle
By
Shopper

(Levittown, NY) - March 26, 2011
This wine bottle was very beautiful. It came quickly, and the people receiving the gift was absolutely amazed by how wonderful it looked. Definitely a great gift to get for anyone's anniversary!

Great Gift for Anniversary!
By
Shopper

(Kings Park, NY) - March 26, 2011
I gave this to my hubby for our Anniversary..it was the perfect gift. We both love wine and it was the perfect touch!

Really enjoyed the personal etching on the bottle..very nice and a fair price!
Plus, they didnt charge u per word like some other places do.

Definately would recommend!



BEST MERLOT EVER!
By
Matthew W.

(Athens, GA) - January 4, 2011 (
See all reviews by this customer
)
This gift was a 5 year anniversary gift for my girlfriend. I really liked the personal bottle. My only fear was that cheap wine would go into an expensive bottle. My fears were proven dead wrong. The wine is amazing! I've never had merlot that was this good. I only wish I know what year it was. Great personal bottle; even better tasting wine! Awesome gift!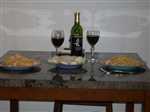 wine
By
Lynette G.

(Culpeper, VA) - August 6, 2010 (
See all reviews by this customer
)
what a great keep sake from my anniversary

very satisfied
By
Monica B.

(Brooklyn, NY) - May 11, 2010 (
See all reviews by this customer
)
I must say that I was very impressed by this gift idea. Definitely a quality gift. My husband, the recipient of this gift, was very surprised, pleased and excited. The engraving & design were flawless. thank you for an amazing gift idea.

great surprise gift
By
Shari G.

(Coffee Creek, MT) - April 8, 2010 (
See all reviews by this customer
)
I ordered a 20th anniversary bottle for my husband as a nice surprise, and he was really, really surprised and pleased with the gift. We will drink the wine next week. Very nicely engraved label--I expected a paper label.

Bottle of Personalized Anniversary Wine
By
Mark L.

(Cameron, WI) - March 27, 2010 (
See all reviews by this customer
)
I was absolutely thrilled with the quality of the personalized bottle of wine I ordered for my friends 40th wedding anniversary. They, in turn were also very pleased to receive it and said the wine (merlot) was very good as well. The commemorative bottle of their special anniversary they will have for years to come is an added bonus. I will diffinitely order special occasion gifts from your company in the future. Your gift options make it extremely easy for anyone to be a hit in giving the best unique gift! Thank you.

Wonderful gift idea
By
Tara D.

(Dunkerton, IA) - February 17, 2010 (
See all reviews by this customer
)
I haven't actually drank the wine yet to know how it tastes and I haven't given it to my spouse yet as our anniversary isn't until April. But I was impressed with how promptly it arrived and looked exactly as advertised! Can't wait to give it to him and be able to put it out for display!

Awesome
By
Amit C.

(Bayonne, NJ) - February 17, 2010 (
See all reviews by this customer
)
The Bottle was personalized perfectly and i love the wine, it is one of the best tasting wine i have had yet.. the cab specially.

37th Anniversary for friend
By
Shopper

(NEW YORK, NY) - March 24, 2014
So far, the quality from Personalization Mall is always up to standard. The only claim I have for this one is kind of over priced. Bottle is smaller than I expected. Otherwise, is a good gift.

50th Anniversary
By
Robin K.

(Scottsdale, AZ) - July 30, 2012 (
See all reviews by this customer
)
I write this review because I want to give others a "heads up." This is a lovely product, beautifully presented. My problem is that it has the wrong date on the label and my three bottles of wine are not usable for a very special 50th anniversary. I'm not sure where the error lies (but have to assume the mistake was mine since I have no way to check it). Be sure to carefully check personalization information before submitting order. I would order again from this company but am deeply saddened by the wrong date on my product.

Personalized Anniversary Wine
By
Shopper

(Woodbridge, VA) - May 8, 2012
The bottle looks really nice and will be a nice gift for my in-laws' 50th. I'll repost if we actually open it and try the wine.

Make a great present
By
Cathy W.

(Allentown, PA) - November 29, 2011 (
See all reviews by this customer
)
Great detail in the bottle- well done- haven't tasted the wine yet-

Very Good Wine.
By
Shopper

(Bayonne, NJ) - February 21, 2011
Good Wine. Can be a little better for the price.

Cherished keepsake
By
Judy K.

(Mead, WA) - August 27, 2010 (
See all reviews by this customer
)
I was very pleased with how quick this came in. Thought it would take longer. Only reason it is not 5 star is that the lettering on the rose-art bottle is just block lettering rather than the nice handwriting that shows in the photo. Have not opened the bottle yet so unable to say how it tastes.

Wine bottle
By
Stephen R.

(Indianapolis, IN) - April 8, 2010 (
See all reviews by this customer
)
I really liked the engraving of the bottle. It was actually more than I expected and very pleased. I've ordered a few things from the website that wasn't what I thought it would be so this makes me very happy especially since this was an anniversary gift.

good
great

Item highly priced
By
Shopper

(NEW YORK, NY) - March 18, 2014
As their long term customer, so far quality standard is never be an issue.
The only issue on this item is too highly priced.